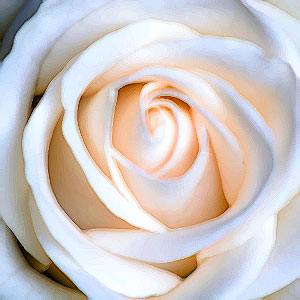 In deep and meditative contemplation this arose as the focus for this pilgrimage . . . A DIVINE BLUEPRINT arises from the merging of the GREAT WISDOM/Father, and PURE CREATION/Mother. This merging manifests the return of the SACRED ROSE. This blueprint emanates and creates through our awakening hearts from BE-ing in the I AM PRESENCE. This offers us serene refuge, while raising our vibrational frequencies, both physically and spiritually. The SACRED ROSE and its CELESTIAL CODES work on an unfathomable deep DNA level. They heal and restore us to our Christed, Celestial and Authentic Selves within this DIVINE BLUEPRINT that is the purest form of UNIVERSAL UNCONDITIONAL LOVE. This process will intensify, increase and strengthen our transcendent, mystical and alchemical gifts and restore our original template. This unified SACRED ROSE energy is beginning to re-emerge from a long and forgotten past, and begins the process of healing the Earth and all life. This will assist us in our sacred work to heal damaged genetics, fractured lineage lines, Ley lines, Sacred Centers, and, most of all, misuses of God's Creative energy. We hope this pilgrimage and our group's activities will prove to be a start in healing ancient rifts between England and Ireland lineage lines, and, most importantly, a great healing of duality within ourselves.

The Holy Grail has been reopened and much wisdom has been disclosed to awakening humanity. The Holy Grail is the wisdom and/or a map from which the Creative power can build a new world upon. The Creative Force of the Universe, the Divine and Great Mother, is now running freely through our awakening DNA. The Great Wisdom and the Creative Force of the Universe are ready to come alive through awakening human portals of the SACRED ROSE.

This merging of the mind (wisdom) and heart (creative power) creates the SACRED ROSE. With the merging of the Mind and Heart returns an alchemy needed to create from the Mind/Heart simultaneously. This new phase of our ascension is assisting us in re-establishing our God Essence completely and impeccability. This enables the SACRED ROSE to emanate through us, so we can restore and transmute all suffering, and misuse of creation and power; thus resurrecting our Unified Christ Body and restore our Divine Original Blueprint.

This work has been mirrored in the past through numerous Master Teachers and sacred lineage lines that hold the Christ Template and Divine Blueprint. These have been coming forward quite strongly for at least three years now in England, Scotland, Egypt and in Petra, Jordan. Mary lineage lines have revealed themselves by many names, orders and clans over time. To name a few, there is the Mother Mary Ray of the Rose, The Great White Brotherhood of Mt Shasta, the Rose Clan, the Sisters of the Sacred Rose, The Brotherhood of the Red Rose of the Andes, the Holy Lineage of the Mother, the Order of Mary Magdalene, the Order of The Great Mother Sekhmet, etc.... Even though we might see ones as feminine aspects, these clans and sister/brotherhoods had begun to integrate the mind and heart into the sacred rose.

Many of us carry these holy and ancient Rose Codes from ancient genetic lineages and/or from being disciples of these Mary/Rose Clans. These lineages are in our DNA and have manifested through ancient Lemurians, Atlanteans, Egyptians, Maya, Inca, Druids and Pre-Celtic Orders, Star Elders other Celestial Sources, and many more holy lineages. These holy strands of DNA are awakening in us now. I am shown that 50% or more of the human population have these codes running through their DNA today. These Celestial DNA strands will help us understand ancient wisdom, will awaken the DIVINE CHRIST / ROSE CODES within us all, and put to use powerful creation energies. This is yet another step in our ability to ascend in a physical body and become LIVING MASTERS on Earth. This alchemical process, which will manifest as an ANCIENT CREATIVE ALCHEMY, can only be activated and accessed through our open, purified, sacred hearts that are also linked to a higher collective consciousness. We are doing this work together, as ONE!

We are now called to continue our work and finish a huge project that we began so long ago. Sacred seals have been reopened and are being activated within us now. It is time for the fully Christed Female/Male to open as a SACRED ROSE in its divine and original form. All women and men who are ready to carry this frequency of the wisdom of the unified HOLY GRAIL and the CREATIVE FORCE of THE GREAT MOTHER will awaken the SACRED ROSE within their hearts.

Many of you have been going through a huge metamorphosis for many years and even decades. We have come to a tipping point in our evolution. The healing of ancient lineage lines, and the bringing together of different holy and divine perspectives, are the final pieces to our ascension. This humble yet massive quest is the focus for this pilgrimage. We hope that you will join us.

OUR AVALON / IRELAND GUIDES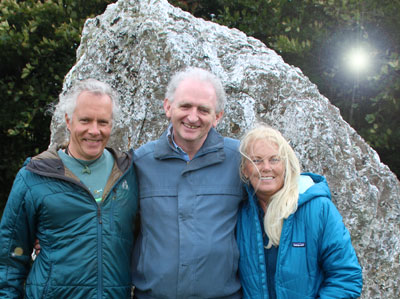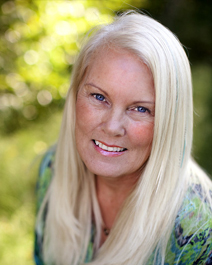 ALUNA JOY was literally born awake and in the company of her guides, the Star Elders. Today, she has evolved into an internationally known author, spiritual life coach, sacred site guide, alternative historian, ordained minister and modern mystic. In the Inca world, Aluna is considered a Qawaq (cow-wak), a clairvoyant or seer of present living energy. Aluna acts as a spiritual archaeologist using her clairvoyant / clairsentient gifts to excavate messages from the masters of ancient, enlightened cultures to uncover what affect this has on humanity and the collective consciousness. Aluna coined the term "sacred site junkie", because she is one herself. After her first trip to Tulum, Mexico, her life changed dramatically, and she was sent on an entirely different path in her life. Since this time, her work has been influenced by uncountable shamanic experiences in sacred sites of Mexico, Guatemala, Belize, Honduras, Peru, Bolivia, Egypt, Jordan, Greece, England, Scotland, Australia and New Zealand. Aluna has been leading groups in the Maya world since 1986, the Inca world since 1996, the Egyptian world since 2008, and the Avalon worlds since 2007. Aluna offers Star Elder Sessions, formulates Sacred Site Essences and a "by donation" e-newsletter. She is the author of "Mayan Astrology", and her articles have been published worldwide. She is well known for her down to earth, accepting attitude that makes everyone feel like they have come home. She inspires and encourages others to recognize and accept their own authentic divinity and connection to the Creator. "Our groups are family, and each one is a teacher and also a student. We work together as a team to unravel the sacred mysteries of life."
Facebook: http://www.facebook.com/alunajoyyaxkin
YouTube: http://www.youtube.com/user/feelthelove2012
Read more about Aluna Joy here: http://www.alunajoy.com/aluna.html
Read Aluna Joy's writings here: http://www.alunajoy.com/articles.html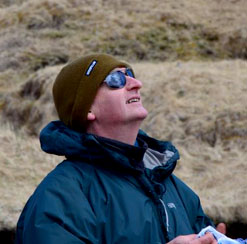 MARCUS MASON Our local guide, for both England and Ireland, will be Marcus Mason. Marcus is a practising Soul-Centred Astrologer, and has taught this for many years in the UK, Ireland, Europe and the USA. Part of his developing work with Crystal Meridian Therapy is to explore the relationships and effects of the planetary movements upon the body's energetic systems and chakras; what is emerging is a physical and energetic therapy, informed by nearly 30 years understanding of Astrology. Marcus has a LicAc MBAcC and has practised Traditional Acupuncture for 23 years, having trained in both Five Element Acupuncture and TCM (Traditional Chinese Medicine). Combining these two styles enables an integrated approach that is capable of treating physical symptoms and illnesses, as well as addressing the underlying causes at the energetic, emotional, mental and spiritual levels. Marcus also combines his understanding of the disciplines of Acupuncture and Astrology, to work with sacred Earth Energies and Earth Healing, which has taken him to many of the world's sacred places. Marcus is father to one grown son, he is part Cornish, and regards Cornwall as his spiritual home. To read more from Marcus: www.heavenandearthastrology.blogspot.com

Aluna Joy will be sharing her present moment clairvoyant messages and activations from various inner plane guides along with her ever present Star Elders and ol' pal Archangel Michael. Marcus Mason will be lending his extensive knowledge of the sacred grids lines of Avalon, astrology and will also be offering heart-felt ceremony and meditations.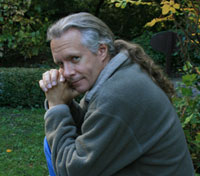 RAPHAEL
It is a blessing to have Raphael as our resident Angel, group guardian and energy healer. He is an ego-less and humble light worker of little words. He has been involved with energy work the majority of his life and has studied a variety of healing energy modalities including QiGong, Quantum Touch, Reiki and Kahuna Ancient Rainbow Conscious Healing (ARCH). His spiritual path has provided him with a deep humbleness and appreciation of all life and Mother Earth, as a direct result of his relationship with the Blackfeet, the Ojibwa and the Lakota Nations. Raphael feels it is a blessing for him to be able to serve our groups with great attention to detail and logistics. Raphael and his life partner, Aluna Joy, reside in Sedona, Arizona. Read more about Raphael here:
http://healingswithraphael.com/

We think, sometimes, there's not a dragon left.
Not one brave knight,
not a single princess gliding through secret forests ...
What a pleasure to be wrong.
Princesses, Knights, Enchantments and
Dragons, Mystery and Adventure ...
not only are they here-and-now,
they're all that ever lived on earth!
Masters of reality still meet us in dreams to tell us that
we've never lost the shield we need against dragons,
that blue-fire voltage arcs through us now
to change our world as we wish.
Intuition whispers true:
We're not dust, we're magic!"
~ Richard Bach




ENGLAND / IRELAND
PILGRIMAGE 2015
Ancient Lineage Lines and the Order of the Sacred Rose
Traveling to Life Altering Stone Circles, Otherworldly Crop Circles, Deeply Healing Sacred Wells, Peaceful Standing Stones, Ancient Cairns, Powerful Ley Lines, Magical Caves, Timeless Chapels and Castles
Holy England ~ July 14th - 23rd, 2015
Sacred Ireland (Extension) ~ July 23rd - 30th, 2015



Here is what we have planned for you . . . but as always, Spirit has full rein on adding and shifting things to make our experience even better. Spirit usually does.
P.S. (B = Breakfast Included, D = Dinner Included)


10 Day ~ Holy England Itinerary

DAY 1 - July 14, 2015 - Tuesday
Our group flies into London's Heathrow Airport any time on this day. You will be booked into our London Heathrow Hotel. From the airport, you will take the Hoppa bus to the Hotel (We will fill you in on how to do this later). Overnight at our London Heathrow Hotel. (No meals are included this day).

DAY 2 - July 15, 2015 - Wednesday
After breakfast, we will set our intentions and have group introductions at our OPENING CIRCLE. Once having met our travel family, we will pack up our magic bus, driven by our old pal and awesome bus driver ANDY, and travel to Glastonbury where our journey begins. On our way, we will stop off for sandwiches, and then make our first stop at WOODHENGE, near Stonehenge. After visiting Woodhenge, we continue our drive to Glastonbury. Upon reaching Glastonbury, we will walk up to the GLASTONBURY TOR, a sacred hill, topped by the tower of the ARCHANGEL MICHAEL. After having visiting THE TOR, we will take a very short bus ride to settle in to our retreat center, The Middlewick Holiday Cottages, located at the foot of Glastonbury Tor. This will be our home for the next 4 days. Dinner will be provided by our own private, chef at Middlewick. www.middlewickholidaycottages.co.uk Overnight at Middlewick Holiday Cottages. (B-D)

DAY 3 - July 16, 2015 - Thursday
After an early breakfast, we have arranged for our group to have a PRIVATE visit to the gardens of CHALICE WELL, to drink and cleanse ourselves in the healing pools. We can feel Jeshua and Mother Mary at this well. The sacredness is drinkable. :) Afterwards, on to ST. JOHN'S CHURCH which has associations with JOSEPH OF ARIMATHEA. In 2007, here at St. John's Church, Aluna Joy intuited this church as being the final resting place of King Arthur and Queen Guinevere. From here, we will continue on to explore the ruins of GLASTONBURY ABBEY with its beautiful LADY CHAPEL and the reputed GRAVE OF KING ARTHUR AND QUEEN GUINEVERE. We will have lunch in the charming and unique hamlet of GLASTONBURY. After lunch, there will be plenty of free time to explore the many eclectic shops and galleries in this fascinating, small town. Dinner will be provided by our own private, chef at Middlewick. Overnight at Middlewick Holiday Cottages. (B-D)

DAY 4 - July 17, 2015 - Friday
Today, we will continue to explore the legends and lore of the Holy Grail by making our way to the magnificent ruined temple of STONEHENGE. Here we have a PRIVATE, early morning, inner circle visit. After our visit, we will have breakfast. From there, we will visit another amazing ritual landscape: AVEBURY; a village which sits right in the middle of a unique complex of giant stone circles and avenues. Many come to England for Stonehenge but discover that the journey was made for Avebury! Here you can have direct, very close encounters with the energies and the stones. It is phenomenal. Then time for some shopping in the National Heritage shop. Lunch in Avebury. You can read up on stone circles, etc..., here: www.stonepages.com/england/england.html Dinner will be provided by our chef at Middlewick. Overnight at Middlewick Holiday Cottages. (B-D)

DAY 5 - July 18, 2015 - Saturday
After breakfast, we will be initiated into the unique and weird order of the CROPPIES, a.k.a. crop circle junkies, as we spend the entire day hunting out and entering as many CROP CIRCLES as we can stuff into a day. For this day, we must ask the Crop Circle GODS to be abundant for us, and we know they will. We will have a stop for LUNCH somewhere. A Croppy pub maybe? Based on where the crop circles take us, we might squeeze in WELLS CATHEDRAL or SALISBURY CATHEDRAL. Dinner will be provided by our chef at Middlewick. Overnight at Middlewick Holiday Cottages. (B-D)

DAY 6 - July 19, 2015 - Sunday
After breakfast, we pack up our mystical magic bus, wave goodbye to our hosts, Jill and Jonathan, at the Middlewick Holiday Cottages, leave Glastonbury and travel southwest through the county of Devon. En route, we will visit other magical spots. One of these places will be on the MICHAEL-MARY LEY LINES, at the tiny CHAPEL OF BRENTOR, dedicated to the ARCHANGEL MICHAEL, on the edge of wild Dartmoor. We will lunch in the quaint village of Tavistock. After lunch, we stop off for a magical visit to an ENGLISH CRYSTAL BARN. You will love this! In the late afternoon, we will arrive in the old Celtic kingdom of Cornwall. Here we will stay in the sea-side and very charming town of Boscastle that also has a unique museum and a fabulous new age gift store. Dinner. Overnight at our Boscastle Hotel near Tintagel. (B-D)

DAY 7 - July 20, 2015 - Monday
After breakfast, we will visit ST. NECTAN'S GLEN. We will wander through magical St. Nectan's Glen, with its fairy-filled woods and amazing waterfall. For lunch, we will stop at a cool PASTIE SHOP for veggie pasties :) YUM! After lunch, we will visit three stone circles known as THE HURLERS, and other lesser-known nearby sites as time permits. Dinner. Overnight at our Boscastle Hotel near Tintagel. (B-D)

DAY 8 - July 21, 2015 - Tuesday
After breakfast, we will visit the romantic castle ruins of TINTAGEL, the legendary birthplace of King Arthur, dramatically located on top of a cliff by the sea. We will also visit MERLIN'S CAVE. Afterwards, we will have lunch in the village of Tintagel, and you will have plenty of time for shopping, exploring this little town or sitting and meditating on the cliffs of Tintagel's ruins. Optional . . . you may want to visit KING ARTHUR'S GREAT HALL in the village. It was once a Masonic temple dedicated to the Arthurian Mysteries. Shopping. Dinner. Overnight at our Boscastle Hotel near Tintagel. (B-D)

DAY 9 - July 22, 2015 - Wednesday
After breakfast, we will pack up our magical Avalon bus. Our first stop this day will be to DULOE, an amazing white quartz stone circle. Here we will have a picnic lunch. After lunch, onward to MERRIVALE, which has two beautiful stone avenues, a stone circle and large 'grandfather' stone. From there, we drive back to our last night's destination near London's Heathrow Airport. We will have a CLOSING CIRCLE, for those that might be leaving us the next morning, and a nice dinner at our hotel. Overnight at our London Heathrow Hotel. (B-D)

DAY 10 - July 23, 2015 - Thursday
After breakfast, those not going to Ireland will depart, the hotel by taxi or Hoppa Bus, to London's Heathrow Airport for flights home. For those going to Ireland for our 8 day Extension, we will take a bus to the London Heathrow Airport for our flights to Dublin, Ireland. (B)

8 Day ~ Sacred Ireland Extension Itinerary

Day 10 - July 23 - Thursday
After breakfast, those going to Ireland for our 8 day extension, will take a bus to the London Heathrow Airport for our flights to Dublin, Ireland. Upon arriving at Dublin's Airport, and having gone through customs, we will hop on our new bus and grab sandwiches for lunch. We will then drive to our very first sacred site in Ireland . . . The FOURKNOCKS MEGALITHIC TOMB. There is a large space inside which has great acoustics, suitable for meditation and toning. Afterwards, we will drive to our hotel in Newgrange and check in. After settling in, we will be treated with a late afternoon discussion on Ireland's sacred sites by our special guest speaker, a local Irish sacred site expert. Dinner. Overnight at our Newgrange Hotel. (B-D)

Day 11 - July 24 - Friday
After breakfast, we will visit two of Ireland's most famous sacred sites: NEWGRANGE and KNOWTH. After lunch, we will visit several other sacred sites including THE HILL OF TARA, MOUND OF GRAINNE (SUN GODDESS), THE FAERY HAWTHORN TREE and others (time permitting). Dinner. Overnight at our Newgrange Hotel. (B-D)

Day 12 - July 25 - Saturday
After breakfast, we will check out of our hotel, board our bus, and drive about a half hour to KELLS CHURCHYARD (a.k.a. ST. COLUMBA'S CHURCH), home of its ROUND TOWER and CELTIC HIGH CROSSES. Afterwards, we will drive to LOUGHCREW where we will visit CAIRN T and the HAG'S CHAIR. The Hag's Chair is a large stone on the outside of the cairn. We feel it was used for prophecy. Here you can sit in it to receive insights and downloads. THE SPEAKING STONES, two massive standing stones nearby, assisted Oracles in seeing and clearing curses, healing and enhanced vision. Afterwards, we will drive a bit further south to the town of Mullingar and check in to our hotel. Dinner. Overnight at our Mullingar Hotel. (B-D)

Day 13 - July 26 - Sunday
After breakfast, we will stop into town to pick up picnic supplies for lunch. Then we will drive half an hour to IRELAND'S ANCIENT SACRED CENTER - UISNEACH HILL. Here we have a surprise for you . . . and a thanksgiving celebration to Nature, the gift of Life and all that we have been blessed with. After our picnic lunch, we will visit ST. BRIGID'S HEART-SHAPED WELL. This well is so very special and magical! Then back to our hotel in Mullingar. Dinner. Overnight at our Mullingar Hotel. (B-D)

Day 14 - July 27 - Monday
After breakfast, we check out of our hotel, and again venture into town to buy more picnic supplies. We will then take our bus to MONAINCHA ABBEY . . . yet another exquisite site and known to be a place of retreat and healing. Plus, it is a perfect place for a picnic. After our picnic lunch, we drive to Lough Gur to visit the LIOS AT GRANGE . . . THE GREAT STONE CIRCLE. This is one of the most important sites in the south of Ireland. Afterwards, we continue onwards to the town of Killarney where we will spend the night. Dinner. Overnight at our Killarney Hotel. (B-D)

Day 15 - July 28 - Tuesday
After breakfast, we check out of our Killarney hotel, grab some picnic supplies, drive further south and visit KENMARE STONE CIRCLE. Next, we will continue our drive south along the BEARA PENINSULA. Our next stop is the URAGH STONE CIRCLE . . . it overlooks a loch and is surrounded by mountains. This is one of Marcus' favorite places in Ireland! After a picnic lunch, we will continue even further south and go to the beautiful, hillside DROMBEG STONE CIRCLE with views of the ocean in the distance. Afterwards, we might be able to see more stone circles, but it will be depend upon our group, time, weather and Spirit's calling. Dinner. Overnight at our Cork Hotel. (B-D)

Day 16 - July 29 - Wednesday
After breakfast, we check out of our Cork hotel, stop in to a local shop for some picnic supplies, and start our drive north towards Dublin. About an hour south of Dublin, we will stop at GLENDALOUGH. Glendalough means "Valley of the Two Lakes". Lonely Planet Ireland calls Glendalough "truly one of the most beautiful places in Ireland and a highlight of any trip to the island." Some of the many sites to see here include ST. KEVIN'S WELL, ST. MARY'S CHURCH and the UPPER LAKE (just to name a few). We will spend quite a bit of time here, but not too much so we can finish our day at the ATHGREANY PIPERS STONE CIRCLE. Afterwards, we drive into Dublin to check into our hotel, have our 4PM Closing Circle and our final Dinner. Dinner. Overnight at our Dublin Hotel. (B-D)

Day 17 - July 30 - Thursday
After breakfast, we check out of our Cork hotel and catch our flights back to London's Heathrow Airport. Upon arriving in London, you will catch your flights*** home. (B)
*** NOTE: If you are going to fly home on this day . . . Do not book your flight home from London before 2PM in the afternoon. If you cannot find a flight that fits this criteria, you can book a room at our London Heathrow hotel, or any other hotel you wish near the airport and fly out the next day.





If everyone on our alert list joins this group, this pilgrimage will be sold out 4 times over. We will book this pilgrimage on a first come / first serve basis by date of call or email.

Register for this pilgrimage here!




Pricing for SACRED ENGLAND and IRELAND ~ PILGRIMAGE 2015
Ancient Lineage Lines and the Order of the Sacred Rose

England - DATES
DOUBLE $ 3,199.00 USD - Per Person
SINGLE supplement - ADD $ 899.00 per person
Single supplements are limited and are subject to availability.
Our group is limited to 30 adult spiritual pilgrims.

NOTE: Should the England group not reach 20 pilgrims, the price will be increased $300 for the England portion of this pilgrimage. However, we don't expect this to happen, since our interest list for this pilgrimage is so large.
UPDATE: As of April 15, 2015, we have reached the above minimum numbers, so the additional cost of $300 listed above does not apply at this time.

Ireland Extension DATES
DOUBLE - $ 2,499.00 USD per person
(Price includes your round trip flight from London's Heathrow Airport to/from the Dublin Airport)
SINGLE supplement - ADD $ 399.00 USD per person
Single supplements are limited and are subject to availability.
Our group is limited to 24 adult spiritual pilgrims.

NOTE: Should the Ireland group not reach 17 pilgrims, the price will be increased $250 for the Ireland extension of this pilgrimage. However, we don't expect this to happen, since our interest list for this pilgrimage is so large.
UPDATE: As of April 15, 2015, we have reached the above minimum numbers, so the additional cost of $250 listed above does not apply at this time.



The England Pilgrimage and Ireland Extension Include: All accommodations, meals as listed in the itinerary, tipping for all meals included in the itinerary, tour vehicle and driver costs, services of hired expert guides, all entrance fees to archeological sites, museums, etc... and applicable taxes. All dinners will have two courses consisting of an appetizer/starter and a main course. Tea or coffee, outside of the Glastonbury Middlewick Holiday Cottages is an extra $4-5 per person which will have to be paid individually. Yes, we dislike this too, but in the UK, they all work this way! At the Middlewick Holiday Cottages, teas and coffees will be provided. A vegetarian option will be available as one of the main course options. Aluna Joy and Marcus Mason will be providing their spiritual guidance. Raphael will be acting as group guardian, and supporting the group by handling logistics and any unexpected situations (heart donations for this trio are gratefully given and received at the end of the trip). All plans are subject to slight changes due to Spirit's calling. Also included will be laughs, joyful tears, and the beginning of lifelong friendships . . . just about everything a spirit could want! Plus, spiritual growth that cannot be measured by any standard! We guarantee that you will never be the same!

The Ireland Extension Includes: Your round trip flight from London Heathrow's Airport, England to Ireland's Dublin Airport is included.

Not Included in the England Pilgrimage and Ireland Extension: Air travel fares from your home to and from London's Heathrow Airport in England, transport to and from our Heathrow hotel, and meals not mentioned in the itinerary. For all meals included in the itinerary outside of Glastonbury, England, tea and/or coffee is not included. Also, not included are light gratuities for the bus driver, bellboys, maids, etc.... If you are called to tip, we ask that offer it from your heart. Trip/Travel insurance, flight insurance, laundry, room cleaning at Middlewick Cottages, telephone calls, faxes, internet, alcoholic beverages, mineral and bottled water, soft drinks, and incidental expenditures are not included.


IMPORTANT INFORMATION ABOUT MIDDLEWICK HOLIDAY COTTAGES in ENGLAND:


Middlewick Holiday Cottages are self-catering cottages, most with little kitchens. They have an unparalleled location at the back of The TOR in a quiet rural location and within easy reach of Glastonbury's sacred sites and town. You can actually take a long walk to the village from here. There is a beautiful apple orchard behind it, and the sacred oaks of Gog and Magog are on the way as you walk to The Tor. We also have the benefit of the function room for group gatherings. The accommodations are simple and mildly rustic with shared bathrooms, but it will be worth it to stay within the energy field of The Tor for the four full days that we are in Glastonbury. Middlewick has a friendly atmosphere, and is very affordable compared to the other accommodations, so all of us will be saving money over all. We also have hired an amazing chef who will be catering to us.

Middlewick Holiday Cottages are able to accommodate 30 people in the available cabins, but a few of our guests will have to sleep on fold-out beds, in the lounges of some of the cabins. The more couples that we book, the less need there will be for folding beds. We will do our best to avoid this as much as possible. When you register for this pilgrimage, you can talk to Raphael who can inform you as to what rooms are still available before you send your deposits. Otherwise, he will place you in the best rooming situation possible. All of the bathrooms are shared. In the English countryside, the majority of the accommodations (guest-houses, small country hotels and bed-and-breakfasts) are for individuals, families and small groups of under 10 people. Middlewick has housekeeping at a minimal fee if you want your room cleaned. They also have self-serve laundry.

Remember, you are on a pilgrimage rather than a conventional tourist trip. You are going to the countryside of England and not boring, Americanized hotels. You are going to have an incredible and charming English experience. Our groups never want to leave here!



Aluna's Messages from our past Avalon Pilgrimage.

Read these messages to prepare for the pilgrimage

Reading / Media Suggestions
Reading list ... if you so choose to prepare in this way.
A fun movie to watch about this is called "Stone of Destiny"
Also a must see / read is The Da Vinci Code
The Mists of Avalon - Marion Zimmer Bradley
The Isle of Avalon. Nicholas R. Mann. St. Paul,
Energy Secrets of Glastonbury Tor by Nicholas Mann
The Quest for Arthur's Britain. Geoffrey Ashe.
Celtic Sacred Landscapes. Nigel Pennick.
The Avebury Cycle. Michael Dames.
The Silbury Treasure, The Great Goddess Rediscovered
Stonehenge Revealed. David Souden
The New View over Atlantis. John Michell
Stonehenge Decoded, Gerald Hawkins
Ancient Mysteries of Britain. Janet & Colin Bord
Mysterious Britain. Janet and Colin Bord.
Prehistoric Avebury. Aubrey Burl


Register for this pilgrimage here!
Read many of our experiences and messages in England and Scotland here
Contact us Here

Transcendent experiences are difficult and almost impossible to describe, because they are experienced from the Great Mystery of the Universal Heart. Once experienced, from this point on, it becomes our hearts calling to bring these experiences back into our material world. And if we are lucky enough to be able to anchor this indescribable extraordinary space, even ever if so briefly upon on our world, we know an echo of this divinity will reverberate on our Earth forever. ~ Aluna Joy

There are things that happen only once, and then again, never exactly the same way... things that only we experience. There is no way to predict when magic lands where we are. We just have to put ourselves out there and keep our eyes open, and feel blessed when we see receive gifts from spirit. These are experiences that no one else will ever see in the same way again.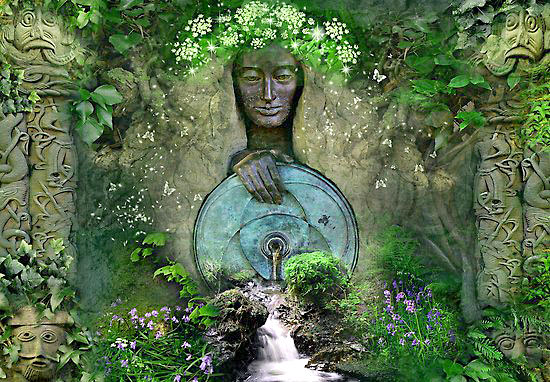 These are the Sacred Sites we are called to work with.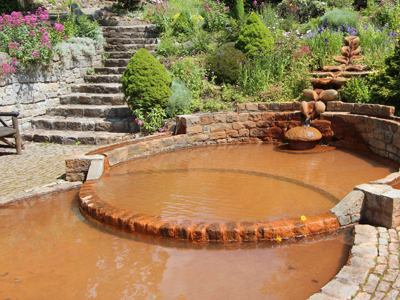 The Vesica Pisces pool at Chalice Well


Chalice Well is linked to Christian and Arthurian legend, and is a timeless and sacred place that is full of legend, symbolism, sacred geometry and tangible healing energy. The wells location is at a crossing of twin currents of energy called the Michael and Mary lines. It is said that Chalice Well is considered to be the 6th Chakra and relates to the third eye and a location of legendary King Arthur's Court. Pilgrims have come here for centuries to drink the iron rich water and to meditate and be healed in its amazing gardens.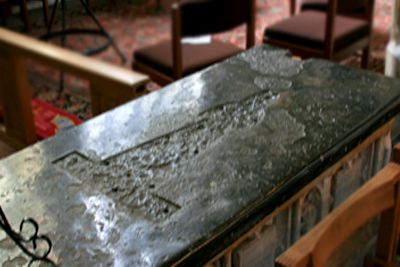 The black marble tomb cover of King Arthur


What has haunted us over the years was the energy that we felt from two extremely old, black, marble slabs which cover two oddly, unmarked tombs on either side of the high altar at St John's Church. Once we touched these black marble stones, what washed over us was a tangible presence of King Arthur, Queen Guinevere, and a strange familiar feeling of an idealistic time in Camelot in which there was honor and impeccability. The tomb covers are oddly devoid of any names or dates. It appears that the original markings were actually removed. Interesting.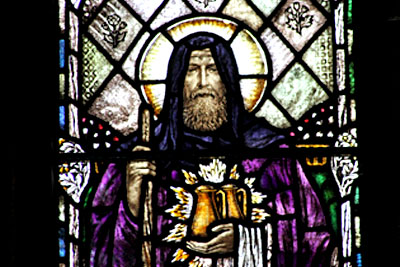 A Stained Glass Window of Joseph of Arimathea in St. John's Church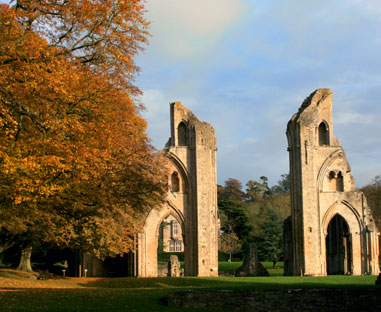 Glastonbury Abbey


The Abbey is rich in myth, legend and some very sketchy history. Legend says that Joseph of Arimathea brought Jesus here and built the old Waddle and Daub church. In 1191, legend says monks found the buried remains of King Arthur and Queen Guinevere under two huge, black marble stones. Both King Arthur and Queen Guinevere were re-buried in 1278 just in front of the high altar in the Abbey in the presence of King Edward I and Queen Eleanor. Again, they were buried under the original two huge, black marble stones. In 1539, the Abbey was destroyed by King Henry VIII. Many think he destroyed it because he was insanely jealous as the Abbey had a huge pilgrimage appeal because King Arthur and Queen Guinevere were buried here. He didn't like being overshadowed by a king that had been dead for centuries. He wanted King Arthur's legacy to be wiped out. So along with destroying the Abbey, he also destroyed any recorded history about King Arthur and his visions of Camelot. It is here where remaining fragments of Arthurian history ends.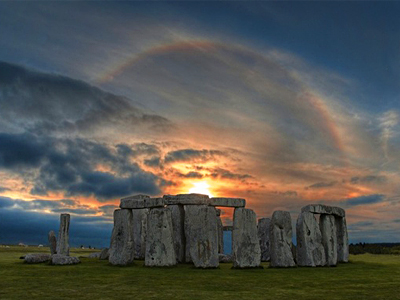 Stonehenge


Religion in Neolithic times had similarities to pagan religions. The concept of Mother Earth and Father Sun overlap to some extent with the Archaeo-astronomers viewpoint. The concept of "energies" and the sitting of Stonehenge at the intersection of many Ley Lines also follows back to a nature theme. Today, the Druid religion uses Stonehenge as a key religious monument, though druidism itself wasn't around at the time of the Neolithic's.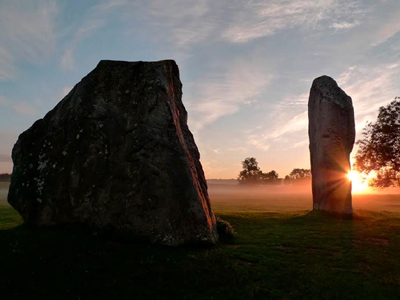 Two Huge Stones at Avebury's Stone Circle


It is said that people come to England for Stongehenge and find out that it was Avebury they came for! On this location on the Earth, there is a rare crossing point of two greatly amplified grid lines, called the "Michael and Mary lines". Other well known crossing points of the Michael / Mary lines are located all around the Glastonbury area including The Abbey, the Tor and Chalice Well.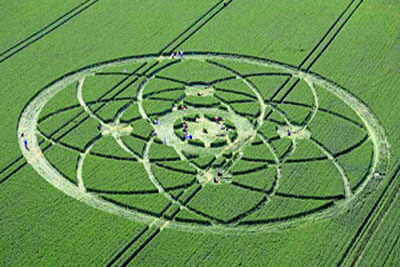 Our best Crop Circle from 2013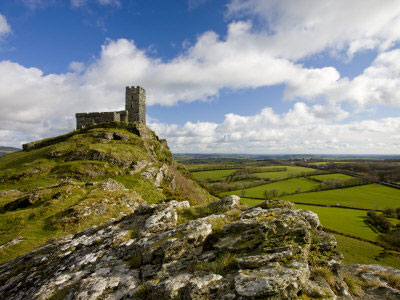 Archangel Michaels' Brentor Chapel on an earth acupuncture crossing.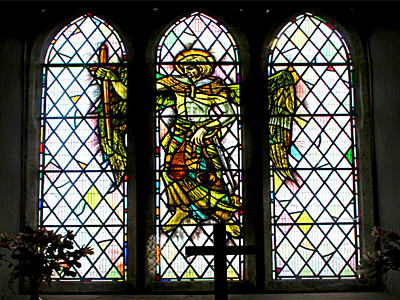 Archangel Michael at Brentor doing Earth Acupunture.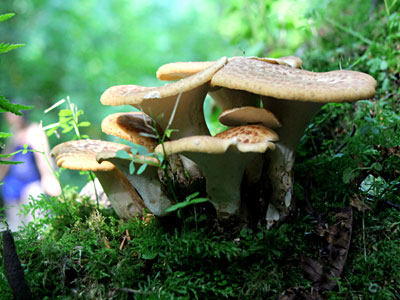 St Nectan's Glen... Just too much magic for one photo! So we aren't even going to try!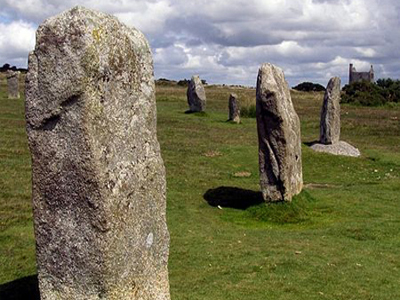 The Hurlers Stone Circle Complex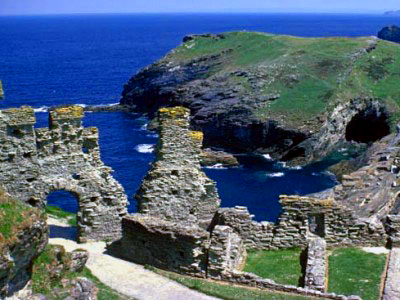 Tintagel - The Birthplace of King Arthur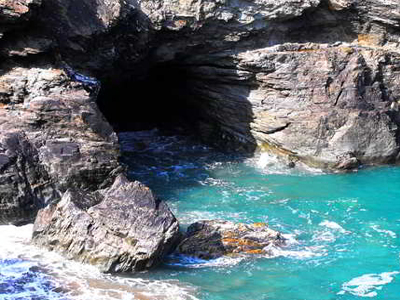 Merlin's Cave at Tintagel - We go at low tide :)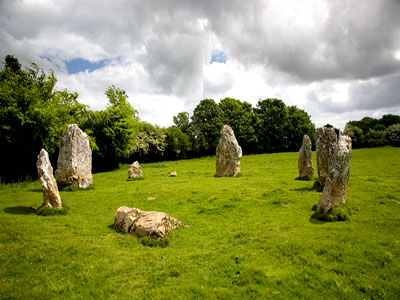 Duloe Stone Circle ~ Beautiful white quartz crystal stone circle! Just amazing!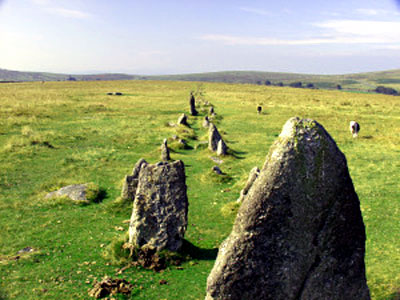 Merrivale Stone Circle.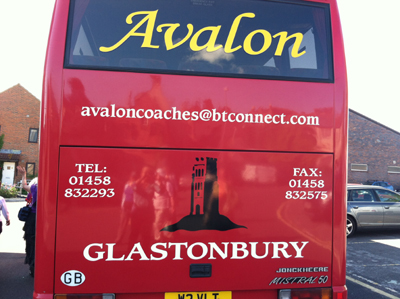 Our magic Bus! And Bus master Sir ANDY is back :) We love Andy!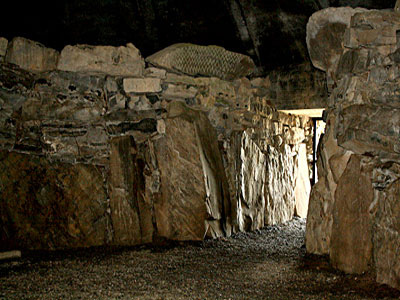 Fourknocks Megalithic Tomb


FOURKNOCKS MEGALITHIC TOMB . . . has a short passage leading into a wide, pear-shaped chamber with three smaller offset chambers. The name Fourknocks is suggested as coming from the Irish words 'Fuair Cnocs' which means 'The Cold Hills'. The hill is significant to Newgrange, because it is aligned with the line of Winter Solstice sunrise from Newgrange.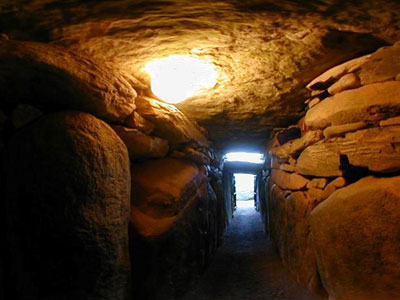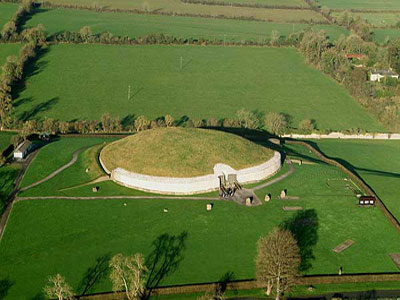 Newgrange


NEWGRANGE . . . is located in the Bru na Boinne area within the bend of the River Boyne. The Bru na Boinne area is a known, deeply mystical area for thousands of years. There are many references associated with the Tuatha De Danaan, the People of the Goddess Danu, a race of super-natural beings who according to tradition ruled Ireland before the coming of the Celts and afterwards retreated into the fairy mounds and forts. NEWGRANGE, with its white quartz crystal facade, is Ireland's best known passage tomb, and dates back to 3,000BC. At dawn on the winter solstice, a shaft of sunlight enters the chamber through an opening in the roof.

All the megaliths, including dolmens, cairns and passage cairns, have certain things in common. There is a chamber with portals which separates it from the outside world. Aluna calls them energy zippers. Once you pass through each chamber, our energy is temporarily locked into that position for the duration of the initiation. Often these chambers are roofed with impressive cap-stones that further separate us from the outer world. Their astronomical and Earth alignments and placements on powerful ley lines, intensely focuses the energy inside the chamber, making these potent places indeed.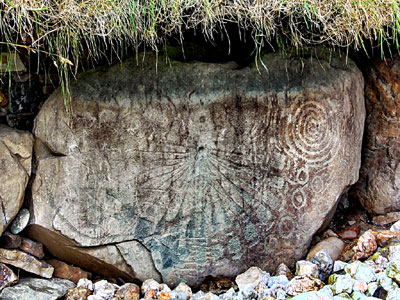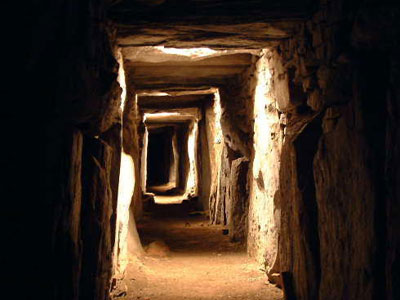 Knowth at Newgrange


KNOWTH . . . also located in the Bru na Boinne area, consists of one large mound containing two passage tombs surrounded by 17 smaller mounds. The east passage is aligned and illuminated at sunrise during Equinoxes.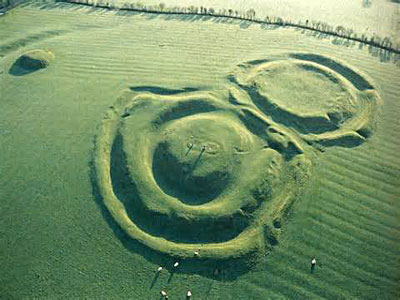 The Hill of Tara


HILL OF TARA . . . according to tradition, was the seat of the High King of Ireland and associated with the prehistoric goddess Medb or Maeve or Maebh. Maeve was also from the lineage of TUATHA DE DANAAN. There is no sovereignty goddess more celebrated than her. The High Kings of Ireland (Ard Rí na hEireann) were historical and legendary figures who had, or who are claimed to have had, lordship over the whole of Ireland. Among the most prominent earthworks located here is the FORRADH or ROYAL SEAT. In the middle of the FORRADH is a standing stone which is believed to be the LIA FAIL - THE STONE OF DESTINY and brought to Ireland by the TUATHA DE DANAAN. The location of the true STONE OF DESTINY is in great dispute between Ireland and Scotland. Legends place the origins of the Stone in biblical times and consider the Stone to be the Stone of Jacob, or Jacob's Pillow, and was used as the pedestal for the ARC OF THE COVENANT in King Solomon's temple . . . a very powerful history. Early written records show that high kings were inaugurated at the HILL OF TARA. This was the most celebrated, sacred ritual at the hill of Tara, where the king must drink ale and symbolically marry the goddess Maeve in order to qualify for high kingship. This ritual was called the 'Ban Fheis'.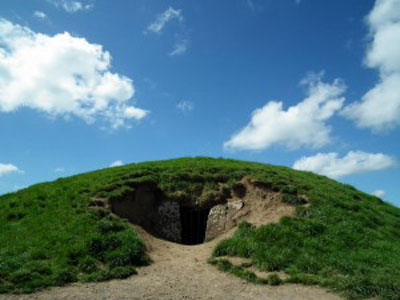 Mound of Grainne (Sun Goddess)


THE MOUND OF GRAINNE (SUN GODDESS) . . . is the third Fairy Hill of Munster and home of the GODDESS GRAINNE and her court. This site has a very gentle and magical atmosphere. The nearby local village, Knockgrean (Cnoc Grainne), feels very ancient and part of another world.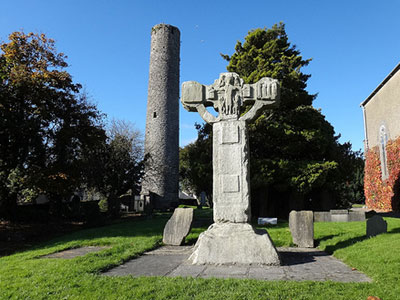 Kell's Churchyard (St. Columba's Church)

including the Round Tower and the Celtic High Crosses


KELL'S CHURCHYARD (a.k.a. ST. COLUMBA'S CHURCH) . . . The 'Annals of Ulster', from the year 804CE, show that the Columban community on the island of IONA transferred to Kells which then became the principal Irish Columban monastery. It is home to an amazing ROUND TOWER and CELTIC HIGH CROSSES. One of the high Crosses is nearly 11 feet high and is that of St Patrick and St Columba. St Columba was known for his mystical visions of Angels. The BOOK OF KELLS is a beautifully illustrated book of the gospels that may have been written here.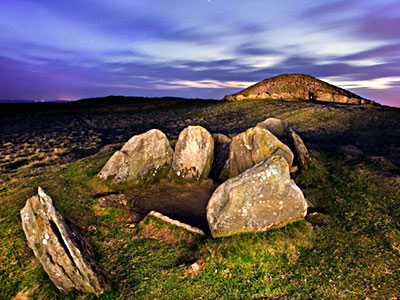 Loughcrew Cairn T


LOUGHCREW . . . Local folklore maintains that the site is the work of the "MONSTER WOMAN" who once ruled the area. Loughcrew`s name in Irish is SLIABH NA CALLAI meaning "HILL OF THE WITCH" or "HAGS HILL." The name of the ancient hag was Garavogue, known locally as An Cailleach Bheara. This witch or hag may have had her origins in the Celtic Goddess Bui, whom we encounter at Knowth in Bru na Boinne. She was a Moon Goddess or Earth Mother. She was a supernatural figure responsible for the landscape; placing large boulders in rivers and creating rock formations on hillsides. Local legend recounts the story of An Cailleach Bheara jumping from one hill to the next dropping stones from her apron. The fallen stones formed the Cairns we see today. As she was attempting this magical feat to attain great power and rule over all of Ireland, she was able to drop her cairns of stones on the first three peaks. As she jumped to the fourth hill, she missed her mark and fell to her death on her last leap. LOUGHCREW CAIRN T - has a vernal and Autumnal Equinox which is when the chamber becomes illuminated with sunlight. THE HAG'S ASCENSION CHAIR - Local belief claims that if you make a wish while sitting on this kerbstone the Moon Goddess / Earth Mother will grant it. THE SPEAKING STONES - two massive standing stones nearby, assisted Oracles in seeing and clearing curses, healing and enhanced vision. The myth says that they must not be asked the same question more than once, or the stones stop speaking. This was abused 200 years ago when the sotnes fell silent. We will work to heal and reactivate this lost tradition.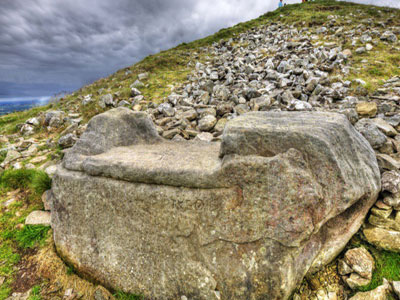 Hag's Ascension Chair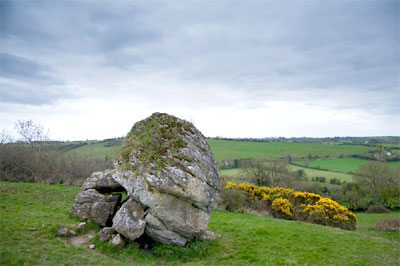 Ireland's Ancient Sacred Center - Uisneach Hill


UISNEACH (pronounced ish-nook) . . . energetically is Ireland's strongest center point to the entire landscape. Myth and some 12th century historians say this center might have been the original site of Stonehenge. Merlin shared that these ancient stones were brought from Africa to Ireland by giants, the Formorians, who lived here. The legendary Formorians were considered demonic and malevolent giants with one eye, one arm and one leg. NEMHEDH defeated the Formorians for a time and pushed them to coastal areas. According to the tradition, NEMHEDH was the leader of the third group of people to settle in Ireland, who are referred to as the MUINTIR NEMID ("people of Nemed"). The name 'Nemed' itself means "privileged" or "holy". NEMHEDH is a direct descendant of Noah and was married to Macha who has a number of disguises but is very much a northern goddess! NEMHEDH is credited with lighting the first fire at UISNEACH. Archaeological digs have revealed that huge fires were burnt here. These ritual fires were then relayed to other hills, and so onwards, until all of Ireland was "lit". This ritual occurred at Beltane, the fire festival. These were the rituals of the fire god. UISNEACH is also believed to be the burial place of the goddess, Eriu, or Erin. She is the goddess who gave her name to the island: Eire . . . Ireland. The rocks are her bones, the earth is her flesh, and the rivers are her veins. Legend has it that this Mother Goddess was buried underneath the Cat Stone, on the southwestern slope. The Cat Stone's Irish name is Ail na Mirenn, or Stone of Divisions, underlining its central location; from here, the "body of the Mother Goddess", Eriu, was divided. We feel UISNEACH acts much like Glastonbury, England as it connects entire landscapes and sacred sites on ley lines.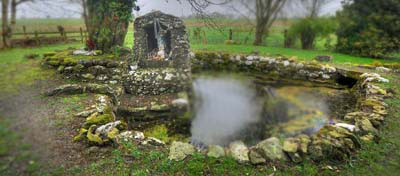 St. Brigid's Heart-Shaped Well


ST. BRIGID'S HEART-SHAPED WELL . . . In pre-Christian Ireland, Brigid was the most beloved and most multi-faceted of the goddesses. She was both a solar and lunar goddess, as well as the goddess of all the waters. It is very likely that the center of her reign was at the site of contemporary Kildare ("the church by the oak"). As in the temple of Vesta in Rome, her symbol was a perpetual fire. The fire was the hearth of the country. It also symbolized the goddess's triple aspect - the fires of maternity (birth and healing - especially of women, cows, and sheep); poetry; and creativity - especially with wool and metal. Born in 451AD, St. Brigid may very well have been the last priestess of this ancient goddess lineage.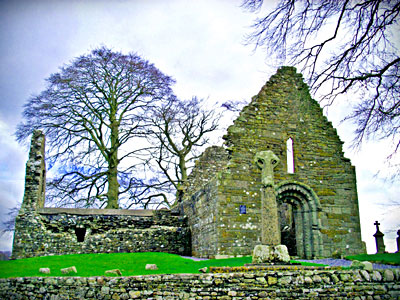 Monaincha Abbey


MONAINCHA ABBEY . . . has been described by local people as 'Tipperary's best kept secret'. The abbey was originally located in the now drained Lough Cre which must have made it even more of an impressive sight as you approached it by boat. The island is called 'Inis na mBeo' which is translated as the 'ISLAND OF THE LIVING'. It was known as an important pilgrimage site. Another legend surrounds the name of the island 'Inis na mBeo' and says that it is impossible to die while on this island, because while there, YOU ARE IMMORTAL.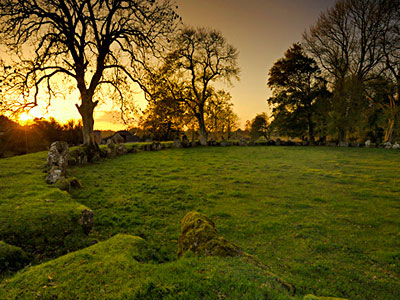 Lios at Grange - The Great Stone Circle


THE GREAT STONE CIRCLE - LIOS AT GRANGE . . . is one of the most beautiful stone circles in Ireland. This huge stone circle maintains an otherworldly presence, surrounded by an earthen bank (called a lios) with stones that are embedded in the bank. There is a short entrance avenue aligned with summer sunrise. This is a truly magical place. It is like being in the SUN'S energy. It is one of the most important sites in the south of Ireland. One of the stones is called the STONE OF THE SACRED TREE and another stone (Crom Dubh) represents the GOD OF THE HARVEST. It is Ireland's LARGEST STONE CIRCLE consisting of 113 stones.



Kenmare Stone Circle


KENMARE STONE CIRCLE . . . is a large stone circle in the southwest of Ireland. In the middle of the circle is an impressive huge bolder dolmen with a huge cap stone. Marcus said it was buzzing with energy when he last visited it.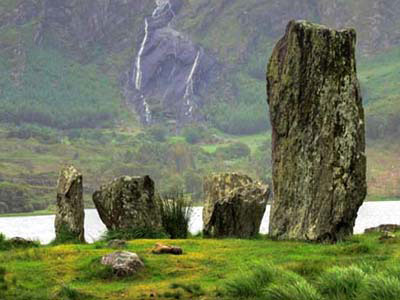 Uragh Stone Circle


URAGH STONE CIRCLE NEOLITHIC STONE CIRCLE . . . is nestled in a gorgeous valley, often filled with magical mists. The Uragh Stone Circle lies on a low bit of land between Lough Inchiquin and Lough Cloonee in Gleninchiquin Park, on the Ring of Beara. The largest stone is ten feet high, and the circle is eight feet in diameter. There are two brilliant quartz stones at the south, as well as one off center within the ring.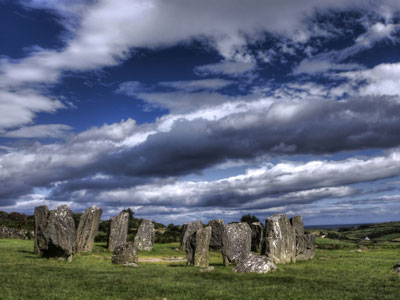 Drombeg Stone Circle


DROMBEG STONE CIRCLE . . . "Drombeg" means "the small ridge." This stone circle is locally known as the Druid's Altar or Ring. It is set at the edge of a rocky slope, in a beautiful greenbelt by the sea. Originally 17 massive stones, it is now composed of 13 stones. One of the stones is aligned with the mid-winter sunset. Its solemn symmetry invites the imagination to run wild - what mysterious rites were once performed here? It has a deep soul longing feeling that could activate ancient cellular DNA memory. Some believe ceremony occurred here during the Winter Solstice sunset.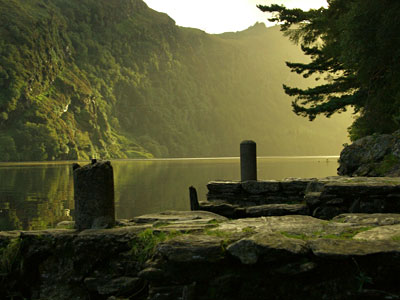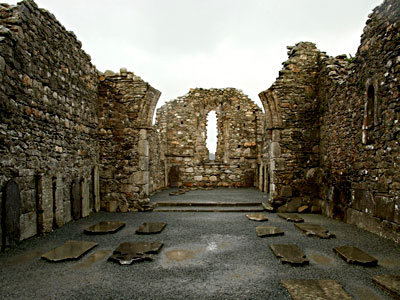 Glendalough - St. Kevin's Well, St. Mary's Church, and the Upper Lake


GLENDALOUGH . . . 'THE VALLEY OF TWO LAKES' . . . St. Kevin chose Glendalough as his first place to live the austere life of a hermit, and later to found what would become one of the most important early Christian monasteries in Europe. It is said that his mother had no labor pains at his birth, that, as a child, he was visited daily by a white cow (a common and revered creature in Celtic myth) who provided milk for him, that he banished a great monster from the Lakes of Glendalough, and that he could carry fire without burning either his clothes or flesh.


Athgreany Piper's Stone Circle


ATHGREANY PIPER'S STONE CIRCLE . . . "THE PIPER'S STONES" derives its name from the folklore tradition that supposedly a group of dancers and their piper, when caught dancing on a Sunday, were turned to stone. Locals say fairies play the bagpipes there at midnight.