Our groups are like Sacred Sites....
We never have enough time with them,
and we always want to see them again : )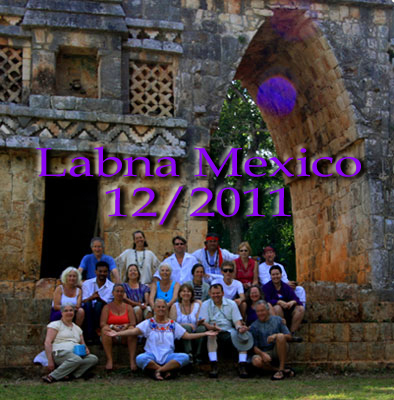 Many Heartfelt thanks to our latest group to the Yucatan...
The Watch Keepers of 2011!
Do you see the violet orb in Labna's dimensional doorway?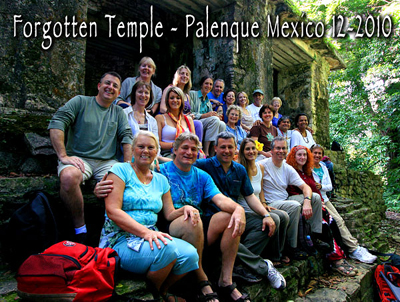 Thank You and Bendiciones to our amazing harmonious and totally brave group in Dec 2010 for our Palenque retreat. I call them the DIVING BOARD TEAM, because they were not afraid to JUMP! It is a hopeless task to rehabilitate sacred site junkies. Once they fall pray to the amazing peaceful, harmonious energy and the comradely of like mind soul family ... it is all over. There is no going back : ) Someone said sacred sites it's like crack for light workers and that rehab is for quitters. Glad these one didn't quit for one moment. THANK YOU.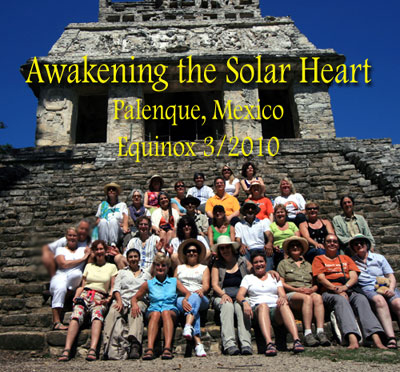 I want to send many THANKS and BLESSINGS to our amazing group this year. I raise my heart to your integrity, lack of ego, your giving and sharing, and most of all your depth of heart. In spite of the huge energy wobbles while able to see the etheric city re-bond to the physical city, we were still able to clearly receive messages from the living stones in Palenque, Yaxchillan and Bonampak. It was very powerful, but we must have been ready for it. PS... It was exactly 20 years sense my famous down load from Palenque in 1990! So we feel this energy will happen again in 260 days. (P.S. David is missing from this photo . . . maybe he found the door to the next dimension :)

I want to send my thanks and my love to yet another amazing group of trouble makers! What can I say but thank you, and to remind you that a group is only as good as its members and Archangel Michael out did himself gathering this group together. What magic and fun we spun : )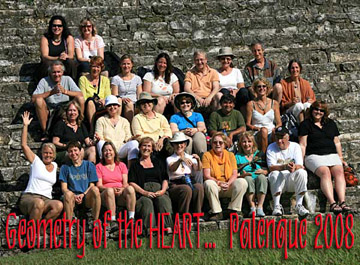 A huge THANK YOU to our group in Palenque for 2008! ! !
There were 35 in the group from 10 different countries! The impeccability and LOVE this group expressed was immeasurable. We didn't catch them all in this group photo. At least a third of our group was MIA for this photo. Most were out hugging pyramids and trees, and things like that.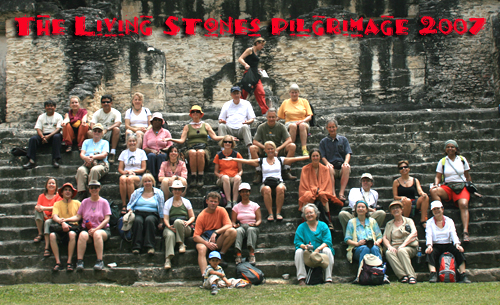 2007 Power House group in Tikal!
Come join us and be part of our growing family!
Join the Galactic UN Peace Team : )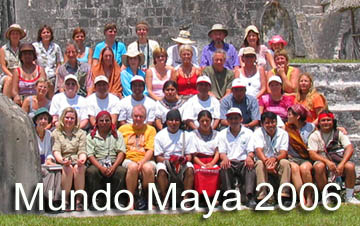 Our group with new friends with
Presidente Comunidad Linguistica Kaquchikel
who invited us to ceremony in the Grand Plaza in TIKAL!
It doesn't get better that this! What a blessing!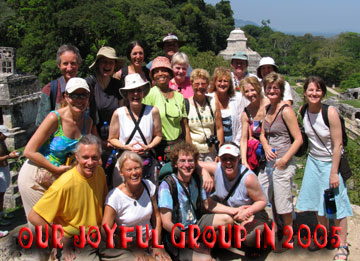 This was a love bunny group for sure! If love is the answer then
we had it all covered!

Oh No.... The 1995 through 2004 group photos were lost in another dimension. We hope the groups didn't go as well, or maybe we do! Send us directions if you can : )
Hi Shining Ones
It gave me such joy to walk in wonder and gratitude amidst the beauty and tranquility of Palenque and the verdant jungle robed Earth Mother at Yaxchilan with light hearted people who walk gently on the earth with wide open hearts and appreciation for all that is. Aluna and Raffael, muchas gracias once again for the opportunity to share with you and such a wonderful band of pilgrims as we return to the homelands and together soak up its rich mysteries, and remember...and create together the new dream. Paradise unfolding. We do know the way, even if it unfolds only step by step.Thank you for being there and doing this work. I feel we walked together the beauty way: with beauty in before us and beauty in behind us, and beauty all around us. This was truely a grace filled journey and its gifts found in the gardens of our hearts. As others have said, it is so hard to find words to describe a magic that will not be captured taht way. We can only feel it: feel the love and know it is enough... Here are some words I penned whilst we were waiting on our plane out of Villahermosa. Somewhat rambly but I hope they capture a bit of what I was feeling that sad day we left you all to return to our "other" lives... Go well folks, David, the 2008 Palenque group



Hello, Fellow Travelers,
I've been trying to find the words to express how I feel about our beautiful trip and our wonderful group. I can't seem to find the right words that mirror the experiences and feelings that we had and what they mean to me. Then the reason occurred to me--we were all centered in our hearts, not our heads. And the language of the heart isn't one of words. It's feelings. It's actions. It's Love. Love itself can't be truly expressed on a computer or on paper. It is feelings and actions. And the best way to express and honor that Love is to bring that feeling and those actions back here into the "everyday world" which needs it so badly--to "Pay It Forward." So to anchor and truly honor the Love that we have created I will be increasingly sending out little ripples of Love in my little daily pond in all the small things that I do. All I can say is "Thank you" from the bottom of my Heart. Love and Blessings, Marilyn the 2008 Palenque group



Dear Butterflies
I am sitting here at my sister's home outside Chicago checking email for the first time since Palenque and reading your beautiful messages. I loved looking at photos sent from Orla's beatiful one of Palenque jungle to Christy's orbs to the photo of many of us on the last day at Palenque. My heart has burst open again and I miss you all though know that I carry you and the spirit of the Maya in my heart. Thank you Maria for finding out about the Butterfly's Heart!Thank you for your presence, your being and your love. I am so grateful to have met all of you and journeyed to the Mayalands with such beautiful souls.
With infinite love and blessings Charmaine, UK, the 2008 Palenque group

My Heart and love is with both of you
I loved the butterfly man and his message Aluna and it's relevancy to everything we are getting too. Also in Yaxchillian temple during the vortex ceremony we also got the message of the butterfly effect leading the clearance of the underworld and the upperworld in order to open the passage for the heart merkabas to leave to the Golden Cities above ... Such sychrony and so much confirmation , that the Universe is sending us ! From my heart to yours,
Love, Liz - South Africia - the 2008 Palenque group

Hola mi amigos. Como esta?
I am still enjoying and integrating the treasures I received from the Pilgrimage and the group into my heart. If you want to see 360 degree photos of the sites we visited, check out the link below. http://www.maps-of-mexico.com/Palenque_mexico_gallery.shtml. I am making a second album with some examples of sacred teachings from the Palenque UniverseCity, including sacred geometry, astronomy, planetary evolution as explained in the Mayan calendar, sacred sounds, interdimensional travel, etc. I must have been a former student there because I really enjoy relearning these lessons. I am also continuing to work on opening my heart and empowering my life which I learned from many of you on the trip. Many thanks and blessings to you all. Terry and Don, the 2008 Palenque group

Dear Family of Light,
Like so many of you, I realize that words rarely do justice to the feelings of the heart, but this is something that we all understand and know - that on a soul level we communicate all that we feel in a perfect and divine way. Palenque is a multi-dimensional experience that can be perceived on so many levels of consciousness. I think it is quite true that we can never be the same, nor would we want to be, but like many others my "real" life seems unreal. I miss the sounds and beauty of the jungle but most of all I miss the love and energy of the group. With heartfelt love and blessings to all, Pamela - from the USA - and the 2008 Palenque group


Well, I 'll say it once again guys. Thank you all from the bottom of my Heart for being there, all of you wonderful souls, a family I was blessed to be a part, to be re-united for this amazing journey on bringing Heavens on Earth. I Love you all, and carry each one of you in my Heart. You are the reason, you are my strength, and you are my faith and hope for a better world. Together we will make it happen. Like Gandhi said "We can be the change we want to see in the world". Let's build these communities. The time is now. The world looks strange in my eyes today... but I have Joy in my heart and a fire burning strong of desire to change it. So I will.... Ohhh what a journey !!! Hugs Pandelis :-) Cyprus - 2009




Aluna and Raphael
I know you say you are not really responsible for bringing these wonderful groups together.But, once again, I must honour the wonderful way in which you hold the light and space for pilgrims like us to come together from around the world and share so much together on these magic journeys, returning home with hearts overflowing and stepping more and more into our power and the richness of our lives. Aluna, dear lady, the way in which you show us all to approach these ancient sacred sites with hearts wide open, with no expectations, but a child like curiosity, and to watch and listen and feel as the sites talk to us, is wonderful, and these mayalands adventures, and the growng family of souls who walk these amazing sits together, have certainly been life changing for me. The time and energy you both put into these adventures, and with such love and care and concern, is outstanding. And the two of you are such a perfecto couple, as I said in the closing circle, and it is such a delight to be with you in this way. And Raphael- you truely are a guardian angel for the group. Linda and David ~ New Zealand ~ 2009



Hello brothers and sisters
I feel that my "mind" is blown --- I cannot tell anyone stories about the trip because none come to mind --- there are no details that stick as large as the experience of the sites and being with you. As I reflect on the energy of the sites, I feel that being shaken up and agitated are good descriptors (at least for the experience of standing in the plazas). The side buildings (bat group, E19, little fairy houses in green jungle) - these were the easiest energy to absorb and commune with for me. The temples were intense and full of potency. Allie and I have talked and said that until we requested permission to enter, we were not sure the message was of welcome. It was not a message of go away, but maybe more like something in the sites ready to burst out and it was like walking in against a headwind. So, I know something happened but I cannot tell you what. Love to you, look forward to hearing your inner journeys.
Sharon - rom the USA -and the 2008 Palenque group

Aluna and Raphael
Thank you, you two for a wondrous week in a place that has changed me forever. I can't begin to explain the peace I feel inside, its just so comforting to feel this way...like I know a little more about life? It's as if a layering of fuzz has been removed from my eyes, my perceptions, my emotions, my heart. I returned home and my mother commented that, 'that must have been a special trip, you're different, your voice is calmer and you are at peace." Well, it's true and I have you two and our traveling family to thank...so my heart felt thanks for leading a glorious journey that I know in time will continue to unfold and enrich and spread more love.Love and light, Peggy - the 2008 Palenque group



...the unfolding continues, the energy moving inside my actual physical body astounding, the increased awareness to be more discerning with energies coming in and the clear choice to say "no", the ability to tune into awareness itself with so much happening around me, and the love... deeper, clearer, unconditional, more simple and natural... the desire to be human again with a connection to spirit that is equal, naturally humble, proud without an ego, in love with every expression. and the merging of heaven and earth in our bodies... wowie! with the heart as the bridge... wooowiewow! Iwanted you to know that there is endless amount of shifts from this trip and it continues! Absolutely, the veils are almost gone! =) The space for all dimensions to coexist already emerging at least, this is my experience.... who knows! The biggest gift, to be able to let it all go again... until the next love moment. In deep respect and Aluna Joy for your beauty.
Maria - The 2008 palenque Group


Hi you wonderful people
This was such an amazing tour and adventure to be on with you all, and it was an honour and delight to be there with you. Aluna,you have done it again in being there for us and manifesting such an awesome group of people (ancient family) to walk together through these sacred sites in such a heart felt way. Infinite blessings to you and Raphael and thank you for coming into our lives! ... And mucho thanks and gratitude to all you beautiful folks for shining so brightly and for your support and loving care and humour and happiness. We had the best of times didn't we now! ... (and I can hear Mo chuckling and saying Ain't Spirit grand!!) In Uaxactun I had a clear view(a glimpse)of a very tall Mayan man dressed in white,with that distinctive rounded mayan nose,walking down from that residential plaza building and walking towards me oh so nobly and gracefully. The building behind was painted in red, and everything so alive and vibrant....and that was when the tears began to flow! Such grace and so many gifts we receive in life...and havent we shared some doozies together!! Go well and take care all you wonderful sisters n brothers. Love from us, David - New Zealand




The experience of standing on top of the Temple of Inscriptions (Palenque) after visiting Pacal Votan's tomb was a peak experience for me. It was a great trip even without that, but I feel that the privilege of getting that visit has significance beyond my ability to articulate. Bill - USA


What a Mystical Mayan journey! What an awesome ancient family to be reunited with – a pilgrimage unlike any I have experienced so far. What a space we have all been in! Its been more difficult to return from than any trip I've undertaken - parts of me never came back! Life back here no longer resonates with the same recognition. The lost of the jungle and our beautiful family group was very hard to reconcile. Walking with nature - breathing the breath of the ocean sunrise - blessed in the secret chambers of the Earth - born again in the pure waters of the Great Mother and cleansed by the heat of her fire. TIKAL that portal to the stars requires so many days to hear its entire story, although it did share some of its deep secrets with me. For me the journey began in the most perfect way, entering through the eliments of all the Earthly realms. So fitting for our Tikal pilgrimmage as we journeyed into a timless space - no wonder its so hard to return. I feel our group united the world into a new paradigm of unity during the equinox. My deepest gratitude extends to both Aluna and Raphael, for manifesting the great TIKAL REUNION. You give so much to these pilgrimages and that's what makes them so very special for all of us. Raphael it was so very special to meet with you again in this lif. You carry a great light into this world and resonate so beautifully with Aluna. What a journey it can be finding each other. Blessings and love from the Light of the Smiling SUN - ROB a.k.a DOC - ENGLAND




Once home I pored over the San Bartolo notes and studied the scenes, getting very excited about all the confirmations I felt. Next I watched a slide show of your remarkable photos, feeling absolutely transported back to the scenes in the full presence of our beautiful Soul Family. How wonderful this journey has been - and still IS! David and I have been listening to the "Mayan Music to remember by", transported to realms that feel heavenly and familiar. This feels so exciting ... And we ARE REMEMBERING! Thank you, Aluna and Raphael, for being in our lives! Love, Linda - New Zealand




Thank you for the fantastic adventure we had with you all (soul brothers and sisters)... I feel we had many initiations with all the powerful ceremonies we experienced on the trip. It was a wonderful experience with you all. It was like no other we have ever been on ... such magical energy! We felt like we were in a cocoon that was very protected and time was non existing when we were travelling together. The thing that impressed us most was their was no ego problems with anyone!!! It was a balanced joyful group and a wonderful to experience!!! I believe that our guide Aluna & Ralph bought a beautiful energy with them which encouraged egolessness & lots of spontaniety! Debra & Nigel ~ Australia



Hi Aluna,
I just wanted to offer you my reflections of our magical Mayan Journey. The Maya lands radiated not only a very deep mystery but also a very warm friendliness. I appreciated all the thoughtfulness you put into organizing and preparing us for our remarkable journey. Your guide book is excellent and prepared us well, but no mention of Lizards in the bedrooms, thought a fun surprise. The Mayan travel pack, complete with calendars, special flower essences, and a magical Mayan Guide called Enrique, was a recipe for a royal journey, and it was! Palenque has an atmosphere of other worldly timelessness and what a treat we received at Equinox as the howler monkeys sang their mantras at sunset; floating our consciousness to another level. How do you arrange it all? I really valued the experience of entering Palenque by the back trail; it is that kind of sensitivity that makes your journeys so special. The jungle restaurants we exceptionally good. Our group had such a special quality each one with their pearls of wisdom and I felt that we grounded some important energy at the equinox… a special thank you for treating us to a the ceremony of music of Kan'Nal on our finale evening, a unique close to a life-changing journey. I hope to join you again soon. Rob - England 2003

Thank you for the most wonderful trip ... both of you ! I felt all the time I was in "no place" it was most odd sensation. Now ... just as you predicted... we get up in our last flight from Toronto to Heathrow and one of my guides comes in loud and clear. He is Lord Kuthumi. The basics of the message was to inform me that we had all been down loaded with MUCH information, O.K. this you knew, but he also said that he was now offering me a direction for my growth ... should I so desire it. MAGIC I thought. You are going to work restoring LOVE in to the heart of man and becoming ONE with the DIVINE. You will be joining forces with others to do your work and it will be dedicated work that will fill your time and take you to the Higher Aspects of Human Existence on Mother Earth. The Higher Aspects of your life will help you to overcome your fears I asked who were these "other people" were and one name popped up quite clearly... guess who? Yeah! Aluna Joy !!!! Who on earth is that I wondered!!! It seems you are not going to get me out of your hair so easily dear ones! JUST THOUGHT YOU SHOULD KNOW... I'll be back... In love and light MO and Miriam of course xoxoxxo ENGLAND - the 2007 Palenque group

I'm still amazed at the miracle that allowed me and my daughter Toshi, freshly graduated from university, to join Aluna and other "ancient companions of spirit" on this pilgrimage to three sacred Mayan sites of Bonampak, Yaxchilan, and Palenque. The entire trip was "nothing less than pure magic," and although words cannot capture the spirit they can at least point. Not only did this trip give us quality time together as a group, but added a whole new dimension to our lives! For Toshi it was a fresh perspective from the academic world. Life changing is an understatement! The changes for me went far into the past, beyond my present life, recapturing pieces of my "heritage", and far into the future, shaping my vision of "Heaven on Earth". I feel I've made a special connection with the Pleiades through the ancient stone skywatchers in the "Hall of Records" courtyard at Palenque. At Bonampak, I swear, I heard the breathing of the Earth itself! The stone Olmec beings at La Venta Park, Villahermosa, were an unexpected and awesome Treat! Yaxchilan, in its jungle covering, is enigmatic, a timeless place full of secrets - which still calls, drawing me back. All credit for this smooth-flowing, relaxed, and at the same time adventurous journey go to Aluna who has a talent for both organizing and creating a harmonious family atmosphere. I cried upon return to my precious New Zealand - for what I had left behind; but mostly, I cried for being separated from my newly re-discovered family...Of course, I know that "separation" is an illusion. Linda - New Zealand

Linda joined us 12 years in a row in 2011-2010(twice)-2009-2008-2007-2006-2005-2004-2003-1999-1998!




I want to thank you once again for facilitating such a beautiful experience. This trip meant so much to me on so many different levels; physical, mental, emotional, etherical, spiritual. I have yet to be able to adequately express in language, the volumes of experiential knowledge gained from this trip, maybe I'm not supposed to find the words, just internalize it.
Geoff - Lake Tahoe, Ca