Our groups are like Sacred Sites....
We never have enough time with them,
and we always want to see them again : )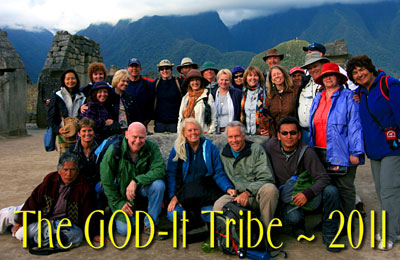 We are gratefully singing Ode to JOY, to the teary eyed, flying high like a Condor, God-It Tribe! The spirit of cooperation, love and support was immeasurable. It was a great honor to share time with this evolved group! THANK YOU.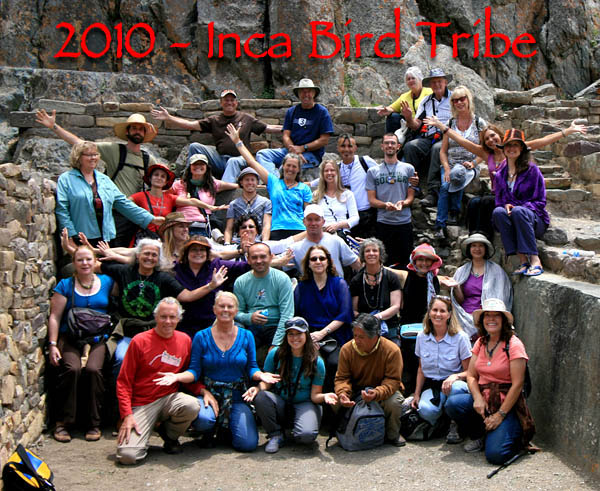 THANK YOU... Andean Masters, Guides, Guardians and Angels for sending us another perfect heart centered group to explore our deepest inner spaces together! This is the BIRD TRIBE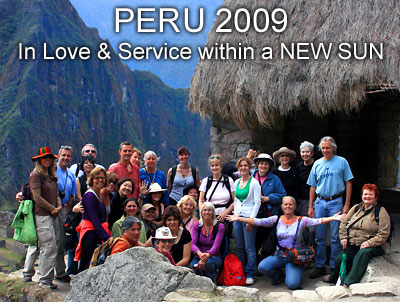 We have returned ~ reluctantly ~ from this Peru Pilgrimage.
We send our love to our Peruvian soul family, that we would like to call
"The Ever Present, Unified, and Outrageously Spectacular Family of Healing Junkies. A.k.a. the Bubble Brigade"
(You had to be there : ) Hotel rooms were used less for sleeping, and more for spontaneous healings. Our group was so harmonious that we had to come up with more adjectives for each other like… Stunning, Impressive, Amazing, Fantastic, Fabulous, Extravagant, Magnificent, Brilliant, Incredible, Dazzling, Breathtaking, Astonishing, Marvelous, Wonderful, Incredible, Dynamic, Energetic, Vibrant, and Full of LIFE. Oh and we could add ... Joyful, Blissful, Lighthearted, and Serene and even Childlike and Innocent. But we all liked "Spectacular" the best : )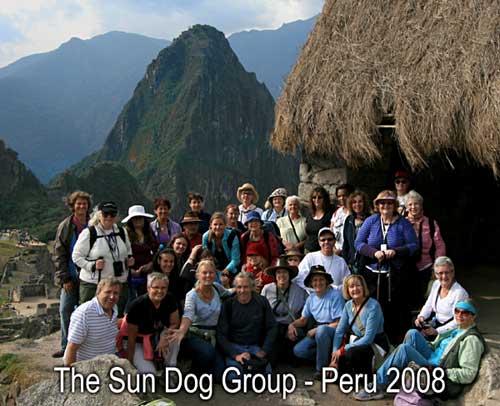 THANKS to the Great Spirit of the Andean Apus for yet another blessed group of beautiful light beings! We were the group that danced with SUN DOGS! I don't think this expereince could be repeated... but we are going to give it a shot!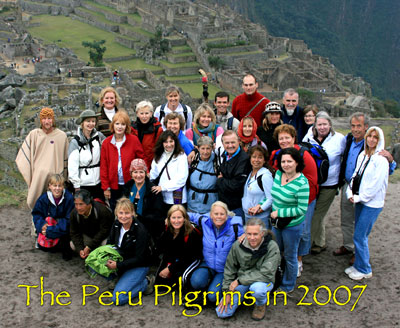 A huge, heart felt T H A N K Y O U to our group in 2007! It was wonderful ~ Amazing and went by way to fast.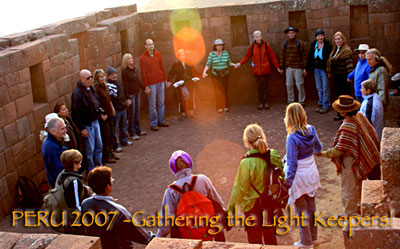 2007 offered us a clear and peaceful trip. We took time to really feel the spirit of the sites.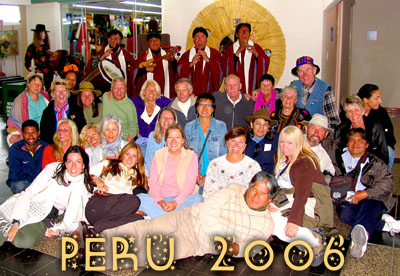 On our last day in Peru together... and yes we were still causing some trouble here in the beautiful, Juliaca Airport. We didn't want to go home ... but I think the Inca band was glad we did :)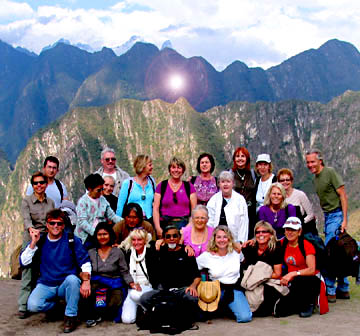 2005's amazing instant family... What an impeccable group. THANK YOU! We were Blessed to have you all along for the journey!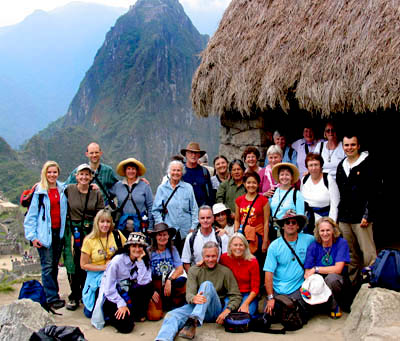 And the LOVE BUNY in 2004 . . . What incredible, unconditional LOVE we anchored with each step we took in the Andes. THANK YOU so much for joining us!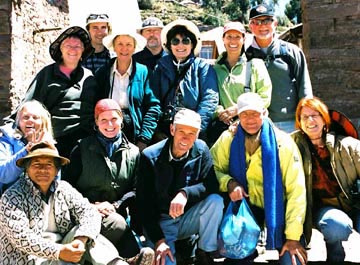 .... and then there was the 2003 group that was either crying . . . or had the giggles! It was powerful and delightful! I still have my stick (you had to be there).
Oh No.... The 1995 through 2002 group photos were lost in another dimension. We hope the groups didn't go as well, or maybe we do! Send us directions if you can : )

We are looking forward to reading all your insights! Please share below.

Dearest Aluna Joy and Raphael! Thanks from the bottom of my heart for putting together such a wonderful trip and wonderful group! The group of brothers and sisters that you brought together on this trip even beats many of what I thought was the best workshops that I have attended. This was the best and it was fully experiential! Thanks for the wonderful agenda, love, guidance, guides and the safe bubble that you casted! I take my hats off to you for the wonderful organization and co-ordination in a country and environment that really challenges many – well done! Wow, no one could have ever told me that the sacred lands of Peru has this wonderful energy that I call love ouzing out of it and so unconditionally for everyone to take! My only complaint perhaps is there wasn't enough time to get to know everyone better. Thank you for giving me the incentive to see a wonderful land and from different lenses! It was indeed an honour and a wonderful privilege for me to be with the family during this wonderful time of reunion! With deepest and fondest gratitude and love, Caroline - Canada - 2006 grp

Very dear Aluna, I am overwhelmed with gratitude. Your promise of bliss and initiations has exceeded all expectations. Looking back at the Peru trip and rereading your pages of information I am touched again by your dedication and generosity. I need to express the joy you have given me. Eternal thanks, Anita - Cypress - 2006 grp

First of all, I want to tell you that the trip was breathtakingly life changing for me. Aluna, you deserve a lot of credit for putting it together. It really shows that, after 10 years, you have an exciting and finely honed product that is very gratifying for the growing group of us out there who are seekers and learners. You delivered on everything you said you would. The people, places and activities were well selected and planned. I have tremendous appreciation for a leader who can successfully coordinate the logistics of 16 days in a foreign country that is not especially efficient or predictable. And then you add in the intention of trying to please almost 30 strangers from all over the world, with hugely differing personalities and goals. You did a good job! The Peruvian people we spent time with there were great—all kind and helpful. Some had such beautiful spiritual qualities that it was a gift to be in their presence. For me, it was mostly Willaru who touched me very deeply at a heart level, but I heard other travelers say they were touched by other Peruvian people they got to know on the trip. I especially appreciated the interactions you arranged with such an interesting cross-section of people. The visits to the orphanage and schools were great. Love and peace,
Pam USA 2005 grp

Thank you for creating such a wonderful opportunity to experience the energies and magic of Peru. Aluna, your many years of experience meant that you were well prepared for most (if not all) eventualities and have enabled us to benefit from that knowledge and also your visions. We were able to take part in a great adventure and know we were well taken care of by you and by Raphael. It was a great journey and a wonderful group. Thank you. Much love,
Carolan UK - 2005 grp


The trip has been magical, mystical, tranformative and full of good humour. The joy of being with like-minded spirits has been a truly wonderful adventure - the feeling of family has been woven into the personal discoveries.Coming to Machu Picchu has been the fulfillment of a dream, but in many ways it was just the tip of the iceberg. Willaru's spiritual integrity is a wonderful example to aspire to and his accessibility is an inspiration. With so many experiences and meditations it is difficult to choose a highlight. The mediation at Moray was like a mind melded with the cosmic consciousness and the water temple was a first contact with the Lemurian dimension I had ever experienced. This group and trip will forever be in the temple of my heart.
Blessings, Anna Bialkowska, England




A spiritual journey not only because of the energy we have received and shared, but also because our experiences during the trip has reassured us that "simple is better". Willaru's teachings have been profound as well as appropriate to each portion of the journey. This was a great group that always shared energies with each other without hesitations. It was a Family gathering!
Carmen and Miguel, Puerto Rico




Dear Aluna, I am overwhelmed with gratitude. Your promise of bliss and initiations has exceeded all expectations. Looking back at the Peru trip and rereading your pages of information I am touched again by your dedication and generosity. I need to express the joy you have given me. Eternal thanks, Anita - Cypress - 2006 group




I can't believe that when I first went to Peru I couldn't sense energy at all... now I can feel it long distance! Funny how spirit works. You think you're moving so slow until you look back at where you were only months ago.
Louise - Canada




Aluna, Thank you so much for your generous fluid spirit & for your management of the logistics and group energy. Especially thank you for sharing your life experiences, your out look on life, and for touching our hearts many times over with your care and love. The guidance you gave in your Star Elder sessions was perfect beyond words. You were right on and confirming and I really felt partnered with you and those working with me. I've never felt that way with any "reading" I've had. It was a reading and a healing.
Tom and Nicole - USA - 2004 grp




Aluna Joy, Word can not express my JOY and FULLNESS and how grateful I am for being able to join you in Peru.... The trip was life changing for me and will continue to influence my life and my dreams.
Gayle - Canada - 2004 grp




All I can say is that no earthly words can even begin to describe the intensity of the experience as it awakened every fibre of my being. I felt feelings of peace, joy, love and a sense of belonging that I didn't even know existed on this realm. I went back to my 'home'...I reconnected to whom I truly am - "my divine self". How can I describe something which is not of this world? So in short, my trip to Peru bought me back to a state of "being divine". As I reconnected to the divine energies of the Andes, I reconnected to the divine energies of my very being. My opportunity now unfolds as I integrate and live with those energies in a continued state of peace and unconditional love. So my life purpose truly unfolds......"Self actualisation". I'm so grateful for the wonderful and peaceful journey you organized for us all. I do appreciate all your effort, support and most of all unconditional love. I learned a lot from you and really value the friendship that we're shared. I pray that one day soon, we will see each other again and continue our journey.... Aluna, thank you for sharing this magical journey with me.
Love Angie




Thank you for the tremendous journey you gave us. Peoople ask "So was it worth the money?? Did you get what you went for??" I tell them that knowing what I now know about the trip, I would pay twice that to go again with you. I got tenfold over what I expected. For me Aluna and Willaru gave knowledge that runs deep inside me. This knowledge is the knowing that we are all special in this dimension, that we all have a purpose in this 3D existance, and that when people of like mindedness (our group I feel was strong in this area), get together, big things happen. Aluna and Willaru gave us opportunities to make this happen. There warmth and understanding for the group was very noticable. Nothing was such a bother that it showed. This I feel, gave a silky flow throughout the trip. The extra details Aluna put into our tour, the information folder with its spirirtual guidence, the talks and ceremonies, right down to the peruvian group essence, was really something special. Thank for eveything Aluna, Willaru. My spirirt is raised because of you 3. Many blessings and all my warmest love, Chris




It is a year ago when I was in Peru and it still feels so strong. I have joined other spiritual pilgrimages but none others had the group spirit as we had in Peru. The trip had such a powerful effect on me that I can still not fully understand it.
Blessings Jyri - Findland




Sometimes words are totally inadequate to espouse the feelings of the Soul. As one walks as a multidimensional being in a third dimensional world, one is shown every facet of being "Hu-man" and this trip have shown to varying degrees how one can truly be At-One-Ment with Man and the Gods despite one's longing to return "Home". Thank you Aluna for your warmth, companionship, expertise, encouragement - and humanness. You truly "Walk your talk."
Rosemary - New Zealand




I've never been in a group that melded so well together and the experience was tremendous. My thanks to everyone in the group for making it such a special event and especially to Willaru for all his insights and most especially for his practical pointers which I found to be a great help.
Jadwiga - England




I know now the true importance of my trip to Peru with Aluna and Willaru. Finding the souls I did there, finding the friendships that will last forever, finding more meaning to my spiritual growth, is nothing short of stunning.
Chris ~ Australia

We want to express or gratitude for creating the Sacred Journey to Peru, a most enriching and blessed experience made all the more enjoyable by your thoughtful planning. The magic of the journey was made complete by Willaru's guiding presence and enriching wisdom and humour. Thank you both for the the energy you put into making the journey as smooth as it could be. For me the journey to Machu Picchu was the greatest highlight of my spiritual journey and one which I'm still absorbing. As we journeyed by train and bus through the valleys of the Andes, I could feel my energy rising. I remember stepping off the bus at Machu Picchu and feeling quite overwhelmed at actually being there. That afternoon Willaru led us all into the sacred city and we paused for a moment while Willaru shared his knowledge with us. I sat down with Sandy and some of our group on a very large rock, while we listened intently. I don't know how much time passed, when suddenly I became overshadowed by a powerful force. A message flashed into my mind - "Stand up and receive the energies of the Sun." I felt uneasy and thought, "I can't do that in front of Willaru." The message came stronger and this time I instantly obeyed. I stood up with my hands raised in front of me and as I did a powerful energy immediately flowed into me, charging my whole body! My higher guidance directed me to turn to the right and as I did, I saw another huge rock standing in a lower part of the city. As my hands aligned with this rock, an enormous energy exchange took place. Gradually the flow subsided and I returned to face forward again only to be shown another large rock in the distant ruins. This time the energy exchange was much less and I became aware that Willaru had finished speaking. I lowered my hands and turned to speak to Sandy, but before I could say much she said, "I saw your hands glowing like gold!" The following afternoon Willaru took a small party of us into the ruins. We followed a number of paths and then arrived at the huge rock I had transferred energy to the day before. Willaru began talking to us and described this large rock as the 'Solar Rock' one of the power points of Machu Picchu. I was stunned by his words and after he finished speaking I shared my experience of the previous day with him. Willaru listened, smiled softly and said no more.
Rob - England - His first trip with us and he came back in 2006 too!




The past 18 days have been like a time warp. Time travelers journeying through timeless and sacred sites. there were so many highlights it would be unfair to single out just one. The magnitude of this journey will not be fully assimilated and digested until one day we are all at 'home' sitting, contemplating and remembering this very special trip with a very special family. Thank you to Aluna Joy for her commitment and attention to detail and for Willaru's teaching and sharings.
James - Sydney, Australia




An absolutely wonderful experience! Willaru is a wonderful hu-man, that is, if he is hu-man. Going to Machu Picchu has be a wish/dream since I was a kid -- I can't think of a better way to have the experience. I appreciated most Willaru's examples of the Three radical steps to becoming conscious and especially the methods for dealing with the ego. I look forward to the next trip with the group. The group was outstanding and was able to support and foster our development individually.
Dan - Paris, Kentucky




I'd rather be a sparrow than a snail..." a song which will resonate around the world, reminding us of reversing trains, hilarious dinners, fabulous views of Lake Titicaca, lightning, hail, snow and heat. Being a "loner" I have enjoyed the group energy, the humour and teachings from each and every one - which has been a pleasant suprise. Touching base with the Lemurian consciousness and meeting our "Big Brother" Willaru again has been magical. My thanks to Aluna Joy for organizing another life changing event!Will I return to Peru? YES, I would, if I could, I surely would!" Much Love
Raven - New Zealand




Timeless beauty as we retrace our ancient footsteps are more time over the Sacred ground of our Beloved Mama Pacha ~ Peru. Hand in Hand - Heart to Heart - Together again, Brother and Sister we move into the Light~ Everlasting love and gratitude, Willaru and Aluna Joy
Beverly - Australia




I have just completed a journey I have been longing to do for many years. Thank you Aluna for making it possible. It has been such a joy to experience so many wonderful things with all the group. It has been great to be with family again. All my Love and Blessings to a wonderful sister and brother.
Jan - New Zealand




This trip has been very transforming. The sites we went to were energetically transforming and ultimately powerful. I loved this group! Willaru is the kindest, most humble, most caring, most knowledgeable, most helpful teacher I have had in this life. The insights I received are so powerful they are beyond description. I am deeply grateful for this trip.
Patricia, Paris, Kentucky, USA