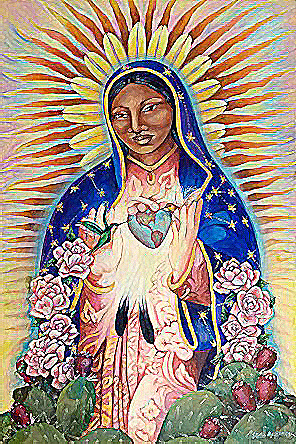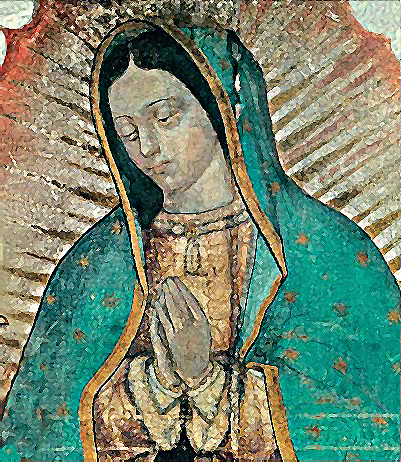 The Lady of Guadalupe
Mesoamerica, the New World, 1521: The capital city of the Aztec empire falls under the Spanish forces. Less than 20 years later, 9 million of the inhabitants of the land, who professed for centuries a polytheistic and human sacrificing religion, are converted to Christianity. What happened to precipitate such an upward conversion?

December 9, 1531, Juan Diego hears music and a woman's voice calling to him. At the crest of the hill he sees a radiantly beautiful woman, who reveals that she is Our Lady, the Mother of God. She instructs Juan Diego to go to the local bishop and tell him that a temple should be built in her honor at the base of the hill.

Juan Diego proceeds directly to Tlatelolco and the palace of Bishop Juan de Zumárraga, a Franciscan friar. The bishop receives him, but is reluctant to believe Juan Diego's story. A discouraged Juan Diego returns to Tepeyac Hill, and admits his failure to Our Lady. She directs him to again go to the bishop, and repeat her request.

December 10, 1531 (Sunday): Juan Diego returns to the bishop's palace. The bishop questions him for a long time, and finishes by telling Juan Diego that he needs a sign to believe that Our Lady sent him. On his return to Tepeyac Hill, Juan Diego tells her of the bishop's demand. She promises to fulfil it the next day when Juan Diego visits her again.

When Juan Diego arrives before the skeptical Bishop Zumarraga, he opens his tilma and the roses fall to the floor. However, Juan Diego has more than roses as a sign, for a portrait of Our Lady appears on the coarse fabric of the tilma. The bishop and his whole household are filled with amazement. The Bishop and people fulfil Juan Diego's request, and build a temple dedicated to Our Lady of Guadalupe. The roses are a miracle as these flowers did not grow in that region or climate; nor could roses grow in one day.

Supreme Mother God of the Americas
Goddesses Guadalupe a.k.a Tonantzin was considered Mother Earth, the Goddess of Sustenance, An Honored Grandmother, and Bringer of Maize. Other indigenous names include Chicomexochitl ("Seven Flowers") and Chalchiuhcihuatl ("Woman of Precious Stone"). Tonantzin is honored during the movable feast of Xochilhuitl . Upon appearance of Our Lady of Guadalupe in the hill of Tepeyac where Tonatzin's temple had been burnt by the Spanish priests, the natives accepted Our Lady of Guadalupe as Tonatzin.

According to tradition, the Virgin appeared Guadalupe to a Nahua man named Juan Diego in December 1531 on Tepeyac Hill, north of Mexico City, where there was a shrine dedicated to the female Aztec earth deity Tonantzin. To this day, in Nahuatl-speaking communities (in other communities as well), the Virgin Guadalupe continues to be called Tonantzin and her appearance is commemorated on December 12 each year.

Tonantzin means Our Sacred Mother in the Nahuatl language and she continues to be connected symbolically to fertility and the earth. It is not known precisely how the pre-Hispanic deity Tonantzin became connected to the Christian Virgin of Guadalupe, however, we can assume that many people of the time believed that her appearance represented a return of the Aztec mother deity. There are many myths surrounding the Virgin of Guadalupe but she has been recognized by the Catholic church as a manifestation of the Virgin Mary. The Virgin of Guadalupe has become a national symbol of the Mexican nation and she is viewed by many to be a special protector of Native American peoples.

In conclusion, in the minds of many people living within and outside of Mexico, the Virgin of Guadalupe and the ancient Tonantzin are one and the same. This sacred figure can be seen to represent the emergence of Mexico as a unified nation born out of the destructive encounter between European and pre-Hispanic civilizations.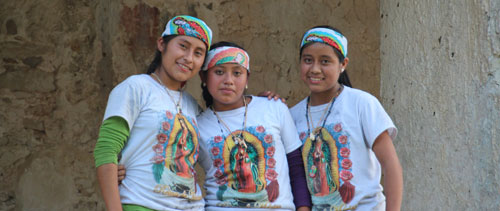 Three Beautiful Maya Guadalupe Runners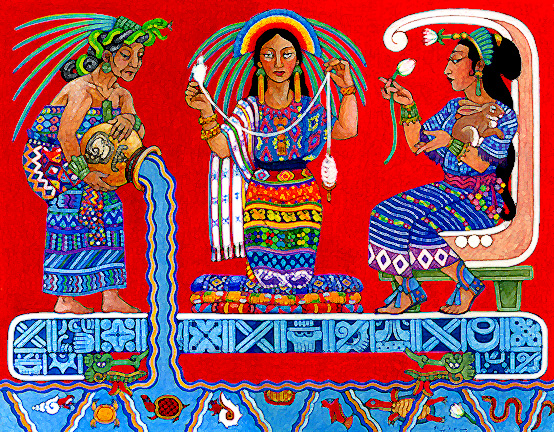 The Goddess Ix Chel
Ix Chel is the Maya Goddess of the Moon, Water and Weaving. She appears in many aspects. One is aspect is Chak Chel, the Old Moon Goddess, and is known to be the Midwife of Creation. Ix Chel as a Mother Goddess is known as the Weaver who sets the Universe in motion. Then there is the Young Ix Chel Moon Goddess with Her totem animal the rabbit for fertility and abundance. Ix Chel as a whole is a great Water Goddess, the spouse of the Chief God of the Maya, Votan. Her name means "Lady Rainbow". She is said to have founded the city of light of Palenque at the command of the Mayan Gods. Ix Chel had a great shrine on the island of Cozumel as well to which pilgrims came from all over. She is a Weaver, whose whirling drop spindle is said to be at the center of the Universe. She has many aspects and titles, such as Ix Kanleom, the "Spider's Web Catching the Morning Dew", and Ix Chebal Yax. Her Nahua (Mexican/Aztec) counterpart is said to be Chalchiuhtlicue. Ix Chel is known to bring about the transmutation of old worlds by pouring of sacred waters. She prepares the way for a new age. She now assists us in preparing to fully enter the 5th SUN! She is known as an elder midwife of creation, much like Goddess Nut in Egypt. She assists in birthing worlds and civilizations.

THE ITINERARY
RAINBOW WATER WEAVER PILGRIMAGE
Sacred Mayan Temples of Palenque, Bonampak & Yaxchillan
December 9 - 17, 2017
NOTE . . . We do not plan the spiritual aspects of a trip in advance, as we understand Spirit moves in the moment. But based on prior trips, rest assured that there will be a lot of meditation time, teachings, channelings and ceremonies . . . as Spirit guides us through-out the pilgrimage. We hope this helps you decide the adventure that is right for you. On a 3D level, this is where we will be each day.

B = Breakfast Included, D = Dinner Included

Day 1 - Saturday, Dec 9, 2017:
Our group members will fly into Villahermosa, Mexico.
You will then take a taxi to the amazing Cencali Hotel for the night. Amazing Mayan Murals grace the walls of the reception area!
Overnight at the Fiesta Inn Villahermosa Cencali Hotel
(no meals included this day).

Day 2 - Sunday, Dec 10, 2017:
Enjoy a wonderful Yucatan breakfast. After you have fully landed, we will have a group introduction Opening Circle.
Then we will pack up our bags to begin our journey into the deep jungles, in the magical Chiapas, to the ancient city of Palenque.
We will have a peaceful afternoon introduction by passing through old Palenque with its magical water falls. Here we will begin our work to work with the sacred waters. We will stop to ask permission to enter the city of light with ceremony and prayer.
Afterwards we will check into our hotel.
6PM - Every evening (depending on the events of the day), we will have an evening meeting.
7PM - Dinner. Overnight at our Palenque hotel, The Villa Mercedes (B, D)
http://www.hotelesvillamercedes.com/english/

Day 3 - Monday, Dec 11, 2017:
7AM - Enjoy beautiful and delicious Yucatan Breakfast.
8AM - We will enter the city of Palenque through its main gate. Enrique and Aluna Joy will guide as Spirit directs to different areas of the city to be acclimatized and be properly introduced to the site.
6PM - Possible evening workshop/meeting (depending on the events of the day).
7PM - Dinner. Overnight at our Palenque hotel, The Villa Mercedes (B, D)

Day 4 - Tuesday, Dec 12, 2017:
Today, throughout all of the Maya world, is a celebration of the Sacred Day Of Goddess Guadalupe - Dia de Nuestra Senora de Guadalupe.
Early morning departure for a great Breakfast in the Jungle.
After breakfast, we will take an amazing bus and boat ride through monkey and parrot filled jungles to the mystical site of Yaxchillan. It is paradise that no words can express (Plan to be out all day and bring snacks).
7PM - Dinner. Overnight at our Palenque hotel, The Villa Mercedes (B, D)

Day 5 - Wednesday, Dec 13, 2017:
7AM - Another beautiful and delicious Yucatan Breakfast.
After breakfast, we will then visit Palenque's awesome Museum where Aluna will introduce you to the Butterfly Man from Copan (a living stone).
Then we will go into the city of Palenque and possible visit a secret, lost temple with Enrique and Aluna Joy.
6PM - Possible evening workshop/meeting or other surprises. (depending on the events of the day).
7PM - Dinner. Overnight at our Palenque hotel, The Villa Mercedes (B, D)

Day 6 - Thursday, Dec 14, 2017:
Early morning departure for a great Jungle Breakfast.
After yet another great Jungle Breakfast, we again bus through the jungles to visit the Ascension Mystery School of Bonampak on the Lacandon Maya reservation. This site has many ancient, Mayan Murals still intact that tell an amazing story . . . the Star Elders' story that was revealed about this site! (Plan to be out all day and bring snacks).
7PM - Dinner. Overnight at our Palenque hotel, The Villa Mercedes (B, D)

Day 7 - Friday, Dec 15, 2017:
7AM - Typical and delicious Yucatan Breakfast.
With Enrique and Aluna Joy, we go back to Palenque, the heavenly city of light, to bond and connect even deeper into the peace, harmony and oneness that this site offers us.
6PM - Possible evening workshop/meeting (depending on the events of the day).
7PM - Dinner. Overnight at our Palenque hotel, The Villa Mercedes (B, D)

Day 8 - Saturday, Dec 16, 2017:
7AM - Yucatan Breakfast.
After Breakfast, we all gather to have our Group Closing Circle.
Afterwards, we bus back into the outer world of illusions and Villahermosa where we will check in to our Maya hotel.
6PM - Farewell dinner at our Cencali Hotel.
Overnight at the Fiesta Inn Villahermosa Cencali Hotel (B, D)

Day 9 - Sunday, Dec 17, 2017:
Taxi to the airport for flights home (no meals included this day).


TOUR PRICE INCLUDES: All hotel accommodations as listed in the itinerary. All land transportation, except airport transfers, within tour dates will be covered unless otherwise stated above (Remember . . . you will need to arrange your own arrival and departure flights to and from Villahermosa, Mexico). Beautiful, safe and comfortable accommodations, all entrance fees to archeological sites, museums, guide fees and applicable taxes are included. Breakfasts and dinners as outlined above in the itinerary. Gratuities for hotel staff, bell boys, maids. Gratuities to waiters are included for the meals listed in the above itinerary. Purified water on busses will also be included. There will be three main, wonderful guides at your service throughout the trip. Aluna Joy, Enrique and Raphael are at your service as spiritual guides. Aluna Joy will be providing Group Star Elder Sessions when Spirit calls her to do so. Raphael will be acting as group guardian and will offer individual healings (donations accepted). Also, laughs, joyful tears, and the beginning of lifelong friendships . . . just about everything a spirit could want! Plus, spiritual growth that cannot be measured by any standard! We guarantee that you will never be the same! (some of our plans are subject to slight changes due to Spirit's calling, weather, etc...)

NOT INCLUDED: We do not supply your round trip flight TO and FROM Villahermosa, Mexico. You will need to purchase your own round trip flights arriving any time on December 9th, 2017 and departing any time on December 17th, 2017. Airport transfers to and from the Villahermosa (VSA) airport are not included. We will supply you with our hotel information. The cost to take a taxi to or from the airport is approximately $20 USD. If you have any question or concerns about your flights, call us please. Trip/Travel Insurance and Health Insurance is not included. We strongly recommend that you purchase trip/travel and flight insurance. Local Airport Departure Taxes are not included. No lunches are covered. We snack at lunch, as you will not want to waste a moment in a cafe mid-day when the sacred sites are calling you. Tips to our 3 main guides (Aluna Joy Yaxk'in, Enrique Encalada & Raphael) and other escort-guides and bus drivers are not included. They should be offered and accepted with the heart only. Drinking water while not on the bus and laundry bills are not included . . . as well as all the beautiful things that you will want to take home with you.
Prices
DOUBLE ROOM (price per person): $2,599.00 USD
SINGLE SUPPLEMENT: Add $ 500.00 USD
If our group size reaches 12 pilgrims, everyone will save $100!
So tell your friends, and save money!
Group size is limited to 30 ~ PLEASE REGISTER EARLY.
Last minute spontaneous registration may not be possible.
Please call/email us first to see if we have space for you in the group.
See "Registration Instructions" on the Registration Form
If the trip is already booked full, please ask to be placed on the alert list in the case of a rare cancellation.
Register for this Pilgrimage Here!

Meet Our Amazing Team of Guides . . .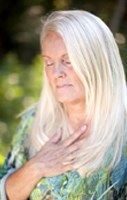 ALUNA JOY YAXK'IN - Aluna is a Spiritual Archaeologist and sacred site reader and shared messages from the Ancient Maya the Star Elders. Aluna is an internationally known speaker and lectures on the subjects of Spiritual Archaeology and the Awakening of Spiritual Consciousness through the ancient cultures of the Americas. Aluna's work has been influenced by a lifelong interaction with the Star Elders, combined with a series of shamanic experiences that accelerated over 2 decades of travel in Central and South America. Aluna acts as a cross Spiritual Guide on unique pilgrimages to Mexico, Guatemala and Peru. She also offers Star Elder Sessions and formulates Sacred Site Essences. Those who know Aluna call her a modern mystic and/or a psycho-geographical healer. Aluna simply considers herself a Spiritual Archaeologist using her Clairvoyant/Clairsentient gifts to read ancient history of sacred sites, help others to tune their inner ears to hear, and bring forward to modern times the wisdom and teachings of the past. She is a carrier of one of the rare Stones of Ica from Peru. She is author of "Mayan Astrology", "The Mayan Daykeeper" and "The Mayan Time Decoder" and her articles have been published worldwide since 1994. I feel it is a great blessing for me to provide these pilgrimages to sacred spaces, so others can reach their spiritual aspirations... These trips are gratitude payment to Spirit for all that I have received as a result of sacred site travel. Read more about Aluna Joy here Read Aluna Joy's writings here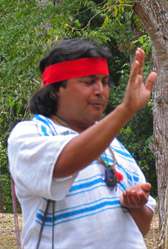 ENRIQUE ENCALADA - Enrique is a wonderful opened hearted blend of new age and Maya traditions. When Enrique had his first contact with the Sacred Knowledge at the age of 15, the revelation of these truths changed his life, and he began to follow a sacred path which has lead him in amazing directions. In 1984, he was the assistant to the Mayan Gnostic Congress Of Atlantis in Merida, Mexico. In 1995, he participated in the Great Meeting of the Mayan Solar Initiation. This meeting deepened his Sacred Studies. That same year he also fulfilled one of his life's purposes by going to Japan, where he found a lost part of his inner self. In Japan, he had his first contact with Buddhist and Shinto doctrines. After his return, he journeyed to Teotihuacan, Tlatelolco and the Maya lands to bridge the connections between the ancients of the Far East and those in MesoAmerica. In 1996, he received his first inspiration/vision to lead a meditation in Tulum. In January of 1998, he took part in the teachings of the 8 Verses of Mental Training given by Lama Geshe Tsultilm Gyeltsen. In September of 1998, under the sponsoring of Hunbatz Men and the Naga Ku Mysteries School in Japan, he was sent to Japan as an emissary to offer lectures about the Mayan Sacred Knowledge to Japan's New Age Community. There he discovered his Sacred Mayan name, Uc Ake Chan. In December of 1999/2000 during Y2K, Enrique participated in his first trip with Aluna Joy. Since then, he has had the honor to travel with her and her wonderful groups every Spring Equinox. "With honor to all my spiritual brothers and sisters, I hope to help you to open the doors / gates for all of you, in the magic places of the Maya. In Lak ech A la Kin."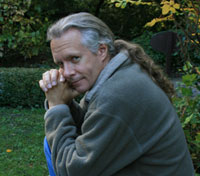 RAPHAEL - It is a blessing to have Raphael as our resident Angel . . . group guardian and energy healer. He is an egoless and humble light worker. He has been involved with energy work the majority of his life and has studied a variety of healing energy modalities including QiGong, Quantum Touch, and Kahuna Ancient Rainbow Conscious Healing (ARCH). His spiritual path has provided him with a deep humbleness and appreciation of all life and Mother Earth, as a direct result of his relationship with the Blackfeet, the Ojibwa and the Lakota Nations. Raphael feels it is a blessing for him to be able to serve our groups in any way he can. Raphael and his life partner, Aluna Joy, reside in Sedona, Arizona. http://www.healingswithraphael.com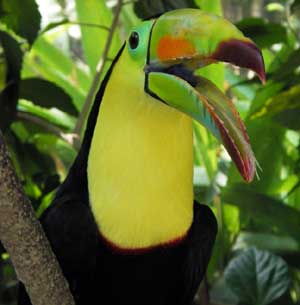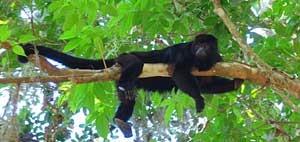 Interesting Palenque Trivia
Palenque is aligned with solstices, equinoxes, eclipses and zenith passages of the sun, and has also been built with advanced, sacred geometry.

What does a royal Mayan tomb in Palenque, Mexico have to do with space aliens? In 1949, Mexican archaeologist Alberto Ruiz Lhullier discovered a staircase plunging into the heart of the pyramid supporting the Temple of Inscriptions at Palenque in Mexico's Chiapas state. After three years of excavating, he reached the burial chamber. It contained a 20 ton stone coffin with a wonderfully carved lid. Inside was the skeleton of a Mayan ruler, heaped with jade. In 1968, Swiss author Erich von Daniken published his bestseller Chariots of the Gods, which claimed that space aliens had visited the Earth in the remote past and helped create human civilizations. One of his pieces of evidence was the Palenque coffin lid. Von Daniken thought it showed an ancient astronaut reclining in a couch and blasting off in a spaceship. Scholars began to get a handle on the meaning of Mayan hieroglyphics in the 1970's. They learned that the king buried in the pyramid was named Pacal Votan, who reigned from A.D. 615 to 684. Today, most Maya experts believe the coffin lid shows a mythological scene in which Pacal is shown falling into the Mayan underworld in expectation of rebirth.
Mayan .. Incan .. UFO ..
ET .. Alien Gods .. Star Beings
The Mayans believed that their ancestors came from the Pleiades. The Mayan Indians of Central America knew that the Earth was round centuries before the Europeans made this discovery. The Popol Vuh states that several gods, including Hunahpu, Xbalanque, and the great god-king Quetzalcoatl, returned to the stars after their Earth life ended. Peru's pre-Inca civilization, like the Maya, said the gods were from the star system "Pleiades" just as the Sumerians did. Inca ruins have been found at 13,000 feet, with one stone weighing 20,000 tons. Legends tell of spaceships that came from the stars. Inca ornaments of "platinum" were found. Text reveals that the Incas also knew that the Earth was round centuries before it was known to the Western world. As with all myths about Mayan Gods and Goddesses, Mayan myths discuss connections with beings from other realms who came to Earth to seed the planet. Many people see the story of the Popol Vuh as a story of extraterrestrial Gods who came down and made man in his own image. When they first made man, he was so perfect - living as long as they did - and man could see far and wide (clairvoyant) and were as perceptive. Within their culture, they have legends of visiting Gods from outer space. In the last thousand years, the being known as Quatzequatl, the Great Feathered Serpent, was a God who brought the teaching of peace to this part of the world and appeared as a white God with a beard.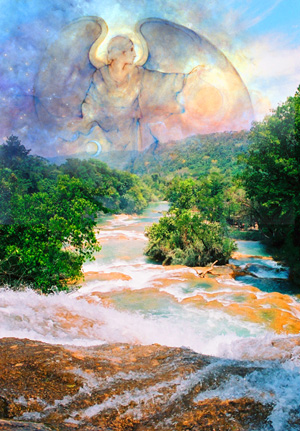 The Focus for this Pilgrimage.
Creation is in a constant state of change. All old worlds of the past die away, and new worlds are born. Earth is ascending right under our feet, and with it will come an ascended form of the divine power of the Great Ocean of Creation and the Divine the Feminine. These are the creative powers of the universe. It is not a gender, but is a power and light that is available to all living things. This ascended state, that is already with us, is calling us to awaken and empower and reach a higher plateau of spiritual existence. It has come time that we assimilate these powers of creation.

It is not about perceiving the divine feminine through a gender anymore. Yet, we have grown to know this frequency through many female ones who carry this energy in a powerful way like ... Maya Goddess Guadalupe, Ix Chel, Mother Mary, Mary Magdalene, Goddess Sekhmet, Isis, Quan Yin, Callie, etc.... We know that these ancient ones carry the code of this creative power in their hearts. This is now being passed to all those who have an open heart. And you know who you are.

Once we move past this limiting gender perception, we will begin to take huge leaps that will merge separation and duality and bring back an era of harmony and peace. Why do we know this? Because the world looks more polarized now than ever. All that is out of alignment with the coming ascended frequency is being flushed up to the surface to be seen for what it is. As we see present life for what it is, we begin to simply starve the outdated, out of balance insanity right into cosmic oblivion, because we will simply quit feeding it.

The Sacred Feminine's vast ocean of creative consciousness has been suppressed and under-valued for eons. Those days of suppression are coming to a close, much to the dismay of those who were invested in the suppression of this creation frequency. We are now seeing an unleashing of a huge amount of energy that has been collected and magnified over time. We are currently undergoing monumental rises in frequency. What highly sensitive ones felt in year's past is now being felt by most. Soon no one will escape this transformation.

The creative force, the divine feminine, is in a deep process of re-establishing itself in Earth's material field. Much of this creative force is anchored in the crossing of ley line nodes (creative chakras) many of which also anchor the worlds sacred sites, temples and pyramids. It is in these sacred sites that we can directly download this frequency into our bodies, memory, etc... in the echo of those who have awakened to this wisdom before us.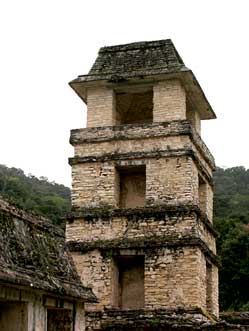 Many of us have come to Earth at this time to be a part of this divine global awaking. We made a commitment to ascension before we took on this human form. We are hard wired for change deep in our souls, and we gravitate to higher frequencies like moths to a flame. We are the ones who came here just for this time. It is why we don't fit in the usual circles. We tend to have unusual perspectives on what has happened, what is happening now, and what we foresee that we will experience in the future. Many souls have found one another, their tribe, to join forces for this huge task. We trigger each other's ancient memories, codes and transformations. But now we can say that most of the hard work is behind us now. We have gathered in armies of light. DNA is being upgraded, and frequencies are rising, because the divine feminine is rising up as well. All this is happening now because we were brave enough to take a human form at this time.

We are planning to celebrate in the deeply healing, regenerating, tranquil and peaceful green jungles that are drenched in this creative force of the universe ... the sacred creative power of the divine feminine. We will celebrate when all of Mexico is celebrating the divine feminine through the sacred days of Guadalupe.

We invite you to join us. Come recode and realign your center that has had been in major wobbles for some time now. Our focus is to anchor to these new creative energies in a relaxed and harmonious way that will restore our mind, body and soul.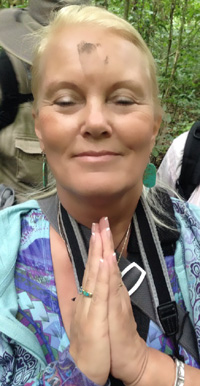 Aluna's long history with Palenque.
Palenque is my favorite sacred site of the Mayan world. My passion for Palenque began in 1990, in my more radical, younger years when I snuck into the site after hours and spent the night (A long story). read the story here It was during this overnight stay, while sitting in the Temple of the Sun, that I was a witness to something that changed my life forever. I received a rare energy download. I heard the music of the spheres, learned about the creative force of the universe, and saw a glimpse of the future regarding when this energy would return to Earth, and we would again experience Paradise on Earth. This time is anchoring now. I was aware of an ethereal city that floated high above Palenque. I knew that this city of light would return one day along with the ancestors and the starry ones who had lived here a long time ago. I was able to understand this energy, but it was not yet time to anchor this energy into our hearts, so we could be able use it consciously.

Palenque has been my most reliable barometer for watching the evolution of Earth. I know that by watching the energy shifts in sacred sites, I can see a progression of events and the evolution of the Earth and humanity. I am called to return to Palenque over and over for this very reason.

We have entered a new cycle of time . . . even though the outer world looks somewhat the same, everything inside of us feels and works very different. This is an important time for us to UNLEASH our NEW SELVES, in JOY, BLISS, HEART and PEACE. We have been called to receive new seeds of love, harmony and paradise in sacred areas all over the world. We are excited to open our hearts to receive evolved and new messages, and to integrate the new codes of creation that have arrived since the big ending in 2012. We know that we have already crossed through the doorway and have begun to land into this new world. The Earth's new energy is arising, and we are becoming the twice-born children in this new field of manifestation. What we sense, feel, see and hear in these sites can and will change our lives profoundly. We are inviting you to join us in this new discovery!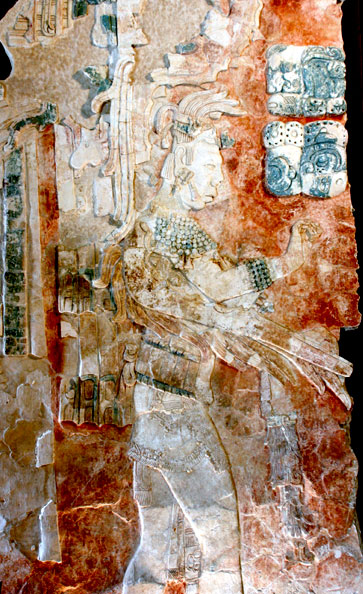 We are called to really absorb energy in this site, and to go very slowly and deeply integrate the new energies that this site is giving birth to now. Thus this trip might not be for everyone. If you like to move around a lot, or if you get bored easily, this trip might not be for you. This trip will have the feel of a soul retreat rather than a pilgrimage. We will take a lot of time to FEEL and UNDERSTAND what this site has to offer . . . which is living in unconditional love and completing a much needed grounding to a NEW MOTHER EARTH during these very special times in honor of the sacred weaving of the rainbow waters. Guadalupe and Ix Chel are our guiding lights on this pilgrimage! Listen to your heart to see if this trip calls to you. If it does, then it will be an honor to have you with us.

We are asking Spirit to provide us with the right group regarding this pilgrimage. During this pilgrimage, Aluna will be focusing on helping you learn to read, channel, feel, understand, etc... the energy of these sacred sites, and hopefully this will translate to you being able to read other sacred sites as well.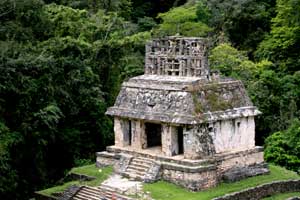 Palenque - Knowledge - Wisdom and the element of SACRED WATER


Palenque is a powerfully serene site that is situated in the highlands of Chiapas, Mexico, surrounded by dense jungle and filled with parrots and howler monkeys. Here in the jungles are temples filled with hidden wisdom that hold the keys to living in a new era of enlightenment. It is time to finally begin the task of manifesting the vision of a new world that we hold so dear to our hearts. We have already triggered a chain reaction to manifesting paradise that cannot be stopped.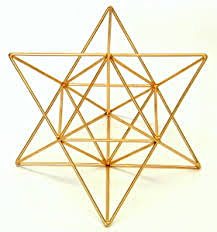 Palenque and surrounding sites, like Bonampak and Yaxchillan, have held mystery and intrigue for hundreds of years. It is considered by many to be an ancient school for spiritual initiates. Palenque shelters a living library that reveals universal truths to those who listen with the open heart. This living library of Wisdom, and the powerful Earth Merkaba that covers the entire city, connects with a universal grid. Palenque is built with advanced sacred geometry using the Golden Mean Spiral and is also aligned with solstices, equinoxes, eclipses and zenith passages of the sun. It is considered to be an ancient mystery school for spiritual initiates. In the Keys of Enoch, Palenque is considered to be the head of a huge, geographical, dove grid anchoring a new definition of peace and wisdom. The locals call Palenque "The Navel of the Earth". Palenque is an activator for intuitive understanding and can accelerate our psychic abilities. We feel this will be one of the first areas on Earth to fully anchor the new world energies.



Yaxchillan - Grounding - Balance and the element of SACRED EARTH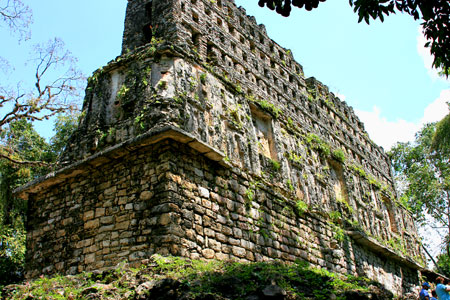 Yaxchillan is hidden deep in the jungle between Guatemala and Mexico on the Usumacinta river. The ancient name for this city was probably Pa' Chan. Yaxchillan means "green stones" in Maya. The site is particularly known for its well-preserved, sculptured stone lintels set above the doorways of the main structures. These lintels contain hieroglyphic texts and imagery that describes deep Shamanic practices.

Yaxchillan teaches us to balance between the earthly world and the ethereal world. Its mysteries are buried so deep, that it makes any one who visits here dive deep within themselves. Here, described in its famous lintels, is the process of capturing, mastering, and becoming free of one's individual ego. Once this state of consciousness is achieved, we become ONE with all life.



Bonampak - Initiation - Ascension and a New Element

We don't have a name for this new element yet, but it is coming, and I feel it is a grounding element that is opposite of Ether. This can only happen in this new cycle. The Spiritual manifests into form!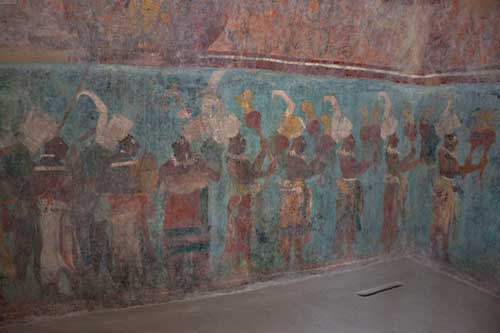 Photo thanks to and copyrighted by Daniel Maddux. See more at http://www.mayantempleenergies.com/

Bonampak has three Ascension Chambers that exhibit some pretty impressive, painted murals. Archeologists understandably have misinterpreted these murals. They theorize that the murals speak about conquest, power, claiming prisoners, sacrifices, etc.... This is based upon the western mindset of the current times. But when we tune into the living energy in this place, we know that the murals are not meant to be interpreted literally, but are spiritual in content, and in doing so, they teach us self-mastery of the lower self and egos. Bonampak teaches us how to master the negative side of our egos and how to trust our inner truth. Jeshua learned from the energies in Bonampak when he walked the Americas (see the book "He walked the Americas"). We can feel his energy strongly here in Bonampak, but also in Palenque as well. Jeshua had to master his egos when he was tested and tempted by his negative egos for 40 days. These spiritual tests are very similar in many ancient cultures. We all have to master the ego to become enlightened and regain access over our God given natural abilities.

Palenque, Yaxchillan & Bonampak is where the ancient starry ones lived Heaven on Earth. A Cosmic Messenger's energy, Pacal Votan's, still radiates from the Temple of Inscriptions. Many other Masters influence the energy of this area including the elder race we call the Star Elders or Invisible Council. Even Christ healed the sick and performed baptisms in the Queens Falls when he visited Palenque during the "lost years". He learned from the Star Elders about cosmic time, and the Star Elders learned from him about the Heart and Peace. Their energy is still there, and so is their wisdom. Palenque is nothing less than pure magic and is still one of Aluna's favorite areas after traveling two decades in Central and South America.




Our groups are like Sacred Sites . . .
We never have enough time with them,
and we always want to see them again
: )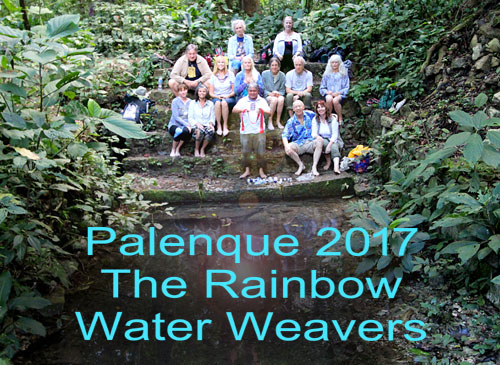 We worked with the creative spirit of Goddess Ix Chel and Mother Guadalupe in anchoring pure potential for a new creation. This was the last group that braved working within the great rift of transformation . . . The time between cycles that began in 2012 through September 2018!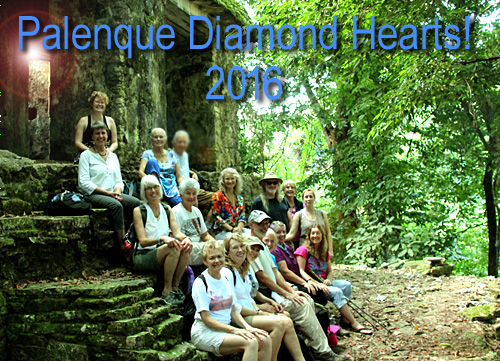 Soul Healing, Loving and Super Blessed in unspeakable ways.
We received an amazing diamond heart activation!