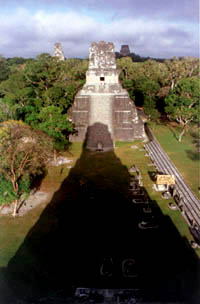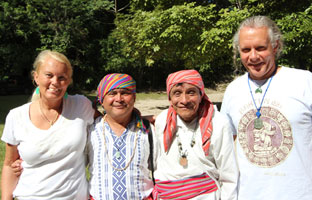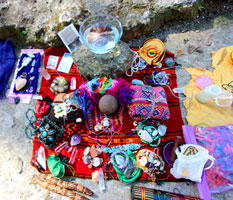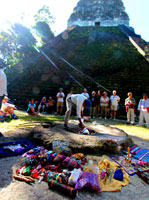 Insight for Your Mind . . . Delight for Your Heart . . . Wings for Your Soul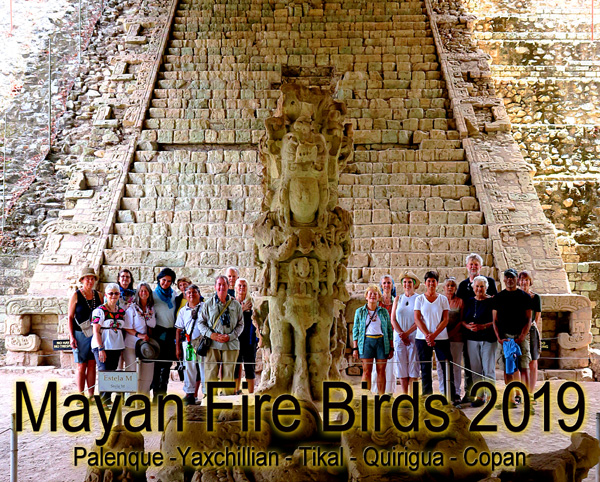 This was an amazing trip. We had the most powerful Equinox Fire Ceremony I have ever felt and that is saying alot. Our group was impeccable with their energy and had amazing open hearts! It just proved to us that the world is awakening and the energy HAS ARRIVED! I came home very grateful and with a full heart.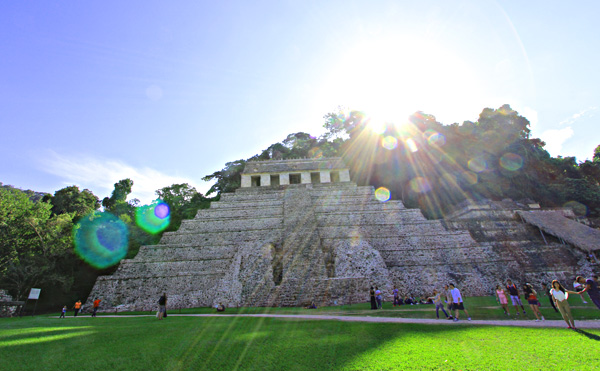 MAYAN SPIRITUAL PILGRIMAGE over EQUINOX & FULL MOON
Landing into a New Paradigm
A Joy Filled Ceremonial Initiation ~ Anchoring into our New Hearts!
A Pilgrimage to The Maya's most Magical Cities . . . Palenque - Tikal - Quirigua - Copan
Mexico, Guatemala & Honduras
March 15 - 25, 2019
This pilgrimage is an ascending, four step process for the body, mind, spirit, and purpose realignment, so we can insure that our positive first steps into a new world are aligned with our entire new BE-ingness in these new energies.
PALENQUE - HEALING . . .
We will experience an all-encompassing healing process. Our bodies and souls will be deeply nurtured by a vast halo coming from the galactic center and Milky Way.
TIKAL - POWER . . .
We will experience a deep ceremonial, self-empowerment process. We will regain and upgrade our divine authentic power, our clear voice, and our divine purpose for this new cycle.
QUIRIGUA - GREAT MOTHER . . .
We will align our power, voice and purpose with the great divine feminine a.k.a. the creative force of the universe.
COPAN - LIGHT . . .
We will seal our healing, power, and creative force within the light of a new sun. Copan is the highest initiation site in the Maya world.
Join us, as we have in years and ages past, but now as the new human, in new frequencies . . .
ALUNA JOY YAXK'IN ~ Author, Earth Oracle, Soul Reader, and Spiritual Archeologist
and all the invisible guides and guardians of these sites . . .
the STAR ELDERS, Pakal Votan, Goddess Guadalupe and Ix Chel . . .
ENRIQUE ENCALADA ~ our Mayan spirit guide,
and RAPHAEL ~ watching over our group logistics and guardian,
on a heart-filled, celebration of the birth of a new soul on this life-changing Mayan adventure.
This pilgrimage will be blessed with messages from the ancient ones, meditation and modern and traditional Maya ceremony all blended with the new wisdom in this new age. The timing could not be more perfect, and the Mayan temples are calling us back, to come home. It is evident we have only just emerged from the great transformation, the 33 year long great rift in the galaxy, and the 5 year long integration void at the end of this 33 year cycle. (We entered this great transformation on 12-2012, and we witnessed the end in September 2018!)

We will experience 2 days in Palenque, 2 days inside Tikal, a 1/2 day in Quirigua, and 2 full days in Copan. Aluna will offer messages from the spirits of the temples, the Star Elders as well as received from the living stones and other spirits of light that are called to join us. Enrique will bring his wonderful quality of spirit and ceremony to the group. Raphael will be watching your back and assisting were Spirit calls. All this, PLUS . . . BLISS, MAGIC, and as always . . . the Unexpected!



Register for this Pilgrimage Here!
We have booked only the VERY BEST Accommodations.
We arranged only the best Dining in each area that we will visit.
Your comfort is very important to the quality of your experience.




Meet Our Amazing Team of Guides . . .

ALUNA JOY YAXK'IN - Aluna is a Spiritual Archaeologist and sacred site reader and shared messages from the Ancient Maya the Star Elders. Aluna is an internationally known speaker and lectures on the subjects of Spiritual Archaeology and the Awakening of Spiritual Consciousness through the ancient cultures of the Americas. Aluna's work has been influenced by a lifelong interaction with the Star Elders, combined with a series of shamanic experiences that accelerated over two decades of travel in Central and South America. Aluna acts as a cross Spiritual Guide on unique pilgrimages to Mexico, Guatemala and Peru. She also offers Star Elder Sessions and formulates Sacred Site Essences. Those who know Aluna call her a modern mystic and/or a psycho-geographical healer. Aluna simply considers herself a Spiritual Archaeologist using her Clairvoyant/Clairsentient gifts to read ancient history of sacred sites, help others to tune their inner ears to hear, and bring forward to modern times the wisdom and teachings of the past. She is a carrier of one of the rare Stones of Ica from Peru. She is the author of "Mayan Astrology", "The Mayan Daykeeper" and "The Mayan Time Decoder", and her articles have been published worldwide since 1994. I feel it is a great blessing for me to provide these pilgrimages to sacred spaces, so others can reach their spiritual aspirations. These trips are gratitude payment to Spirit for all that I have received as a result of sacred site travel. Read more about Aluna Joy here Read Aluna Joy's writings here




ENRIQUE ENCALADA - Enrique is a wonderful opened hearted blend of new age and Maya traditions. When Enrique had his first contact with the Sacred Knowledge at the age of 15, the revelation of these truths changed his life, and he began to follow a sacred path which has lead him in amazing directions. In 1984, he was the assistant to the Mayan Gnostic Congress Of Atlantis in Merida, Mexico. In 1995, he participated in the Great Meeting of the Mayan Solar Initiation. This meeting deepened his Sacred Studies. That same year he also fulfilled one of his life's purposes by going to Japan, where he found a lost part of his inner self. In Japan, he had his first contact with Buddhist and Shinto doctrines. After his return, he journeyed to Teotihuacan, Tlatelolco and the Maya lands to bridge the connections between the ancients of the Far East and those in MesoAmerica. In 1996, he received his first inspiration/vision to lead a meditation in Tulum. In January of 1998, he took part in the teachings of the 8 Verses of Mental Training given by Lama Geshe Tsultilm Gyeltsen. In September of 1998, under the sponsoring of Hunbatz Men and the Naga Ku Mysteries School in Japan, he was sent to Japan as an emissary to offer lectures about the Mayan Sacred Knowledge to Japan's New Age Community. There he discovered his Sacred Mayan name, Uc Ake Chan. In December of 1999/2000 during Y2K, Enrique participated in his first trip with Aluna Joy. Since then, he has had the honor to travel with her and her wonderful groups every Spring Equinox. "With honor to all my spiritual brothers and sisters, I hope to help you to open the doors / gates for all of you, in the magic places of the Maya. In Lak ech A la Kin."

RAPHAEL - It is a blessing to have Raphael as our resident guardian and energy healer. He is an egoless and humble light worker. He has studied and is certified in a variety of healing energy modalities including QiGong, Quantum Touch, Angelic Reiki, and Kahuna Ancient Rainbow Conscious Healing (ARCH). His spiritual path has provided him with a deep humbleness and appreciation of all life and Mother Earth, as a direct result of his relationship with the Blackfeet, the Ojibwa and the Lakota Nations. Raphael feels it is a blessing for him to be able to serve our groups in any way he can. Raphael and his life partner, Aluna Joy, reside in Sedona, Arizona. http://www.healingswithraphael.com





Pricing

Double Occupancy (price per person): $3,199.00 USD (based on 20 paid pilgrims)

Single Supplement Option: Add $ 750.00 USD

There are a limited number of single room supplements, and they are subject to availability.

Our group is limited to 25 adult spiritual pilgrims.

If our group size is between 15 - 19, there will be a supplemental charge of $100 extra

If our group size is between 10 - 14, there will be an supplemental charge of $300 extra total.

So tell your friends, and save money!

A private link with a day by day itinerary will be sent to you upon request. This is to maintain the privacy and integrity of the group's energy.

TOUR PRICE INCLUDES: All hotel accommodations as listed in the itinerary. All land transportation (air conditioned), except airport transfers, within tour dates will be covered unless otherwise stated above (Remember . . . you will need to arrange your own arrival flights to Villahermosa, Mexico as well as your own departure flights from Guatemala City, Guatemala). Beautiful, safe and comfortable accommodations. Air conditioned transportation and boat rides as mentioned in the itinerary. Private security from Mexico/Guatemala border to Tikal. All entrances fees to temple sites, museums, day tours and guide fees as mentioned in the itinerary. Full breakfasts and dinners as listed in the itinerary. Gratuities for bell boys. There will be 3 main, wonderful, full-time guides at your service throughout the trip. Aluna Joy and Enrique are at your service as spiritual guides. Raphael will be our group guardian and assist with logistics. Aluna Joy will be providing Group Star Elder Sessions when Spirit calls her to do so. Enrique will be providing heart-felt ceremony. Raphael, in additional to acting as group guardian, will also offer individual healings. Also, laughs, joyful tears, and the beginning of lifelong friendships . . . just about everything a spirit could want! Plus, spiritual growth that cannot be measured by any standard! We guarantee that you will never be the same! (NOTE: Some of our plans are subject to slight changes due to Spirit's calling, weather, etc...).

NOT INCLUDED: We do not include your arrival flight TO Villahermosa, Mexico as well as your departure flight FROM Guatemala City, Guatemala. You will need to purchase your own flights arriving any time in Villahermosa, Mexico on March 15th, 2019, and departing mid afternoon from Guatemala City on March 25th, 2019. We will supply you with our hotel information. Transfer to/from airports to hotels are not included. The cost to take a taxi from the Villahermosa airport to our hotel is approximately $25 USD. If you have any question or concerns about your flights, please call us. Local Airport Departure Taxes are not included. Border fees are not included (approximately $50 USD for Mexico/Guatemala, Guatemala/Honduras and Honduras/Guatemala). No lunches and beverages are covered. We snack at lunch, as you will not want to waste a moment in a café mid-day when the sacred sites are calling you. Trip/Travel Insurance and Health Insurance is not included. We strongly recommend that you purchase trip/travel and flight insurance. Donations to Maya Elders performing and assisting in planned or spontaneous ceremonies are not included. Tips to our 3 main guides (Aluna Joy Yaxk'in, Enrique Enclada & Raphael), other escort-guides and bus drivers are not covered. They should be offered and accepted with the heart only. You will want to tip the maids for cleaning your rooms. Drinking water and laundry bills are not included . . . as well as and all the beautiful things that you will want to take home with you.

PLEASE REGISTER EARLY - WE EXPECT THAT WE WILL BOOK UP FAST.

Last minute, spontaneous registrations may be impossible to arrange. Call us to see if we have space for you in the group prior to submitting your registration form and purchasing your flights. If we are already booked full, ask to be placed on the alert list in the case of a rare cancelation.

A Complete Mayan Guide Book and other material will be sent to you 30 - 45 days prior to the Pilgrimage.

Register for this Pilgrimage Here! Contact Us Here

Our groups are like Sacred Sites . . .
We never have enough time with them,
and we always want to see them again

: )

We worked with the creative spirit of Goddess Ix Chel and Mother Guadalupe in anchoring pure potential for a new creation. This was the last group that braved working within the great rift of transformation . . . the time between cycles that began in 2012 through September 2018!

Soul Healing, Loving and Super Blessed in unspeakable ways.

We received an amazing diamond heart activation!

A Note About the Creation of this Pilgrimage from Aluna . . .

Tikal, Quirigua and Copan have been calling for months in various ways. It was becoming clear that it was time to go back, but we were also feeling daunted by the fact that we are not giving you much time to leap and come with us. But the call keeps coming, new connections are being made and synchronicities continue.

Spirit had a strong hand in choosing the dates that we ended up booking for this pilgrimage . . . and all of this was done while we were in a retrograde. Raphael likes a challenge I guess ??. We were wanting to get to these sites before Equinox as hotels are very difficult to book during Equinox. But oddly, this was the ONLY time that we could get the comfortable and best accommodations in Tikal and the other areas that we are going to! I am still in shock and in awe of Spirit's power to carve a way for us to be in the sites at just the right time.

Then I got this astrology report from Mahala . . . and then it all made sense. She shared that there has been a lot of chaos in the world, and I have been seeing old contracts being torn up and lineage lines being cleaned and cleared. Mahala and I both know this time is about to pass as we finish our journey through the dark cycle of transformation. Mahala shared "We have been in an extremely dark time period since March 20, 2016. That day started our journey through three days of darkness. The Bible says that one day equals a year which means that we have been in three years of darkness, or chaos and this period lasts until March 20, 2019." (MARCH 20 IS THE EQUINOX, AND IT IS ALSO THE DAY THAT WE WILL BE IN TIKAL). Just before our group begins our travels in the Maya world, Mahala shares . . . "Uranus moves into Taurus on March 6, 2019. This will change the cycle from being ruled by Mars to being ruled by Venus. Venus is a soft, gentle, feminine energy."

We have been watching for the last few years the sleeping, divine feminine wake up and begin her clearing roar. We feel that this time is the final step to leveling the field between genders and all forms of polarity. So, needless to say, we are very excited, and we see once again that Spirit guides us to just the right moment.

You can read Planet Alert - by Mahala here: www.Mahalasastrology.com

This pilgrimage feels like the opposite end of the great transformational cycle that we began in 2013. This is the higher frequency that we were working toward with when we entered the first day, year zero . . . on 12-21-2012. In hindsight, it feels like we forged through the last bit of the void (the dark rift), and, in the last few months, it feels like we are finally closing the door on the contaminated past and history.

I want to say thank you to all those that joined us in the historic 2012 pilgrimage. You braved the unknown . . . and border crossings :o) . . . and helped humanity begin the process to finally leave the darkness and outdated past behind us.

In 2019, we feel we have a strong footing in a new beginning. We are excited to find out what new wisdoms we will learn, what amazing life-changing events we will experience, and how we will rise up as seeds for the future and way-showers for a new beginning.

If you are reading this, then you are invited to join us in this ceremonial celebration of the heart! There is no mistake that you were called to read this. We are looking forward to having you join our family of wisdom keepers, light-workers, messengers and healers.

Great Blessings
Aluna Joy




There is a wealth of timeless wisdom and alchemy anchored in the stone temples of the Maya World. This wisdom is the creative force of the universe that we use to manifest our reality in our lives. This is the energy that created the heavens and Earth, and it is anchored in sacred sites by the original people, ancient aliens if you will . . . or what we call the Star Elders. This wisdom was locked into a huge, cosmic clock and protected from contamination by frequency. When we match the frequency, the doors open and wisdom is released and downloaded into our receptive DNA. As of mid September 2018, we have finally passed through the great place of transformation that began in 1986 . . . the 33 years of Earth passing though the Milky Way. We are just now closing the door behind us to a world that no longer serves us. It has been a lot of work filled with letting go of old programming, and healing of our bodies, spirit and soul. As far as the Star Elder can see, we are right on track and have been successful in doing what no other age has been able to. We were strong and brave. THIS IS WHY ARE ARE CALLED TO GO BACK TO THE MAYA WORLD AT THIS TIME. It has been calling us very strongly.

Much wisdom is anchored in these special temples. There is profound sacred geometry within the temple structures themselves, which you absorb simply by meditating in the temples. There is also a profound sound / frequency anchored here (especially in Palenque and Tikal) that heals and awakens, and it is still very accessible today if you listen. The etheric records of universal / cosmic time is also anchored here. These fields contain 9 Pyramids that interlock to form a double Star Tetrahedron. The Maya world is a place where the Earth's Merkaba is anchored. This Merkaba bridges Space, Time, Dimension, Past, Present and Future. The original people selected sacred locations all over the Earth to anchor this wisdom, and the Maya World has held onto a great deal of this wisdom. Our cosmic family has been waiting patiently for the evolvement of the human collective consciousness, so we can carry on their work, and build upon the foundation of pure wisdom that exists throughout all dimensions. This is pure truth that transcends and endures throughout the ages. We (those who were called to read this) have now crossed the great divide. We crossed the great sea and passed through a challenging void. It IS TIME to come back home, and close the door behind us.

A sacred region on Earth, called the Dove a.k.a. the butterfly or the bat, was well known as a home to the The Star Elders. The Dove in the Americas spans across the Maya world encompassing Palenque, Tikal, Quirigua and Copan. Within the area of the Dove, there are smaller triangular grids of crystal that mark the sacred energy complexes that were actively used by the Brother/Sisterhood of Light during past cycles. It is here that the remnants of their technology remain upon the Earth! The head of the Dove contains the purest of teachings encoded during ages past. These teachings have all the knowledge relevant to the Light on this planet and its relationship to other star regions known to the Star Elders. PALENQUE is the head of the DOVE!

When a convergence of time, space and evolution reaches an auspicious point, the heart of this energy is released upon the Earth. The treasures of light will be dispersed throughout these grids of cosmic consciousness, within the body of the Dove, and a new world will be born in this dimension. This process has been in process for almost 6 years now. We are ready, and our frequencies have been tuned to realize and live the vision of Paradise on Earth.

During auspicious Mayan calendar dates, and also equinoxes and solstices, the veils between the 3D world and hidden wisdom are thinned. We will be in TIKAL for the EQUINOX! At this time, the ability to hear our personal and universal truth is clearer. By listening, we can further the process of knowing who we are, why we came here, and our life purpose. We can rejuvenate our souls, deepen our connection with our inner power, activate a greater ability to manifest our visions, magnify our healing abilities and discover our personal power. Ultimately, the Dove will emerge from within all initiates of this path. And this will awaken the collective consciousness to a new world.




Palenque
Palenque is considered the home to the great hall of records . . . the living library of Wisdom. Palenque is also aligned with solstices, equinoxes, eclipses and zenith passages of the sun, and it was built with advanced, sacred geometry. Palenque and surrounding sites, like Bonampak and Yaxchillan, have held mystery and intrigue for hundreds of years. It is considered by many to be an ancient school for spiritual initiates. In the Keys of Enoch, Palenque is considered the head of a huge, geographical, dove grid anchoring a new definition of peace and wisdom. Palenque is also a center of the Earth's Merkaba that connects with a universal grid. The locals call Palenque the navel of the Earth. Palenque shelters a living library that reveals universal truth to those who listen with the open heart. What we hear can and does change our lives profoundly.

The area that encompasses Palenque is where the ancient starry ones lived Heaven on Earth. Pacal Votan's energy, a Cosmic Messenger, still radiates from the Temple of Inscriptions in Palenque. Many other Masters influence the energy of this area including the elder race we call the Star Elders or Invisible Council. Even Christ healed the sick and performed baptisms in the Queen's Falls when he visited during the "lost years". He learned from the Star Elders about cosmic time, and the Star Elders learned from him about the Heart and Peace. Their energy is still there, and so is their wisdom. Palenque is nothing less than pure magic, and it is still one of Aluna's favorite areas after traveling three decades in Central and South America.

Palenque is an activator for intuitive understanding. By listening to the site, we are able to access the Hall of Records. This knowledge is stored in the intuitive water in our bodies. What we learn here will be taken forward, multiplied and matured as the pilgrimage continues.




Tikal
Tikal . . . a place of power and nature. Tikal is among the world's wonders. Here we learn about authentic power, but also the mastery of the mind and consciousness. Many call Tikal one of the most spiritually powerful spots on Earth. Tikal possesses a certain quality of magic that fascinates and enchants. It stretches your mind and heart to hold more wisdom and light. The monumental site, with its towering pyramids, looms out of the misty jungle canopy like living sentinels of ancient times. They speak to those with open hearts. The ruins of Tikal include more than 3,000 structures extending over six square miles and includes palaces, temples, ceremonial platforms, ball courts, terraces, plazas, avenues and steam baths. We will be here for Equinox and expect to be sharing the site with many indigenous Maya performing their ceremonies. It will be an amazing time.




Rio Dulce . . . the Sweet Water
Lake Izabal is surrounded by lush, tropical rainforests inhabited by hundreds of bird species, monkeys and many other animals. The waters of the lake are rich in fish. Unique to the lake is the fresh-water sea cow (manatee); a mammal that can weigh up to one ton. It is the largest mammal in the country. Lake Izabal is the largest lake in Guatemala. It is more than 45 kilometers long and covers about 590 square kilometers. In some places, it is 50 feet deep. Lake Izabal is fed by many tributary rivers; the largest of which is the Rio Polochíc whose mouth is at the west end of the lake. Lake Izabal drains into the Rio Dulce at its eastern end. Here we take time to relax, and integrate the previous two sites, and also prepare for the two most powerful sites in the Maya world.




Quirigua
The Maya have a traditional story that speaks about the day the Starry Ones, the Star Elders . . . the Invisible Council, left the Earth plane for the last time about 800 years ago. Quirigua is the site where this historical last exit took place. Quirigua is one of the smallest Mayan cities, but one of the most mysterious and powerful due to its splendid series of Star Elder monuments. These living, sandstone obelisks were created to mark important cosmic events. Each spectacular sculpture is that of a Star Elder and is adorned with symbolic information and encircled by gods and sacred animals. The sides and backs are etched with Maya calendar glyphs giving dates to significant events. The date of Quirigua's turning point in history is immortalized on a huge boulder known as Zoomorph G. Half a dozen of these curious rounded sculptures, resembling mythical and real animals, are found in Quirigua. We think the Zoomorph is a map of the universe and contains the necessary information needed to enter and exit the Earth's hologram. The Acropolis, which was created out of white quartz crystal, amplifies the energy needed to generate these cosmic migrations. Quirigua has mesmerized countless travelers.

Quirigua is permeated with Heart energy. Here we take the longest journey any one can make. It is a journey of only 13 inches. It is the journey from our minds to our hearts. The power of heart energy in this site, combined with a lightness of spirit, helps us allow this 13 inch journey to take place.




Copan
Copan . . . the most powerful site in the Maya lands, is renowned for its magnificent Maya Ruins and dozens of living Stela. Copan's rich stone sculptures and intricate hieroglyphs make Copan an incomprehensible mystery on the "La Ruta Maya". The entire area is enshrouded in mystery. Stories of UFO sightings abound throughout the surrounding villages. Its rich stone sculptures and intricate hieroglyphs are legendary. During the reign of its most illustrious king, Waxak Lahun Ubah K'awil (also known as "18 Rabbit"), the royal sculptors of Copan displayed their innovative talents in many stelae that 18 Rabbit commissioned. The Hieroglyphic Stairway, a stairway into the sun, includes the longest single glyphic text found at any Maya site.

What is COPAN for today's spiritual traveler? Several translations have been offered regarding the meaning and purpose of COPAN. COPAN means "Xuxpi", or "Xukpi", which is related to an inner dimensional Celestial Bird. According to the mystical world of the Mayas, the Celestial Bird was in charge of taking your spirit from one place to another. You can see this Celestial Bird in Copan's Temples such as Rosalila. Copan could be considered "a Bridge" or "COPANTL", which means "pontoon or bridge". We think Copan is a bridge between dimensions and AGES! And we consider this site the most powerful site in the Maya world. It is also home to the Butterfly Man (from Copan).

Copan, also called "VALLEY OF KINGS", is located in the western part of Honduras. It was a great Mayan Civilization and was governed by an enlightened dynasty for centuries. While in Copan, we will visit its new museum "El Museo de las Esculturas". You start entering the museum as if you were entering into the mouth of a snake. You then continue walking through a long and dark tunnel, representing the excavated tunnels in the inside of the Acropolis. It is also symbolizes Xilbaba . . . the Mayan underworld. At the end of the tunnel, you will see a replica of the famous Rosalila temple.

In Copan, we can seal in all the energy, light, and wisdom which we have collected with the help of the power of the Sun. This is where one could literally walk into the Sun. It is here that many enlightened ones discovered a bridge within. This bridge allows one to transform themselves, and transmit themselves to another world or reality. It is here that the emergence of the DOVE was completed.






A few Mayan Messages through Aluna Joy

THE DIAMOND PEACE DOWNLOAD

Temple of Inscriptions - Palenque, Mexico

Aluna Joy Yaxkin, The Star Elders and Lord Pakal

UNHINGING FROM THE OLD EARTH

Aluna Joy, and the Star Elders - Yaxchilian, Mexico

A NEW PARADIGM ACTIVATION

Aluna Joy, and the Star Elders, Pakal Votan in Palenque, Mexico

GETTING THERE

My Amazing first visit to Palenque.

It took me 12 years before I could write about this experience.

ACTIVATION OF THE BUTTERFLY HEART

Messages from the Star Elders.

SPIRITUAL ARCHEOLOGY

A holistic approach to archeology.

WHAT IS A SACRED SITE?

How we learn in sacred sites and

why we are drawn to visit sacred sites.

BONAMPAK ~ A BOOT CAMP FOR LIVING MASTERS

A Star Elder message received in Bonampak Mexico ~ through Aluna Joy




Interesting Palenque Trivia

Palenque is aligned with solstices, equinoxes, eclipses and zenith passages of the sun, and it has also been built with advanced, sacred geometry.

What does a royal Mayan tomb in Palenque, Mexico have to do with space aliens? In 1949, Mexican archaeologist Alberto Ruiz Lhullier discovered a staircase plunging into the heart of the pyramid supporting the Temple of Inscriptions at Palenque in Mexico's Chiapas state. After three years of excavating, he reached the burial chamber. It contained a 20 ton stone coffin with a wonderfully carved lid. Inside was the skeleton of a Mayan ruler, heaped with jade. In 1968, Swiss author Erich von Daniken published his bestseller Chariots of the Gods, which claimed that space aliens had visited the Earth in the remote past and helped create human civilizations. One of his pieces of evidence was the Palenque coffin lid. Von Daniken thought it showed an ancient astronaut reclining in a couch and blasting off in a spaceship. Scholars began to get a handle on the meaning of Mayan hieroglyphics in the 1970's. They learned that the king buried in the pyramid was named Pacal Votan, who reigned from A.D. 615 to 684. Today, most Maya experts believe the coffin lid shows a mythological scene in which Pacal is shown falling into the Mayan underworld in expectation of rebirth.


Mayan .. Incan .. UFO ..
ET .. Alien Gods .. Star Beings

The Mayans believed that their ancestors came from the Pleiades. The Mayan Indians of Central America knew that the Earth was round centuries before the Europeans made this discovery. The Popol Vuh states that several gods, including Hunahpu, Xbalanque, and the great god-king Quetzalcoatl, returned to the stars after their Earth life ended. Peru's pre-Inca civilization, like the Maya, said the gods were from the star system "Pleiades" just as the Sumerians did. Inca ruins have been found at 13,000 feet, with one stone weighing 20,000 tons. Legends tell of spaceships that came from the stars. Inca ornaments of "platinum" were found. Text reveals that the Incas also knew that the Earth was round centuries before it was known to the Western world. As with all myths about Mayan Gods and Goddesses, Mayan myths discuss connections with beings from other realms who came to Earth to seed the planet. Many people see the story of the Popol Vuh as a story of extraterrestrial Gods who came down and made man in his own image. When they first made man, he was so perfect - living as long as they did - and man could see far and wide (clairvoyant) and were as perceptive. Within their culture, they have legends of visiting Gods from outer space. In the last thousand years, the being known as Quatzequatl, the Great Feathered Serpent, was a God who brought the teaching of peace to this part of the world and appeared as a white God with a beard.