Butterfly Man Crop Circle in Holland
Aluna Joy Yaxk'in ~ Sept 2009
An Imminent Transformation News Flash!
Butterfly Man Crop Circle in Holland.
This is when a picture is worth a thousand words!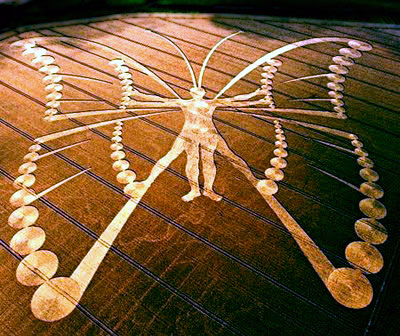 copyrights: XL D-Sign / Joop van Houdt
A Gigantic Butterfly Crop Circle formation (530 Meters x 450 Meters),
the Biggest Crop Circle Ever and appeared in Netherlands near a town in southern Holland called Goes,
on the 8th of August 2009.
Yes... we are very excited here in Sedona!
Because... Our Imminent Transformation is at hand!
I had a vision while in Copan last March and it is now become a crop circle in the Netherlands!
*** Read our Copan story here
http://www.alunajoy.com/2009may-2.html
*** We first became aware of the butterfly man back in March 2008!
Story is posted here
http://www.alunajoy.com/2008march.html
*** See video of the crop circle here under "my favorites" and another one about the human butteryfly and sudden transformation!
http://www.youtube.com/user/feelthelove2012
More about the human butteryfly here ... FROM Mayan Prophecy 2012 - The Butterfly Crop Circle Netherlands
http://mayanprophecy2012.blogspot.com/2009/09/butterfly-crop-circle-netherlands.html