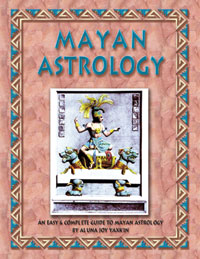 MAYAN ASTROLOGY
A User Friendly Guide to
Mayan Astrology by Aluna Joy Yaxkin

MAYAN ASTROLOGY is the BEST book in the galaxy for Mayan/Pleiadian Astrology buffs. This guide synthesizes galactic/modern day interpretations of the calendars; influenced by leading modern day Mayan Astrology researchers like Arguelles, Spilsbury, Scofield and Thundercloud. Date correlations used in these products below are based on the work of visionary mayanist Jose Arguelles (Mayan Factor/Dreamspell). Glyph names originate from the Yucatan Maya. Interpretations by Aluna Joy Yaxk'in. The guide features full length interpretations of the 20 Mayan glyphs and 13 numbers that came with years of observing and journaling the days, and with a lot of guidance from THE STAR ELDERS a.k.a the invisible council, through Aluna Joy. It comes complete with decoding tables to convert birth dates, worksheet examples and much more. Use Mayan Astrology for readings, divination, deeper relationship understanding and future prophecy. Mayan Astrology helps you establish an intimate connection between the Earth, the cosmos and YOU! It will initiate you into a journey into multidimensional time, reactivating self-awareness. The indestructible coil binding and laminated cover will last through a few galactic shifts and many steamy jungle jaunts.

MAYAN TIME DECODER
NEWLY REFORMULATED !! Maya Time Decoder is even quicker, flawless and an easy way to translate any birthday. An indestructible laminated chart that uses 3 simple steps to reveal your Mayan birthday based on our book Maya Astrology, along with a mini Mayan Astrology reading! It is EASY and FUN! Learn how you relate to your friends, family and significant others. Throw it in your back pack and head for the jungles. This chart is hardy and will last through the next galactic shift. 8 1/2" x 11" in full color.


MAYAN ASTROLOGY READING
An average of 13 pages of information regarding your Mayan Birthday. We use galactic/modern day interpretations of the calendars from the book Maya Astrology. Send name and date of birth for your Mayan Astrology report. Everyone loves these readings. Order a reading for your friends too!

It was the most accurate description I have ever received of myself. Thank you tremendously! Now I want one for my husband! ~ Marilyn - La Mesa, CA



FREE E-NEWS LETTER
Inspired by mystical interpretations of global sacred sites, planetary evolution and awakening consciousness

NEW printable (PDF) MAYAN ASTROLOGY BIRTHDAY CONVERTER!

NEW printable (PDF) MAYAN KICHE ASTROLOGY BIRTHDAY CONVERTER!

SOLAR MEDATATION BOOKLET


GIFT SHOP!
Aluna Joy's has placed some of her best Multimedia Photography of Maya and Inca lands on gift items.
Click Here

TZUTUJIL ANGEL KEY CHAINS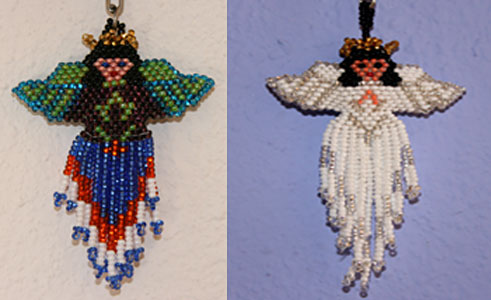 These cute beaded Angel Key Chains are made and sold by the Tzutujil (zoo-two-heal) Mayans of Santiago, Lake Atitlan, Guatemala. We sat on the steps of the community church and bought a small sack full of these little angels and had the blessing to get to know some of the local Tzutujil girls. We sold out of them so fast. So... we wrote a friend and she shipped us more . . . just in time for Christmas!
The Tzutujil Mayans in Guatemala speak of simultaneous Twin Realities: the dream world and the awake world. These worlds are likened to the opposing wings of a Butterfly, Angel, or Bird. The dream world is one wing, and the awake world is the other. The past world is one wing, while the new world is the other. Between worlds is where we are at this time. They believe the wings must connect at the Heart Center for us to bridge these realities.
Your Choice . . . White, Multi-colored or both :)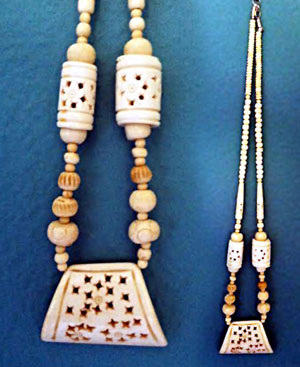 NUBIAN STAR FLOWER NECKLACES


Upon sailing back from a pre-dawn morning visit to the Isis temple, we once again found our sweet Star Flower Necklaces from the same Nubian Man we bought from last year. Last year I asked what the carvings meant. He said they were Stars that fell from the sky and turned into flowers. That was it. I was hooked! It was clear to me that these STARS are US, the light workers on the earth that are growing a beautiful garden.

Egypt's travel industry is beginning a up swing since 2011, and I want to help him again this year. So we managed to find more of these necklaces to share with you. Nubian culture in Egypt has also been hit hard. In the 1970s, many Egyptian Nubians were forcibly resettled to make room for Lake Nasser after the construction of the Aswan Dam. Nubian villages can be found north of Aswan on the west bank of the Nile and on Elephantine Island. According to Graham Hancock, in his book "The Sign and the Seal", Elephantine Island was one of the resting places for the Ark of the Covenant before traveling south into Ethiopia. Interesting fact, yes?

Each Nubian Star Flower necklace is about 26 inches long and made from local camel bone.

Last year we sold out in 24 hours! We will not be back in Egypt until next year, so don't miss out. We were lucky to find this Nubian man again.
SOLD OUT. Please check back with us at the beginning of April 2016
when we come back from Egypt.




Love Donations that don't cost you a dime!
Do you shop on AMAZON? You can send our free Newsletter a love donation every time you shop at Amazon and not spend a dime! Donating to our work is as easy as bookmarking our unique amazon link! We have a partnership with AMAZON which donates 5% of any sales made by any shopper entering Amazon through our link. Whether you're buying a book or a flat screen TV, we get the commission with no extra cost to you. All you have to do is click on the link below and BOOKMARK IT, and use it each time you shop on Amazon any time during the year. No matter where you go in Amazon from there on, your purchases provide a bit of support for our Free Newsletter and our other service programs. Thank you for supporting our work!
Use this link to shop!
Bookmark this link!


New! Recommended Featured Book


What is on Aluna's Bookshelf


So many have asked what I suggest they should read to enhance their spiritual growth and focus their path. Although I believe we can receive directly from the source, and this question can only be answered by the individual, these books have added to my life and path. Many are classic and timeless and help empower each to become enlightened beings. Some are out of print now and you'll have to check the used book stores. PS the apps used can not be seen on mobile devices.