Power Places in SEDONA
Aluna Joy's favorite sacred spaces and more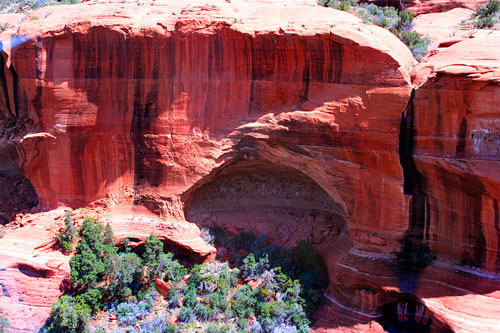 Boynton Canyon's Pertoglyph Cave
SO... you are coming to visit Sedona ...
and you want to know what to do, and what to see, and who to meet.
Here are some sugestions to get you started.
Sedona is the land that sings to you when you open your heart and listen. The red rock is full of iron for memory, and crystal for energy. It is unique and magical. The canyons whisper and the ancients echo ageless wisdom. Uncountable petroglyph and ruins sites stand as ancient sentinels. Come with respect… an open mind …. and always remember follow the path in your heart.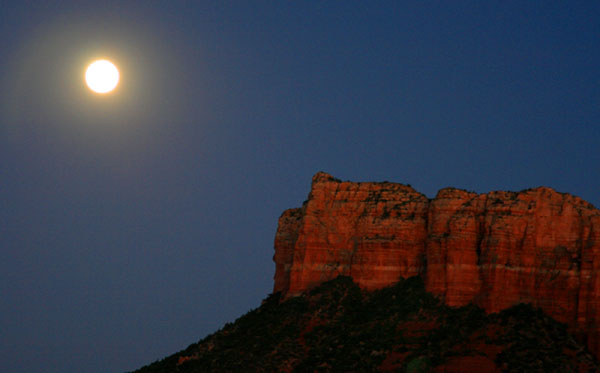 Flat rock on east side of Cathederal Rock on Full Moom July 15th 2011.
My personal favorites magical sacred spaces...



I like Fay Canyon. It is my church. Go all the way to the end of the trail and you will find a place where you can climb up to the top of the canyon. A wonderful peaceful view. This canyon triggers wonderful past life memories in me so I love it. It is a cool sound chamber there also.



I like the west side of Cathedral Rock at sunset at Crescent Moon Park. On the trail, go past the place where the 2 rivers join together for about 1/8 mile to get to Buddha beach. Very cool and a grid point to sacred places all over the world. Lots of stacked stones



I like the east side Cathedral Rock at full moon. Go up the trail until you see a big flat rock and watch the moon rise. POWERFUL!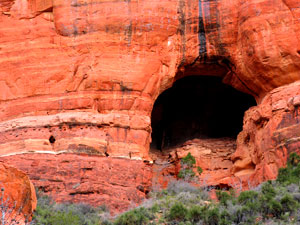 I also love the Grandfathers Cave up on Thunder MT. You can see it from 89A at Safeway. It is filled with ancient grandfathers. Very cool and healing. The trail is hard to find... again follow your heart. We made an essence here. It is wonderful for letting go of issues and learning to hear the earth's song. http://www.alunajoy.com/essences.html



I like the very end of Soldiers Pass Trail where there is a small arch that is a great mediation spot! Keep to the right on the trail. The arch is on the right near the end of the canyon. It is SO CLEAR there. Great for re-booting your spirit.



I love Chimney Rock and the flat rock between Chimney and Thunder Mountain. I live just down the street from this one so I am partial to this place. I love to mediate there is the morning. Just below just off of Andante road there is a Tibetian Stupa.



Boynton Canyon has ruins on the right side of the canyon just past the resort. A ancient grandmother holds space there for her children and sits with a huge mountain lion. She makes you work for any messages you might receive. She is what I call tough love : ) but you will like her energy.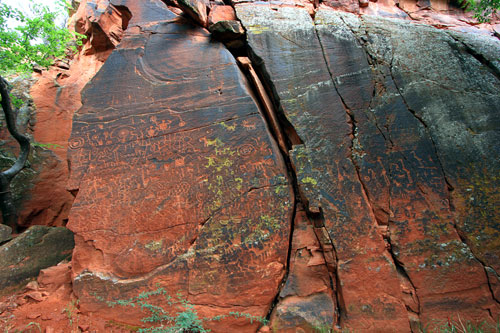 V-BAR-V RANCH Sedona's sun dagger! An incredible solstice/equinox calendar and a easy walk. The SUN marks the passage of time across a huge ancient solar panel, one of very few worldwide. The shadow in the stones apear from a worked wedged rock in a crevice creates a light and shadow show across the cliff face. The precise times of the vernal equinox and summer solstice—important events for planting and harvesting—are tracked by light and the sun's transition across the southwestern sky.
http://www.redrockcountry.org/recreation/cultural/v-bar-v.shtml



I got a few others favorites but they are not on a map ; )



Alphabetical List of Hikes Airport Loop Hike Airport Loop Trail Baldwin Trail Hike Bear Mountain Hike Bear Mountain Bell Rock Big Park Loop Boynton Canyon Hike Boynton Canyon Boynton Vista Hike Brins Mesa Hike Brins Mesa to Soldier Pass Hike Broken Arrow Hike Broken Arrow Cathedral Rock Trail Carruth Trail Chimney Rock Loop Hike Chimney Rock Trail Cibola Pass Trail Cibola Trail Coffeepot Rock Trail Coffee Pot Cookstove to Harding SpringsTrail Hike Courthouse Butte Loop Courthouse Butte Loop Trail Cowpies Hike Crescent Moon Creek Walk Deadman's Pass to Boynton Vista (Vortex Site) Deadmans Pass Devil's Bridge Hike Devil's Bridge Trail Doe Mountain Hike Dogie Trail Dry Creek Trail #52 Dry Creek Trail Fay Canyon Hike Hanonki Indians Ruins Honanki Ruins Hot Loop Hike HS Canyon Hike HS Canyon Trail #50 Huckaby Trail Hike Jim Thompson Trail Jim Thompson Trail Kel Fox Trail Kel Fox Trail Kelly Canyon/Pumphouse Wash Little Horse Trail Little Horse to Broken Arrow Llama Trail Hike Long Canyon Trail Long Canyon Trail Lost Canyon Hike Marg's Draw Hike Marg's Draw Trail Mescal Mountain Hike Mescal Mountain Mitten Ridge Hike Munds Wagon Trail Munds Wagon Trail Montezuma Well Old Post to Carroll Canyon Loop Palatki Indian Ruins Pyramid Hike Rabbit Ears Hike Robbers Roost a.k.a the Shamans Cave Robbers Roost Schnebly Trail Scheurman Mountain Hike Secret Canyon Hike Soldier Pass Arches Hike Submarine Rock Trail Submarine Rock Sugarloaf/Coffee Pot Trails Sycamore Canyon Templeton Hike Turkey Creek/House Mountain Hike Twin Pillars Trail Vultee Arch Hike Verde Valley Hot Springs V-Bar-V Petroglyphs Wilson Canyon Trail West Clear Creek Some Trail Maps

You could focus on native ruins like Palatki or Honanki ruins or petroglyphs sites.... V-Bar-V Petroglyphs and then when you are done with ALL OF THIS you could explore all the slot canyons in the area! Slot Canyons of the American Southwest


We live where the two pink star are : )

Great guide books are sold in town everywhere.
Sedona Hikes 130 Day Hikes and 5 Vortex Sites around Sedona,
Favorite Hikes Flagstaff & Sedona by Cosmic Ray
Sedona Guide: Day Hiking and Sightseeing Arizona's Red Rock Country by Steve Krause, Teresa Henkle
Sedona Monthly Online Sedona, Arizona's comprehensive guide to dining, arts, entertainment, travel and lodging. http://www.sedonamonthly.com/
National Parks of the American Southwest Utah, Arizona, Colorado. A Guide to the National Parks and Natural Landscapes of Southwest USA, including slot canyon descriptions and a travelogue describing a journey from Arizona. a http://www.americansouthwest.net/

A few I know of that offer positive experiences.



Sedona Red Rock Tours - Vortex Tours (They say they speak RED ROCK!) http://www.sedonaredrocktours.com/



Linda Davis gives awesome and very clear psychic readings lldavis@swiftwireless.com 928 203 0751



Margaret Sweet offers great Astrolgy readings including re-location charts MargaretSweet.com 928-204-0666



Jade Wah'oo Grigori underwent his first Shamanic Initiation, that of Death-by-Intent, at five years of age. Guided by the Ancestral Spirits of his Mongolian heritage Jade Wah'oo began his lifelong journey of Shamanizing. At age 24 Jade Wah'oo was adopted as Grandson by Juan Pena, an Old One of the San Juan Pueblo, who then apprenticed Jade in the Caretakership of 'the Ways', a compendium of Songs, Ceremonies, Dances, Methods and Techniques, Approaches to Spirit and the Ways of Power which comprise this ancient system. When his Grampa Pena died in 1982, at age 104, Jade Wah'oo Grigori became the current Caretaker for the duration of his life. Video - Shamanic Ways Revealed http://shamanic.net/



Sandra Cosentino/Crossing Worlds Experience America's Southwest scenic and sacred landscapes: Sedona tours and retreats, Arizona's Grand Canyon, Canyon de Chelly; New Mexico, Colorado, Utah; Native Americans, Hopis, Navajo, New Year's Eve events; sacred sites, prehistoric cliff dwellings and rock art, rugged red canyons and cliffs, painted deserts; soul journey spiritual retreats in Sedona; cultural and earth-medicine retreats on Hopi and Navajo lands, vision quest, medicine wheel ceremony, becoming your own shaman-healer, personal pilgrimage, campfire programs, storytelling, mythology, legends both ancient and New Age, original and informative articles. http://crossingworlds.com/



Sedona Metaphysical Spiritual Associstion They connect spiritual seekers in Sedona to the metaphysical spiritual practitioners and businesses who can best assist them in their journey. www.sedonaspiritual.com



If you want to find like minded people.
New Frontiers Health Food Store posts all the current happenings in town. The bulletin board is by the deli.
Four Corners Magazine A FREE magizine has a lot of current info to what is happening around town.



My Favorite Eateries.
Thai Spices - Marcobotic Thai and amazingly good. Next door to Crystal Magic Book Store on 89A
Indian Palace - Indian food and great curry. In the Bashas shopping center at Coffee Pot road and 89
Takashi's Japanese - the most conscious food I have ever eaten! On Jodran Road
Casa Bonita - Wonderful Tex-Mex food. In the Bashas shopping center at Coffee Pot road and 89A



Peaceful Places To Stay.
The Lodge at Sedona - This lodge has a great Labyrinth and a peaceful, cozy atmosphere. www.lodgeatsedona.com
Sky Ranch Lodge - This lodge has 360 views on top of the world.http://www.skyranchlodge.com/
Most other Sedona Hotels, Resorts, Spas & Lodging listed here: http://www.sedona.net/category.php/swmc/hotelsresortslodging



Want To Get Pampered?
New Day Spa - This place has very clear energy and a great staff. http://www.sedonanewdayspa.com/
Sedona Spas - Alternative Healing. I have not tried these personally but they could be great! http://www.sedona.net/category.php/swmc/spas



GETTING HERE FROM PHX.
Sedona-Phoenix Shuttle, 928-282-2066 - Reservation required.
Extra Mile Express - 928-649-9506 - works off of flight arrival/departure times. Door to door.

More 3D information posted at www.sedona.net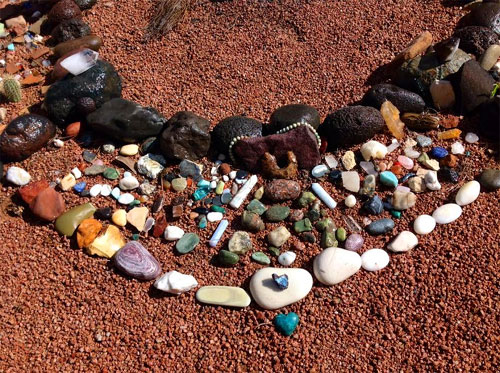 Our Free Newsletter is exclusively available to those who join our Newsletter mailing list - Join today!
http://www.alunajoy.com/joinnewsletter.html
Please add newsletter@alunajoy.com to your "Friends" list if you are with AOL,
Earthlink, or use a Spam Blocking program or service, to receive the newsletter.


Sacred Site Essences

Sacred Site Essence Blends

Spiritual Pilgrimages

Star Elder Sessions

Books / Mayan Calendars / Astrology / Converters

Who are the Star Elders

Articles on Planetary Transformation

Articles on Mayan Cosmology

Articles written by Elders

FREE Newsletter!

Facebook

You Tube

Heart Donations

Contact

Base Camp