Sacred Site Essences

Sacred Site Essence Blends

Spiritual Pilgrimages

Star Elder Sessions

Books / Mayan Calendars / Astrology / Converters

Who are the Star Elders

Articles on Planetary Transformation

Articles on Mayan Cosmology

Articles written by Elders

FREE Newsletter!

Facebook

You Tube

Heart Donations

Contact

Base Camp




A Journey to the Amazon Rain Forest


Aluna Joy Yaxkin ~ 10/2002


Just the plane ride to the Amazon was worth the trip. Skimming over the snow topped Andes yet still close enough to Earth to see herds of sheep graze through ancient Inca terraces. From up here the Quechua farm houses of the high Andes seem abundant in a beautiful sea of green grassy pastures. The poverty we see on the ground is not evident from this elevated perspective. Maybe this is how the Quechua see themselves, and it is our materialistic perspectives that sees the poverty.

The 12 seater single prop plane climbed strenuously to overcome the high Andean peaks. The 40 minute flight will put the massive Andean mountain range behind us and drop us smack dab in the middle of the Amazon rainforest. I wondered what was in store for us. I reminded myself that acknowledging that do not know is the best place to be to learn.

As the clouds peel away below, the Andes are replaced with a unending jungle. The forest is sliced in half by a serpentine silver ribbon, shinning brightly over the dark green canopy. Not a road or building was in site for as far as the eye could see. The only visible path is the Amazon river. As we glided over endless green, I could feel the presence of spirit that was strangely familiar. It felt like someone was waiting with a message for us.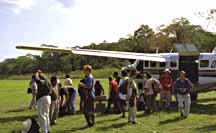 The grass covered landing strip ahead was the only clear ground I could see. After we were safe on the ground, Willaru (our Peruvian teacher) asked if this was Manu international airport? We laughed as the only building at the airport was a small grass covered palapa. I wondered if this place was a part of any country this far out. A porter/guide appeared out of no where and grabbed some of our bags and took off into the jungle. "Hey! Where are you going?" I shouted. "The boat," he replied.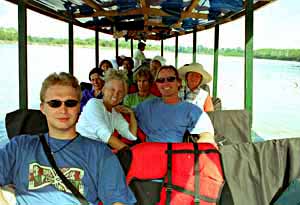 We boarded our 50 foot amazon cruise canoe, complete with padded seats and sun cover so as not to bake our tender gringo heads. We began our journey up the Amazon on what they call the Madre de Dios (Mother of God). The air is warm and humid. After many days in the thin air of the Andes, my whole body breathes in the pure unadulterated oxygen. Three macaws fly over head as a toucan announces our arrival with a squawk. Whole flocks of green parrots lined the shore and brilliant multicolored butterflies rise from the shore in huge swarms. A blue billed heron flies by checking us out. After dinner at our first jungle lodge, we climbed under our mosquito netting to sleep, but the jungle at night is anything but quiet. Howler Monkeys and assortment of raucous insects fill the night air.

The next morning we headed up the amazon another 8 hours into the Manu Reserve. The last village we would see is the Boca Manu outpost. Boca Manu consisted of a few wood floored, grass roofed, open aired restaurants that doubled as supply stores. A local said the village was quiet during the day but picks up at night. Considering the inventory of the shops, nearly 1/4 of the shelves filled with tequila, rum and whiskey, I thought Boca Manu was not a town I would want to spend the night in and was glad we would be camping safely in the jungle. The village felt like a wild west town, jungle style. You could almost smell Humphery Bogart's cigar.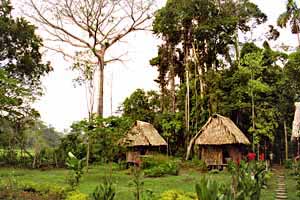 It will take us the rest of the day to reach our next campsite so I nap on the boat. When we arrive I realized only one boat passed us all day. This is the most remote place I have ever been. Yeah…. We are in the jungle now - up the preverbal creek without a paddle or escape route. Here the only thing that links us to the outside world is a short wave radio powered by a sketchy looking solar panel. The guide checks in with the outside world after dinner. His voice sounds so alien and echoes strangely into the surrounding jungle. "Cuzco, Cuzco," silence. "Cuzco, Cuzco,"…. more silence. The unnatural inflection of the answering voice is electronically altered and sounds like a scene from a star wars movie. The sound of the outside modern world is so foreign compared to the natural sounds of the forest.

Deep in the night I dreamed of a illumined shaman who invited me into a new world. He wore a white traditional robe and had dark skin. I could tell he was much more advanced than I. Upon awakening I only remembered his radiant loving face and powerful presence. I wondered if I would remember the teachings he shared with me or was this a hint of what was to come.

The next day we headed up river to a traditional Indian village of the Machiguenga. We have to ask permission to enter the village. We were lead into a main square lined with stick huts with grass roofs. We got a quick education on Machiguenga life. A lesson on a traditional musical instrument (bow harp), and archery lessons remind us that we were neither musicians or hunters.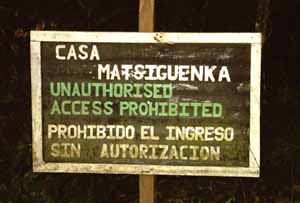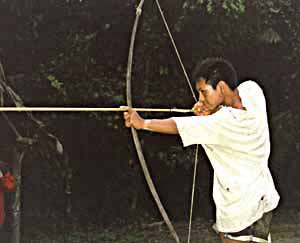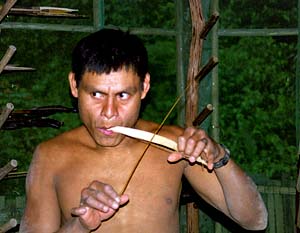 I felt a couple of curious eyes behind me. I turned around to see who it was. It was a little native girl, about 4 years old, naked, and beautifully brown. I could feel how at home she was with the earth, and how the earth was a part of her. She quickly disappeared back into the jungle. I only saw the little girl for a few seconds but I was immediately catalyzed into a realization.

I felt so weighed down. I was wearing damp and really dirty blue jeans and a sweaty T shirt. A rain jacket was tired around my waist making me feel even hotter. A pack around my waist was full of all kinds of very important things like my passport, money, pain reliever and other assorted medical supplies and assorted printed material, chap stick, bug spray, Spanish/English Dictionary (won't help me here anyway), a bottle of water, and the list goes on. Also attached to my waist pack was a camera with several rolls of film. I was constantly swatting midges buzzing around my arms wanting a bite out of me. I felt so unnatural and I knew even with all this important stuff I wouldn't last one night in the jungle. The Earth would not support me in my current state of consciousness. I trusted "all my stuff" over nature.

My mind when back to the vision of the little girl. The jungle will, and does, support her. This little earth angel was so natural standing there at the forest edge. She was hard to separate out from nature as she was in perfect harmony with it. She was bare foot and naked in what we consider a hostile and dangerous environment. She was liberated from the complications of the modern world. For the moment I was allowed into her world and was able to feel and understand a place of pure liberation that living in harmony with nature brings. She gave me hope that humanity has the potential to live in harmony with nature. She is living proof. The question is do we want to be?

It is evident that the war between the modern world and nature is a no win situation. It seams like we spend most of our time fighting nature instead of working with it, trusting it, and flowing with it. We fight the weather, the bugs, the animals, the seasons and even natural aging. It takes so much of our energy, time and resources to fight nature. I wonder, will we fight so hard that earth and nature will give up, or will we just wear out from the battle? Somehow we must build a bridge between nature and the modern world if we are to obtain the peace and harmony that we miss to desperately.

The next morning we boarded our boat to begin our journey back to the modern world with all its noisy complications. We arrive and the Boca Manu outpost once again. Our guide checks on our flights back to Cuzco with the short wave radio. Just as one would expect in such a remote place… the flight was going to be late.

While we were waiting, a little girl showed up with a rusty red howler monkey, only a few weeks old. The little guy had fallen out of a tree and injured a leg. He seemed just as out of place here in the village as I felt deep in the jungle, but he was making the best of his situation. It was evident he was missing his mother.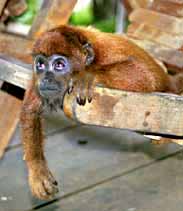 The monkey made friends with everyone. He nuzzled anyone who was willing to be a surrogate mother for a time. The Howler climbed into my lap, took a moment to rest, and then climbed up on my shoulder. He began to preen my hair. Yeap, I was in the jungle and I sure needed a new do, an amazon make-over, but I didn't know a howler monkey would do the honors. After a chew on my hair clip and a yank on my earring he was done and off to make friends with another gringo.

I am now faced with the end of our amazon adventure. The bug bites and heat were a price worth paying for the insights I have gained. I don't know if I am ready to re-enter the civilized world again. I have had a taste of harmony in nature and it has spoiled me somehow. As I look out of my airplane window and I can see the Andean mountain range ahead. I wonder how two radically different worlds can be so close to each other and yet so different. The contrast is shocking. My ears were popping again. I know I will have to re-adjust to the altitude in Cuzco just as I had to adjust to the heat of the amazon jungle. I knew this would be the easy part for me, finding a way to bring the purity and harmony of the jungle into my so called civilized world may be a life time goal.



Aluna Joy Yaxk'in . . . A Star Messenger - Earth Oracle - Soul Reader - Sacred Site Junkie was literally born awake and in the company of her guides, the Star Elders. Today she has evolved into an author, spiritual life coach, sacred site guide, alternative historian, ordained minister and modern mystic. In the Inca world, Aluna is considered a Qawaq (cow-wak), a clairvoyant or seer of living energy. Aluna acts as a spiritual archaeologist using her clairvoyant / clairsentient gifts to excavate current messages from the masters of ancient, enlightened cultures to uncover what affect this has on humanity and the collective consciousness. She is well known for her down to earth, accepting attitude that makes each one feel like they have come home. She inspires and encourages others to recognize and accept their own authentic divinity and connection to the Creator. "Our groups are family, and each one is a teacher and also a student. We work together as a team to unravel the sacred mysteries of life." Aluna coined the term "sacred site junkie" because she is one herself. After her first trip to Tulum, Mexico, her life changed dramatically, and she was sent on an entirely different path in life. Since this time, her work has been influenced by uncountable shamanic experiences in sacred sites of Mexico, Guatemala, Belize, Honduras, Peru, Bolivia, Egypt, Greece, England, Australia and New Zealand. Aluna has been leading groups in the Maya world since 1986, the Inca world since 1996, and the Egyptian world since 2008, and the mystical world of Avalon (England and Scotland) since 2007. Aluna offers Star Elder Sessions, formulates Sacred Site Essences and a free newsletter. She is the author of "Mayan Astrology" and her articles have been published worldwide. Website: www.AlunaJoy.com Facebook: http://www.facebook.com/alunajoyyaxkin YouTube: http://www.youtube.com/user/feelthelove2012

Copyright Guidelines:
Aluna Joy Yaxkin © www.AlunaJoy.com 1995-2013 - Unauthorized use and/or duplication of any material on our web site without express and written permission from its author and/or owner is strictly prohibited. Violators will be reported to the DMCA. Please respect our work, that we intend to continue to offer to you freely.
RE-POSTING GUIDELINES: We appreciate your desire to share our messages and posts on your own web sites, Facebook pages, blogs, etc..., but for many specific reasons, our messages, posts and images need to remain solely on www.alunajoy.com. We encourage, and give you permission to place a WEB LINK to our posts anywhere you like. Thank you for your great support. We would not be able to continue this work if it were not for you. We send you awesome radiant blessings today and for the beautiful future that we are co-creating together. As always love donations are appreciated and treasured. You can continue to support us here: http://www.alunajoy.com/heartdonation.html


Your Amazon story was beautiful! I loved your thoughts about the little earth angel. And your baby howler monkey story. And smelling Bogie's cigar. And everything else! Wonderfully written. Not just a travelogue!

Hello, enjoyed your adventure in the amazon.....could it be that the little girl represented you...naked in unknown territory? Could it be the monkey was a teacher showing you that in this place we have no need for hair adornments and earrings? Thnks for listening....rachel




Sacred Site Essences

Sacred Site Essence Blends

Spiritual Pilgrimages

Star Elder Sessions

Books / Mayan Calendars / Astrology / Converters

Who are the Star Elders

Articles on Planetary Transformation

Articles on Mayan Cosmology

Articles written by Elders

FREE Newsletter!

Facebook

You Tube

Heart Donations

Contact

Base Camp