In Between Worlds

Aluna Joy Yaxk'in
(MachuPicchu Peru September 2004)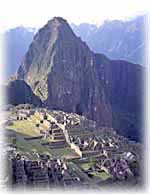 It was my trip number nine to the sacred site of Machu Picchu. I figured it would be a piece of cake. I knew the energy so well and thought I had it all handled. No Problemo. Joining me on this journey was a powerful and the most heart centered group to date. Twenty-four like-minded energy junkies had planned a high noon solar equinox ceremony at the Sun Gate, high above Machu Picchu. The ceremony was to coincide with the worldwide peace day vote in the U.N. to make September 21st World Peace Day. Exellente' . . . as they say here in Peru. All twenty-four in the group made the long hike up the mountainside along the Inca trail to the Sun Gate. We all had so much energy we felt like we were on top of the world. The hike seemed effortless. As we joined in ceremony and prayer for peace, we had a condors view of the ancient city below. It was beautiful, stunning, and one of those precious moments you like to hold onto.

That night at dinner I began to feel the energy drop and a pressure building my head. Fatigue, I thought, after all we had hiked hard all day. That night, my dreams were disturbing and strange, and the pressure continued to build. By morning the pressure was hard to deal with but I managed to get up to the ancient city. I didn't last long. I left the group behind and caught a bus back down the switch backed roads that lead to Agua Calientes to my hotel room.

I climbed into bed, warmed by my trusty hair dryer, and tried to rest. The rest didn't come. The ringing in my ears and the confusion in my head was too great for me to ignore. God . . . I thought to myself, I've been to Machu Picchu nine times, and have never been leveled by the energy before. I spent the remainder of the day watching reality being stripped away from me like an old dream. The pressure became pain, and the pain became confusion. The confusion turned to panic and a weird state of paranoia that had no rhyme or reason. There were no outer reasons for the symptoms I was having.

I don't think I ever had such a brutal ego death. I couldn't hang onto my sense of self, and I continued to bash myself with unwarranted paranoia and insecurities. I could feel that I didn't want to be here any more. I wanted out of life. I wanted out of this reality. Out of desperation I began to track my thoughts to see what in the world was going on. After all, my life is really good. I live where I want to live. I do what my heart calls me to do. My life partner is loving and real. Life is good, and hey, I'm in Peru! What could be better than that? But here I was locked in my hotel room with the shakes, the shivers, and a crushing headache. I was not sick. This is so weird.

The echo in my head, number nine, number nine, number nine, was reminiscent of that old Beatles tune. In numerology, the number nine is a completion of something. Maybe this was the completion of me. My lack of sense of self made me consider that I might need to make a huge change in my life. Maybe I need to quit guiding trips or doing sessions. And what about that book I was to write when I got home? Maybe I am supposed to quit doing everything. Nothing in my life seemed real or valid. It all seemed like a weird dream disappearing out to space like a ghost. I was lost.

When I closed my eyes, I could see bits of this world blur into dreams, and new realities take their place. It was so confusing, and I was lost between worlds. I felt paranoid and vulnerable, and I felt like I had been hit by that Machu Picchu train. Ouch!

By 3a.m. on the 23rd I was still no better. I had ruthlessly tracked every thought and feeling with no luck to discovering the reason for my crazy and painful place I was in. I was exhausted, and I gave up and fell to restless sleep thinking my life, as I knew it, was over. Ego death is no fun, and losing yourself is terrifying.

A few hours later, I woke up. It was my last day in Machu Picchu, and I was so tired that I knew I couldn't make it up the hill to meditate. I still felt lost, but now I was in a full blown surrender state. I could not quit crying. The tears kept running down my cheeks. I was whipped. This was such a contrast from our energetic spring equinox where we had felt like we could fly like a condors.

I went downstairs to meet up with some of my group and to let them know I was getting hit hard by the energies. I begin to blurt out my symptoms and began to hear what others were going through. They had also noticed a sudden change of energy from September 21 to September 22. Most of them were feeling exhausted and were dealing with a lot of inner issues. They felt heavy and disconnected. Knowing this, I quit taking what was going on in me so personal, and started asking some hard questions. As I sat there sipping tea in the hotel restaurant and dabbing the tears from my cheeks, all the pieces began to fall into place.

Two weeks before my trip to Peru I was called to go to Mount Shasta. St. Germain had appeared in a dream, and I knew it was time to go back up on the mountain. After seven days of sitting in Panther Meadows, I was about to give up to why I was called back to the mountain. That last morning I was given an outline for a book on how to get through the shift that is ahead of us. I planned to get going on this book as soon as I got back home from Peru.

I began to realize that in the last 24 hours, I had been put between worlds. I had been given a living experience of what it would feel like to go through the shift. I know what it will do to my consciousness. I know what it will feel like in my body. No wonder I felt lost. I wasn't in this dimension or even the next one. I was in between worlds. I was really nowhere at all. I guess I need to feel this to be able to write the book in a way that would really help those who read it. "Truth is in the experience" the Star Elders always say.

Then I remembered a beautiful vision that I had while I was in Pisac a few days earlier. Pisac is an ancient Inca site that houses huge stones from Maldek. Maldek was a planet that was in equal distance from the sun as the Earth. When it was blown up eons ago, it became the asteroid belt. When the Earth circumnavigated the solar system, some of the planetary fragments from Maldek fell to Earth. A lot of this stone fell in the Peruvian Andes, and I was sitting on top of one of these stones during the vision.

In the vision, I had been shown a new reality being born. It was a river of red and then golden light. Within this light emerged a golden disk with some kind of crystalline form inside of it. This new reality came through a great valley or a parting of the earth. The whole vision was filled with luminous light unlike anything I had ever seen before. It was a really pretty vision, but at the time it didn't make much sense to me. I didn't understand what it meant. I remembered being upset at Spirit. After all . . . was is the point of a vision or message from Spirit, if I didn't understand it, or could not apply it to my life? What's the point? I'm not much into spiritual entertainment. It is fun for a short time, but after a while you want the real lasting stuff. That is where I have been the last few years. I had been asking for the next step, and I guess Spirit was doing its best to get me to see it. I guess I was fighting the experience and taking it personally.

So there I am tearing up at breakfast, thinking my life is going to change, and I don't have a clue what it will change into. I just knew change was coming. I was humbled and raw. I was so tired that I could hardly sit up in my chair. I was in complete surrender.

This is when all the pieces came together. The Star Elders reminded me that they wanted all the information they had given me over the years to be recorded in one place . . . a book. They also wanted me to actually feel the experience of what it would be like to shift through to the next world, so I could let people know what they were in for (Thanks buddies).

Later that day, one of my group members informed me that there had been a huge solar flare the day before. We are all beginning to realize that the sun and the earth work together. What the sun does affects us. What we do affects the sun. We are not separate from anything in the universe. So what we do in the universe affects everything. Not just our tiny little Earth. Solar flares also affect weather patterns. On this day, hurricane Ivan slammed into Haiti and a lot of people were set free.

I thought it was interesting that the solar flares increased immediately after a day of global peace and prayer. Hey, I thought, what we do on Earth effects the sun? So why didn't the solar flares decrease the day after the peace prayers? The Star Elders reminded me that peace vigils don't work anymore like they used to. We must LIVE peace, not hope for it, pray for it, or affirm it. We must LIVE it. We are leaving the world of duality. Praying for anything is a dualistic action. If we pray for peace, we also understand that there is war. Thus the reason for the increased solar flares. Our worldwide peace day actually triggered more solar flares. This triggers increased and intense weather patterns and other Earth based phenomena. Mount St. Helens blew only a few days later. Also in that first week after equinox, we have the closest flyby of an asteroid to Earth than ever before. Only seven lunar distances from Earth. That's close!

The Star Elders told me that the Earth, the sun, and the universe are all working together to facilitate this shift of the ages. Heightened solar flares, crazy weather patterns, weird physical symptoms, earthquakes and volcanoes . . . it's all part of the plan. The heightened energies will help us let go to move on to a new reality.

So here we are, entering a new world without a guidebook. I guess the trick is learning how to let go of this world, while jumping into the next one. The Star Elders say the way we do this is not written or taught. It is something we're just going to have to figure out as we go along (They're not much help, are they?). So, if you're feeling a little bored, depressed or uninspired, no worries. It's a good thing. You're just learning how to let go so we can move on, evolve, transform and awaken. Remember . . . let go . . . and let God. We've heard this so many times. Never did it mean more to me, or to you, as it does right now.

UPDATE... There were some miss understandings about this article and my experience at Machupicchu. Just to get clear now... I am not committing suicide.... I am going to quit offering the pilgrimages....AND... I am not sick. I just had a living experience of the shift. That is all. I was fine the next day with no side effects other than more material to put in the new book. : ) Sorry I was not more clear in the article No Worries... I have been through much tougher test than this.
Aluna Joy Yaxk'in . . . A Star Messenger - Earth Oracle - Soul Reader - Sacred Site Junkie was literally born awake and in the company of her guides, the Star Elders. Today she has evolved into an author, spiritual life coach, sacred site guide, alternative historian, ordained minister and modern mystic. In the Inca world, Aluna is considered a Qawaq (cow-wak), a clairvoyant or seer of living energy. Aluna acts as a spiritual archaeologist using her clairvoyant / clairsentient gifts to excavate current messages from the masters of ancient, enlightened cultures to uncover what affect this has on humanity and the collective consciousness. She is well known for her down to earth, accepting attitude that makes each one feel like they have come home. She inspires and encourages others to recognize and accept their own authentic divinity and connection to the Creator. "Our groups are family, and each one is a teacher and also a student. We work together as a team to unravel the sacred mysteries of life." Aluna coined the term "sacred site junkie" because she is one herself. After her first trip to Tulum, Mexico, her life changed dramatically, and she was sent on an entirely different path in life. Since this time, her work has been influenced by uncountable shamanic experiences in sacred sites of Mexico, Guatemala, Belize, Honduras, Peru, Bolivia, Egypt, Greece, England, Australia and New Zealand. Aluna has been leading groups in the Maya world since 1986, the Inca world since 1996, and the Egyptian world since 2008, and the mystical world of Avalon (England and Scotland) since 2007. Aluna offers Star Elder Sessions, formulates Sacred Site Essences and a free newsletter. She is the author of "Mayan Astrology" and her articles have been published worldwide. Website: www.AlunaJoy.com Facebook: http://www.facebook.com/alunajoyyaxkin YouTube: http://www.youtube.com/user/feelthelove2012

Copyright Guidelines:
Aluna Joy Yaxkin © www.AlunaJoy.com 1995-2013 - Unauthorized use and/or duplication of any material on our web site without express and written permission from its author and/or owner is strictly prohibited. Violators will be reported to the DMCA. Please respect our work, that we intend to continue to offer to you freely.
RE-POSTING GUIDELINES: We appreciate your desire to share our messages and posts on your own web sites, Facebook pages, blogs, etc..., but for many specific reasons, our messages, posts and images need to remain solely on www.alunajoy.com. We encourage, and give you permission to place a WEB LINK to our posts anywhere you like. Thank you for your great support. We would not be able to continue this work if it were not for you. We send you awesome radiant blessings today and for the beautiful future that we are co-creating together. As always love donations are appreciated and treasured. You can continue to support us here: http://www.alunajoy.com/heartdonation.html

RESPONSES
I got some GREAT responses to this article and I posted them here. Some offered great advice and others with support and validation for all of us.


Aluna,
Realization is the blessing that I have. I read your last experience in Peru. I now know that I HAVE been shifting. As I read a few paragraphs I knew you were shifting or about to. The more I read, the more my own realization came forward. Thank you for making me understand more about why I am so drawn to this experience and what it is, even if I don't have a name for it. Now I know I have almost come full circle towards my own purpose. I look forward to receiving your letters and reading your new book. Love and Light to you, Mara

What a great piece of writing. Live it! This is the key message I have gotten as well. Let go of all judgment as to how. Just live life. This is all I do now. It is not easy and it is not always fun but moving forward as gracefully as possible is all I know how to do. ~ Love, Carolyn

Thanks so much for the piece 'Between Worlds' regarding your recent trip, it clears so much for me that I have also been feeling and experiencing for some time now, you've shed new light for me and I loved the line 'we must live peace not pray for it' etc it can be so difficult to do in these times and you've helped me to understand duality and our purpose all in one go. Regards, David.

Hello Aluna Joy,
once again I would thank you from the bottom of my heart, or is it the top of my heart for your much appreciated letter. Each one you send out is gratefully received and each time there is something within that really resonates, and this time it is of course no different. THANK YOU for sharing your experiences with the 'dying ego' which I too in lesser or similar guise can relate to! Wow, it is a death (rebirth) dance indeed !!! Keep that light (((((((shining))))))) out young lady, its quite warming from where I sit ~ Love and Blessings ~ Alec

Dear Aluna,
thank you for sharing your powerful message and experiences. I definitely want to share one of these journeys with you to Peru. I too am going through very deep experiences, sometimes think I am losing it, I know my life is about to change dramatically but have no idea what that means yet, I wait in awe, taking it day by day, watching the process. ~ Love and light, Maggie

I enjoyed the accounting of your trip to Peru. Thank you for letting me know why I felt so shitty. No doubt your letter saved me big bucks on therapy or doctors. ~ Blessings, Tom

I too have gone through massive realigning and sheddings these last weeks. I too had some sense of things ending and wanting out, very pressured and in deep pain, facing my own deepest issues openly, without self pity, calling myself a really unlikable and unpleasant person! Well I got past it, and a new and cleaner and much improved me is emerging, shining more than ever before, the brain re-wiring settling in better each day as I learn to navigate this much improved perception and clarity and even more profound level of thought and perception than before, and it was deep enough then! My brain crashed a few times when it first came about, but I am becoming a better navigator of all this new brain function and insight as time goes on. Love and light and blessing ~ Anne Beaumond

Dear Aluna Joy,
Thank you so much for the letter. I take umbrage with the Spirits for their shoddy behavior with your force fields on all levels during your last trip. May I disagree with you on your feelings that you were not integrating energies, or thoughts, or experiences well and causing yourself discomfort. May I humbly offer that your experience was more of a parasite or entity wrecking havoc with your multi dimensional force fields. When I was in Peru in 1998 on of the many `leaders` went through something. May your , protective, angelic, healing, elevating, and helpful force fields, energies and spirits, be herefore activated now and forever more if that is your wish. Much love and peace, joy, and divinity, to you and the Star Elders. ~ Dobby

(My answer to Dobby) Your right... some of it was an attack.... But through it all I learned so much. So that attacker empowered me... not what they wanted for me. When are these attackers going so see that attacking only strengthens the one they attack. Some of my best teachers were dark ones on the attack. Thanks for revealing the rest of the story : ) Aluna Joy

Aluna--
You write-- "In the vision, I had been shown a new reality being born. It was a river of red and then golden light. Within this light emerged a golden disk with some kind of crystalline form inside of it. This new reality came through a great valley or a parting of the earth. The whole vision was filled with luminous light unlike anything I had ever seen before. It was a really pretty vision, but at the time it didn't make much sense to me. I didn't understand what it meant. I remembered being upset at Spirit. After all . . . was is the point of a vision or message from Spirit, if I didn't understand it, or could not apply it to my life? What's the point? I'm not much into spiritual entertainment. It is fun for a short time, but after a while you want the real lasting stuff. That is where I have been the last few years. I had been asking for the next step, and I guess Spirit was doing its best to get me to see it. I guess I was fighting the experience and taking it personally."

The new reality being born is within you, the dawn of enlightenment in Buddhist terms. Again in Buddhist terms, the river of red is female energy, the golden light is that of the wisdom goddess, the Goddess Prajnaparamita, the heart of all enlightened beings. The crystalline form symbolizes one's divine essence, the diamond (indestructible) being at one's heart center--who we really are. The "luminous light unlike anything I had ever seen before" is most likely your first long look at what we Buddhists call "clear light" the hallmark of enlightenment. If you were to hold your consciousness single-pointedly (shi-ne) within the clear light, full enlightenment would eventually blossom (opening of the lotus) and you would be beyond all misery. Of course transformation is very frightening, so Buddhists use mantras for protection of the mind during times of transition. The mantra of the Goddess Prajnaparamita found in the Buddhist Heart Sutra is: Ta-ya-ta OM! ga-te ga-te para-ga-te para-sam-ga-te bodhi so-ha! This translates approximately as: Wake up! Go, go, go beyond, go beyond even the beyond into full enlightenment. Rejoice!

Attaining enlightenment is a long process, not so much an event, and the later stages of the process are preceded by the "death" of the "grasping I" (a Buddhist term I think is best translated as "ego" for westerners). Ego cannot actually die because it is not actually alive, but it can feel like it is dying. Think of the ego as one's normal ways of interacting with the world (habit patterns) which mask one's inner divine potential (Buddha, Angel, Union with God, etc.). Because we have always behaved in certain ways, we think that is our true nature, and we are fearful of changing because we do not know what will happen if we change into a way of being that we have never tried. But our true divine nature (subtle mind in Buddhism, soul in Christianity, etc.) will mature and eventually emerge. As this true emergence begins, the energy that used to sustain the body and the ego begins to shift to the emergent divine being, and one begins losing one's self concept, the feeling of being an individual entity. Since our true nature is to be in blissful union with the entire universe, the loss a sense of individuality is understandable. But this process can be frightening and may feel like dying. In fact, however, the emerging divine being will preserve and heal the body and remember the ego (your characteristic ways of interacting with the world), so neither body nor ego are in any real danger. However if either the body or ego try to resist the emerging divine being, they will lose as surely as trying to stop a baby from being born when its time has come, and the existential pain of resisting is far worse than the normal birthing pains. Unfortunately, like childbirth, it is painful either way. But your instinct to surrender is correct. Surrender is a "letting go," non-grasping in Buddhist terms. The emerging divine being is fearless and immortal whereas the ego and body are neither, so as you begin to identify less with the ego and body and more with your true divine nature, fear and pain will eventually subside. You don't want to rush this process, neither should you want to resist. Eventually, instead of saying, "I am Aluna." you will simply say, "I am...."

This process of emergence is what the energy present at Machu Picchu initiated in you, in my opinion. I could be wrong, because I am not yet enlightened and am not fully in touch with the universe myself. But I have experienced "the death of the ego" which closely resembles the experiences you describe. The symbolic "dying" took a year in my case, and was as painful as dying, but both my body and consciousness survived the experience. I can now act as any person I have ever been in order to help others, so you could say my egos also survived the experience. I still feel pain, but only as pain, never as fear of extinction. I'm literally fearless because I now identify with my divine potential, the angel/buddha within, and no power on earth can harm that. I hope this is helpful to you. I'm very optimistic that you will weather this storm as have all the mystics who have gone before you. ~ Namaste, Jim ~ San Mateo, California ~ Tibetan Buddhist Vajrapani Dharma Center ~ Boulder Creek, California

Hey Aluna
Nice to hear form you again.......glad you decided to hang around...... we can't afford to lose anymore conscious souls right now.....we need all the help we can get......the challenges continue to awaken us even more.........you were very lucky to have been going thru that process in a very sacred and high vibrational energy portal such as Peru, I am sure it was easier to transmute the conflicting energies that were moving thru your energy field. Good luck on the book. We need your testimony...........it is the living library ~ AHO Roberta~

Dear Aluna Joy:
Thanks for this letter. It helped clarify my own solar flare in my emotional life. I seem to have been caught up in a nightmare and all kinds of old stuff is getting cleansed. Everyone I know is going through some heavy clearing. I hope that means it gets BETTER soon.. because we are all weary and worn. Did we really sign up for this battering? Will it all really be worth it in the end? I know it will, but the trenches are so hard... still the Internet brings letters like yours.. and that helps.. I will take anything right now! ~ THANKS. Isis

Thanks for all of your sharing. I was at the 45th Parallel at the Boiling Springs inside Yellowstone doing a pipe ceremony for the Aries Full Moon. The elks were mating and it was outrageous. When I returned to Sedona I was hit with some heavy stuff and energy that pulled me into bed for 12 hours a night for 3 days. I understand about this changing time. ~ Love, Shanti

Dear Aluna Joy, Thanks for writing your latest article, it really speaks to me. I am feeling just as you were. For myself, after many years of personal turmoil, I have recently decided to let go of my birth family, wishing them well on their journey, and have decided to embrace a family of friends; I no longer feel connected to my "work"; I have been processing huge emotions of all kinds and feeling suicidal; and in a healing session recently I was told by spirit that it is "now" time to leave this timeline (whatever that means!!). I truly feel like I am in a dying process: only I'm still here ( I would never kill myself, but it is an energetic death). And I feel that we are moving into an alternate reality. I no longer feel connected to the "current" events of this world, such as the American election tonight. Yet, after experiencing these intense emotions, I also get waves of "all is well and in place". I am also feeling great love and reverance toward all the animals who have given so much love to third dimensional Earth and humanity and who are leaving this world and paving the way for us. I just wanted to thank you for your reassuring article. I'm no longer feeling crazy, like I'm the only one going through this. Many thanks ~ Lisa
If you are still game for a life changing Peruvian Adventure after this story ... (I am laughing as I write this)
here is where you can find more details for our upcoming Peru Pilgrimage
Enter Here ... Brave Souls and Sacred Site Junkies