Sacred Site Essences

Sacred Site Essence Blends

Spiritual Pilgrimages

Star Elder Sessions

Books / Mayan Calendars / Astrology / Converters

Who are the Star Elders

Articles on Planetary Transformation

Articles on Mayan Cosmology

Articles written by Elders

FREE Newsletter!

Facebook

You Tube

Heart Donations

Contact

Base Camp

MAYAN RETURN
and the 7 Spiritual Truths that I learned in 52 years.
NOV 2006 - New moon in Scorpio - 2 MANIK - 5 TIJASH - 11/26/2006
ALUNA JOY YAXK'IN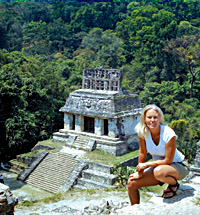 Well, I finally made it. I have reached my Mayan Return. It has taken me 18,890 days to make the journey. What the Maya say about this day is that I have experienced, and actually survived (much to my surprise) all evolutionary intentions for a 52 year cycle. Every 52 years, there is a NEW FIRE and a new beginning. This means that your Gregorian birthday and your Mayan Birthday fall on the same day for the first time since your birth. So, for those of you out there that were born in 1954 or earlier . . . Congratulations! You are now an ELDER!

This November 13th was my new fire and a new beginning. I am beginning this cycle not as clueless as a new born babe. Thank the maker. : ) I have experienced all things possible under the sun, and I have felt all frequencies between earth and sky.

You see your first 52 years is about learning to get around in this world. It is about the material world . . . the physical world. It doesn't seem fair, or even humane, that it would take so long to learn all those painful lessons . . . but it does. We had to learn how to take care of our bodies. We had to learn right from wrong, truth from lies, and how to take care of others.

The second 52 year cycle has a greater focus on Spirit. The material world seems less important. What is most important is quality of life. Like doing what makes you happy, your relationships and your family. I imagine that the next 52 years will be filled with deeper understanding and fuller commitment to Spirit. At least the Maya say so.

So, what have I learned in my V E R Y L O N G, 5 time Scorpio, 7 Cauac, 10 Noj, all water, no planets in earth, intense . . . 52 years of life? Let's just say they took Pluto off the official planet list way to late for me! So what have I learned???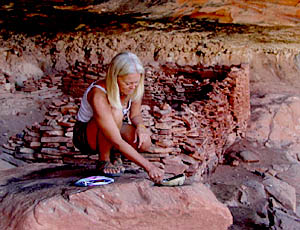 FIRST . . . BE natural and authentic . . . simply just be yourself with no defense or justifications for who you are. After all, God made you and me this way, and if it is good enough for GOD . . . well that is good enough for us . . . yes? If it doesn't feel good, it is not good for you. Follow your HEART. Follow your BLISS . . . whatever you want to call it . . . Do what feels good. It is simple . . . Do what is best for you.

SECOND . . . You don't make it through this life without making a mistake or two . . . or three. All you can do is the best with what you have, and then let it go. Don't carry your mistakes around with you. They get heavy. Leave them in history like an old dusty memory. Your mistakes are not who you are. People's judgments and lies about you are not who you are. Your fear, grief, sorrow, pain, guilt and shame are not who you are! Your mistakes have molded you into someone much greater and wiser than the mistakes you made.

THIRD . . . you can't rush Spirit. You can't accelerate your spiritual growth no matter how hard you try. You can meditate 24/7, and be a breathairian, a yoga junkie, and live in the Andes like a monk . . . and it still won't speed up your natural rhythm of evolution. When you quit trying to push forward, you learn something really important . . . PATIENCE . . . and when you learn patience, oddly enough, your spiritual life begins to grow and move forward again.

FOURTH . . . There is no PAST. There is no FUTURE. Spirit is HERE and NOW. Spirit does not understand the past because it is gone, and it is only a memory. This is why we can never really process out our past pain . . . it isn't there. We just recreate it over and over for some odd reason. Puzzling isn't it?

Spirit does not understand the future either, because we have not created it yet. This is why it is not effective to stock pile for the future either. Spirit understands that you will never get to the future. The future isn't there. This is why we find that no matter how much we have in the bank, or how much food we have stored, we still don't feel secure. You can not secure a future that doesn't exist. Is Spirit taking care of us NOW? Then why do we think Spirit will quit taking care of us tomorrow?

We cannot predict the future either. How can you predict something that isn't real? So dump all those doomsday predictions. God doesn't do fear. Fear is based in past memories or future worries, and the past and future does not exist. There is only now. So it is simple . . . BE PRESENT. If you are in grief, you are in the past. If you are in worry, you are in the future. Spirit is not in either place ever. Don't worry; be happy. Kids, pets and nature are great teachers of living in the present.

FIFTH . . . there is enough to go around in every situation. Universal abundance isn't a dream; it's a reality. There is no lack anywhere in the universe; there is only a belief that there is lack. Belief in lack attracts more lack. Remember that the Creator has taken care of us this far and will continue to do so. If you know that Spirit will supply you with what you need in every moment of your life, act as if it is so, because it is. Competition with others is a belief in lack. Lack causes everything from simple arguments to all out war. Quit competing and know that Spirit will take care of you.

SIXTH … Desire is God's way of telling you that anything we dream is possible. If we are a part of GOD, how could we desire anything separate from GOD . . . . So if we can DREAM IT, it can BE. This all falls into place when you GET . . . 1-5! All you have to do is be your authentic self, let go of your mistakes, have great patience (this is the "let go and let GOD" thing we all know about), be completely in the present and . . . PRESTO! Instant manifestation of your heart's desires!

SEVENTH . . . Spiritual Truths are SIMPLE, and, with a little contemplation, they are available to anyone. If it gets too complicated, it isn't truth. Complications are either based in the past, the future, or both. Spiritual truth will never leave you feeling guilty, fearful, shameful, worried, sad or hopeless. Spirit follows an easy light filled path because Spirit is trust, patience and present moment.

So these are the 7 spiritual truths that I have learned in my life. I wonder if it will take me another 52 years to really LIVE them. To all the budding Elders out there . . . In Lak'esh ALa K'in - I am you, and you are me : )
Aluna Joy Yaxk'in . . . A Star Messenger - Earth Oracle - Soul Reader - Sacred Site Junkie was literally born awake and in the company of her guides, the Star Elders. Today she has evolved into an author, spiritual life coach, sacred site guide, alternative historian, ordained minister and modern mystic. In the Inca world, Aluna is considered a Qawaq (cow-wak), a clairvoyant or seer of living energy. Aluna acts as a spiritual archaeologist using her clairvoyant / clairsentient gifts to excavate current messages from the masters of ancient, enlightened cultures to uncover what affect this has on humanity and the collective consciousness. She is well known for her down to earth, accepting attitude that makes each one feel like they have come home. She inspires and encourages others to recognize and accept their own authentic divinity and connection to the Creator. "Our groups are family, and each one is a teacher and also a student. We work together as a team to unravel the sacred mysteries of life." Aluna coined the term "sacred site junkie" because she is one herself. After her first trip to Tulum, Mexico, her life changed dramatically, and she was sent on an entirely different path in life. Since this time, her work has been influenced by uncountable shamanic experiences in sacred sites of Mexico, Guatemala, Belize, Honduras, Peru, Bolivia, Egypt, Greece, England, Australia and New Zealand. Aluna has been leading groups in the Maya world since 1986, the Inca world since 1996, and the Egyptian world since 2008, and the mystical world of Avalon (England and Scotland) since 2007. Aluna offers Star Elder Sessions, formulates Sacred Site Essences and a free newsletter. She is the author of "Mayan Astrology" and her articles have been published worldwide. Website: www.AlunaJoy.com Facebook: http://www.facebook.com/alunajoyyaxkin YouTube: http://www.youtube.com/user/feelthelove2012

Copyright Guidelines:
Aluna Joy Yaxkin © www.AlunaJoy.com 1995-2013 - Unauthorized use and/or duplication of any material on our web site without express and written permission from its author and/or owner is strictly prohibited. Violators will be reported to the DMCA. Please respect our work, that we intend to continue to offer to you freely.
RE-POSTING GUIDELINES: We appreciate your desire to share our messages and posts on your own web sites, Facebook pages, blogs, etc..., but for many specific reasons, our messages, posts and images need to remain solely on www.alunajoy.com. We encourage, and give you permission to place a WEB LINK to our posts anywhere you like. Thank you for your great support. We would not be able to continue this work if it were not for you. We send you awesome radiant blessings today and for the beautiful future that we are co-creating together. As always love donations are appreciated and treasured. You can continue to support us here: http://www.alunajoy.com/heartdonation.html


Sacred Site Essences

Sacred Site Essence Blends

Spiritual Pilgrimages

Star Elder Sessions

Books / Mayan Calendars / Astrology / Converters

Who are the Star Elders

Articles on Planetary Transformation

Articles on Mayan Cosmology

Articles written by Elders

FREE Newsletter!

Facebook

You Tube

Heart Donations

Contact

Base Camp