Sacred Site Essences

Sacred Site Essence Blends

Spiritual Pilgrimages

Star Elder Sessions

Books / Mayan Calendars / Astrology / Converters

Who are the Star Elders

Articles on Planetary Transformation

Articles on Mayan Cosmology

Articles written by Elders

FREE Newsletter!

Facebook

You Tube

Heart Donations

Contact

Base Camp

LISTENING WITH THE GRATEFUL HEART

January 2006
Aluna Joy Yaxk'in



In the coming 2006 year, Gratitude will be our most valued abundance tool. All that we have learned and worked toward will finally be called into action. This past year we have felt stuck in a void, and felt uninspired. That has all changed and shifted. We now can put our heart's calling into action with GRATITUDE! The vision in front of us is a very good one, but it's moving fast. This year our consciousness will manifest at light speed. Finally we can step into the new world!

Knowing this, before I take another precious step toward this new and untarnished year of 2006, I just have got to get something off my chest. I don't want to manifest the energy I have been feeling these last few weeks of 2005 into my life. I don't want to create a life that is void of magic, love or compassion. I don't want a life where I have to worry that I might step on someone's issues by speaking from my heart. Ok . . . I guess I am being a little cryptic here. Let me share with you what sparked these feelings in me.

The holy days of winter are a time for communities to come together in a sense of love and giving, no matter what your religion is. It is a time where we bring light into each other's lives in many diverse ways. It is a time to spark magic and mystery in the hearts of our children. It has been a time where the collective is so sweet, loving and caring that it permeates the collective field and makes the long winter bearable. But this time it felt like a big, dark void. So I guess what I want to know is "What happened?" Where did the Magic and Heart go? Ya know what? . . . I think he finally did it! The Grinch stole Christmas.

I tried to talk to a friend of mine in the health food store recently. He had a headset on with music playing. He said he could not handle the Christmas music anymore. I know there is only so many times that one can listen to the chipmunks sing the Christmas song . . . but this was not his reasoning. He was Jewish, and he felt quite put out by the Christmas music being imposed on him. I watched people stand in checkout lines with their arms crossed in front of them. They would not look you in the eye. It felt like they were afraid that they might have to be forced to say 'Hello" if you made eye contact. Or worse . . . you might say it . . . "Merry Christmas!" Why? What is the big deal here?

Then I heard that the President had announced that it is politically correct to say "Happy Holidays" instead of "Merry Christmas." I think that he has a commitment issue while walking that fine line that he is on . . . (smile). He wanted to play it safe. But did he? In response, Christians were picketing retailers that did not use the words "Merry Christmas" in their promotions. That's strange and sounds a bit un-Christian to me.

So I looked it up. Merriam-Webster Online . . . "politically correct is: conforming to a belief that language and practices which could offend political sensibilities (as in matters of sex or race) should be eliminated." This doesn't say anything about religious affiliations or beliefs. Hey! What about separation of church and state? It feels like we are being forced to be political with our religious or spiritual beliefs. I like to stay out of politics. It is not my cup of tea . . . but I sure miss the love and good tiding these times can have on the collective. I say . . . "Bring back the mistletoe and the Yule logs and the sparkly lights, the candy canes and the cookie baskets."

So why do I think the Grinch is doing this? Hey, he is a tricky guy, and we have given him a lot of energy over the years. Maybe he is trying to program all the joy and heart out of our many and diverse, beautiful traditions, and for some reason, he is using the President to do this. Not as far fetched an idea as it should be. Another very scary thought.

As far as I can see, the Grinch kicked the lights right outta Santa Claus this year. What's next? Old Father Time, the Easter Bunny or even Cupid? Soon we will not be able to celebrate anything with our global family, no matter how frivolous and material. Aren't these wonderful ways for us to light up our days, and find ways to be good to each other? Aren't we getting just a little too serious and majorly over sensitive?

Pretty soon we could be all be trained to be politically correct . . . but at what cost? Could it steal the magic of diversity out of our lives? Will it homogenize life on Earth as we know it? Will we lose the ability to speak with our hearts, because we are afraid to say the wrong thing, at the wrong time, to the wrong person, just feeding our already growing insecurities about fitting into this complicated world? Hey, if we keep going this way, we will be perfectly polite, politically correct zombies . . . sounds like a bit like the Stepford wives doesn't it? It sounds like we are going to have to know someone's religious affiliation, genetic past and sexual orientation before we can even say "Hello".

To make matters even more confusing, a friend sent me a …. Ahem… a Christmas greeting, but signed it "Merry Christmahaunakwanzaka". Hey, I can't even say this, so how am I going to greet someone like this if I want to be politically correct? Then I saw my Buddhist neighbor take out her Christmas tree today. That's kinda cool don't you think? A h h h, I just don't know what to think! I just want the love to come back for us to bask in. I want to hug someone and say "Merry Christmas" . . . Darn it! It is my traditional way of saying "I love you, and I hope you are well!" On no! . . . Does this mean we have to quit saying "Namaste", or "In Lakesh", or "Wirracocha" to others not from those traditions?

I think getting politically correct has gone way off the deep end. I think we are creating a world in which we are so worried about being politically correct that we are forgetting to be compassionate, loving and non-judgmental and just plain nice. The words we use are only 10% of what we truly communicate. So what happened to listening to the other 90% by listening with our HEART? So this New Year I am so grateful that I have remembered to always listen with my HEART, and speak with my HEART. I don't want to offend anyone, but I also do not want to shut my heart, and close my mouth for fear that I might not know the right way to give a heartfelt greeting.

When I woke up Christmas morning, to yet another perfect day, Raphael and I got a call to go up to the Grand Canyon. There we found the vastness of LOVE and COMPASSION laid out before us. I was surrounded by people from all over the world. During the day, I heard a multitude of languages being spoken. The sun was shinning and gave us a wonderful sunset while eating our (excuse me) Christmas dinner. I cried with joy as the last light left the canyon in front of me. It was exquisite.

So there! I got this off my chest, or should I say my heart. It was getting pretty heavy. Now I can create my new year with love and light and compassion and respect for all traditions and cultures. I feel so much better. BUT…. if we don't catch the Grinch by next year, you all have got to come out to the Grand Canyon with us! It is like celebrating a sacred holy day with the entire human race!

P.S. For you serious ones out there . . . I was just kidding about the Grinch stealing Christmas . . . it was really Elvis that stole it.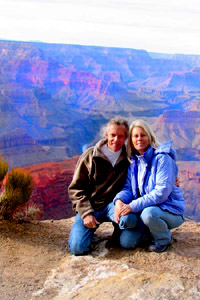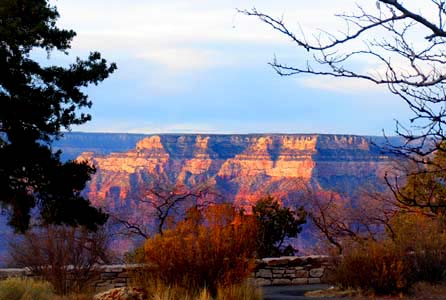 Aluna Joy Yaxk'in . . . A Star Messenger - Earth Oracle - Soul Reader - Sacred Site Junkie was literally born awake and in the company of her guides, the Star Elders. Today she has evolved into an author, spiritual life coach, sacred site guide, alternative historian, ordained minister and modern mystic. In the Inca world, Aluna is considered a Qawaq (cow-wak), a clairvoyant or seer of living energy. Aluna acts as a spiritual archaeologist using her clairvoyant / clairsentient gifts to excavate current messages from the masters of ancient, enlightened cultures to uncover what affect this has on humanity and the collective consciousness. She is well known for her down to earth, accepting attitude that makes each one feel like they have come home. She inspires and encourages others to recognize and accept their own authentic divinity and connection to the Creator. "Our groups are family, and each one is a teacher and also a student. We work together as a team to unravel the sacred mysteries of life." Aluna coined the term "sacred site junkie" because she is one herself. After her first trip to Tulum, Mexico, her life changed dramatically, and she was sent on an entirely different path in life. Since this time, her work has been influenced by uncountable shamanic experiences in sacred sites of Mexico, Guatemala, Belize, Honduras, Peru, Bolivia, Egypt, Greece, England, Australia and New Zealand. Aluna has been leading groups in the Maya world since 1986, the Inca world since 1996, and the Egyptian world since 2008, and the mystical world of Avalon (England and Scotland) since 2007. Aluna offers Star Elder Sessions, formulates Sacred Site Essences and a free newsletter. She is the author of "Mayan Astrology" and her articles have been published worldwide. Website: www.AlunaJoy.com Facebook: http://www.facebook.com/alunajoyyaxkin YouTube: http://www.youtube.com/user/feelthelove2012

Copyright Guidelines:
Aluna Joy Yaxkin © www.AlunaJoy.com 1995-2013 - Unauthorized use and/or duplication of any material on our web site without express and written permission from its author and/or owner is strictly prohibited. Violators will be reported to the DMCA. Please respect our work, that we intend to continue to offer to you freely.
RE-POSTING GUIDELINES: We appreciate your desire to share our messages and posts on your own web sites, Facebook pages, blogs, etc..., but for many specific reasons, our messages, posts and images need to remain solely on www.alunajoy.com. We encourage, and give you permission to place a WEB LINK to our posts anywhere you like. Thank you for your great support. We would not be able to continue this work if it were not for you. We send you awesome radiant blessings today and for the beautiful future that we are co-creating together. As always love donations are appreciated and treasured. You can continue to support us here: http://www.alunajoy.com/heartdonation.html

Some reader feed back...
LISTENING WITH THE HEART
and see with the soul's eyes in the Horizon
to see the Light of the Sun Rising,
the Messiah of All Nations and Religions.
Those who wait for many stars,
Messiahs will wake up to see now One Star,
the Sun of All ~ Anton
Aluna, I just wanted to comment on your article. I think people are just tired and stressed out. I see wherever i go. Seems like people are just going through the motions because they don't know any better, don't want to know and do it because they think it's right and son't want to upset (offend) anyone. If they only knew. If they only knew they don't have to be caught up in politics or political correctness. If they only knew they can take back what rightfully belongs to them. Their heart. I for one am tired of being directed by the masses, media, government, etc. and not being directed by my heart but I am learning how to listen more and more and doing it more often as well and for that I am grateful!!!! :) Thank You Aluna!!! All The Best, William Phoenix, AZ

IMPORTANT MESSAGE From Grandmother Mary Elizabeth Thunder...
On December 30th I poured water in an Inipi or Stone People Lodge in Friendswood Tx at my good friends Johnny Maisels center for the people called Eagle Heart. During the ceremony the spirit spoke ... I would like to share with you some of the messages. Message from Spirit: "Find someplace to be by 2007. Get there and be there and get your ducks in a row. 2007 is the beginning of the end of the Hopi Prophecy and the Mayan Prophesy- all of the prophesies. Out of [436] (folks were not clear what the number was) all are similar prophecies and all say that 2007 is the beginning of the count down to 2012. So you have one year, 2006, to get it together. The fast rate of manifestation upon the planet will create the need for being clear with your thoughts, words, and dreams. Be serious about being a human being. Pray for people ~ Pray for the Families. It will be a good year. (To long to post it all here. Read the rest here.)

Dear Aluna Joy,
Just been reading your December 2006 article, Listening with the Heart, and felt it appropriate to send this to you to assure you that all is not lost .... there are many of us out in cyberspace land dealing with this insane political correctness crap .... and continuing to speak the words which have meaning, rather than those which the "powers that think they be" would like us to use. Happy New Year, and like you, I trust 2006 is not as bad as 2005, but methinks we are in for a rocky ride, which only love can overcome. Blessings to you and yours, Aluna Joy,~ Sunbear xxx

A heart-felt thank you for putting words to my feelings......I am energized and ready to put into action my heart's calling. There is an old blues song here in the south called "Who stole my joy" and it reminds us that we have to go and get it back. The grinch was busy this year but he has energized the opposite opportunity for each of us. Have a happy new year. Suzanna

Thank you for a great article.... I hadn't read the papers for a while, but I can tell you, out here in NY the topic of coversation Christmas week was..."psss-t-t-don't say 'Merry Christmas'...... then, relatives who never sent Jesus cards were out sending them all over. It was quite an awakening for sure. Happy New Year, - Linda

Hi Aluna,
I do heartily agree with all you have written regarding the Christmas Spirit - the only Christmas Spirit people seem to be interested in is how much Liquid Spirit can be consumed and our powers that be are not helping in this matter either by introducing 24hr drinking laws. .... This is time is certainly a wake up time to actually see the negatives and work on the positives (nature and all she has to offer) and be able to share, not our fears but our desire to take control of ones own mind, body and spirit. Even though we have to conform with rules & regulations of the working environment and local/national governments we must do so with our eyes wide open and not blindly accepting what is required of us. We may not have any control or say in carrying out the actions that are required of us but we should, in our hearts, respond with an inner peace of knowing that we are just participants in their game and knowing just that, that we are only participants in the life outside of our own heart. Anyhow on a lighter note, Having had a week off work over the Christmas period, it has been wonderful to get out and about - I love nature at this time of year here in England, its just so stark and beautiful. The majority of trees are bare and look absolutely fantastic silhouetted against either a sunrise or sunset, then there are the early morning frosts which are just so magical which, if followed by a clear sunny morning is just so, so beautiful. OK, so I say the same/similar about Spring, Summer and Autumn - but it's all so beautiful! Love & Best Wishes ~ Zena UK

Dear Aluna,
I hope I can put this now into a good understandable english as my basic language is german.... It became clear to me, that christmas as we have celebrated it, is not even a very old concept – rather pretty new. This christmas tree-gift-candle light-romantic-celebration came actually from a time when the industrialization took over in the western world and made the world an even colder place. And at the same time (about not even 200 years ago) this way of christmas was also imposed on the people ALL over the world (how come?) by the ones in power, making them flee away from the darkness of the season by becoming reliable shoppers. Since we have these mixed feelings about Christmas every year, that most people by now anyway want to get out or flee from – because of the high expectation of having to be happy just at that very time. This year the old concept was not working any more, and people truly felt it, on whatever level. How christmas is celebrated in our world has also turned people away from nature and the natural cycles. In this time of the year (in the northern hemisphere), nature is at its lowpoint, partly frozen, hibernating … and what are we doing at this time? Just the opposite, because we have to – because of christmas. It has made us flee away one half of human existence, which is the dark, the passive, the intuitive, the feminine (within us). This time would be such a great opportunity to tune in, and to go with it … and to stay quiet. Maybe many people felt this, and thus they tucked their head in and crossed their arms in front of them. I think we have to learn now how to handle the darkness and feel familiar with it, even deep within, before we will become able to handle the (new) light. This christmas time has clearly shown, that we have to let go again, to let go mainly of childhood feelings, which we since have mistaken for love – and we now got the chance to mature from all that. As a saying goes (maybe with different words): if you loose everything and let go of everything, that what is left is LOVE. We are in a void now, and staying there. And holding the No-thing-ness will help us to create a new story, which is the story of all the human masters that are going to be born now into the new time (which is a huge difference from the one-king-christmas-story, because a king always requires subjects, on whatever level). We have got the chance now, to master and rule ourselves, and to creat the light within. What a wonderful opportunity! Blessings and love to you ~ Magda

Dear Aluna
The Void is due to the dramatically changing energies; the emptiness before the Leap; the "pregnant pause"; the gathering of strength. It is not a respecter of a religious season. I have no problem saying "Happy Holidays" to people. I do not do it to be politically correct (the heck with all these fundamentalist yahoos). I do it to celebrate all that is encompassed within the season. I do it because I am a Lightworker with a GLOBAL Heart. I do it to respect everyone's religious and non-religious celebrations (including the Soltice Celebrations, and Wicca celebrations!), I do it out of love and with love for all people, of all nations, of all cultures. Not everyone is a Christian or accepts Jesus as God, as a Savior, or even as a Teacher. Many people are not interested in The Christ. And so beyond my own personal feelings for the season, I wish EVERYONE a Wonderful and Happy Holiday whatever their affliation. I do not want to be exclusive! This should not even be an issue! If the only way someone can feel the Joy of the SEASON is to say "Merry Christmas", perhaps this is being too narrow-minded. The only place The Grinch exists is within your own Heart. If you truly wish to embrace all peoples, and all the Light that is entering the World at this time through Its multitude of expressions, and not just the segment celebrating specifically Christmas, then saying "Happy Holidays!" with a full Heart is a fulfilling greeting, and will not create any emptiness; then you are truly celebrating all Holy~Days. Namaste to you Aluna Joy, and Happy Holidays in all their Glory! Miriam

(Aluna's responce) Hi Miriam,
I do understand and agree with your beautiful put points... You and I both understand about honoring all peoples.... but what I was talking about are those that don't see the bigger picture. Like the folks I stand next to in the grocery line. I could feel people being defensive and closed by what was going on. Unfortunately the ones who read my writings are not the ones I wanted to reach with this. I just think all people need to feel free to able to speak from their hearts from the place they know. If you are Christian, Jew,or Mormon, Buddhists. etc.... Not everyone can see the bigger whole at this time. It caused me pain to see folks out there close up with fear. It is such a shame. Happy Holidays to me is such a impersonal sounding line ... at least for me, yet I still don't know what is best. I was raised Christian so what come out of me naturally is Merry Christmas. For others it might be another form of greeting. We just got to do what feels best from our hearts as you do! Anyway a falcon just landed out side my window.... Just sitting and watching me. So thank you for your feed back... I knew some would feel this way. I also got feed back from others who also felt the unnecessary heaviness around people this year. Thanks from speaking with your heart.
Blessings ~ Aluna Joy




Sacred Site Essences

Sacred Site Essence Blends

Spiritual Pilgrimages

Star Elder Sessions

Books / Mayan Calendars / Astrology / Converters

Who are the Star Elders

Articles on Planetary Transformation

Articles on Mayan Cosmology

Articles written by Elders

FREE Newsletter!

Facebook

You Tube

Heart Donations

Contact

Base Camp