Roots of Transformation
The Star Elders through Aluna Joy - July 29th 2009
Life should not be a journey to the grave with the intention of arriving
safely in a pretty and well preserved body. But rather to skid in broadside,
thoroughly used up, totally worn out and loudly proclaiming,
"WOW! What a Ride!!!" ~ Hunter S. Thompson
Just out of site, in the background of all living things, something miraculous is happening. Our entire universe is changing and is being transformed along with all life on Earth. Ascended Masters and Angelic Realms of LIGHT are assisting humanity and Earth in a great and long awaited transformation.

The recent eclipse trio you are now completing included 2 lunar eclipses and one very long total solar eclipse. (July 7, July 21-22 and August 5-6). Eclipses are a powerful force that physically block light or create a shadow on the Earth. The ancients used this time to clean out their internal shadow aspects of themselves. But this time, humanity instinctively used the eclipse trio for doing something else. This is the good news. Something big is taking place.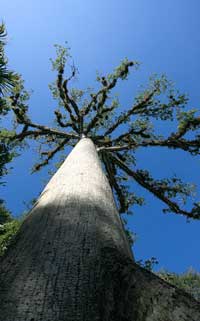 Tree roots grow underground in the dark. A tree can not reach for the sun without an equal amount of the tree's unseen root system growing in the opposite direction away from the sun. These are the trees roots. The Maya have a name for this process. It is called the Wakah Chan, the tree of life, the tree of the world. The Maya have a sacred tree in the Mundo Maya, and it is called the La Ceiba (Say-ba) Tree or the Kapok tree. It has sap that is red like blood, just like a human being. In the darker winter months, when the tree loses its leaves, it looks like the tree is upside down. Today you might feel that you are that upside down tree. This is because you are now growing roots up to the sky, up and to a new world.

Today the living Maya still perform a sacred ceremony named Ya'axche'. This ceremony acts out the connection between Heaven and Earth and Man's necessity for roots in the underworld. They know how important appropriate roots are for a human being to evolve. The underworld is not to be feared but respected. It is where all new life comes from.

This is what is so exciting today. Your roots to a new world are now beginning to grow underneath you. These roots are building a foundation for a new world that you have already created/imagined/envisioned in your hearts and spirit. You are doing this with the ever increasing creative force of the universe that you all have developing inside of you. A new world is beginning to take form even if you can't see it as yet. To root yourselves into this new world, you must rip up the old roots that your physical body has become quite comfortable and accustomed to. Now you are adapting to new energies coming from a beautiful new world.

The Shift of the Ages . . . The Great Transformation . . . is beginning to manifest as a physical reality. It is moving from your heart's intent into your dimension. And, OH YES . . . and you are really feeling it. Just like an expecting mother, you will need rest, eat food and have peaceful space. Allow yourself to have these things whenever possible.

During this same time of the eclipse trio, a huge asteroid hit Jupiter. When a planet is slammed, you are going to feel this. As above . . . so below. There is no separation between you, and us, and the entire universe. So no wonder you are feeling like you are being forced to take down time, re-boot and heal your wounds. We expect that you might have been experiencing headaches, body aches, and being very tired and hungry! We see many having unusual anger and melt downs that seam to come out of no where!

If you are reading this . . . Congratulations you made it! This is GOOD NEWS. There is light at the end of this tunnel! The creative force/source of the universe is now beginning to live though you; not just intermittently dancing around you and teasing you with endless possibility. Your physical bodies are being re-trained to adjust to what your hearts and spirits have known for eons and that is . . . you are become living masters! Your bodies are working hard to stay in balance with the new root system grounded beneath you.

Be gentle with yourselves. Be Patient, and listen to you HEARTS
~ The Star Elders


"One must have chaos in one's self in order to give birth to a dancing star." ~ Friedrich Nietzsche, 1844-1900 a German philosopher
Resources and support for the current energies. . .

The eclipse trio ends on August 5/6, 2009, and we have our fingers crossed that we will get a much needed break. There are many things you can do to help yourself get through these transformational days. There are a multitude of things that we can do that are free or very affordable to accelerate the balance between our spirit, body and our rapidly transforming Earth. You don't have to have a lot of dollars to make yourself feel better and lighter today and right now!

Here are some things that work . . .
Take a hot bath, get a massage, go out in nature, drink lots of water, eat healthy food (eating root foods help tremendously) and get sleep. Most of you know these tricks already.

We are finding that we have to retrieve all our tricks to stay balanced these days. So other ideas would be . . . Essences are a great help and work on an deep energetic level. Bach Rescue Remedy can be bought at nearly every health food store and is a good all around balancer. Balance and Stability by http://www.staressence.com works well also.

We have a few powerful Sacred Site Essence that are peacefully, grounding, while allowing your head to stay in the stars. Suggestions: Avalon's Thorn Tree Essence, Mt Shasta Lily Essence, Heart Island Sun Dog Essence, Peruvian Opal, and . . . our NEW Chief Ouray Essence for Peace, Patience and Diplomacy. These essences can be found here: http://www.alunajoy.com/essences.html

You can easily teach yourself Emotional Freedom Techniques "EFT" also known as "tapping". This technique is very helpful to bypass your noisy, mechanical mind and goes straight to the sub-consciousness. You can help yourself release negative and physical problems with EFT. There is an very informative documentary you can purchase on Emotional Freedom Techniques EFT: Tapping DVD HERE Also there is a giveaway audio clip that shares where people develop unconscious blocks to attracting more money an shows how you can use tapping to remove them ! Abundance Tapping Lesson Here There are a lot of video shorts on YOU TUBE also. Search "tapping technique", or "EFT", and you will find lots to watch.

Aluna Joy Yaxk'in . . . A Star Messenger - Earth Oracle - Soul Reader - Sacred Site Junkie was literally born awake and in the company of her guides, the Star Elders. Today she has evolved into an author, spiritual life coach, sacred site guide, alternative historian, ordained minister and modern mystic. In the Inca world, Aluna is considered a Qawaq (cow-wak), a clairvoyant or seer of living energy. Aluna acts as a spiritual archaeologist using her clairvoyant / clairsentient gifts to excavate current messages from the masters of ancient, enlightened cultures to uncover what affect this has on humanity and the collective consciousness. She is well known for her down to earth, accepting attitude that makes each one feel like they have come home. She inspires and encourages others to recognize and accept their own authentic divinity and connection to the Creator. "Our groups are family, and each one is a teacher and also a student. We work together as a team to unravel the sacred mysteries of life." Aluna coined the term "sacred site junkie" because she is one herself. After her first trip to Tulum, Mexico, her life changed dramatically, and she was sent on an entirely different path in life. Since this time, her work has been influenced by uncountable shamanic experiences in sacred sites of Mexico, Guatemala, Belize, Honduras, Peru, Bolivia, Egypt, Greece, England, Australia and New Zealand. Aluna has been leading groups in the Maya world since 1986, the Inca world since 1996, and the Egyptian world since 2008, and the mystical world of Avalon (England and Scotland) since 2007. Aluna offers Star Elder Sessions, formulates Sacred Site Essences and a free newsletter. She is the author of "Mayan Astrology" and her articles have been published worldwide. Website: www.AlunaJoy.com Facebook: http://www.facebook.com/alunajoyyaxkin YouTube: http://www.youtube.com/user/feelthelove2012

Copyright Guidelines:
Aluna Joy Yaxkin - www.AlunaJoy.com © 1995-2013 - Unauthorized use and/or duplication of any material on our web site without express and written permission from its author and/or owner is strictly prohibited. Violators will be reported to the DMCA. Please respect our work, that we intend to continue to offer to you freely.
RE-POSTING GUIDELINES: We appreciate your desire to share our messages and posts on your own web sites, Facebook pages, blogs, etc..., but for many specific reasons, our messages, posts and images need to remain solely on www.alunajoy.com. We encourage, and give you permission to place a WEB LINK to our posts anywhere you like. Thank you for your great support. We would not be able to continue this work if it were not for you. We send you awesome radiant blessings today and for the beautiful future that we are co-creating together. As always love donations are appreciated and treasured. You can continue to support us here: http://www.alunajoy.com/heartdonation.html