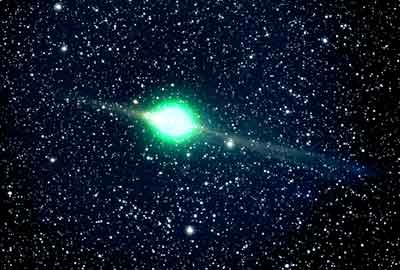 Dream of the Green Star
Aluna Joy - Mt Shasta 1990
In the late 1980's, while I was still living in Mt. Shasta California, I had a very strange dream. I didn't know what it meant at the time, but it was one of those dreams that you do not forget about.

In the dream, it was at the time of the great shift. I feel it is the shift we are experiencing now. In the dream, there was a weird light in the sky. There were many different colors in the sky, very similar to the Sun dogs that we have been seeing these last few months. The sky had an unreal feeling about it that is hard to describe. In my dream, I was watching all this transpire in front of me. It felt like it was at the end of the day, but I also realized that it was the end of the age.

It was evident to everyone that something big was happening. Everyone on Earth was scrambling in different directions. Some were acting out of their fear and were running and trying to hide. But there was no place safe to hide. Others were following an inner guidance that came from their hearts, and proceeded to go where they were called.

In the sky, there were multiple UFOs in the sky, and on the ground I saw many beings that we considered to be Big Foot. Many Ascended Masters were walking among us. It felt like all the dimensions were merging together. This was frightening to some, and very exciting to others. It was like Armageddon and the Rapture all at the same time. It was very confusing, but wildly exciting all at the same time.

The thing that created a lot of commotion was a glowing green stone. This stone shined like a star. In the dream, if we sat with it, the stone would awaken us to a higher realm of being. In my dream, the green stone, or green star, was in the center of a circle. The ones that were listening to their heart's inner guidance were also the ones that knew where the Green Stone was. We were all gathering around it, and waiting for what came next. We didn't know what it was, but we knew it was something that we had long awaited for. There were many that thought that the Green stone was evil, and they warned many to stay away from the light of the Green Stone. Some listened to the fear and left . . . but most stayed to be together. That was the end of the dream.

Over the years, I have kept my eyes open for a green stone like the one in my dream. I have been gifted many green stones from New Zealand, but these were not like the green stone that I saw in my dream. I heard about the stone called moldavite, and checked it out also. Again, it wasn't the green stone in my dream. Over the years, I forgot about the dream and went on with my life.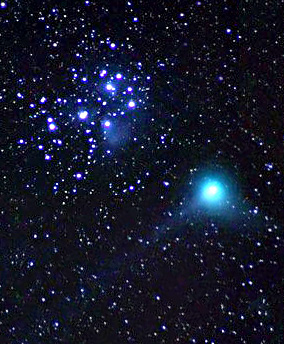 Just about the time that the Star Elders said that we had made the grand shift in the collective consciousness and a new age, something new has appeared in our sky. This is the glowing green Comet Lulin. Immediately, the forgotten dream of the star-like, green stone flashed into my mind. If the Comet Lulin is the green star stone in my dream, I don't really know. But I find it highly interesting that it has shown up now, and for many reasons.

Astronomers themselves say "Lulin is a very rare and quirky visitor". I find it interesting that this comet is not only green, but also appears to be traveling backwards. The Maya word "Zuvuya" fits the situation beautifully. Zuvuya means that you can understand things more deeply by looking at it in reverse. Could the appearance of this comet be triggering a deeper sense of awareness and truth? Could this comet unveil the illusions . . . negative egos of the world?

Since Comet Lulin's close fly-by in our solar system (February 23, 2009 being the closest fly-by to Earth), we have been experiencing a lot of interesting energy shifts. We have experienced some beautiful highs and have had to process some pretty deep lows. Emotionally we feel scattered and confused. Physically we are having stomach aches, nausea, and to sensitive ones, even a sense of your entire body being hit by a fast-moving truck. If you are feeling these physical symptoms, it means your spiritual, emotional and physical bodies are working to realign to the new energies.

Lulin has made its close fly by to Earth in the first few weeks of 2009 just as we have completed a 13 year solar wave cycle ending at Equinox in 2008. In this 13 year cycle, humanity has created a powerful momentum of awakening in the collective consciousness. This is the first year of a second 13 year solar wave cycle. This cycle ushers in a new era where we can actually create with the new momentum empowered by heart-filled collective consciousness. This is the year where all our healing talents will be empowered and supported by the mass collective consciousness . . . finally!

This comet will be passing close to Earth just as we enter portal and core days in the Maya calendar . . . including a rare core day falling on Equinox! Portal days thin the veils between dimensions. The core days act like the Kundalini of the solar system and have been historically proven to be extremely powerful days. Equinox this year falls on the 16th of 20 core days that will be greatly accelerated by this comet's gamma rays and the global Solar Wave Ceremonies. Two other comets have been within eyesight on Equinoxes in years past, but this is the first green comet that falls on a core day! This Equinox, March 20, 2009, is potentially the most powerful and transforming event that we will have ever experienced in recorded history.
Aluna Joy Yaxk'in . . . A Star Messenger - Earth Oracle - Soul Reader - Sacred Site Junkie was literally born awake and in the company of her guides, the Star Elders. Today she has evolved into an author, spiritual life coach, sacred site guide, alternative historian, ordained minister and modern mystic. In the Inca world, Aluna is considered a Qawaq (cow-wak), a clairvoyant or seer of living energy. Aluna acts as a spiritual archaeologist using her clairvoyant / clairsentient gifts to excavate current messages from the masters of ancient, enlightened cultures to uncover what affect this has on humanity and the collective consciousness. She is well known for her down to earth, accepting attitude that makes each one feel like they have come home. She inspires and encourages others to recognize and accept their own authentic divinity and connection to the Creator. "Our groups are family, and each one is a teacher and also a student. We work together as a team to unravel the sacred mysteries of life." Aluna coined the term "sacred site junkie" because she is one herself. After her first trip to Tulum, Mexico, her life changed dramatically, and she was sent on an entirely different path in life. Since this time, her work has been influenced by uncountable shamanic experiences in sacred sites of Mexico, Guatemala, Belize, Honduras, Peru, Bolivia, Egypt, Greece, England, Australia and New Zealand. Aluna has been leading groups in the Maya world since 1986, the Inca world since 1996, and the Egyptian world since 2008, and the mystical world of Avalon (England and Scotland) since 2007. Aluna offers Star Elder Sessions, formulates Sacred Site Essences and a free newsletter. She is the author of "Mayan Astrology" and her articles have been published worldwide. Website: www.AlunaJoy.com Facebook: http://www.facebook.com/alunajoyyaxkin YouTube: http://www.youtube.com/user/feelthelove2012

Copyright Guidelines:
Aluna Joy Yaxkin - www.AlunaJoy.com © 1995-2013 - Unauthorized use and/or duplication of any material on our web site without express and written permission from its author and/or owner is strictly prohibited. Violators will be reported to the DMCA. Please respect our work, that we intend to continue to offer to you freely.
RE-POSTING GUIDELINES: We appreciate your desire to share our messages and posts on your own web sites, Facebook pages, blogs, etc..., but for many specific reasons, our messages, posts and images need to remain solely on www.alunajoy.com. We encourage, and give you permission to place a WEB LINK to our posts anywhere you like. Thank you for your great support. We would not be able to continue this work if it were not for you. We send you awesome radiant blessings today and for the beautiful future that we are co-creating together. As always love donations are appreciated and treasured. You can continue to support us here: http://www.alunajoy.com/heartdonation.html