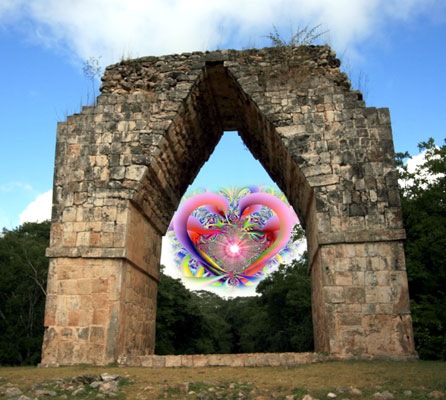 I LOVE YOU TOO ~ A Message of Love and Forgiveness Aluna Joy
Dec 19, 2011
We have just returned from our latest pilgrimage to the Yucatan that took place during a full lunar eclipse and the very special time of Our Lady of Guadalupe Festival. Guadalupe is the Patroness of the Americas and was once a Goddess to the Maya before the arrival of the Spanish. The words of John Lennon, "Life happens when you are making plans", became apropos as a subtle message unfolded in the following days which were saturated with Love and Forgiveness.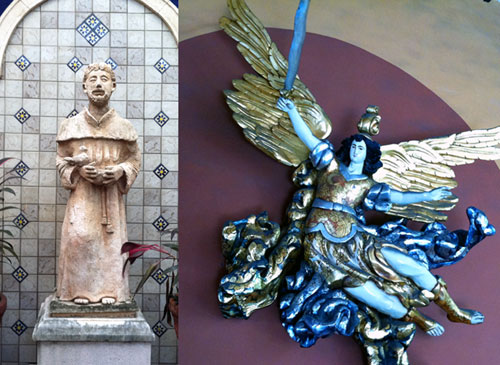 We flew into Merica, Mexico and found it very welcoming. Merida was all decked out in festive holiday decorations. When we checked into our first hotel in Merida, Mision de Frey Diego, I was shocked to be greeted at the front door by a huge somber painting of Frey (Father/Friar) Bishop De Landa. This dreadful man was responsible for burning all the Maya codices 500 years ago. You can imagine my distaste for this man, and my subsequent distress in supporting a hacienda honoring such a man. Then as we passed the main doorway, I was greeted by my old pal Archangel Michael, and also, further into the courtyard, by St Francis, (P.S. if you have not watched "Brother Sun, Sister Moon", it is a powerful film.). Their presence softened my landing.

I sat down and sent my daughter a quick text to say that I had arrived, and that I love her . . . but the text didn't go through, because I forgot I didn't have an international plan on the phone. So I let it go, and forgot all about it.

When our Mayan guide, Enrique, arrived at the hotel, he shared that he felt that this pilgrimage would be about forgiveness and breaking rules of the past, even though we called the trip "Kaan Sacbe" and had its focus on the sacred roads of light and dimensional doorways. I didn't understand totally what he meant at the time; nor did he . . . but we would.

The group was amazing, loving, compassionate and full of laughter. We are lucky that group bonding has become our trademark. This has everything to do with Archangel Michael for hand selecting our groups for us (Thanks buddy . . . and Thank You to the group and the energy we created). We had our adventures on Sacbes and had great experiences in dimensional doorways (three messages to follow A.S.A.P.).

In the course of our trip, we saw many Guadalupe runners. The runs were in honor of Guadalupe and would end at various churches on the 12th. We saw many alters in honor of her, and her presence was felt everywhere.

Since we were in the Yucatan, where many atrocities had taken place, the subject of Bishop De Landa kept coming up, along with my overwhelming dislike for him. Enrique shared another version of the story of the Bishop, where he was forced by the Queen of Spain to burn the books. The story also shared that he did not feel right about it, but was forced to do it anyway. So, I thought this is where the forgiveness comes in. So we decided to look for Bishop De Landa's burial place and go forgive the poor guy. But we soon found out that he had died a broken and nearly insane man, and that his bones had been returned to Spain. Spirit had forgiveness in store for us even with this set back.

Kerri, a group member, said that we were close to the village of Mani. The name Mani had many special reasons for her. But she didn't know that this was the very village that the Bishop had burned the Maya codices. So when checked out our itinerary, we saw that the last day we would be near the village, and we could take a side trip there. So off we went.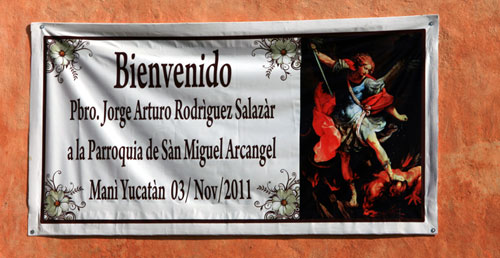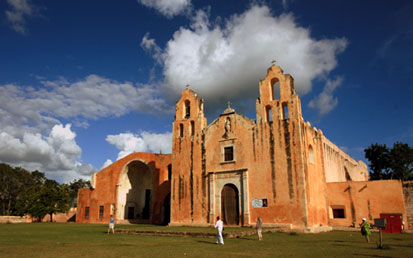 We arrived in the Main Square in Mani. The main church was named what? Guess . . . come on . . . guess! It was San Miguel Archangel . . . Archangel Michael. Yeah, we were all shocked. So we walked around the building. I could feel the place where the codices were burned. I saw people crying . . . and oddly people cheering as well. I could smell the smoke. I felt my bitterness rise up in me once again at the horrendous loss in the Maya traditions. As we rounded the corner, there was an outdoor alter attached to the Church. This is called a native church, because in the old days, the natives didn't understand the concept of worshiping indoors as their religion is one everything and with nature. So, the church built outdoor churches. Inside this Arch, there was a HUGE image of Guadalupe and an array of candles, etc…. We all headed for this area to sit, meditate and work on our forgiveness.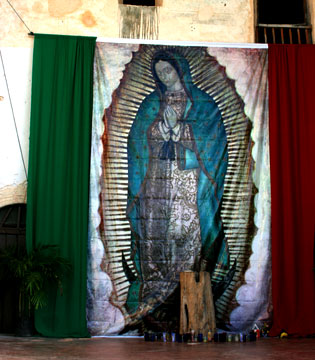 I was the first to reach the first few steps up to this alter. Just as my foot touched the first step, my phone went "Bing… bing". I looked around to see what this sound was and remembered this might be my phone. Remember, my texts were not going out, nor coming in, and we were in the middle of techno no-where land, with no Wi-Fi or internet.

I pulled out my phone and read a flabbergasting and very appropriate message for that exact moment.

It said . . . "I love you too, and say Hola to Enrique."

The text officially was from my daughter. Somehow it got through, but we knew better. This was spirit honoring our willingness to forgive even the most horrific atrocities. We could feel the energy of Guadalupe flood into our hearts. We could feel her unconditional Love. We felt the comfort and support of Archangel Michael. We felt forgiveness.

So my dear family of like mined souls . . . I send you this story today so you can remember to forgive those who have hurt you, betrayed you, abandoned you . . . in the past, the present, and the future as well. It is the reason for this holy season.

I am so happy that we were given this opportunity to heal something us Maya enthusiasts have held in our hearts for so long. The forgiveness felt so good that I am hooked. So watch out . . . Columbus, Montego, and Pissarro, your next.

Happy Holy days to our extended spirit family. We are blessed by you, your energy and your support. We are the community of the ONE, Love and Community. The connection we have is precious and a great gift from Spirit. May we all be of support to each other and to those in need as well.


Aluna Joy Yaxk'in . . . A Star Messenger - Earth Oracle - Soul Reader - Sacred Site Junkie was literally born awake and in the company of her guides, the Star Elders. Today she has evolved into an author, spiritual life coach, sacred site guide, alternative historian, ordained minister and modern mystic. In the Inca world, Aluna is considered a Qawaq (cow-wak), a clairvoyant or seer of living energy. Aluna acts as a spiritual archaeologist using her clairvoyant / clairsentient gifts to excavate current messages from the masters of ancient, enlightened cultures to uncover what affect this has on humanity and the collective consciousness. She is well known for her down to earth, accepting attitude that makes each one feel like they have come home. She inspires and encourages others to recognize and accept their own authentic divinity and connection to the Creator. "Our groups are family, and each one is a teacher and also a student. We work together as a team to unravel the sacred mysteries of life." Aluna coined the term "sacred site junkie" because she is one herself. After her first trip to Tulum, Mexico, her life changed dramatically, and she was sent on an entirely different path in life. Since this time, her work has been influenced by uncountable shamanic experiences in sacred sites of Mexico, Guatemala, Belize, Honduras, Peru, Bolivia, Egypt, Greece, England, Australia and New Zealand. Aluna has been leading groups in the Maya world since 1986, the Inca world since 1996, and the Egyptian world since 2008, and the mystical world of Avalon (England and Scotland) since 2007. Aluna offers Star Elder Sessions, formulates Sacred Site Essences and a free newsletter. She is the author of "Mayan Astrology" and her articles have been published worldwide. Website: www.AlunaJoy.com Facebook: http://www.facebook.com/alunajoyyaxkin YouTube: http://www.youtube.com/user/feelthelove2012

Copyright Guidelines:
Aluna Joy Yaxkin © www.AlunaJoy.com 1995-2013 - Unauthorized use and/or duplication of any material on our web site without express and written permission from its author and/or owner is strictly prohibited. Violators will be reported to the DMCA. Please respect our work, that we intend to continue to offer to you freely.
RE-POSTING GUIDELINES: We appreciate your desire to share our messages and posts on your own web sites, Facebook pages, blogs, etc..., but for many specific reasons, our messages, posts and images need to remain solely on www.alunajoy.com. We encourage, and give you permission to place a WEB LINK to our posts anywhere you like. Thank you for your great support. We would not be able to continue this work if it were not for you. We send you awesome radiant blessings today and for the beautiful future that we are co-creating together. As always love donations are appreciated and treasured. You can continue to support us here: http://www.alunajoy.com/heartdonation.html


Sacred Site Essences

Sacred Site Essence Blends

Spiritual Pilgrimages

Star Elder Sessions

Books / Mayan Calendars / Astrology / Converters

Who are the Star Elders

Articles on Planetary Transformation

Articles on Mayan Cosmology

Articles written by Elders

FREE Newsletter!

Facebook

You Tube

Heart Donations

Contact

Base Camp