PREPARATION / INTRODUCTIONS FOR THE ILLUMINATED PATH OF THE CHALICE WITHIN PILGRIMAGE
Aluna Joy, and a mob of others!
June 18th, 2012 - London & Glastonbury at the Saint Michael's Tor - Message #1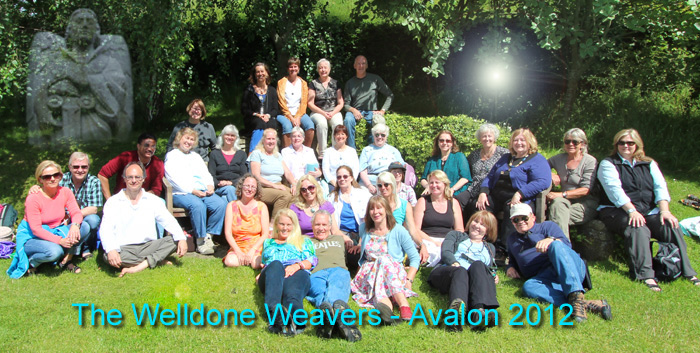 The following is the first message that we received in Avalon (England and Scotland) this past June/July 2012 over Solstice. You can find our other messages on our website at www.alunajoy.com under the "Articles for Personal and Planetary Transformation" link. It might be a good idea to read them in order as each message builds upon the previous one. We are sharing this message here with you just as we received it, in present time, with very little editing. We do this for a very important reason. We know that the messages that we receive are not just for our groups, but are for others as well. The Star Elders and all the others that joined us, assure me that the message and the corresponding energy will be transmitted to you as you read them. So as you read this, you might want to imagine that you are with us. Also, always view the photos on the website that we share, as photos also hold some energy of the sites.
We are happy to begin to share our Avalon 2012 Experiences with you. One group member said that "Avalon is deceptive gentle" and this proved to be true over the course of our pilgrimage. Most of our group is still integrating and recovering from all the energy shifts, downloads and realizations we experienced. It was life changing and one pilgrimage that I will never forget. We have come home very different people (in a good way). Now we are so happy to take you on this pilgrimage as well. We hope you enjoy the ride.

I would like to take this moment and invite into this circle (those reading this … you are with us now) our group and the one who is still stuck in immigration at Heathrow Airport right now. We invite all our guides, guardians and angels to be with us now. We invite in the essence / spirit / archetype of King Arthur and Queen Guinevere, as well as Jeshua, Joseph of Arimathea, Archangel Michael and Merlin. All the guides, guardians and masters of the light that everyone in this group works with, we invite you to be with us as well. We invite all these Beings of Light to help us learn, grow, awaken and be of better service in the world. We invite you to make this journey with us for support, guidance and sacred shelter.

We ask that this group be placed into a bubble of beautiful light. In this bubble of light, we ask that any energy that is not part of our true selves, our highest good, and other presences that do not belong with us, be removed from us in this circle. We are asking Archangel Michael to purify this circle of everything that is not original to who we are: including the distractions of the exterior 3D world, our worries, our concerns, our problems and issues that we left back at home, our worries about the future, our grief from the past, so WE - this group - are right here, right now, in this present moment. We ask to BE in this sacred space for this bit of sacred time, while we are here together in this land for sacred pilgrimage.

We ask that this bubble around us be infused with the light of the illuminated path of the Chalice that is within us all. We ask that this bubble remain in place throughout the entire duration of this trip (night and day, seven days a week, 24-hours a day) until all of us, everyone in this group, walk through their front doors safe and sound back home (as well for all those reading this message, until the Avalon series is finished).

We ask that all energy and wisdom that we left behind in ancient times be returned now. We also ask that all energy and wisdom that we projected out in the future be returned now as well. We leave parts of our wisdom and energy in different places for a multitude of reasons. We do this for safe keeping of things that are intensely sacred. We are the anchors and weavers of unity and truth, and we ask that all these pieces be brought back to us now to be used during this pilgrimage. We ask that we are now 100% whole and complete in every cell of our bodies, every fragment of DNA, and every fragment of consciousness that has scattered through eternal time and space. We now take back all this beautiful energy and sacred wisdom. Also we are now open to evolving and growing through all the new and beautiful energies that we will be experiencing during this pilgrimage we are taking together.

We are aware that every single step we take in a sacred site changes the energy of that place. We are fully aware of the responsibility to stay in our hearts, to be in our joy, our happiness, our positivity and, most of all, our authenticity. Therefore, each step we take will lift and add to the energy of the places we visit.

I can see that our guides, guardians and angels are tying us together now with beautiful cords of light. As Jeshua said, one of my favorite truths that has still endured: "What I have done, you can do also and greater things." This is our time to do those greater things. It is hard to imagine in this moment what those greater things are, but if we walk each moment of each day with our hearts open in the flow of the energy of the day, those greater things will be revealed to us.

So we have called in all the amazing guardians, guides and angels and masters . . . Oh! There are some that I didn't see before . . . The Great White Brotherhood of Mt. Shasta, the South American Brotherhood . . . Lord Meru's Brotherhood of the Seven Rays of South America, Pachamama. Oh my goodness, the room is getting really crowded now. Also, when I arrived I was feeling the presence of Sekhmet. She is an Egyptian goddess. She looks like a lion. She keeps us walking on a straight authentic path. She doesn't let us deviate from truth. It feels like her presence is with us as well. I am feeling as though now that we have set our intentions and started building energy in the circle, so much more is coming in that it feels like all the ancient cultures of the world are flooding into the room now to be with us. This feels like the culmination of a very large and old project to get so much attention from all these beings.

The night I arrived in London, quite a few beings decided to keep me awake half the night. They filled me up with an extreme amount of gratitude and gratefulness. I felt love and the gratefulness for just being in the world at this time. The energy was so strong that it kept me awake. It is a miraculous feat that we are here, and we are in a position to do the things that we have come here to do.

(This proved to be a prophetic statement that would be shockingly fulfilled later in the pilgrimage.)

It's a miracle that we are being allowed to do this work because in the past we were not allowed to be who we are. In the past we were burned at the stake or had our heads chopped off, or our communities were completely wiped out.

We now have the opportunity to be who we really are, and be supported in our work. It is time to reclaim all that has been lost. It is time to re-build a future. It is time to fulfill a destiny. I know quite a few of us came here feeling very neutral … when we packed and got on the airplane, but I am feeling this has changed now. I am feeling the impact of the energy now that we are all here together. There is great energy in groups that gather with like-minded focus. As Jeshua says, "Where two or more are gathered… I am there."

Now that we have invited in all our ethereal beings and have let them bring us together as a group, as a family, I would like to go around the circle and let each one introduce yourself - stating who you are and why you are here. These are two questions that sometimes take a whole lifetime to understand fully, but all that matters is who you are today and why are you here today.

(To those reading this: Please introduce yourself to the guardian you work with and state to the best of your ability today who you are and why you are here… this will change as you evolve, but NOW is the only place/time that is presently real.)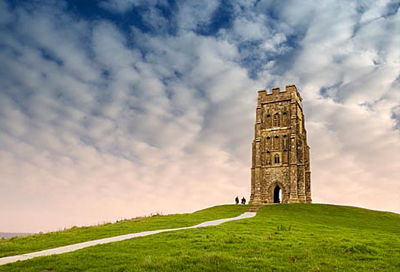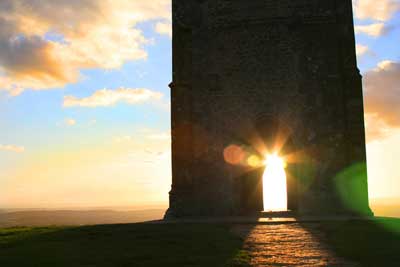 June 18, 2012 - The Tor in Glastonbury at a crossing of the Michael and Mary ley lines.

(At the top of the Tor, our group met Ananda, a guitarist who has the energy of St. Francis. He was singing and playing his guitar as we arrived at the top of The Tor. Ananda had just finished playing several songs for us, and Aluna then had our group gather in a circle inside the Tor. )

I just can't imagine a sweeter beginning for our first day on this pilgrimage. Today captures the energy I knew we would feel when we came - the sweetness, the depth, the holiness. Now do you all feel like you have been welcomed? (the group nods… YES)

So here with our feet on the ground, we thank the land and the guardian spirits, all our guides, guardians, angels, Ascended Masters, Jeshua, Mary Magdalene, Archangel Michael, Merlin, and now St. Francis. Thank you so much for inviting us into these lands and allowing us to feel these energies, allowing us to learn and grow and feel the depths of our hearts. Help us find the purity of the truth about who we really are, not who we believe we are or what we have been told we are, but who we really are.

May we walk that truth every single day from this point forward. We ask that we grow more and more each day as we open and accept and allow who we actually are - the truth of who we are - not this physical form that we identify with when we look in the mirror, but the beings that we know we are inside. We are so blessed and grateful to know that this authentic holy place actually exists inside of us. We ask all our guides, guardians and angels now, in this moment, to send this knowing out to all the searching hearts across the planet, to all the ones that feel that something is missing inside of them, but they don't know what it is. This place inside where there is so much heart and gratefulness and purity and depth, we ask that they feel this now. May all the searching hearts all across the planet also feel this holy place inside because we know we are connected to everyone and everything and what we feel here isn't just for us alone. It is for everyone.

We are so grateful and so thankful for the opportunity for us to be the chalice that holds this energy for the world. And because we are standing in a center that is connected to the ley lines all across the world and in places we may not even know of - all this beautiful love and energy and purity and gratefulness in knowing the truth of who we really are, we send out across those ley lines to all the planets, all the sacred sites across the planet Earth and all the beings in those sacred places. We Are That We Are. I Am That I Am.

(Aluna then received permission to make a sacred site essence here at the Tor. (P.S… a dog drank the Tor Essence we made on Celtic New Year in 2008.) As the essence was being made, the group started to tone "ohm." Aluna said that as the group was "ohming," this blessing went out across the world and ricocheted back into all of us. One group member reported seeing an infinity symbol.)

An infinity symbol! So what we give out, comes back to us. Archangel Michael says … We are more inclined to give than receive. We are givers: we give, give, give, and we neglect ourselves. We are selfless, generous and authentically noble. So Archangel Michael is reminding us to make sure that we allow abundant blessings and gifts to come to us. The energy we give out comes back to us … one hundred fold. But this is not why we give. We are not motivated by rewards. Yet spirit is asking us to ACCEPT BLESSINGS - ACCEPT GIFTS. For this group to consent to receiving will be more important as the pilgrimage continues.
Aluna Joy Yaxk'in . . . A Star Messenger - Earth Oracle - Soul Reader - Sacred Site Junkie was literally born awake and in the company of her guides, the Star Elders. Today she has evolved into an author, spiritual life coach, sacred site guide, alternative historian, ordained minister and modern mystic. In the Inca world, Aluna is considered a Qawaq (cow-wak), a clairvoyant or seer of living energy. Aluna acts as a spiritual archaeologist using her clairvoyant / clairsentient gifts to excavate current messages from the masters of ancient, enlightened cultures to uncover what affect this has on humanity and the collective consciousness. She is well known for her down to earth, accepting attitude that makes each one feel like they have come home. She inspires and encourages others to recognize and accept their own authentic divinity and connection to the Creator. "Our groups are family, and each one is a teacher and also a student. We work together as a team to unravel the sacred mysteries of life." Aluna coined the term "sacred site junkie" because she is one herself. After her first trip to Tulum, Mexico, her life changed dramatically, and she was sent on an entirely different path in life. Since this time, her work has been influenced by uncountable shamanic experiences in sacred sites of Mexico, Guatemala, Belize, Honduras, Peru, Bolivia, Egypt, Greece, England, Australia and New Zealand. Aluna has been leading groups in the Maya world since 1986, the Inca world since 1996, and the Egyptian world since 2008, and the mystical world of Avalon (England and Scotland) since 2007. Aluna offers Star Elder Sessions, formulates Sacred Site Essences and a free newsletter. She is the author of "Mayan Astrology" and her articles have been published worldwide. Website: www.AlunaJoy.com Facebook: http://www.facebook.com/alunajoyyaxkin YouTube: http://www.youtube.com/user/feelthelove2012

Copyright Guidelines:
Aluna Joy Yaxkin - www.AlunaJoy.com © 1995-2013 - Unauthorized use and/or duplication of any material on our web site without express and written permission from its author and/or owner is strictly prohibited. Violators will be reported to the DMCA. Please respect our work, that we intend to continue to offer to you freely.
RE-POSTING GUIDELINES: We appreciate your desire to share our messages and posts on your own web sites, Facebook pages, blogs, etc..., but for many specific reasons, our messages, posts and images need to remain solely on www.alunajoy.com. We encourage, and give you permission to place a WEB LINK to our posts anywhere you like. Thank you for your great support. We would not be able to continue this work if it were not for you. We send you awesome radiant blessings today and for the beautiful future that we are co-creating together. As always love donations are appreciated and treasured. You can continue to support us here: http://www.alunajoy.com/heartdonation.html
Audio Transcriptions by Abracadabra Transcriptions - Cyndi Vickers
[email protected]
Light Manuscript polishing by Dolphin Scribes - Lynne Matous, M.A.
[email protected]