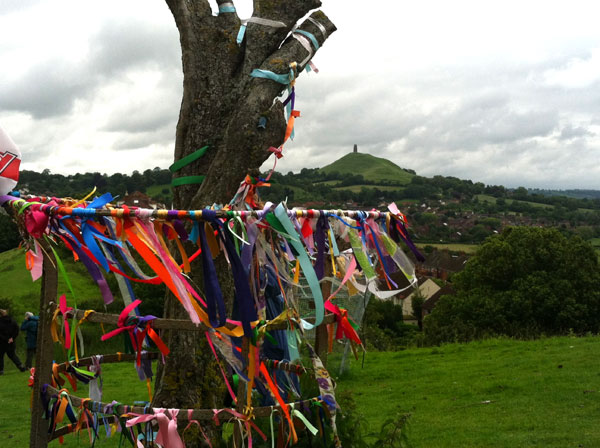 REALIZING THE GIFT IN OUR SOUL WEARINESS
Aluna Joy Yaxk'in Joseph of Arimathea, Archangel Michael and the Star Elders
Wearyall Hill - England - June 24, 2012 - Message #9
More photos of this pilgrimage can bee seen on Facebook
HERE
The following is the 9th message that we received in Avalon (England and Scotland) this past June/July 2012 over Solstice. You can find our other messages on our website at www.alunajoy.com under the "Articles for Personal and Planetary Transformation" link. It might be a good idea to read them in order as each message builds upon the previous one. We are sharing this message here with you just as we received it, in present time, with very little editing. We do this for a very important reason. We know that the messages that we receive are not just for our groups, but are for others as well. The Star Elders and all the others that joined us, assure me that the message and the corresponding energy will be transmitted to you as you read them. So as you read this, you might want to imagine that you are with us. Also, always view the photos on the website that we share, as photos also hold some energy of the sites.
I am feeling Joseph of Arimathea (very vaguely) and Archangel Michael. They are conveying a message . . . The cutting down of the Holy Thorn tree signifies the end of an age. (More about the 2000 year old Thorn Tree planed by Joseph of Arimathea and the new one planted to replace it go here ) Even though the person who cut down the tree was doing something malicious and appalling, the cutting of the tree was a symbol. The new tree that is now growing will signify the birth of a new age. The spirits here recognize that we are tired - not just today or this week - but soul-tired for hundreds and thousands of years waiting for the new world to arrive. The old tree is just barely hanging on. It is trying to sprout down at the base here. That is much like humanity hanging on to this age. We need to hang on to this age until the foundation has been solidly built in the future - just like the little new tree beginning to grow.

We didn't come here into the Earth plane - in this life - for the world in which we presently live and where we have always felt somewhat out of place. We came here to Earth at this time for the new world that is coming. We knew it would take a lot of our energy to make that new world manifest. But we came, and we are courageous. We do pilgrimages across the seas, across the land, across the mountains. We spread out our energy like a fish net. We do this so our energy will help this new dimension appear.

It is Joseph of Arimathea. He is saying "So appreciate how weary you are, because it means that you have worked really hard." He appreciates and can relate to this tiredness . . . the tiredness of today, the tiredness we felt even when were born, even the tiredness we have had in past lives. He is saying "You know, it took many lives to get to this point." This is a huge project that is about to come to fruition.

Appreciating the fact that we are tired means we have worked hard. And the opposite fact will also be true when we reach the other side. I really like this part! Our hard work will not go unnoticed or underpaid. We have sacrificed a lot in our lives. We (and those reading this) will receive great blessings because of the sacrifices we all have made in this lifetime. When we enter the new Paradise, blessings will be given to us. Joseph of Arimathea is sending appreciation to us, similar to the stones seeing us at Stonehenge yesterday. There is an appreciation, or recognition. He sees us, and he recognizes us. He is just asking us to appreciate our tiredness as a good sign, because the soul tiredness means good work has been done.

Now it looks like Archangel Michael and his helpers are going to lift some of the tiredness from us. We are going to let them, right? ("Yes" and laughter from the group) They are going to ask permission anyway, but I know all of us are ready to let go of some of this heavy burden. This releasing is part of the process of letting go of the old world and placing one foot in the new world - much like how we are standing between one Thorn Tree that is dying and another tree just beginning to live.

Group Member Lea: Can tiredness includes grief?

Aluna: Oh yes. Grief and any aspects of a negative ego can be linked to tiredness. Anger makes us tired. All of the negative ego characteristics wear us out. Oh . . . thank you. You triggered something. Thank you. The Star Elders are saying, "Yeah! They are getting it."

There is a lot that goes on inside us that does not belong in the next world. So the Star Elders and Archangel Michael are going to start lifting that negative stuff off of us here and sending it down to the core of the Earth for recycling. All that negative energy will be recycled and used for creating something that is at a higher frequency, or higher bandwidth, than where we presently stand. All the things that weight us down and make us tired will be removed and recycled: old programs, old memories that include all the sacrifices, all the having to make a choice between Spirit and the world. Do we do this for Spirit or take care of ourselves; make ourselves abundant or work to make the world abundant? (We ask to have this process done daily for us.) All of us in this circle have sacrificed one way or another over and over again. We have given and given and given. This is why there will be great blessings for us when we make the shift. Hopefully, some of us will get a vacation, or a day off. (Aluna raises her hand - laughter breaks out in the group)

Also, the Star Elders are working on our necks and shoulders and our backs because we have been carrying a lot. I don't quite know where we picked up this soreness, because I didn't see us picking it up. But it has been affecting us physically, so they are working on our necks and shoulders, and other part of our bodies as well. So feel yourself right now. Are you feeling just a little bit lighter? Maybe not quite so tired? I can breathe a bit deeper.

Well, we have been working in quiet for a long time. We have been working behind the scenes, unnoticed and invisible. We have been the conscious army that has been working behind the scenes for a long time in the quiet of our homes and in our little groups. It is nice that they know we are here, and they have recognized us.

I talked to quite a few people in our group, and we all felt as though we were somewhat invisible to the rest of the crowd at Stonehenge - as if we were in a bubble. Yes. I think that yesterday we were in a slightly higher frequency than most of the crowd, so we matched the stones enough that they could speak to us, while everybody else just saw them as rocks. And we got a little taste of their energy. Maybe it was enough, because last night was pretty intense. It is good to pace ourselves, even though most of us would rather sacrifice ourselves and leap and make the big jump right now. However, it is important that we do pace ourselves, take care of ourselves and rest. Yet we don't want to miss an opportunity at the same time.

I just got a strong hit that the world out there is "cooking" like crazy. I am going to email a couple of friends tonight to see if I can get some feedback. When we are traveling we can lose sight of what's going on in the world because we are in a bubble: we are on the road, or we have been hiking outdoors all day. So my question is . . . is this something planetary that we are feeling? Or are we holding a space and this energy here in Avalon? Some groups right now may be holding space in the Mayalands and Egypt. There are groups everywhere that are doing things over solstice and equinoxes.

Okay, I am going to look again and see what the Star Elders are doing. Yes, they are just brushing stuff off of us. They are brushing off the things that it feels like stuck to us - things that people put on us or things that we collected. We are somewhat like vacuum cleaners for the Universe: we want to clean up the mess, and things have stuck to us. The Star Elders are cleaning all that off, as well. If it is okay with us, Archangel Michael wants to go through our ancestral histories and cut cords and ties that bind us to the past. (From the Group: "Yes!")

Only the corrupt cords, only the destructive cords will be cut. They are why we have genetic connections that may hold us back. Some past memories hold us back and keep us from living with our arms wide open. "Living with arms wide open" means we are willing to rip our hearts open - be that raw and sensitive - and let out our energy. When we were burned at the stake or had our heads lobbed off; after a while, sooner or later in a life time or two, we started holding back. The time is coming soon where we will be asked to be quasars, huge bursts of energy, to let it all out - to live with arms wide open.

Today is the day when we begin to regenerate. There are two ways we evolve, or come into incarnations: one is through a spiritual line, and one is through a genetic line. The spiritual line of evolving, or incarnating, has nothing to do with our genetics. The Star Elders are going to cut cords in our ancestral past, and they are also going to look at our spiritual paths. We flip-flop around different cultures all over the place in spirit. However, our genetic line also has a hold on us. The Star Elders have told me this before, but I don't quite understand how it works because we are linear, and it doesn't make sense from a linear perspective. So they are going to cut any spiritual line where we might have felt harmed, hurt or abused. They are going to cut these kinds of memories free, because if we have such memories, we will not have the quasar-like burst of energy it takes to help the Earth and our dimension jump to the next frequency.

So, all of the past is falling off of us now and going down into the Earth. The Earth here is accepting it lovingly and transforming it into something that can be reused in a more positive manner. Notice how you are feeling now. Do you feel a little bit lighter? A little more energized? A little more awake? Okay. I think that was it. That's all they wanted us to do today.
Aluna Joy Yaxk'in . . . A Star Messenger - Earth Oracle - Soul Reader - Sacred Site Junkie was literally born awake and in the company of her guides, the Star Elders. Today she has evolved into an author, spiritual life coach, sacred site guide, alternative historian, ordained minister and modern mystic. In the Inca world, Aluna is considered a Qawaq (cow-wak), a clairvoyant or seer of living energy. Aluna acts as a spiritual archaeologist using her clairvoyant / clairsentient gifts to excavate current messages from the masters of ancient, enlightened cultures to uncover what affect this has on humanity and the collective consciousness. She is well known for her down to earth, accepting attitude that makes each one feel like they have come home. She inspires and encourages others to recognize and accept their own authentic divinity and connection to the Creator. "Our groups are family, and each one is a teacher and also a student. We work together as a team to unravel the sacred mysteries of life." Aluna coined the term "sacred site junkie" because she is one herself. After her first trip to Tulum, Mexico, her life changed dramatically, and she was sent on an entirely different path in life. Since this time, her work has been influenced by uncountable shamanic experiences in sacred sites of Mexico, Guatemala, Belize, Honduras, Peru, Bolivia, Egypt, Greece, England, Australia and New Zealand. Aluna has been leading groups in the Maya world since 1986, the Inca world since 1996, and the Egyptian world since 2008, and the mystical world of Avalon (England and Scotland) since 2007. Aluna offers Star Elder Sessions, formulates Sacred Site Essences and a free newsletter. She is the author of "Mayan Astrology" and her articles have been published worldwide. Website: www.AlunaJoy.com Facebook: http://www.facebook.com/alunajoyyaxkin YouTube: http://www.youtube.com/user/feelthelove2012

Copyright Guidelines:
Aluna Joy Yaxkin - www.AlunaJoy.com © 1995-2013 - Unauthorized use and/or duplication of any material on our web site without express and written permission from its author and/or owner is strictly prohibited. Violators will be reported to the DMCA. Please respect our work, that we intend to continue to offer to you freely.
RE-POSTING GUIDELINES: We appreciate your desire to share our messages and posts on your own web sites, Facebook pages, blogs, etc..., but for many specific reasons, our messages, posts and images need to remain solely on www.alunajoy.com. We encourage, and give you permission to place a WEB LINK to our posts anywhere you like. Thank you for your great support. We would not be able to continue this work if it were not for you. We send you awesome radiant blessings today and for the beautiful future that we are co-creating together. As always love donations are appreciated and treasured. You can continue to support us here: http://www.alunajoy.com/heartdonation.html
Audio Transcriptions by Abracadabra Transcriptions - Cyndi Vickers
[email protected]
Light Manuscript polishing by Dolphin Scribes - Lynne Matous, M.A.
[email protected]