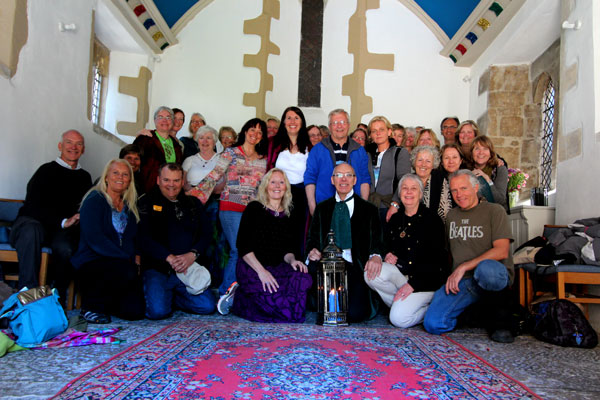 IN THE CREATIVE WOMB OF THE GREAT MOTHER
Aluna Joy Yaxkin, Mary Magdalene, Mother Mary and the Star Elders
The Magdalene Chapel, Glastonbury, England - June 24, 2012 - Message #10
More photos of this pilgrimage can bee seen on Facebook
HERE
The following is the 10th message that we received in Avalon (England and Scotland) this past June/July 2012 over Solstice. You can find our other messages on our website at www.alunajoy.com under the "Articles for Personal and Planetary Transformation" link. It might be a good idea to read them in order as each message builds upon the previous one. We are sharing this message here with you just as we received it, in present time, with very little editing. We do this for a very important reason. We know that the messages that we receive are not just for our groups, but are for others as well. The Star Elders and all the others that joined us, assure me that the message and the corresponding energy will be transmitted to you as you read them. So as you read this, you might want to imagine that you are with us. Also, always view the photos on the website that we share, as photos also hold some energy of the sites.
(Not far from Glastonbury Abbey is a little chapel called Magdalene Chapel. However, in prior years when I had traveled there, the Chapel doors were always closed. Thanks to our friends Bea and David (a.k.a. The Bards of Avalon), who know the caretakers of this chapel and who were able to arrange to have the Chapel open this afternoon. David and Bea also provided our group with a beautiful ceremony consisting of song and sacred sound.)

Aluna: All the guides and guardians that have been traveling with us up to now are sealing the energy that we have received thus far so that when we leave Glastonbury, we will be able to carry this foundation energy with us. More is coming, and we have been prepared for this. The guides and guardians are encircling us now: they are protecting us; they are enfolding us in a beautiful light-like a womb. It is as though we are in the womb of the Great Mother. This Great Mother is our vision of a new world. All the energy that we have collected, the insights, knowledge, wisdom and truth are going to incubate in this creative womb of the Great Mother. Perhaps that is why a lot of us have been feeling "watery," or wobbly, and half out of our bodies, because we are not in our new bodies yet. We are still transitioning from the old body to the new body.

We are all here together inside the creative womb of the Great Mother, along with all the other light workers across the planet (and those reading this). The Great Mother is going to carry us to term in her body . . . this body of light, this body of purity, until we reach the other side - the New Earth. The Star Elders are saying that we are receiving this divine assistance now because we are sensitive, and that if we had to feel everything that other people needed to feel right now to wake up, it would be too much for us. We know that the energy has been growing stronger, and we started asking for a break. We have been asking for this protection - this enfoldment of energy - that will cushion us from the outside world.

The side effects of this cushioning may be that we might not be quite in touch with what is going on with other people around us, as we saw when we were in Stonehenge. Quite a few of our group were saying that they felt invisible, as if the tourists couldn't even see them. We could connect with the stones, but it seemed as if no one else could see us. That is part of the protective cushioning. If we are by ourselves, the cushion might feel a bit isolating. The Star Elders say, however, that if we gather in like-minded groups, there will be a great support in the many that we are. As we get closer to being birthed into the new dimension, we are going to find that it will be less and less tolerable to be by ourselves and more comfortable to be with each other in groups. We feel better and stronger and more present when we are around like-minded family.

The solstice (June 20th 2012) was the hinge between what was and what will be. Mother Mary and Mary Magdalene are sending their love and gratitude to us for having the courage and being tenacious in our purpose of maintaining the light in ourselves and the spaces around us. They are sending us love and support. They are also saying that we are part of them. They don't want us to place them or Jeshua etc. . . . on a pedestal, or see them as more elevated or advanced than we are, because this takes away our power. They want us to imagine them as our buddies, as I do with the Star Elders. They are walking beside us now. They are walking with us, enfolded with us in the giant womb of the Great Mother. We will walk into this new world together as one.

So the guides and guardians are going to seal this energy in Great Mother's creative womb - if that is okay with each one of us. Each one must give inner permission for them to provide this for us. If for some reason we don't like the way it feels later on, we can ask them to remove us from this enfolding, protective energy, and they will undo so in an instant. Nothing is done to or for us without our permission. We can ask to be removed anytime if being in this energy becomes too comfortable or too peaceful. I don't know; some of us are addicted to our misery [laughter] . . . we can be addicted to all kinds of things. Or if, as part of our service, we may need to be outside of the cushioning womb at different times, that is OK as well. It is all up to each one of us. We are in creative charge here.

This womb is growing quickly, and it looks really huge right now - like the great Pacha Mama, the Earth Mother - only with a Mother Mary / Mary Magdalene overlay of love and support that is truly beautiful. I can see droves of beings who are being called into this creative womb now. This womb is somewhat like a spaceship to a new dimension. Does that make sense because it sounds rather crazy as I say this? Again words are not a true depiction of the energy I am seeing.

Although at times (as in Stonehenge) we might feel invisible when we are out in the world, but remember like frequency attracts like frequency. Because of this we will know that those people whom we attract into our lives appear for a reason. If, however, we can't connect to someone, it means that we are not of the same frequency. In that case, we just remember this point without judgment and simply realize that we are at a different frequency. There is no judgment because there is no higher or lower than - just different frequencies . . . that is all.

A long time ago the Star Elders showed me that when we come to the shift of the ages there will be different ways that we will all enter this new world. Some ways will be through light or through sound or color, but all this is frequencies. No matter how we enter the new world, however, we all will know where to go and how to get there. We all will be at the right place at the right time.

I haven't seen this protective womb concept before; it's new to me and I find it exciting. This cushioning womb is for those of us who are sensitive and empathic, etc. . . . because it will give us some protection from the intensity of the energy that is coming. The energy has to get stronger on the planet to wake up all those people who have been in service to us - the ones that have cooked our food, have cleaned our rooms and have made this world work for us - while we followed our spiritual path and made a trail for others to follow. It will take a lot of energy to jog them awake, but this energy might push us to the edge. So the Star Elders want us to remember the peace and protectiveness of this Magdalene Chapel, how it feels in here, yet how we still can feel the world outside while we are safe in here. Anytime the world gets too intense, we can come back to this place where we are at right now. Does that make sense? It is a safely zone inside of you now.

Now we give back a little. . . We send our love and blessings to all the amazing beings who previously have walked this path for us, who have held this vision before us, who have held this light to keep it alive. The baton is being passed to us now as we travel into a place far, far away where no one has ever gone before (laughter). Even the Ascended Masters and the Star Elders don't know what is on the other side of this time because they all have come from the giant 104 thousand year cycle that is ending. So it is going to be a fun surprise for all of us. But the Ascended Masters and the Star Elders want us to feel safe and secure on this passage. It is a lot like being on a boat that is taking us to Avalon. We don't have a map, and there is only the mists before us and the great unknown. We have to trust that the future is there, because really it isn't there. It is only a dream a vision until we hold the vision and focus strong enough to make it manifest. We are creating the new world.

So this is the place where we are now. We are going through the mists right now, and that is why we are feeling all fuzzy, stressed and a bit wonky. This is what the Ascended Masters and the Star Elders are telling us. Words cannot express how much love they are sending us. It is amazing. And they are sending us support and courage. They are strengthening the center point (the inner foundation or orientation point) inside of us that will enable us to act on what is right in each moment no matter what. They are helping us with this, as well, and cushioning us in nice, soft energy that will be like a buffer between us and the outer world until everybody catches up. No one will get left behind. Everyone goes. We are one. All of us, everyone on this planet, have been in service to one another, whether we have realized it or not. We discovered this truth in Well's Cathedral when we realized that light workers, not the church, have always been in charge; and we all, on some level, have planned this from the very beginning.

We sealed this energy with a "Heart and Spirit" spray. (Aluna went around the group and sprayed everyone with this essence.) And I would like to thank Bea and David for gaining us admission to this sacred place.
Aluna Joy Yaxk'in . . . A Star Messenger - Earth Oracle - Soul Reader - Sacred Site Junkie was literally born awake and in the company of her guides, the Star Elders. Today she has evolved into an author, spiritual life coach, sacred site guide, alternative historian, ordained minister and modern mystic. In the Inca world, Aluna is considered a Qawaq (cow-wak), a clairvoyant or seer of living energy. Aluna acts as a spiritual archaeologist using her clairvoyant / clairsentient gifts to excavate current messages from the masters of ancient, enlightened cultures to uncover what affect this has on humanity and the collective consciousness. She is well known for her down to earth, accepting attitude that makes each one feel like they have come home. She inspires and encourages others to recognize and accept their own authentic divinity and connection to the Creator. "Our groups are family, and each one is a teacher and also a student. We work together as a team to unravel the sacred mysteries of life." Aluna coined the term "sacred site junkie" because she is one herself. After her first trip to Tulum, Mexico, her life changed dramatically, and she was sent on an entirely different path in life. Since this time, her work has been influenced by uncountable shamanic experiences in sacred sites of Mexico, Guatemala, Belize, Honduras, Peru, Bolivia, Egypt, Greece, England, Australia and New Zealand. Aluna has been leading groups in the Maya world since 1986, the Inca world since 1996, and the Egyptian world since 2008, and the mystical world of Avalon (England and Scotland) since 2007. Aluna offers Star Elder Sessions, formulates Sacred Site Essences and a free newsletter. She is the author of "Mayan Astrology" and her articles have been published worldwide. Website: www.AlunaJoy.com Facebook: http://www.facebook.com/alunajoyyaxkin YouTube: http://www.youtube.com/user/feelthelove2012

Copyright Guidelines:
Aluna Joy Yaxkin - www.AlunaJoy.com © 1995-2013 - Unauthorized use and/or duplication of any material on our web site without express and written permission from its author and/or owner is strictly prohibited. Violators will be reported to the DMCA. Please respect our work, that we intend to continue to offer to you freely.
RE-POSTING GUIDELINES: We appreciate your desire to share our messages and posts on your own web sites, Facebook pages, blogs, etc..., but for many specific reasons, our messages, posts and images need to remain solely on www.alunajoy.com. We encourage, and give you permission to place a WEB LINK to our posts anywhere you like. Thank you for your great support. We would not be able to continue this work if it were not for you. We send you awesome radiant blessings today and for the beautiful future that we are co-creating together. As always love donations are appreciated and treasured. You can continue to support us here: http://www.alunajoy.com/heartdonation.html
Audio Transcriptions by Abracadabra Transcriptions - Cyndi Vickers
[email protected]
Light Manuscript polishing by Dolphin Scribes - Lynne Matous, M.A.
[email protected]