The following is the 5th message that we received in Egypt this past Oct 2013. You can find our other messages on our website at www.alunajoy.com under the "Articles for Personal and Planetary Transformation" link. It might be a good idea to read them in order, as each message builds upon the previous one. We are sharing this message here with you just as we received it, in present time, with very little editing. We do this for a very important reason. We know that the messages that we receive are not just for our groups, but are for others as well. The Star Elders and all the others that joined us assure me that the message and the corresponding energy will be transmitted to you as you read them. So as you read this, you might want to imagine that you are with us. Also, always view the photos on the website that we share, as photos also hold some energy of the sites.

As we entered the site of Kom Ombo, it was already admitting a beautiful harmonic energy of healing and balance. But in years past, this site had put us to the work of healing and building global bridges between polarities because Kom Ombo had been used for balancing and harmonizing opposites. But now we are feeling a lot of pure balance at this center point (in between the twin holy of holies). This balanced, harmonious energy is giving us a major clue as to what to expect in the future.

The ancient ones are beginning to share . . . they say that we have evolved passed the need to work and heal within a dualistic perspective. As examples of this dualistic perspective, someone gets sick, and the healer helps heal it; or the ocean is polluted, and we work together to fix it. The mere fact that we call ourselves healers implies to the universe that something must need healing, so this is a dualistic perspective. We don't need to work in this way anymore, as it is becoming counter-productive. It is time for us to stretch beyond duality and repurpose our inherent talents into a service that comes from wholeness and equality. Egypt is birthing the foundation for this new service, and we can see the effects it has had on modern-day Egypt.

Our work in the past has served an important purpose and has helped us evolve this far. However, trying to "work" from a singular point of view, or from one side or another, in order to bring about peace and harmony will only bring about unfavorable results. We have moved past the point of choosing a side, a belief system, or having one particular view, one modality or one technique. We now are coming into the new age of Oneness, Wholeness and Now-living. We are being challenged to learn to walk and work in the place of centeredness in the heart without losing our focus, purpose, and passion (They didn't say that this centeredness would be easy to find or maintain, by the way, at least for now).

This site at Kom Ombo (and the entire Earth) is activating an advanced stage of spiritual work regarding how we anchor our love and life force on this newly birthing Earth plane. This life force comes from a sacred center point within us in our hearts. And this heart frequency exists right here in Kom Ombo. We can see and feel it here, as we saw Rhonda (a group member) go right to this center point without knowing anything with her mind. Her heart told her!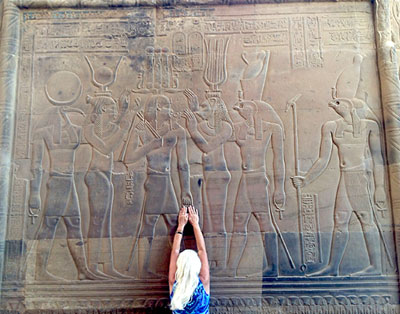 Kom Ombo is a temple where life is healed and brought back into its center of love-of wholeness and balance. The twin rose granite holy altars (on either side of the main center chamber) represent basically good and evil (duality); but neither one is neither good nor evil. They simply represent the duality of the 3D world. Each alter is equally powerful for healing. Kom Ombo is the only temple known to have two holy of holies.

When we stand in the center between the temple's two holy of holies, we can feel a stream of energy that flows all the way up to the Great Central Sun and also descends all the way down into the Earth's core. There is a chamber here between the dual altars. The chamber that is above ground is still used for healing and balancing energy. There is another intense initiation chamber (the Crocodile Chamber) that is underneath us. This chamber was used for initiations that the ancients say are no longer needed at this time.

So today, we are seeing evolution in the making because this temple is now emanating a different and higher form of energy than before. It is giving us a beautiful, love-centered, healed energy. This energy will assist us in anchoring even further all that we have collected here in Egypt to date.

Carla (a group member) said last night that the energy of Kom Ombo already was working on her, and she felt healed. I know there was a turning point yesterday when we all started feeling uplifted after our surprising visit to Edfu. The Star Elders say that we have done good work. I am not seeing the usual guardians today . . . we are receiving more of a loving and supportive vibration. It looks like the guardians are taking a nap, because we don't need them in the same way as before. This is a good sign that means we have done deep and thorough work.

Sacred sites are alive. Sacred sites maintain their purpose of being from people like you and me visiting them . . . even tourists. While we walk in and out of Kom Ombo, this temple site raises our vibration to the current newly evolved energy that will be spreading out to the entire planet. Energy always is constantly evolving. Sometimes it evolves and grows in small increments, and sometimes it advances in big leaps. New energy comes into the Earth at power points all over the world like this one, and then spreads throughout the Earth on energy/grid lines that always are changing as well.

But today, the ancients say the temple is hibernating. The temple will wake up fully anchored in a new energy field that came from a big leap in evolution. This site and humanity have needed to hibernate, hermitize (being a hermit) and restructure for some many months now. We can see the difference in our evolution in sacred sites by returning to them over and over again and document the shifts and changes. Today this site is saying that a big change is about to occur and begin to anchor on Earth. We might sense it as a feeling of foreboding or anticipation.

Has anybody been to Kom Ombo before?

Carla: Yes.

Aluna: How does it feel different to you?

Carla: Completely. I have a feeling of elation.

Aluna: It is nice to have a confirmation from someone else, besides only me, who has been here before. Yes, there is peace and harmony, and it is very uplifting. Before, this site was hard work, and our groups processed deeply here. But now this is our time to experience the hibernation and hermit mode and to absorb and allow the magic of this new awakening into the next level of a higher dimension. Let this feeling soak into your soul and into your DNA. Soon this place will have a different purpose; but for today, it is giving us a neutral love and lightness. Today we can see this site is rebooting, as we are rebooting.

We are shifting gears, and we are feeling rather confused about what is next for our lives. We are not really sure what we are supposed to do next. It is okay. This site is in the process of shifting gears as well . . . re-purposing. The energy is still here, as an energy point on the Earth's grid, and it will always be here. It is an important site, but now its usefulness (like ours) is changing. It will be very interesting to see what it will evolve into when we return. (We return in April 2014)

Michael (a group member) had mentioned that he had been in the Crocodile Chamber in a past life. I could see that he wanted to go into the Crocodile Chamber again. So I asked him to stay behind the group, as I could see that the guard was going to allow him to enter the underground chamber. The guard must have sensed that Michael had been here before in a past life. We are pleased that he got this experience.

Kom Ombo also was used as an initiation site that taught beings about trusting their intuition and their heart truth and conquering fear. Only initiates well into their path would come here. By this point in their initiations, the Gods would never tell them the light from the dark. So they would have to discern this for themsleves. Initiates would come to face their egos and their self-doubts, and this was very tough. Everything in the underworld chamber challenged them to their very limit and also tried to trick them. It was a real test of life over death. However, the upper parts of this temple were easier in comparison and used for healing and preparation for deeper teachings. This site teaches us to bring everything into the center . . . the initiation brings it all into the center, our hearts where truth resides.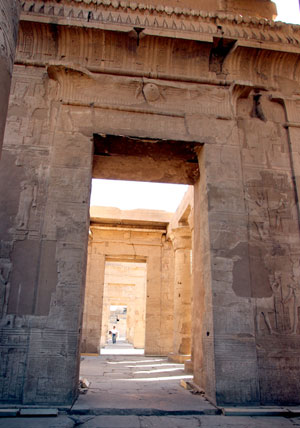 The Star Elders once said that we eventually would reach a point where some sacred sites would shift their usefulness. I see that Kom Ombo temple is re-grouping as we stand here. But we don't quite know what it will be next. Yet it is sharing an inner peace that we all are feeling, even though we don't understand what is out in front of us. The Star Elders say this site is radiating back what we brought in. And, by the way, this is a clue to what this site is going to be doing next. It is going to mirror back where we are on our evolutionary journey.

A bit of history of this site . . . Kom Ombo, as we start walking in from the front doors, toward the twin holy of holies, there is a very high roof. As we walk through the temple to the center, where the two holy of holies are located, the ceiling steps down at least three different times. This lowering of the ceiling condenses the energy of this site into each of us. The Star Elders say that in order to receive the combined energies from Sekhmet and Horus that we receive in the days prior, and integrate duality, we need to transduce and anchor the energy within us. This stepping down and intensification of energy also assists in creating and amplifying the healing energy within these two altar spaces, as well as in the underground initiation chambers.

By the way, did everybody see the dove on the way in, sitting on the stone at the top of the steps? The dove was waiting for us. A dove is used to symbolize the presence of the Holy Spirit in a sacred site. It is used as a symbol for peace because of its humble, gentle nature. Egyptians use a dove as a symbol of innocence. Only by the path of the innocent heart can we uncover the truth and ascend. And the beauty is that this path is available to each and every one of us. We are all equal in the presence of the Holy Spirit.

Post note: As I edited this message so it would be readable to you, a dove was singing for its mate in my garden . . . a nice touch and confirmation, I thought.

Audio Transcriptions by Abracadabra Transcriptions - Cyndi Vickers [email protected]
Light Manuscript polishing by Dolphin Scribes - Lynne Matous, M.A. [email protected]


Heart Donations are Welcomed, Appreciated and Treasured
Aluna Joy Yaxk'in . . . A Star Messenger - Earth Oracle - Soul Reader - Sacred Site Junkie was literally born awake and in the company of her guides, the Star Elders. Today she has evolved into an author, spiritual life coach, sacred site guide, alternative historian, ordained minister and modern mystic. In the Inca world, Aluna is considered a Qawaq (cow-wak), a clairvoyant or seer of living energy. Aluna acts as a spiritual archaeologist using her clairvoyant / clairsentient gifts to excavate current messages from the masters of ancient, enlightened cultures to uncover what affect this has on humanity and the collective consciousness. She is well known for her down to earth, accepting attitude that makes each one feel like they have come home. She inspires and encourages others to recognize and accept their own authentic divinity and connection to the Creator. "Our groups are family, and each one is a teacher and also a student. We work together as a team to unravel the sacred mysteries of life." Aluna coined the term "sacred site junkie" because she is one herself. After her first trip to Tulum, Mexico, her life changed dramatically, and she was sent on an entirely different path in life. Since this time, her work has been influenced by uncountable shamanic experiences in sacred sites of Mexico, Guatemala, Belize, Honduras, Peru, Bolivia, Egypt, Greece, England, Australia and New Zealand. Aluna has been leading groups in the Maya world since 1986, the Inca world since 1996, and the Egyptian world since 2008, and the mystical world of Avalon (England and Scotland) since 2007. Aluna offers Star Elder Sessions, formulates Sacred Site Essences and a free newsletter. She is the author of "Mayan Astrology" and her articles have been published worldwide. Website: www.AlunaJoy.com Facebook: http://www.facebook.com/alunajoyyaxkin YouTube: http://www.youtube.com/user/feelthelove2012

Copyright Guidelines:
Aluna Joy Yaxkin, www.AlunaJoy.com Ⓒ 1995-2013 - Unauthorized use and/or duplication of any material on our web site without express and written permission from its author and/or owner is strictly prohibited. Violators will be reported to the DMCA. Please respect our work, that we intend to continue to offer to you freely.
RE-POSTING GUIDELINES: We appreciate your desire to share our messages and posts on your own web sites, Facebook pages, blogs, etc..., but for many specific reasons, our messages, posts and images need to remain solely on www.alunajoy.com. We encourage, and give you permission to place a WEB LINK to our posts anywhere you like. Thank you for your great support. We would not be able to continue this work if it were not for you. We send you awesome radiant blessings today and for the beautiful future that we are co-creating together. As always love donations are appreciated and treasured. You can continue to support us here: http://www.alunajoy.com/heartdonation.html


How you can send us a Heart Donation
If you are feeling appreciation for our work please consider sending us a HEART DONATION, or better yet, send an easy re-occurring donation. This is not required . . . but donations help keep our messages coming to you. Donations also help us pay for a private server needed to send bulk e-mails, additional bandwidth for video, the helpers that put our Free Newsletter into your in-box, as well supporting our other service programs. We want to maintain this free newsletter offering as long as we can. We realize that is becoming quite rare these days to offer this much time and effort freely, but we also trust that Spirit and our like minded community will cover our expenses.
Give a Heart Donation

Do you shop on AMAZON?
As an Amazon Associate, I earn a small percentage from qualifying purchases. To shop on Amazon, use our special link here.
Go to Amazon to shop!
We would like to send appreciation and a
HUGE THANK YOU for your support.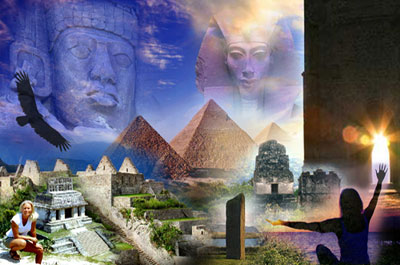 There are things that happen only once, and then again, never exactly the same way... things that only we experience. There is no way to predict when magic lands where we are. We just have to put ourselves out there and keep our eyes open, and feel blessed when we see receive gifts from spirit. These are experiences that no one else will ever see in the same way again.
We joyfully offer Sacred Site Spiritual Pilgrimages since 1995 to the Maya, Inca and the Egyptian Worlds and the Celtic Worlds of England and Scotland.
Come join us on a Spiritual Pilgrimage!