There was a really surprising reboot on the Plumed Serpent Ley Line at the end of September. I am told that this kind of reboot only comes once in a very long time during the process of a shift of an age. It came in a very unexpected way as most things do these days. It became very quiet, vacant, and it felt like a ghost town here. Then a few days later, so much LOVE poured in that it was like living in paradise for another few days. This and so many other cage rattling, heart testing, rollercoaster cosmic events have caused a huge turning point this fall. We find ourselves in a deep transformation, a "no going back" type of step in preparing for the arrival of the new Earth. New horizons are rising in our future, and your intentions matter to what this new earth will bring us.

Everything in life is going to manifest at lightning speed with little to no time to prepare. At the same time, things from the past, that no longer serve, will dissolve away faster than is comfortable. Time will feel like it is dragging, yet it will also feel mind boggling fast. In fact, our natural internal clock, in which we measure time by the experiences that we have, will be all over the map. We will be called to live in the pure presence of our higher self more than ever before. Living from ego driven foundations will become more painful and restricting. The new extreme frequency that is now flowing through Earth's ley lines, will be especially powerful at those places where ley lines converge and anchor new global intent and purpose. It is flowing through all the ley line estuaries and arteries right to where you live.

The magnitude of this ley line shift was so unexpected that it didn't even register at first. It reminds me that we can be a somewhat blind to new things that come in unexpected ways, as these last 18 months have surely proven to us. The Star Elders have been encouraging me for years to keep my eyes open and to expect to see and feel the unexpected. But this time makes us long to prepare for something that we can't prepare for. At this point in this transformation, this new energy has no orientation point that originates from a prior life experience. It no longer comes from our ancestral memory. It comes from a total new and unknown place that is our collective future. This is leaving us feeling confused, unmoored and vulnerable, and it can make us wonder why we are here at all. We feel this way because we still have one foot in the past and one foot in the future. We are literally tipping the balance toward moving into a new future world. At the same time, we are being required to let go of the old world. It is very wise choice to not to put our energy or attention toward anything that is crumbling, as we don't want to go down with the ship. We have to ask ourselves what we are holding on to and why. Question everything, even yourself, and foster the ability to see from many other perspectives to broaden your ability to see the larger plan. Ask yourself we holding on to something that is obsolete because it feels safe, or are we stepping into new energies for a new reality that could be a little scary?

This current, unique life experenice commands deep patience along with the ability to leap at a moment's notice. This time around humanity must awaken in waves to maintain a healthy balance and to maintain a physical body. If everyone awakens at the same time, like in past shifts of an age, the energy will be too drastic to be physically survivable. This is the first time that we have decided to maintain our bodies through a shift of an age. In all other ages past, we dropped the physical body to make the transition swifter and much less complicated. In the past it was a much more unified process. This current unique shift has caused many unexpected problems because we decided to ascend with our body intact, and this has slowed the process down which does not match our old, subconscious memory of the closure of past ages. This has created massive, consciousness divisions that have manifested as blistering levels of contempt for those who do not see reality as we do. Many people feel driven to preach their position and perspectives with furver and a fiery authority, as they can see others are not waking up the way they expect them to or the way they have. But this is simply humanity reacting out of an old, past life memory of how we ascended in the past. There is no amount of truth worth knowing if we loose compassion for humanity. We need to remember it is not going to be the same this time around, and it is not gonna go down as we expect.

There has been no way to anchor or understand what is happening. The great void or unknown that we have stepped into has also caused some of humanity to grip onto what is still left of the old, known world, and this has caused polarization, anger and fear and over reaction. We have all had the rug pulled out from under us, and our survival auto pilot has engaged to protect us, as it is supposed to do. But this auto pilot has engaged in the foundational frequencies of a new world that does not support it. We already see that it is failing all around us. All we have left to stand on is to trust God within.


We will see many wanting to stoke the fires of division and feed the anger and ramp up the mockery toward those who don't see things as they do. This is an issue that will continue to build throughout the rest of this year. This will continue until these different perspectives remember the larger plan and see, even with their good intentions, that we are simply acting from a past life program that no longer works in this situation.

It is time to acknowledge that truth is not coming from old world platforms anymore, and we need to let them go. The way through this phase is by stepping into our unique frequencies, to follow our heart and not our exhausted ego minds. This is the divine purpose of humanity now, and it is a doorway through this ascension process.

Now it is time to purposely starve the energies of the old, dualistic world by removing your attention from them. You no longer need them. The fight or flight response, and everything connected to division and separation, will not be needed in the very near future. There will be no need for defense against anything because everything will be known as from the ONE Source GOD, of which you are a divine part. The only truths, programs, systems and realities that will remain will be things based in a new, natural law of creation that comes from the Source foundation of this new world experience.

Remember you are stepping into being a living master. It is important to take care of this arriving new energy and learn to use and direct it in ways that will benefit all life, not just our personal agendas. Remember, your actions, motivations, beliefs, and what you hold in your subconscious and consciousness will tell the universe what you want to create. Your intentions matter. What you prepare for is what you will manifest. Be very clear about your intentions and especially your motivations to why you act the way you do. Global awakening does not have to mean a total collapse of the old one. So it is beneficial to quit feeding that old program. We must break away from repeating old programs of building up and tearing down of civilizations for us to evolve. This was the way it was done in the past, but there are other options available now.

We have an opportunity to step away from that old program and create from a new experience. We all have our many ways to support ourselves and our planet with evolved and centered heart energy. So I encourage you go out and have your actions match your awakened intent. Do uplifting things. Be kind. Be compassionate. Be inclusive. Do less judging, teaching, pushing, and be more loving, and run your life with a foundation of compassion. Everyone's path is opening on their own divine timing. Love everyone, and honor all the unique ways they choose to walk their path.

When we come out the other side of this global transformation, what will matter is how we reacted to the navigation of this transformation and how we carried ourselves though this time. Remember, what perspective we feed with our energy is the one that will birth into our new world. So feed the new energy with what you want to see manifest. Could our new reality be us living in paradise? Yes it could. Fill your heart and mind with love, appreciation and gratitude. Appreciation and gratitude are some of the most powerful tools to open doorways to new experiences and dimensions. Keep your consciousness focused on the end goal, and not on the fractured divisions and destruction of the old world. Build an unshakeable TRUST in the wisdom of this divine process. Know that your presence and process is going just as planned ... how could it be otherwise? Your spirit and Earth are filled with timeless wisdom, alchemy and are grounded by new laws of nature. Let go of things that are dissolving under you feet. Empower the things that are beginning just now to manifest.

It takes a full 20 year cycle, a Katun cycle, to anchor the new sacred calendar that began in 2012. We are in the most intense time in this Katun, the center two years, and you are still standing! So you can celebrate that you have survived this incredible challenge of a life time, while inhabiting a clunky, human space suit that was uploaded with out-dated programs, all during during a crucial shift of an age. This is why your human spacesuit is getting such a cage rattling work out. You have had to reprogram a body while still living in it. That is a HUGE feat. Remember to expect that the new energies will be unexpected until we land fully on the other side of this transforming time. So, if you think you know what this is about right now, consider you might be mistaken. Know that if you can fully prepare for it, it is probably an alluring detour from an old program that feels safe and familiar. You have so much surprising wisdom of the ages at your disposal now if you can let go enough to reach it. And you will.


(P.S. To those new to my work ... a short bio ... I have been a watcher and reader of the collective for my entire life. With the guidance of the Star Elders, I have learned about special energy sites, vortexes, ley lines and shifts in energy since I was a small child. For the last 36 years, I have lived on the Plumed Serpent Ley Line. It is one of two major ley lines of our Mother Earth. I have lived in Sedona, Arizona for the last 23 years, and previously lived in Mount Shasta, California for 13 years. We have offered pilgrimage, ley line earth work, in sacred sites internationally since 1995 and hope to offer this to you again by this next summer. It is our greatest joy to help you have a deep spiritual experience that you will never forget. Much more on our web site at AlunaJoy.com)

*** Please POST, RESPOND or COMMENT on this article on our post on FACEBOOK HERE THANK YOU! This saves me so much time. I simply cannot answer all your emails, but the fact is that I really want to ;) ALSO, your unique, insightful comments benefit everyone else and helps us paint a larger picture of what is evolving on Earth and Humanity. REMEMBER ~ PLEASE LIKE, COMMENT, and SHARE on our Public Facebook page. If you want to experience more of this type of message, LIKE IT!

Aluna Joy Yaxk'in . . . A Star Messenger - Earth Oracle - Soul Reader - Sacred Site Junkie was literally born awake and in the company of her guides, the Star Elders. Today she has evolved into an author, spiritual life coach, sacred site guide, alternative historian, ordained minister and modern mystic. In the Inca world, Aluna is considered a Qawaq (cow-wak), a clairvoyant or seer of living energy. Aluna acts as a spiritual archaeologist using her clairvoyant / clairsentient gifts to excavate current messages from the masters of ancient, enlightened cultures to uncover what affect this has on humanity and the collective consciousness. Aluna coined the term "sacred site junkie" because she is one herself. After her first trip to Tulum, Mexico, her life changed dramatically, and she was sent on an entirely different path in life. Since this time, her work has been influenced by uncountable shamanic experiences in sacred sites of Mexico, Guatemala, Belize, Honduras, Peru, Bolivia, Egypt, Greece, England, Australia and New Zealand. Aluna has been leading groups in the Maya world since 1986, the Inca world since 1996, and the Egyptian world since 2008, and the mystical world of Avalon (England, Scotland and Wales) since 2007. Aluna offers Star Elder Sessions, formulates Sacred Site Essences and a free newsletter. She is the author of "Mayan Astrology" and her articles have been published worldwide. Website: www.AlunaJoy.com Facebook: http://www.facebook.com/alunajoyyaxkin YouTube: http://www.youtube.com/user/feelthelove2012

Copyright Guidelines: Aluna Joy Yaxk'in - www.AlunaJoy.com - Ⓒ 1995-2021 - Unauthorized publication and/or duplication of any material on our web site without permission from its author and/or owner is prohibited.
RE-POSTING SHARING GUIDELINES: We allow SHARING freely, only if shared through Aluna's Public Facebook Page SHARE LINK, or the original WEBSITE LINK and NOT used for self promotion. This way there is no confusion to who the author is for this information, and no confusion to who the author is connected to or who she supports. Thank you everyone for understanding. Just make sure the original LINK to the posts is added to your sharing. Thank you for your great support. We would not be able to continue this work if it were not for you. We send you awesome radiant blessings today and for the beautiful future that we are co-creating together.

If you are feeling appreciation for our work please consider sending us a HEART DONATION, or better yet, send an easy re-occurring donation. We want to maintain a subscription free zone as long as we can afford to. But we also trust that Spirit, and our like minded community will cover our expenses.
Offer a Heart Donation

If you shop on AMAZON I am an Amazon Associate, so I earn a small percentage from qualifying purchases when you use our special link found here.
Go to Amazon to shop!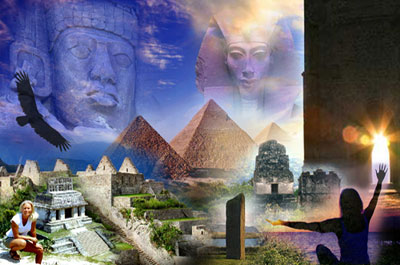 There are things that happen only once, and then again, never exactly the same way. . . things that only we experience. There is no way to predict when magic lands where we are. We just have to put ourselves out there and keep our eyes open, and feel blessed when we see receive gifts from spirit. These are experiences that no one else will ever see in the same way again.
We joyfully offer Sacred Site Spiritual Pilgrimages since 1995 to the Maya, Inca, Celtic and Egyptian Worlds.
Come join us on a Spiritual Pilgrimage!
Ask to be added to our PILGRIMAGE PRIORITY ALERT LIST for future pilgrimages
HERE.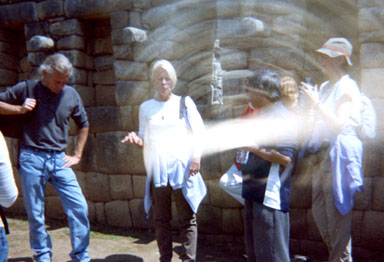 Aluna Joy sharing a message in Ollantaytambo.

Why YOU are called to partake in a Sacred Pilgrimage.

To embark on a sacred pilgrimage is to answer your soul's deep yearning to fully awaken. It truly means to step outside of yourself in order to encounter the God within you. You are called to discover divine grace, deep peace and awe inspiring splendor that of which you truly are. So. . . you are drawn to places where Gods and Goddesses, Knights and Queens, Ascended Masters, and Divine Light has anchored itself on Earth. These are places where heaven touches Earth. These places are often marked by the construction of mystery filled ancient temples, timeless majestic pyramids, cosmic stone circles, healing sacred wells, occult ley line grids upon the Earth. Even chapels and cathedrals are build on top of ancient energy nodes on earth. Even modern day crop circles are built upon sacred energies.

A pilgrim consciously and gently wanders in these sacred places with an open heart and an open mind to receive the divine. These sacred places produce high frequency cosmic starry light that deeply inoculates our very souls with holy and divine energies. This is why we change and awaken further after each pilgrimage. Our eyes are opened! These sacred sites work beyond belief and limiting programming, beyond simple faith, beyond the constraints of the worlds religions. This brilliant divinity goes straight into our higher heart and initiates a divine conversion. We begin to find our deeper purpose and become more abundant in all areas of our path. We become more compassionate, humble and kind with a deeper, more encompassing wisdom. Our world based ego fades away and LOVE replaces it. Simply put, we begin to embody our divine path.

This is why we do not offer "tours", and we are not "tourists". We are humble pilgrims, a gathering of joyful soul family of open and unified hearts, with a common passion to awaken brilliant light and the Divine Living Master within us and humanity.
~ Aluna Joy