The Path of Realization & Transmutation.
Mayan year of 13 E - Mayan Kiche' Calendar (Traditional Calendar)


The number 13 (JUN or HUN) is the power or driving force of this year. This year (13) is rooting or anchoring the base of a huge body of cosmic work. The Maya call this the base of the pyramid as everything created descends from the cosmos. In many places, on temple carvings, we can see the descending Gods. This is about new cosmic frequencies descending and anchoring to Earth all year long, but it is also a completion of an energy source. If we look at today's world, this could mean many things. It could mean that we might experience anchoring of God consciousness to Earth. This would be its very highest manifestation. But to be more realistic, we must consider that this year will be about eye opening realization and transmutation. This will mean that we will have a broader and more encompassing realization of the reality of life and spirit. Many things that were once considered appropriate, in our previous, more narrow mindedness, may not be appropriate in this year. We will need wisdom to know the difference. We will be encouraged to let go of outdated programs and material things, and allow their transmutation into a higher form. By the way, this process of letting go has been going on since the end of a massive cycle in 2012. This could mean much more dismantling of our mental, social and material worlds.

The day sign E (EB) is the personality of this year. It represents the path, or journey, and our destiny, but it is also a blessing. It is an auspicious time to start a new focus or business, or start a pilgrimage, or begin any new path in life. But it could mean that we must leave the old path behind. The universe is pushing us to the next level. All paths are supported by E, as well as leaders in all forms who also help carve new paths in life. In its highest form, E (Eb) could mean that we realize a new purpose, and we manifest our soul's destiny. But if we take into account the personality of a path, or journey, it could mean that this is not a year that manifests a destination, but a new way of life. The path IS the purpose or destiny. E (EB) also rules our nervous system and our circulatory system. It is important to take time this year to support our nervous system and our cardiovascular system. These are the energy lines, the ley lines of our body. The ley lines of Earth, and the ley lines of our body, connect in a beautifully esoteric way. The Maya Elders know that their cosmic calendars are also the calendars within the human body. Remember... we are connected to the energy of the Earth. What happens on Earth, happens to us, and visa versa. This will be felt strongly this year.

((Auspicious days for the traditional Maya in this calendar year are ... February 19, 10 Kiej, which is celebrated as a solar new year. June 28 and March 15 are the very sacred days of 8 BATZ. This day comes every 260 days. The Maya all around Guatemala gather in re-creation ceremonies.))




Flow from the Universal Heart
The Mayan year of 6 Caban - Mayan Astrology Calendar (Yucatec Calendar)


The number 6 (UAC) is the power or driving force of this year. It is all about FLOW! Flowing with the universe, and flowing with the transformation. This number is all about cycles, cycles within cycles, and time, space and creation. It is also a time when we can cross over, or return, so to speak, to significant events in previous cycles to gather wisdom needed to move forward. This could be a very nostalgic year. This number helps us understand how far we have evolved. It will give us a window into the past, giving us an appreciation for all that we have learned to get us to where we are now. But it is a cycle that always insists on continual improvement. Life becomes death that becomes life again. The negative side of the power of 6 (UAC) is procrastination, or getting stuck in looping consciousness. This number is guided by itself, which means that it can be, at its highest form, completely tolerant and non-judgmental. It also offers great boundaries from outside influences.

The day sign CABAN (Earth) is the personality or ego of this year. Caban is like living on a fault line. It is shaky ground and unexpected change. It is hard to pin down. As soon as you figure something out, it will flip. In contradiction, Caban is a keeper of the past. It is a paradox of wanting things to stay the same, but experiencing uncontrolled change by pushing the limits, taking risks, and finding radical solutions. The ego is more apprehensive with losing what was built in the past, but the heart is more drawn to what is possible in the future. But what this shaky ground brings is the greatest level of transformation. The biggest advantage of a Caban year is that it will teach us how to flow with the change. If we don't flow, we will blow! Simple as that. So I suggest that you get your flow on!

Caban has a habit of wanting to maintain traditions and old ways of doing things, to hold onto security of what was known in the past. At the moment, we can see this playing out with all the divisions. This year we could find that it is difficult to be alive in these unstable, heavy densities of reality. Sometimes it might feel too much to bear. It can trigger some pretty stubborn and extreme controversial ideologies when our energy is not flowing with the new energies. We might find it hard to tell the truth when it is really needed, or even harder to admit that we have been fooled by people in authority positions.

We might want to intellectualize our feelings, to avoid our overwhelming, emotional bodies. The challenge will be a need to understand our world; so we could over rationalize or overly conceptualize, and lose touch with the essential truth and the larger picture. It will be important to maintain equilibrium between the mental and emotional bodies for our mental health. It is also important not to force truth, but to wait for the truth to naturally arise. But when we find our flow, it will be simply elegant, abundant and full of self-confidence!

((Auspicious days in this Caban year are April 14 through May 3. These are the Mayan CORE days. It is like time taking a transfiguration journey through your kundalini energy and Chakras. Whatever was ever out of date in your presence before this date, will no longer be in your future once you pass through these powerful 20 days. The second 20 CORE days are from December 30 through January 18. There are 52 PORTAL days. With applied focus on these days, you can open auspicious windows into creating and manifesting higher visions.




*** Please POST, RESPOND or COMMENT on this article on our post on FACEBOOK HERE THANK YOU! This saves me so much time. I simply cannot answer all your emails, but the fact is that I really want to ;) ALSO, your unique, insightful comments benefit everyone else and helps us paint a larger picture of what is evolving on Earth and Humanity. REMEMBER ~ PLEASE LIKE, COMMENT, and SHARE on our Public Facebook page.If you want to experience more of this type of message, LIKE IT!

Aluna Joy Yaxk'in . . . A Star Messenger - Earth Oracle - Soul Reader - Sacred Site Junkie was literally born awake and in the company of her guides, the Star Elders. Today she has evolved into an author, spiritual life coach, sacred site guide, alternative historian, ordained minister and modern mystic. In the Inca world, Aluna is considered a Qawaq (cow-wak), a clairvoyant or seer of living energy. Aluna acts as a spiritual archaeologist using her clairvoyant / clairsentient gifts to excavate current messages from the masters of ancient, enlightened cultures to uncover what affect this has on humanity and the collective consciousness. Aluna coined the term "sacred site junkie" because she is one herself. After her first trip to Tulum, Mexico, her life changed dramatically, and she was sent on an entirely different path in life. Since this time, her work has been influenced by uncountable shamanic experiences in sacred sites of Mexico, Guatemala, Belize, Honduras, Peru, Bolivia, Egypt, Greece, England, Australia and New Zealand. Aluna has been leading groups in the Maya world since 1986, the Inca world since 1996, and the Egyptian world since 2008, and the mystical world of Avalon (England, Scotland and Wales) since 2007. Aluna offers Star Elder Sessions, formulates Sacred Site Essences and a free newsletter. She is the author of "Mayan Astrology" and her articles have been published worldwide. Website: www.AlunaJoy.com Facebook: http://www.facebook.com/alunajoyyaxkin YouTube: http://www.youtube.com/user/feelthelove2012

Copyright Guidelines: Aluna Joy Yaxk'in - www.AlunaJoy.com - Ⓒ 1995-2021 - Unauthorized publication and/or duplication of any material on our web site without permission from its author and/or owner is prohibited.
RE-POSTING SHARING GUIDELINES: We allow SHARING freely, only if shared through Aluna's Public Facebook Page SHARE LINK, or the original WEBSITE LINK and NOT used for self promotion. This way there is no confusion to who the author is for this information, and no confusion to who the author is connected to or who she supports. Thank you everyone for understanding. Just make sure the original LINK to the posts is added to your sharing. Thank you for your great support. We would not be able to continue this work if it were not for you. We send you awesome radiant blessings today and for the beautiful future that we are co-creating together.

If you are feeling appreciation for our work please consider sending us a HEART DONATION, or better yet, send an easy re-occurring donation. We want to maintain a subscription free zone as long as we can afford to. But we also trust that Spirit, and our like minded community will cover our expenses.
Offer a Heart Donation

Do you shop on AMAZON?
As an Amazon Associate, I earn a small percentage from qualifying purchases. To shop on Amazon, use our special link here.
Go to Amazon to shop!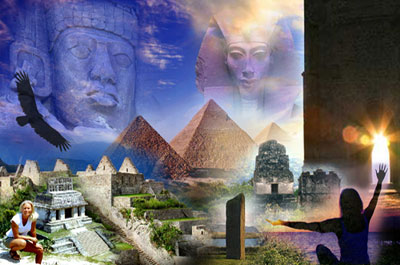 There are things that happen only once, and then again, never exactly the same way. . . things that only we experience. There is no way to predict when magic lands where we are. We just have to put ourselves out there and keep our eyes open, and feel blessed when we see receive gifts from spirit. These are experiences that no one else will ever see in the same way again.
We joyfully offer Sacred Site Spiritual Pilgrimages since 1995 to the Maya, Inca, Celtic and Egyptian Worlds.
Come join us on a Spiritual Pilgrimage!
Ask to be added to our PILGRIMAGE PRIORITY ALERT LIST for future pilgrimages
HERE.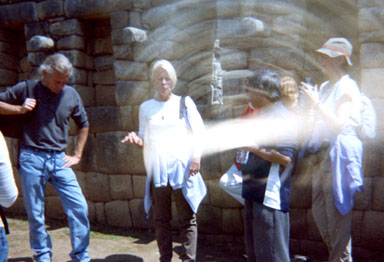 Aluna Joy sharing a message in Ollantaytambo.

Why YOU are called to partake in a Sacred Pilgrimage.

To embark on a sacred pilgrimage is to answer your soul's deep yearning to fully awaken. It truly means to step outside of yourself in order to encounter the God within you. You are called to discover divine grace, deep peace and awe inspiring splendor that of which you truly are. So. . . you are drawn to places where Gods and Goddesses, Knights and Queens, Ascended Masters, and Divine Light has anchored itself on Earth. These are places where heaven touches Earth. These places are often marked by the construction of mystery filled ancient temples, timeless majestic pyramids, cosmic stone circles, healing sacred wells, occult ley line grids upon the Earth. Even chapels and cathedrals are build on top of ancient energy nodes on earth. Even modern day crop circles are built upon sacred energies.

A pilgrim consciously and gently wanders in these sacred places with an open heart and an open mind to receive the divine. These sacred places produce high frequency cosmic starry light that deeply inoculates our very souls with holy and divine energies. This is why we change and awaken further after each pilgrimage. Our eyes are opened! These sacred sites work beyond belief and limiting programming, beyond simple faith, beyond the constraints of the worlds religions. This brilliant divinity goes straight into our higher heart and initiates a divine conversion. We begin to find our deeper purpose and become more abundant in all areas of our path. We become more compassionate, humble and kind with a deeper, more encompassing wisdom. Our world based ego fades away and LOVE replaces it. Simply put, we begin to embody our divine path.

This is why we do not offer "tours", and we are not "tourists". We are humble pilgrims, a gathering of joyful soul family of open and unified hearts, with a common passion to awaken brilliant light and the Divine Living Master within us and humanity.
~ Aluna Joy