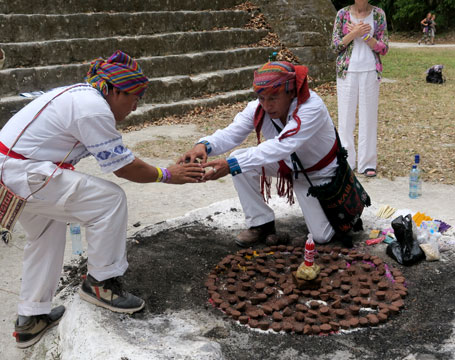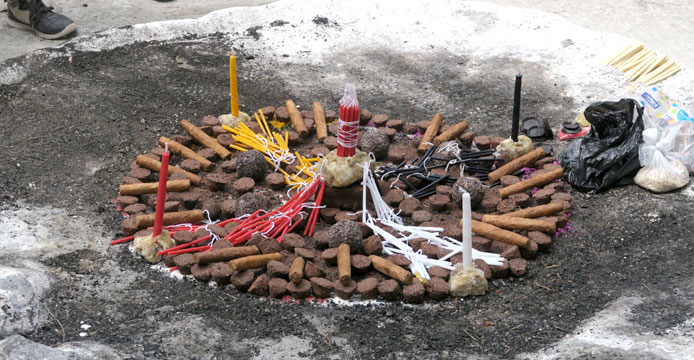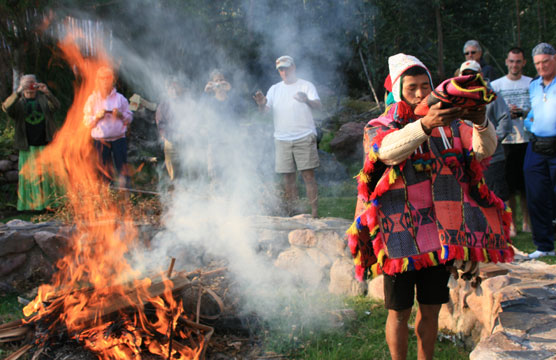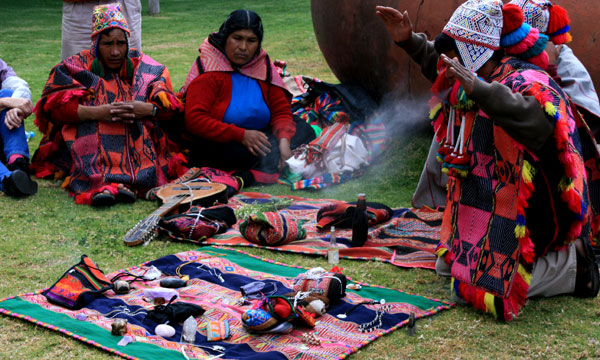 I have had a magical relationship with South American incenses and resins during traditional fire ceremony with Quechua, Q'ero and Kiche Mayan elders over many decades. We have had some amazing experiences with the spirit of fire working through these resins. But these past times were limited to only a few people, and in rare experiences in jungle temple sites. I know many of our spiritual family have also had many of these amazing experiences, and I know that we are missing them. These days when we cannot travel as easily, or we are not in the right situation or location for a full fire ceremony, so I thought there must be a way to bring these experiences forward into everyday day life.

So, we were excited to discover Palo Santo "Holy Wood" Oil and Copal Ceremony Oil from our Egyptian Oil supplier. So when the oils arrived, I allowed myself to be open to new ways to use these oils outside of traditional ways. I wanted To bring to life their purifying, clarifying and healing qualities in micro experiences, ceremonies and meditation, by using oils, originating from these resins, in combination with the fire element within our bodies.

So I used these oils on my skin, my chakras, wrists, etc.... My first observation was that I was missing the smell of the smoke. Since these oils where never heated or burned, they are missing the quality of smoke that we would expect in a fire ceremony. These are pure oils unchanged by heat. So I waited. In a few moments, the element of fire in my body began to warm up the oil, and I could smell the pure quality of the resin activated by my body. It brought out my ability to access a more subtle frequency of the oil and from a different direction than if it had been burned. This is the best way that I can describe these oils.

I am looking forward to learning new ways in how to use these oils than I have in the past, and to allow Spirit to guide us in experimental uses. I expect these new oils will bring up more subtle and refined qualities that may have been lost in burning. I almost feel like they will evolve with us, and evolve past old, traditional ways into new ways for a new world. We are looking for your insights and feedback as well.




NOTICE... All orders received will be filled once a week.
Thank you for being patient. Blessings - Aluna Joy
Palo Santo "Holy Wood" Ceremony Oil
Better Sleep - Less Anxiety - Reduced Pain


Palo Santo means "HOLY WOOD" or the sacred tree of life. Palo Santo has been used by indigenous peoples for centuries in sacred healing ceremonies in the form of wood, resin and oil.

It brings in light-filled positive influences, and it clears negative energy. It has a purifying, cleansing effect on the body and mind. It is known to reduce pain such as arthritis and headaches, and it has anti-inflammatory qualities, etc.... It is used to reduce stress, anxiety and depression. Many people find the aroma of palo santo so relaxing that it can help one ease into a better night's sleep.



Copal Ceremony Oil
Ascension Assistance - Clears Blockages - Divine Insights - Purification and Protection


Copal is sacred and has been revered by the Maya culture. It has been used as the base for complex, fire ceremony for thousands of years. Shamans use Copal to see into the invisible worlds. It is also used to see blockages and reveal hidden illnesses in the deeper layers of a person's energy field.

Copal helps one see clearly into etheric worlds, and it can inspire divine insights. It helps with all sorts of aches related to the awakening and ascension process. It clears the old memory out of the body that is causing pain. It is also used for clearing personal space, and clearing the mind with its action of purification and protection.



HOW TO USE THESE OILS ...
These South American Ceremoney Oils are 100% pure, undiluted oils which were sourced directly from Cairo Egypt.
With proper usage, they will assist you on your path for a very long time. Now go and In-joy!
* BREATHE... Directly inhale, and let it go.
* SOAK... Use 2 - 3 small drops in a hot bath and relax.
* DIFFUSE... Use oil in a candle warmer. Add 2 drops to an unscented, soy wax melt in a candle warmer. Oils will burn evenly and longer, and with a more powerful scent. To find Soy Candle Wax Melts and Candle Warmers, choose from the ones we recommend here: Purity Unscented Soy Candle - Wax Melts (2 Pack) & Candle Warmers
* ALIGN... Apply directly a micro-drop to your chakras. Don't forget the bottom of your feet and the crown of your head!
* RELAX... Use a drop or two in your unscented, organic, massage oil. Do not put oil in eyes or on other sensitive areas.
Oils might coagulate if cold