Aluna Joy coined the term "sacred site junkie" because she is one. Aluna was born aware and in the company of her guides, the Star Elders. After her first trip to Mexico in 1986, she was hooked and her life was completely transformed. To this day, her work continues to be influenced by many mystical, shamanic and cosmic experiences gained by travel in the sacred sites of the Mayan, Incan, Celtic, and Egyptian / Atlantian worlds. She has been guiding pilgrimages to these areas since the 1980s. She is considered a Ancestral Messenger - Earth Oracle - Soul Reader, and is a watcher of humanity and Earth. She navigates between the physical and spiritual worlds. She watches the evolution of sacred sites as spiritual precursors which can lead to possible trajectories for our future. In the Inca world, Aluna is considered a Qawaq (cow-wak), a clairvoyant, or seer of living energy. Aluna simply considers herself a Spiritual Archaeologist using her natural born Clairvoyant / Clairsentient gifts to read ancient and current energies of Earth and sacred sites. She transmits messages from her life-long core team consisting of the Star Elders, Jeshua, and Archangel Michael, and works with many other Masters and deities regularly.
"Our groups are family, and each one is a teacher and also a student. We work together as a team to unravel the sacred mysteries of life."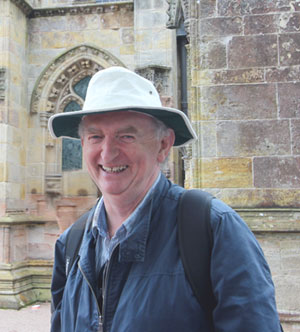 MARCUS MASON
, our local guide, Marcus Mason has practiced and taught Soul-Centered Astrology for more than 30 years in the UK and in Ireland, Europe and the USA. He has also practiced Traditional Acupuncture for 30 years and is a Member of the British Acupuncture Council (MBAcC).
For the last 15 years, with his partner Sue Weaver, a crystal and shamanic healer and teacher, he has been researching the relationships and energetic effects of the planetary movements upon the body's energy systems and Chakras. What has emerged is a profound and elegant system of meditation, informed by more than 30 years of working with Astrology, Acupuncture and Earth Energies.
Marcus has been fascinated by Earth Energies and the purpose of Britain's ancient Sacred Sites since his early twenties. As his understanding grew, he came to see how the sacred places of Mother Earth are like the acupuncture points on the human body, and that many sacred sites are linked in similar ways to the points on the body's acupuncture meridians. On the Earth, these are the Ley Lines and the great planetary Dragon Lines, which encircle the planet.
In the 1990s, he co-founded a group which worked with planetary healing meditations inside Stonehenge, at every Full Moon for 4 years from 1994 - 1998. Since then, he has worked with many groups on journeys for personal and planetary healing in England, Ireland, Scotland, Wales, France, Belgium, Denmark, the Canaries, South Africa, Alaska and Hawaii.
Marcus combines his understanding of Acupuncture, Astrology, Earth Energies and the human Chakra system, working with people at sacred sites to enable personal and planetary healing. When we work together in this way at a sacred site, it is inevitable that the healing energies of the place will have an effect at a personal level and that the energies of the sacred site will also magnify our healing intention and enable healing for the greater whole of humanity and Mother Earth.
Marcus lives in Cornwall, is one quarter Cornish and regards Cornwall as his spiritual home. He is a father to one son, and is grandfather to two grandsons.
The SACRED IMPORTANCE of Isle of IONA
Isla na Druidhneach - Isle of the Druids - ISLE of the DOVE
It is said that on the Isle of Iona, the veil between earth and heaven are so thin that pilgrims here can easily access spiritual dimensions.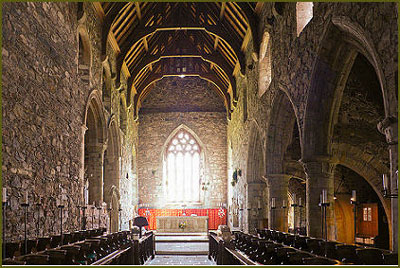 Iona Abbey
Deep Peace of the running Wave
Deep Peace of the flowing Air
Deep peace of the shining Stars
Deep Peace of the quiet Earth
Deep Peace of the Prince of Peace
to you and yours
An Iona Prayer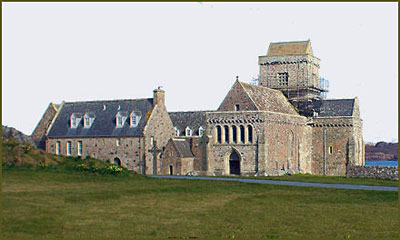 Iona Abbey
This unique island is sacred to many pilgrims from many cultures and is considered to be one of the most sacred places on earth. Legends state that the Stone of Destiny was brought to Iona by St. Columba and also states that Anna, Grandmother to Jesus, Mary, the Mother of Jesus, Joseph of Arimathea, as well as Jesus and Mary Magdalene visited this sacred island and spread their teachings. This island is formed from some of the oldest rocks in the world and is the center from which St. Columba converted most of Scotland and northern England to Christianity. Ionian Monks created the famous Book of Kells on this holy isle before withdrawing to the safer shores of Ireland. A tradition of royal burials including four Irish, eight Norwegian and 48 Scottish Kings, and many chiefs and powerful clans, were laid to rest here.

Also on this island is Sithean Mor (a large fairy hill), also known as the Hill of Angels and there is also the Well of Eternal Youth associated with the 6th century St. Brigid of Ireland (The Islands of Bride). This well is nestled among rocks on the top of Dun I, the highest point on the Isle of Iona. ISLE of IONA is considered by many to be the heart of AVALON!

Regarding King Arthur ... Author Adam Ardrey claims that instead of the romantic English king of legend who lived at Camelot, which is often said to be Tintagel, Arthur was actually Arthur Mac Aedan, the sixth-century son of an ancient King of Scotland. He also suggests that Arthur pulled the sword Excalibur from a stone at Dunadd near Kilmartin Valley (near Knights Templar graves where we will be going to!), and was buried on the Isle of Iona, which he also declares to be Avalon. The assertions in his book Finding Arthur: The True Origins Of The Once And Future King are strengthened by the discovery in 2011 of what some experts believe is King Arthur's round table in the grounds of Stirling Castle. Ardrey says he not only believes Arthur is buried in Iona, but that he would love to see the site excavated to look for proof. Iona fits all the criteria. It is an island where numerous kings were buried. Other members of Arthur Mac Aedan's family were buried there too.

Many historians have attempted to link Arthur with Cornwall and Tintagel Castle, and in 1998 an ancient stone bearing a sixth-century inscription similar to the name Arthur was unearthed at the castle, the mythical birthplace of the legendary king. It was hoped that the discovery could prove that King Arthur had his headquarters at the site of the ruined castle on the north coast of Cornwall, but the findings - of a piece of slate inscribed with the name Artognov - Latin for the English name Arthnou - remained inconclusive. But we can feel him there quite clearly. However as mentioned, in 2011 it was believed that Arthur's Round Table may have been unearthed by Glasgow University archaeologists investigating the King's Knot on the grounds of Stirling Castle. King Arthur is said to have been a Scottish King of the druidic "Old Way," the last of his kind holding out against a zealous Christian onslaught.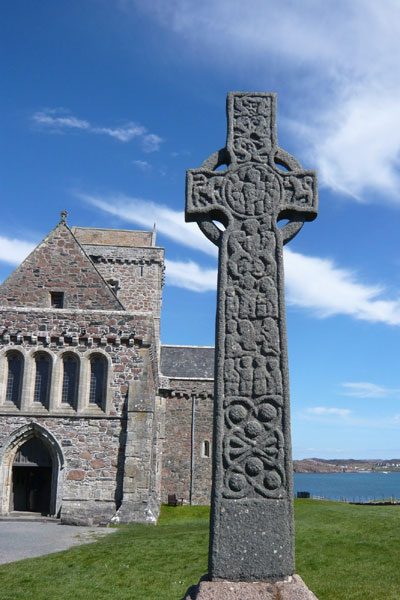 St. Martin's Cross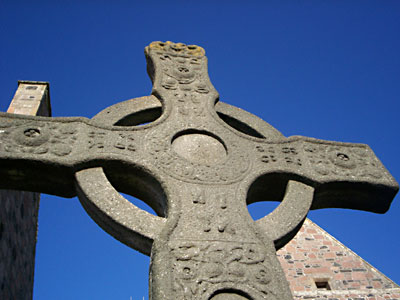 St. John's Cross
Other Interesting facts about places we are going to and WHY!
"During the time of Christ, the British Isles possessed the largest number of universities, totaling 60, with 60,000 students under instruction. The elite of the Western world traveled to the British Isles and likewise, religious scholars from Egypt, Spain, Palestine and Scotland all met to exchange ideas. Egyptian Essenes had a working relationship with the British Druid Magi. Some Druids, such as those in Fortingall, Scotland had a sister school on Mt. Carmel, Palestine and were therefore linked spiritually and culturally. Even monks from Tibet visited the British Isles and vice versa. According to Barry Dunford (http://sacredconnections.co.uk/), . . . 'at the English College of Arms, The Heraldry Office at Jesus College clearly shows the grandmother of Jesus and her links to various kings of the British royal family.'

"The great-grandparents of Jesus were born and lived in the area of Fortingall, Scotland, where one of the first 'mother churches' is believed to have been located. His grandparents Joachim and Anna (Hannah) moved to Galilee, but the rest of the family remained in Scotland. Anna wasn't Jewish, but of both Celtic and Hebrew royal lineages."

"Even the highest initiates of the various mystery schools NEVER spoke the name of Jesus. Jesus was referred to as 'THE DOVE' . . . The various names of Jesus, are in fact spiritual titles, all meaning roughly "light-bearer." The Isle of Iona is also known as The Island of the Dove. The Isle of Iona has at least 60 kings buried in its sacred ground. They were buried there because of the 'The DOVE - The Christ frequency' is anchored there. Jesus is Jeshua in Tibet, India, and Greece. Christ or Christos is Greek. In Tibet, there is a St. Issa, in Gaelic it's Iosa, in Aramaic it is ISA, in Cornwall and Wales it is spelled Essa." On the Isle of Mull, we find Essa Hill. The sacred Island of Iona lies on the Fortingall (Christ Frequency) and Montrose (Rose) Ley lines axes. . . . This is where the surviving Grail son was born to Jesus and Mary Magdalene. It is believed that Christ personally attuned the island (Iona) to this perfect frequency (Christos frequency) for the purpose of initiates to receive the frequency.

The above excerpts are from the book titled "An End To All Disease & the Da Vinci Code Revelations" by Lt. Lawrence F. Frego, USNR (Ret).
A PILGRIMAGE to the SACRED SITES of CALEDONIA / SCOTLAND
Stone Circles and Holy Isles
With Aluna Joy and Marcus Mason
July 15-29, 2023
Contact us for the full 2023 Scotland Daily Itinerary
Here
I don't publicly post the itinerary for group privacy.
Investment
DOUBLE ROOM: $6899. USD Per Person
SINGLE ROOM: $7999. USD Per Person
Should our group only reach 15 paid guests, there will be a small group fee of $500 USD. There are only 3 single supplements for this pilgrimage and we don't expect this will change. Our group is limited to 23 adult only spiritual pilgrims.
Included: All accommodations, tour vehicle transportation and driver costs, all entrance fees to archeological sites, museums, etc... and applicable taxes. Breakfasts and dinners with tipping for all meals included in the itinerary. Tea or coffee may or maynot be included depending on the hotel. At least one vegetarian option will always be available as one of the main course options. Aluna Joy and Marcus Mason will be providing their spiritual knowledge and guidance throughout. We are at your service and want you to have a glorious time. Also included will be laughs, joyful tears, and the beginning of lifelong friendships . . . plus, spiritual growth that cannot be measured by any standard! We guarantee that you will never be the same!

Not Included: Air travel fares from your home to and from the Glasgow International Airport (GLA) in Scotland. Transportation to and from our Glasgow hotel. Taxis are easy to catch right out the door of the airport. Meals not mentioned in the itinerary. No lunches are covered during this pilgrimage. However, we will stop for lunch breaks that will be either stopping to pick up sandwiches along the way or offer a place for an actual sit down lunch. Gratuities for the bellboys, maids, etc... Remember the entire hospitality industry has been hit hard, so give with love. Heart Donations/Tips for Aluna Joy and Marcus Mason and our bus driver are gratefully received at the end of the trip. Trip/ Travel insurance, flight insurance, laundry, telephone calls, internet, beverages and incidental expenditures are not included. Trip and travel insurance is advised to be purchased.