Power Places in SEDONA
Aluna Joy's favorite sacred spaces and more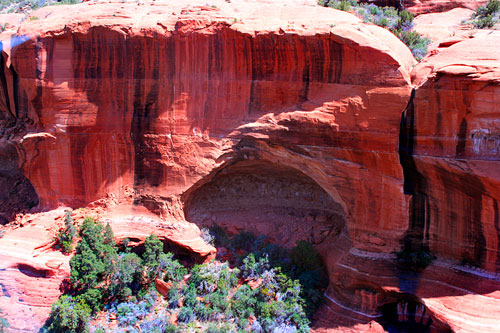 Huge cave in Boynton Canyon with ruins near by.
SO... you are coming to visit Sedona ... and you want to know what to do.
Here are some suggestions to get you started.

Sedona is the land that sings to you when you open your heart and listen. The red rock is full of iron for memory, and crystal for energy. It is unique and magical. The canyons whisper and the ancients echo ageless wisdom. Uncountable petroglyph and ruins sites stand as ancient sentinels. Come with respect, an open mind, and always remember follow the path in your heart.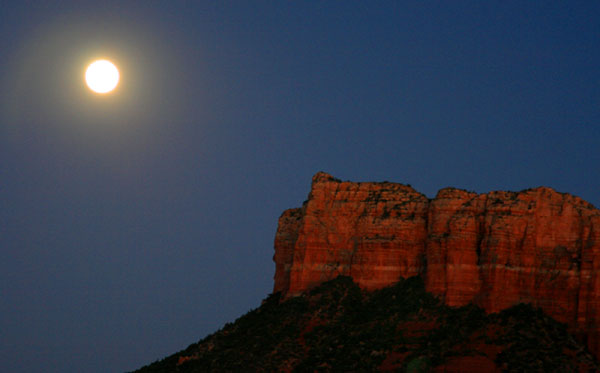 Flat rock on east side of Cathederal Rock on Full Moom July 15th 2011.
Sacred Lands that I LOVE



I like Fay Canyon. It is my church. Go all the way to the end of the trail and you will find a place where you can climb up to the top of the canyon. A wonderful peaceful view. This canyon triggers wonderful past life memories in me so I love it. It is a cool sound chamber there also.



I like the west side of Cathedral Rock at sunset at Crescent Moon Park. On the trail, go past the place where the 2 rivers join together for about 1/8 mile to get to Buddha beach. Very cool and a grid point to sacred places all over the world. Lots of stacked stones



I like the east side Cathedral Rock at full moon. Go up the trail until you see a big flat rock and watch the moon rise. POWERFUL!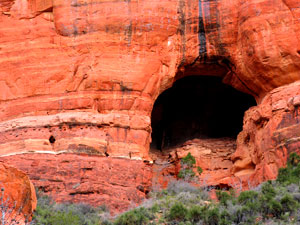 I also love the Grandfathers Cave up on Thunder MT. You can see it from 89A at Safeway. It is filled with ancient grandfathers. Very cool and healing. The trail is hard to find... again follow your heart. We made an essence here. It is wonderful for letting go of issues and learning to hear the earth's song. http://www.alunajoy.com/essences.html



I like the very end of Soldiers Pass Trail where there is a small arch that is a great mediation spot! Keep to the right on the trail. The arch is on the right near the end of the canyon. It is SO CLEAR there. Great for re-booting your spirit.



I love Chimney Rock and the flat rock between Chimney and Thunder Mountain. I live just down the street from this one so I am partial to this place. I love to mediate there is the morning. Just below just off of Andante road there is a Tibetian Stupa.



Boynton Canyon has ruins on the right side of the canyon just past the resort. A ancient grandmother holds space there for her children and sits with a huge mountain lion. She makes you work for any messages you might receive. She is what I call tough love : ) but you will like her energy.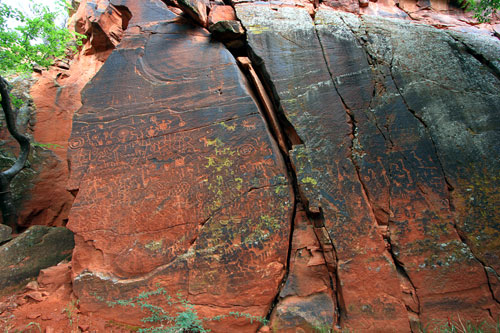 V-BAR-V RANCH Sedona's sun dagger! An incredible solstice/equinox calendar and a easy walk. The SUN marks the passage of time across a huge ancient solar panel, one of very few worldwide. The shadow in the stones apear from a worked wedged rock in a crevice creates a light and shadow show across the cliff face. The precise times of the vernal equinox and summer solstice—important events for planting and harvesting—are tracked by light and the sun's transition across the southwestern sky.
http://www.redrockcountry.org/recreation/cultural/v-bar-v.shtml



I got a few others favorites but they are not on a map ; )



My Hike Bible! . . . that is sold everywhere in town, Sedona Hikes by Richard and Sherry Mangum.



National Parks of the American Southwest Utah, Arizona, Colorado. A Guide to the National Parks and Natural Landscapes of Southwest USA, including slot canyon descriptions and a travelogue describing a journey from Arizona. a http://www.americansouthwest.net/


Incredible service providers that I Love.


Remember . . . Sedona is full of spiritual fluff these days, as our city has monetized the spiritual draw of Sedona quite effectively. So make sure you use your instincts to choose what you participate in. Just follow your heart and you will have a magical time.



Sedona Red Rock Tours - Vortex Tours. Owners, Akal and Iala are beautiful authentic people. http://www.sedonaredrocktours.com/



Massage with Dhanya Falkenstein - Best Multi-Modality Massage ever! A true healer. Phone: 928-274-4016 - Email: [email protected] or [email protected]



Myofascial Release with Helena Bacellar - She will change your life! https://www.thefascialconnection.com/ Phone: 301-318-5270 - Email: [email protected]



Skin Care & Facials with Tina Ferguson at Spa of Sedona. This is how to get your GLOW back! http://www.thespaofsedona.com/about.html Spa Phone: 928.325.0013 - Tina's Phone: 928-301-7525



The Taylor Method and Kenyon Taylor. Biodynamic Craniosacral Therapy. Kenyon is simply magic, and an incredible healer. www.kenyontaylor.com - 928-254-1339



Unity Church with Spiritual Leader Michael Mirdad, on Sunday Mornings has become a powerhouse of truth, wisdom and love. It is not your typical church experience it is an elevated experience. https://unityofsedona.com/



Crystal Magic is my favorite Crystal Store. Good people work there to help you and not farm you. Street Address: 2978 W Hwy 89A, Sedona, AZ 86336-5131 - Phone: 928-282-1622



Amitabha Stupa and Peace Park. Great for a early morning meditation. https://www.tara.org/featured_post/amitabha-stupa/



Margaret Sweet offers great Astrology readings including re-location charts. MargaretSweet.com



Aluna's Free Newsletter is available to those who join our e-mail list! http://www.alunajoy.com/joinnewsletter.html
We live where the two pink stars are. This is a Vortex / Ley Line map of Sedona by Nicholas Mann.
: )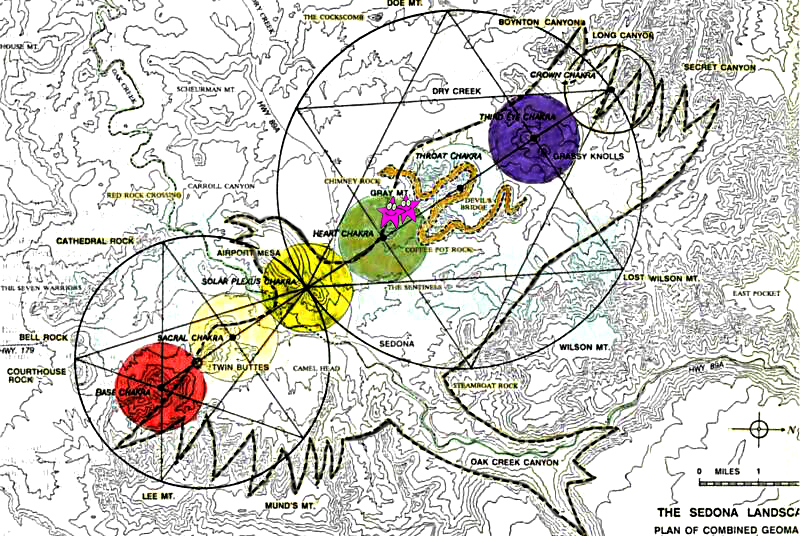 Ok... still have time to do more? It can take years to explore all of this.

Alphabetical List of Hikes Airport Loop Hike Airport Loop Trail Baldwin Trail Hike Bear Mountain Hike Bear Mountain Bell Rock Big Park Loop Boynton Canyon Hike Boynton Canyon Boynton Vista Hike Brins Mesa Hike Brins Mesa to Soldier Pass Hike Broken Arrow Hike Broken Arrow Cathedral Rock Trail Carruth Trail Chimney Rock Loop Hike Chimney Rock Trail Cibola Pass Trail Cibola Trail Coffeepot Rock Trail Coffee Pot Cookstove to Harding SpringsTrail Hike Courthouse Butte Loop Courthouse Butte Loop Trail Cowpies Hike Crescent Moon Creek Walk Deadman's Pass to Boynton Vista (Vortex Site) Deadmans Pass Devil's Bridge Hike Devil's Bridge Trail Doe Mountain Hike Dogie Trail Dry Creek Trail #52 Dry Creek Trail Fay Canyon Hike Hanonki Indians Ruins Honanki Ruins Hot Loop Hike HS Canyon Hike HS Canyon Trail #50 Huckaby Trail Hike Jim Thompson Trail Jim Thompson Trail Kel Fox Trail Kel Fox Trail Kelly Canyon/Pumphouse Wash Little Horse Trail Little Horse to Broken Arrow Llama Trail Hike Long Canyon Trail Long Canyon Trail Lost Canyon Hike Marg's Draw Hike Marg's Draw Trail Mescal Mountain Hike Mescal Mountain Mitten Ridge Hike Munds Wagon Trail Munds Wagon Trail Montezuma Well Old Post to Carroll Canyon Loop Palatki Indian Ruins Pyramid Hike Rabbit Ears Hike Robbers Roost a.k.a the Shamans Cave Robbers Roost Schnebly Trail Scheurman Mountain Hike Secret Canyon Hike Soldier Pass Arches Hike Submarine Rock Trail Submarine Rock Sugarloaf/Coffee Pot Trails Sycamore Canyon Templeton Hike Turkey Creek/House Mountain Hike Twin Pillars Trail Vultee Arch Hike Verde Valley Hot Springs V-Bar-V Petroglyphs Wilson Canyon Trail West Clear Creek Some Trail Maps

You could focus on native ruins like Palatki or Honanki ruins or petroglyphs sites.... V-Bar-V Petroglyphs and then when you are done with ALL OF THIS you could explore all the slot canyons in the area! Slot Canyons of the American Southwest