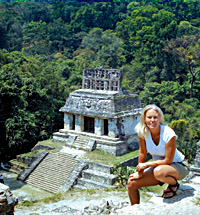 Living In Lak'ech' - Becoming One With All Life -

August 1997
Mayan Timekeepers Conference Report -

June 1997
Living on the Edge of the New World - We Are Almost Home!

April 1997
Entering the Mayan New Year of 8 Caban - What Will Humanity And Mother Earth Experience?

March 1997
Humanity's Sacred Relationship With the Stars - Links Between Lakota / Maya Star Knowledge

October 1996
Yahk'utah - The Presence Of The Love Of God On Earth - On Comet Hyakutake

July 1996
The Mayan Stretch - A Cosmic Exercise To Access Your Cosmic Guidebook To Earth Reality

May/June 1996
Portals of Destiny - The Universal Mer-Ka-Ba

April 1996
Rising of the Sacred World Calendar - Ancient Solar Markers Point To The Mayan New Year

March 1996
The Leap Year Predicament - What to do with leap years if you are using the modern count calendar?

February 1996
Perspectives On Moon Cycles And Moon Calendars -

January 1996
Messages From The Cosmic Maya - 2nd Annual Solar Ceremonies For Planetary Awakening - A Solar Meditation/Ceremony

December 1995
Portals To The Creator
September 1995
We Are Cosmic Messengers

August 1995
A Message Of Love And Unity
June/July 1995
The Evolving Consciousness Of The Mayan Suns - Solar Meditation For Omni-Consciousness

April/May 95
Usher In The Itza Age With A Unified Blast Of Light - Spring Equinox 1995

March 1995
Understanding The Mayan Suns Of The South - With A Meditation for the Suns of the South

February 1995
Understanding The Mayan Suns Of The West - The 60 Second Instant Mayan Meditation

January 1995
Mayan Prophesy - The Awakening of the Cosmic Human - The End Of a 520 Year Cycle Of Darkness

December 1994
The Sacred Mayan Suns Of The North -

November 1994
The Sacred Mayan Suns Of The East

October 1994
The Sacred Pulse Of Creation - The Sacred 13 Numbers Of The Mayan Calendar

September 1994
The Grand Cosmic Clock of Creation - Understanding How The Mayan Calendars Work Together

August 1994
Introduction To The Mayan Calendar

July 1994