After a few months of deep witnessing, self reflection and major perception shifts... I feel this message is ready to post.

We are about to complete the 7th year that has passed since the epic 2012 Mayan Calendar Event. In the Mayan Calendar, seven is the center of the universe, and the center year in our very first 13 year cycle since 2012. It is a place where we have had access to both worlds simultaneously: the spirit world and the material world. And we have certainly felt the extremes and divisions in all facets of our lives which created the "get it done" mentality and the cancel culture. I see that what we BEGAN back at that pivotal time on December 21, 2012, which was totally beyond our comprehension, is just NOW beginning to take form in our consciousness. I see from this point forward that we will start to understand what this new cycle is offering us. Finally! We are experiencing the chaos and confusion created by the complete release of the old Earth templates. After this mass consciousness lull, we will begin to understand how we can manifest new forms of consciousness, based in pure knowingness (formerly known as "belief", which is now out of date), and ground it in the material world. Spirit and the etheric will become very, very real now. This is a deeply, mystical juncture in this new cycle that we will never experience again. In 2020, we will move forward in bigger and bolder strides than ever before. We are birthing an entire age.

Based on the Mayan Cycles...
Mid-points in cycles of time are incredibly powerful and can bring about huge, pivotal points shaking up the in between ... what was and what will be.

Our first 13 year cycle in this new era is the cycle of pure spirit. It will be from years 2012 to 2025. The pivotal mid-point is 2019. We will begin to see some radical breath-taking, forward movement in consciousness by 2020.

Our first 20 year cycle, in the new era, is the cycle of manifestation and the material world. A 20 year cycle of time is called a Katun. It will stretch between the years 2012 to 2032. The pivotal mid-point during this 20 year cycle is the year 2022. We will begin to see movement and anchoring in the material world by 2023.

The Star Elders say "You are building a new world right out of thin air, building a world in a void of consciousness. Closer to the truth, you are building a new world in a time with no new time or new consciousness anchored... not yet anyway. This new time is being infused with new frequencies that you have never felt before. And you are doing this for the first time while maintaining your physical bodies. It is like asking you to build a new world while being blind folded, while floating out in space, with no gravity, directions, or compass to guide you. Yet you are doing it!"


It is no surprise that this pivotal, mid-point time is proving to be quite volatile and confusing and will transform our material world and our collective consciousness. The old school programming is all but gone now. Self-identity upgrades are in full force now. We have felt very divided or polarized, even within ourselves. We grapple with many facets of birthing our new identity and deeply questioning our former identity. We are not who we used to be. As we align with our new emerging self, we will also feel a deeper inner strength, self confidence and overall positivity. We will be able to assess a wider vision of cosmic wisdom. All this is more accessible and empowered as the veils protecting it are lifted. Remember ... feeling spiritually empty, not high or low, only precedes another level of transformation. We have and will go through uncountable non-stop re-calibrations during this mid-point time.

"It's always important to know when something has reached its end. Closing circles, shutting doors, finishing chapters, it doesn't matter what we call it; what matters is to leave in the past those moments in life that are over." Paulo Coelho

And we all know it is long over due that we need to leave whatever belongs to our history in the past and not drag it along into our future. It takes courage to walk away and not look back. In some situations, the only answer for healing is to remove yourself out of the situation, like a fire break.

As we race toward 2020, we will just begin to understand what this new era is offering us. It has been a long wait... but as I say this, we will also wonder if we are ready... both are true. We are in a new frontier now, and we are pilgrims of this new era. It is being available to us now, and it is just waiting for us to open our eyes to see it. At this mid-point time, we will have access to the enduring wisdom of the past and the mind-expanding vision and creative energy of the future.

I got a peek at a few points that we will begin to experience soon. It looks like our relationship with time and perspective will change dramatically. The launch for this adventure is just beginning NOW. It will feel comfortable and scary, understandable and confusing, and like home but very foreign. We will feel safe with our feet planted in ancient wisdom, but still feel totally not ready for the future. The energy is relentless throughout the collective consciousness, and there is no way to meditate your way out of issues you want to avoid. We will be readjusting and reassessing continually with many reality check ups, asking "Who am I now?", just to keep up.

As the perceived crazies get more pronounced, and they will, the world is in a necessary full-blown, melt down, as we simultaneously re-align on a higher frequency. Our eyes are pried open in preparation for a broader 2020 focus. Some people will feel super extra-sensitive to the Earth's energies, solar currents and planetary alignments. Shifts in the collective consciousness will have us bobbing around like a cork in a convulsing sea. It will look like we are becoming hyper-reactive and acutely sensitive. We might become aware that others have not seen us for who we are. This can bring us to the point of feeling invisible, and invalidated by the unconscious actions (no matter how well intended) of others. All this is creating an easily offended and divided culture. All that we take offense to in these energies are things that have been effectively swept under the aging, shag carpeting of the past. The gift that comes with an easily triggered humanity is that we cannot ignore our deepest issues anymore. It is simply becoming too painful to be in denial of the lack of equality among diverse perspectives. The healing is upon us now.

We have the portal in which we can create from our pure core of our hearts, and it will become quite hard to relate to our history anymore. We are being set free. This is going to create a big uptick in activism filled with a new positive outlook. Super self-integrity will be required. Our outrage and stress is a great catalyst that gives us 2020 vision in which to face all things that are out of alignment with natural law. Kundalini yoga teacher and author, Angela Ditch, captured this idea best by writing this... "Stress is meant to be the slingshot that catapults us beyond the gravitational pull of our looping patterns." This has us in the biggest global detox that we have known in this lifetime. Remember, this is part of the process.

We will also see vivid dreams, much like a 3D chess game with multiple scenarios and outcomes, that will shift realities in surprising ways. Once we see from the present moment in ALL TIME, and not from the past or future, the world will not look or feel crazy or polarized. It will look like many pieces of valid perspectives. We are entering a world where multiple views on any subject are ALL true. Truth will become multi-layered and multi-dimensional, and it must be seen from a higher and wider perspective to see the congruent energy and connections between opposing opinions. We will have the super ability to move through challenges with a deeper faster surrender process. Remember... we have trained ourselves for a long time to operate from a clear and unconditional frequency.

We will be increasingly less confined by linear time lines. We will start moving into living in ALL TIME all at once. We have a window of time now to pull from the great and timeless wisdom from the distant past for our use. We can access peace, integrity, balance, love, wisdom, etc... by living simply and consciously. The most exciting thing I see here (and an example of what is possible) is that we can pull forward a pure environment of pristine Earth that existed in the very distant past. Those souls who have a divine purpose to care for the environment will be called to work in this area. But this example of how we can work from the past is only one out of thousands of ways to merge purity of the eras past to use as a pure foundation for the new era. We will be accessing both past and creating future simultaneously. We will be able to bridge body and spirit simultaneously. We will also be able to access other dimensions simultaneously.


If you are a server of the light and an ambassador to Earth and Humanity (all of you reading this ... ah yes YOU), it will be very important to BE WHO YOU ARE, be the highest form of consciousness you can be in each moment, and not be a mirror expression of energy that does not resonate from our higher selves. If you are an empath, sensitive or giant cosmic sponge, this challenge will be more magnified. And I didn't need to say this because you already feel this. You will want to bring your best self to the world stage and add to the new consciousness of balance, peace and unconditional love. If we become lost in the mire of this confusion consciousness lull, it is simple to know our truth. Before we react, we just take a moment and ask ourselves "WHAT IS ME... and WHAT IS NOT ME?" We will be feeling all of creation, and it is messy. So this will be our mantra when we feel the crazies rise up in us.

We will begin to merge with BEING ONE with all life no matter how divided it looks today. We are rising up from all the mis-creations and all the best intentions of the past. We were all complicit in how history manifested. We were asleep in the old cycle's programming that is now out of date. It is all about to change now. All will be forgiven. It will be very important to remember this!




*** Please POST, RESPOND or COMMENT on this article on our post on FACEBOOK HERE THANK YOU! This saves me so much time. I simply cannot answer all your emails, but the fact is that I really want to ;) ALSO, your unique, insightful comments benefit everyone else and helps us paint a larger picture of what is evolving on Earth and Humanity. REMEMBER ~ PLEASE LIKE, COMMENT, and SHARE on our Public Facebook page, because Facebook limits the number of people who can see our updates that they have asked to see. If you want to experience more of this type of message, LIKE IT!

Aluna Joy Yaxk'in . . . A Star Messenger - Earth Oracle - Soul Reader - Sacred Site Junkie was literally born awake and in the company of her guides, the Star Elders. Today she has evolved into an author, spiritual life coach, sacred site guide, alternative historian, ordained minister and modern mystic. In the Inca world, Aluna is considered a Qawaq (cow-wak), a clairvoyant or seer of living energy. Aluna acts as a spiritual archaeologist using her clairvoyant / clairsentient gifts to excavate current messages from the masters of ancient, enlightened cultures to uncover what affect this has on humanity and the collective consciousness. She is well known for her down to earth, accepting attitude that makes each one feel like they have come home. She inspires and encourages others to recognize and accept their own authentic divinity and connection to the Creator. "Our groups are family, and each one is a teacher and also a student. We work together as a team to unravel the sacred mysteries of life." Aluna coined the term "sacred site junkie" because she is one herself. After her first trip to Tulum, Mexico, her life changed dramatically, and she was sent on an entirely different path in life. Since this time, her work has been influenced by uncountable shamanic experiences in sacred sites of Mexico, Guatemala, Belize, Honduras, Peru, Bolivia, Egypt, Greece, England, Australia and New Zealand. Aluna has been leading groups in the Maya world since 1986, the Inca world since 1996, and the Egyptian world since 2008, and the mystical world of Avalon (England and Scotland) since 2007. Aluna offers Star Elder Sessions, formulates Sacred Site Essences and a free newsletter. She is the author of "Mayan Astrology" and her articles have been published worldwide. Website: www.AlunaJoy.com Facebook: http://www.facebook.com/alunajoyyaxkin YouTube: http://www.youtube.com/user/feelthelove2012

Copyright Guidelines: Aluna Joy Yaxk'in - www.AlunaJoy.com - Ⓒ 1995-2019 - Unauthorized publication and/or duplication of any material on our web site without permission from its author and/or owner is prohibited.
RE-POSTING SHARING GUIDELINES: We allow SHARING freely, only if shared through Aluna's Public Facebook Page SHARE LINK, or the original WEBSITE LINK and NOT used for self promotion. This way there is no confusion to who the author is for this information, and no confusion to who the author is connected to or who she supports. Thank you everyone for understanding. Just make sure the original LINK to the posts is added to your sharing. Thank you for your great support. We would not be able to continue this work if it were not for you. We send you awesome radiant blessings today and for the beautiful future that we are co-creating together.

If you are feeling appreciation for our work please consider sending us a HEART DONATION, or better yet, send an easy re-occurring donation. We want to maintain a subscription free zone as long as we can afford to. But we also trust that Spirit, and our like minded community will cover our expenses.
Offer a Heart Donation

Do you shop on AMAZON?
As an Amazon Associate, I earn a small percentage from qualifying purchases. To shop on Amazon, use our special link here.
Go to Amazon to shop!




Join us in the
MAGICAL MAYAN WORLD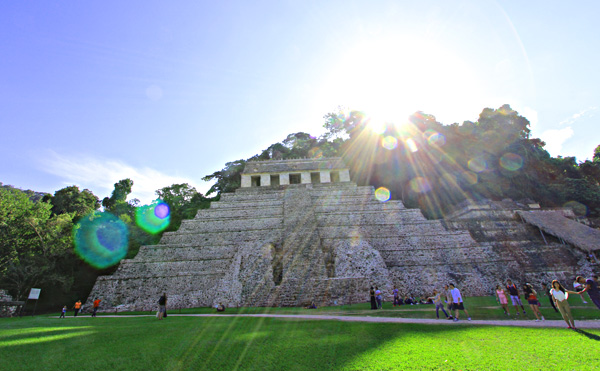 Entering the Heart of the Maya
March 17-25, 2020
With Aluna Joy and Enrique Encalada
Working and playing in the sacred sites of Palenque, Yaxchillan & Bonampak
We joyfully invite you to an Open-Hearted, Magical Jungle Retreat. In Celebration of a New Cycle of Creation this Equinox. This pilgrimage is filled with Messages from the Ancient Ones, Meditation and Ceremony. 3 days in Palenque, and full days in Bonampak and Yaxchillan. No other pilgrimage offers this much time in these sacred sites. We know that we can't rush Spirit. Aluna will offer messages from the spirits of the temples and the Star Elders. Enqique will bring his wonderful quality of spirit and ceremony to the group. All this PLUS . . . BLISS, MAGIC, and as always . . . surprises and the unexpected!
Read More About Our Pilgrimage HERE
Ask to be put on our
MAYAN PRIORITY LIST
for future Maya World pilgrimages.

PILGRIMAGES INTO TIMELESS CELTIC WORLDS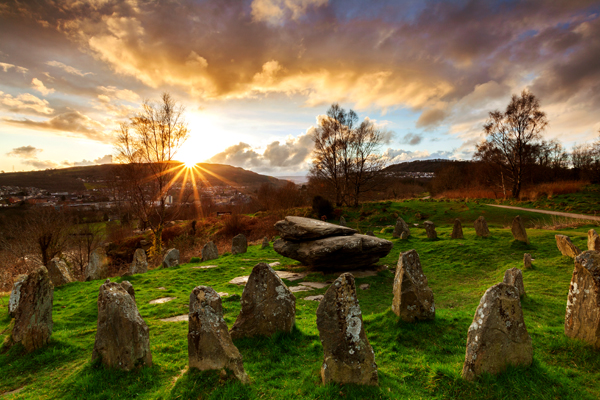 England and Wales
July 22, - August 6, 2020
With Aluna Joy and Marcus Mason
Exploring these Sacred Sites:
England Sites:
Glastonbury Abbey, Chalice Well Gardens, St. Michaels Tor, St. John's The Baptist Church, Stonehenge, Avebury and The City of Bath.
Wales Sites:
Tintern Abbey, Harold's Standing Stone Trinity, The Queen's Stone, Pontypridd Rocking Stone, Dyffryn Ardudwy Twin Dolmens, St. David's Cathedral, St. Non's Holy Well, Moel Ty Uchaf Stone Circle, Gors Fawr Stone Circle, Carn Mennyn a.k.a. Preseli Stone Hills, that are full of ancient chambers, alignments, power animals in stone and the home to mysterious Stonehenge Bluestones, Pentr Ifan Dolmen, St. Anne's Holy Well, Nevern Churchyard and Ancient Crosses and Sacred Yew Trees, Dinas Emrys Hill of the Red and White Dragons and young Merlin, Llyn Ogwen Lake and fabled resting place of Excalibur, The Beautiful Landscapes of Snowdonia, Capel Garmon Cairn & Dolmen & Gorsedd Stone, Bryn Celli Ddu Cairn / Circle Mound, Penrhos Feilw Standing Stones, Carn Llechart Ring Cairn, Trefignath Chambered Tomb, Tinkinswood Cairn, Llanfechell Standing Stone Trinity, Barclodiad y Gawres Chamber, Anglesey - The Druid's Island and the Holy Island, St. Winefred's Well steeped in Myth of Immortality, Pistyll Rhaeadr Waterfall, Old Radnor (St. Stephen's) Church & Standing Stone, and Arthur's Stone.
Read about what we have planned for you

Ask to be put on our ENGLAND-WALES-SCOTLAND PRIORITY LISTS for future pilgrimages.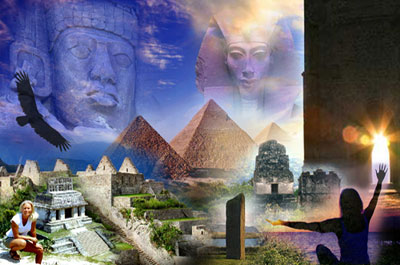 There are things that happen only once, and then again, never exactly the same way. . . things that only we experience. There is no way to predict when magic lands where we are. We just have to put ourselves out there and keep our eyes open, and feel blessed when we see receive gifts from spirit. These are experiences that no one else will ever see in the same way again.
We joyfully offer Sacred Site Spiritual Pilgrimages since 1995 to the Maya, Inca and the Egyptian Worlds and the Celtic Worlds of England and Scotland.
Come join us on a Spiritual Pilgrimage!
Ask to be added to our PILGRIMAGE PRIORITY ALERT LIST for future pilgrimages
HERE.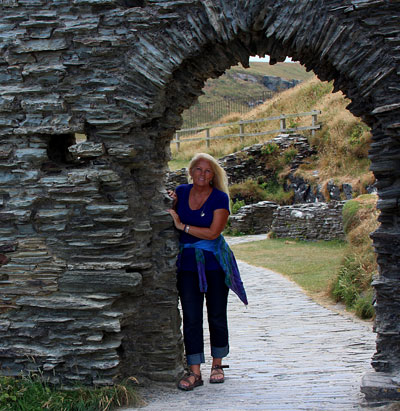 Aluna in the gate of King Arthur's Tintagel.

Why YOU are called to partake in a Sacred Pilgrimage.

To embark on a sacred pilgrimage is to answer your soul's deep yearning to fully awaken. It truly means to step outside of yourself in order to encounter the God within you. You are called to discover divine grace, deep peace and awe inspiring splendor that of which you truly are. So. . . you are drawn to places where Gods and Goddesses, Knights and Queens, Ascended Masters, and Divine Light has anchored itself on Earth. These are places where heaven touches Earth. These places are often marked by the construction of mystery filled ancient temples, timeless majestic pyramids, cosmic stone circles, healing sacred wells, occult ley line grids upon the Earth. Even chapels and cathedrals are build on top of ancient energy nodes on earth. Even modern day crop circles are build upon sacred eneries.

A pilgrim consciously and gently wanders in these sacred places with an open heart and an open mind to receive the divine. These sacred places produce high frequency cosmic starry light that deeply inoculates our very souls with holy and divine energies. This is why we change and awaken further after each pilgrimage. Our eyes are opened! These sacred sites work beyond belief and limiting programming, beyond simple faith, beyond the constraints of the worlds religions. This brilliant divinity goes straight into our higher heart and initiates a divine conversion. We begin to find our deeper purpose and become more abundant in all areas of our path. We become more compassionate, humble and kind with a deeper, more encompassing wisdom. Our world based ego fades away and LOVE replaces it. Simply put, we begin to embody our divine path.

This is why we do not offer "tours", and we are not "tourists". We are humble pilgrims, a gathering of joyful soul family of open and unified hearts, with a common passion to awaken brilliant light and the Divine Living Master within us and humanity.
~ Aluna Joy