It has been 20 years, a Mayan Katun cycle, since the last collective fear virus has engulfed your world and tried to attack your spiritual growth. This was the Y2K event that was feared would stop your world in an instant. Some panicked and filled their bunkers with supplies to sustain life. Others could see through the illusions and filled their hearts with love and celebrated. But now you all know that this fear of instant and total collapse of your world, that was implanted into the collective field of humanity's consciousness, was an illusion all along. You became much stronger within yourself from this test.

Now you have reached another Katun cycle of 20 years. You are ready to grow much further now. The same level of testing as before would not challenge your Spirit enough to shift you or bend you into realization to hold a wider range of reality that is beyond linear time and space.

At the beginning of your year 2020, a new test began in your collective human field of consciousness. This is a multi-layered, matrix-like mutation, collective consciousness virus that has been put into place. Thus, it is to test you on much deeper levels, and it comes with multiple perspectives and no clear one truth.

This 20 year Katun will teach you to trust the way of truth within you; not the "truth" outside you. This test is using cosmic shock therapy. Jolts to the system break free old patterns and will clear old ancestral wounds. This time it IS a shock to the system like no other. Truth will no longer be a point in time that is clear. Truth will be like a moving target in which you will need to adjust your perspectives according to the quickly evolution of the truth you seek. There will be many sides ... all which are moving in definition, and truth will be relative.

Again, some will fear and others will celebrate. But which side you are on will be blurry and out of focus, and you will doubt yourself often, and feel you are missing the point. There are right and wrong choices on all spectrums of this matrix. Yet these are either from the consciousness of love, or from the consciousness of fear. You might feel like you are missing the lesson in this trial. All we can say is that this will become clearer in time.


Lessons will be learned. This is a fact. Many will heal very ancient issues coming from your genetic ancestral lineages. You will see many things resurface in this slowing down process of lockdown and isolation. You might feel the extremes of heightened intuition vs heightened fear. You might feel that you are on the edge of madness inside and then suddenly be washed over with peace.

You might feel the ancient echo of soul-breaking abandonment and then feel deeply connected. You might feel tragic, unimaginable losses and find new avenues of abundance. You might feel total desolation and then feel so full of spirit that you can't contain it all, and you are not meant to anyway. Most of all, you might face the memory of unfathomable human suffering; then move past it and find true bliss. Once you slow down and face the fears that are rising up in you and greet them with open arms with love, knowing that these things can no longer hurt you, you transform it, not only for you and your genetic family, but you also give help and hope to the entire human race.

No doubt these tests are coming hard and fast. They will come in multi layers and from shocking and surprising directions. Stay open and know that you are safe and that this is a a great healing.

Mother Earth is celebrating. The gift of your slow down. Her atmosphere is clearing and the waters are purifying. This is a much needed reboot for Mother Earth as well as for humanity. Energy ley lines on earth are being released, set free, and are in an exploding expansion cycle all over the Earth.

This process is cleaning and clearing out what is left of the old Earth template and human consciousness programs to create a new chalice-like vessel and Earth template in which to pour in new energy, strength and vitality, like a pure river of creative intention that will be the foundation for the world and awakened consciousness that you can not imagine in this moment.

By 2040, the next Katun, you will have assimilated, merged and mastered fear completely, and fear will never affect your ability to access your truth ever again.

Aluna's side note ... Please be respectful as much as possible during this time, and be conscious of yourself as not to spread or cause harm to another. It is not coming from fear to isolate or do personal distancing in these challenging times. Love your neighbors as yourself no matter what their belief system is. We are all in this together.




*** Please POST, RESPOND or COMMENT on this article on our post on FACEBOOK HERE THANK YOU! This saves me so much time. I simply cannot answer all your emails, but the fact is that I really want to ;) ALSO, your unique, insightful comments benefit everyone else and helps us paint a larger picture of what is evolving on Earth and Humanity. REMEMBER ~ PLEASE LIKE, COMMENT, and SHARE on our Public Facebook page, because Facebook limits the number of people who can see our updates that they have asked to see. If you want to experience more of this type of message, LIKE IT!

Aluna Joy Yaxk'in . . . A Star Messenger - Earth Oracle - Soul Reader - Sacred Site Junkie was literally born awake and in the company of her guides, the Star Elders. Today she has evolved into an author, spiritual life coach, sacred site guide, alternative historian, ordained minister and modern mystic. In the Inca world, Aluna is considered a Qawaq (cow-wak), a clairvoyant or seer of living energy. Aluna acts as a spiritual archaeologist using her clairvoyant / clairsentient gifts to excavate current messages from the masters of ancient, enlightened cultures to uncover what affect this has on humanity and the collective consciousness. She is well known for her down to earth, accepting attitude that makes each one feel like they have come home. She inspires and encourages others to recognize and accept their own authentic divinity and connection to the Creator. "Our groups are family, and each one is a teacher and also a student. We work together as a team to unravel the sacred mysteries of life." Aluna coined the term "sacred site junkie" because she is one herself. After her first trip to Tulum, Mexico, her life changed dramatically, and she was sent on an entirely different path in life. Since this time, her work has been influenced by uncountable shamanic experiences in sacred sites of Mexico, Guatemala, Belize, Honduras, Peru, Bolivia, Egypt, Greece, England, Australia and New Zealand. Aluna has been leading groups in the Maya world since 1986, the Inca world since 1996, and the Egyptian world since 2008, and the mystical world of Avalon (England, Scotland and Wales) since 2007. Aluna offers Star Elder Sessions, formulates Sacred Site Essences and a free newsletter. She is the author of "Mayan Astrology" and her articles have been published worldwide. Website: www.AlunaJoy.com Facebook: http://www.facebook.com/alunajoyyaxkin YouTube: http://www.youtube.com/user/feelthelove2012

Copyright Guidelines: Aluna Joy Yaxk'in - www.AlunaJoy.com - Ⓒ 1995-2020 - Unauthorized publication and/or duplication of any material on our web site without permission from its author and/or owner is prohibited.
RE-POSTING SHARING GUIDELINES: We allow SHARING freely, only if shared through Aluna's Public Facebook Page SHARE LINK, or the original WEBSITE LINK and NOT used for self promotion. This way there is no confusion to who the author is for this information, and no confusion to who the author is connected to or who she supports. Thank you everyone for understanding. Just make sure the original LINK to the posts is added to your sharing. Thank you for your great support. We would not be able to continue this work if it were not for you. We send you awesome radiant blessings today and for the beautiful future that we are co-creating together.

If you are feeling appreciation for our work please consider sending us a HEART DONATION, or better yet, send an easy re-occurring donation. We want to maintain a subscription free zone as long as we can afford to. But we also trust that Spirit, and our like minded community will cover our expenses.
Offer a Heart Donation

Do you shop on AMAZON?
As an Amazon Associate, I earn a small percentage from qualifying purchases. To shop on Amazon, use our special link here.
Go to Amazon to shop!




PILGRIMAGES INTO TIMELESS CELTIC WORLDS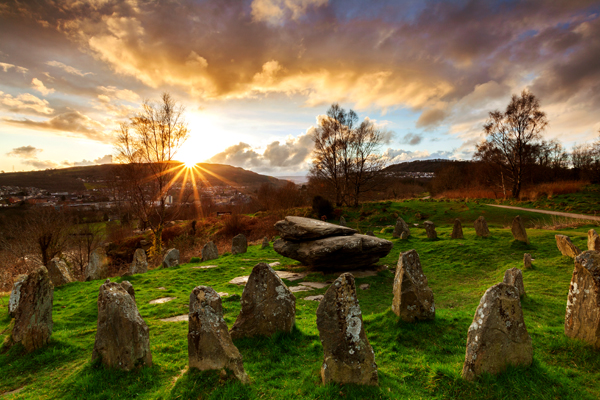 England and Wales
July 22, - August 6, 2020
With Aluna Joy and Marcus Mason
Exploring these Sacred Sites:
England Sites:
Glastonbury Abbey, Chalice Well Gardens, St. Michaels Tor, St. John's The Baptist Church, Stonehenge, Avebury and The City of Bath.
Wales Sites:
Tintern Abbey, Harold's Standing Stone Trinity, The Queen's Stone, Pontypridd Rocking Stone, Dyffryn Ardudwy Twin Dolmens, St. David's Cathedral, St. Non's Holy Well, Moel Ty Uchaf Stone Circle, Gors Fawr Stone Circle, Carn Mennyn a.k.a. Preseli Stone Hills, that are full of ancient chambers, alignments, power animals in stone and the home to mysterious Stonehenge Bluestones, Pentr Ifan Dolmen, St. Anne's Holy Well, Nevern Churchyard and Ancient Crosses and Sacred Yew Trees, Dinas Emrys Hill of the Red and White Dragons and young Merlin, Llyn Ogwen Lake and fabled resting place of Excalibur, The Beautiful Landscapes of Snowdonia, Capel Garmon Cairn & Dolmen & Gorsedd Stone, Bryn Celli Ddu Cairn / Circle Mound, Penrhos Feilw Standing Stones, Carn Llechart Ring Cairn, Trefignath Chambered Tomb, Tinkinswood Cairn, Llanfechell Standing Stone Trinity, Barclodiad y Gawres Chamber, Anglesey - The Druid's Island and the Holy Island, St. Winefred's Well steeped in Myth of Immortality, Pistyll Rhaeadr Waterfall, Old Radnor (St. Stephen's) Church & Standing Stone, and Arthur's Stone.
FIND OUT MORE HERE

Ask to be put on our ENGLAND-WALES-SCOTLAND PRIORITY LISTS for future pilgrimages.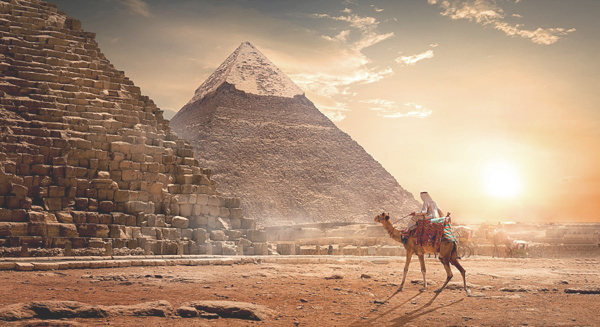 Sacred Egypt - October 19-31, 2020
Cairo ~ Giza Pyramids ~ The King's Chamber ~ The Sphinx ~ Cairo Museum ~ Luxor Temple ~ Isis Temple at Philae ~ Karnak Temple ~ Aswan & Luxor Markets ~ The Valley of the Kings ~ Deir el Bahari (Hatshepsut Temple) ~ King Tut's Treasures ~ Dendara Temple ~ Edfu Temple ~ Kom Ombo Temple ~ Abu Simbel (optional). Our private yacht will SAIL with the wind, as they did thousands of years ago.
- 2 hours Private time in the King's Chamber in the Great Pyramid
- Private time at The Sphinx
- Private sunrise time at Philae's Isis Temple.
- A Luxurious, Private Yacht (Dahabeya) on The Nile
FIND OUT MORE HERE

Ask to be put on our EGYPT PRIORITY ALERT LIST for future Pilgrimages.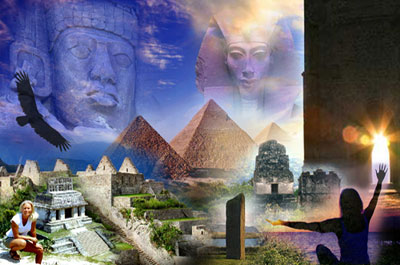 There are things that happen only once, and then again, never exactly the same way. . . things that only we experience. There is no way to predict when magic lands where we are. We just have to put ourselves out there and keep our eyes open, and feel blessed when we see receive gifts from spirit. These are experiences that no one else will ever see in the same way again.

We joyfully offer Sacred Site Spiritual Pilgrimages since 1995 to the Maya, Inca and the Egyptian Worlds and the Celtic Worlds of England and Scotland.

Come join us on a Spiritual Pilgrimage!


Ask to be added to our PILGRIMAGE PRIORITY ALERT LIST for future pilgrimages HERE.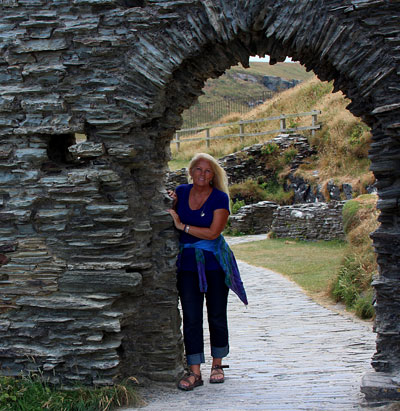 Aluna in the gate of King Arthur's Tintagel.



Why YOU are called to partake in a Sacred Pilgrimage.

To embark on a sacred pilgrimage is to answer your soul's deep yearning to fully awaken. It truly means to step outside of yourself in order to encounter the God within you. You are called to discover divine grace, deep peace and awe inspiring splendor that of which you truly are. So. . . you are drawn to places where Gods and Goddesses, Knights and Queens, Ascended Masters, and Divine Light has anchored itself on Earth. These are places where heaven touches Earth. These places are often marked by the construction of mystery filled ancient temples, timeless majestic pyramids, cosmic stone circles, healing sacred wells, occult ley line grids upon the Earth. Even chapels and cathedrals are build on top of ancient energy nodes on earth. Even modern day crop circles are built upon sacred energies.

A pilgrim consciously and gently wanders in these sacred places with an open heart and an open mind to receive the divine. These sacred places produce high frequency cosmic starry light that deeply inoculates our very souls with holy and divine energies. This is why we change and awaken further after each pilgrimage. Our eyes are opened! These sacred sites work beyond belief and limiting programming, beyond simple faith, beyond the constraints of the worlds religions. This brilliant divinity goes straight into our higher heart and initiates a divine conversion. We begin to find our deeper purpose and become more abundant in all areas of our path. We become more compassionate, humble and kind with a deeper, more encompassing wisdom. Our world based ego fades away and LOVE replaces it. Simply put, we begin to embody our divine path.

This is why we do not offer "tours", and we are not "tourists". We are humble pilgrims, a gathering of joyful soul family of open and unified hearts, with a common passion to awaken brilliant light and the Divine Living Master within us and humanity.
~ Aluna Joy