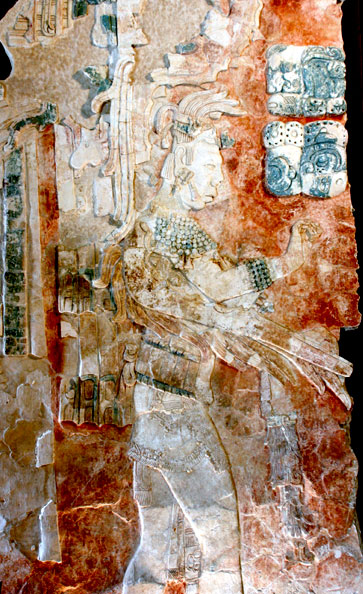 THE ITINERARY
ENTERING THE HEART OF THE MAYA
Sacred Mayan Temples of Palenque, Bonampak & Yaxchillan
March 17-25, 2020
NOTE . . . We do not plan the spiritual aspects of a trip in advance, as we understand Spirit moves in the moment. But based on prior trips, rest assured that there will be a lot of meditation time, teachings, channelings and ceremonies . . . as Spirit guides us through-out the pilgrimage. We hope this helps you decide the adventure that is right for you. On a 3D level, this is where we will be each day:

B = Breakfast Included, D = Dinner Included

Day 1 - Tuesday, March 17th, 2020.
Our group members will fly into Villahermosa, Mexico.
You will then take a taxi to the amazing Cencali Hotel for the night. Amazing Mayan Murals grace the walls of the reception area!
Overnight at the Fiesta Inn Villahermosa Cencali Hotel (no meals included this day).
https://www.fiestainn.com/web/fiesta-inn-villahermosa-cencali

Day 2 - Wednesday, March 18th, 2020.
Enjoy a wonderful Yucatan breakfast. After you have fully landed, we will have a group introduction Opening Circle.
Then we will pack up our bags to begin our journey into the deep jungles, in the magical Chiapas, to the ancient city of Palenque.
We will have a peaceful afternoon introduction by passing through old Palenque with its magical water falls. We will stop to ask permission to enter the city of light with ceremony and prayer. Afterwards we will check into our hotel.
7PM - Dinner. Overnight at our Palenque hotel, The Chan-Kah Resort (B, D)
http://www.http://www.chan-kah.mx/default-en.html

Day 3 - Thursday, March 19th, 2020 - (EQUINOX is 10:50PM)
7AM - Enjoy beautiful and delicious Yucatan Breakfast.
8AM - We will enter the city of Palenque through its main gate. Enrique and Aluna Joy will guide as Spirit directs to different areas of the city to be acclimatized and be properly introduced to the site.
7PM - Dinner. Overnight at our Palenque hotel, The Chan-Kah Resort (B, D)

Day 4 - Friday, March 20th, 2020.(This is the first EQUINOX sunrise)
Early morning departure for a great Breakfast in the Jungle.
After breakfast, we will take an amazing bus and boat ride through monkey and parrot filled jungles to the mystical site of Yaxchillan. It is paradise that no words can express (Plan to be out all day and bring snacks).
7PM - Dinner. Overnight at our Palenque hotel, The Chan-Kah Resort (B, D)

Day 5 - Saturday, March 21st, 2020.
7AM - Another beautiful and delicious Yucatan Breakfast.
After breakfast, we will then visit Palenque's awesome Museum where Aluna will introduce you to the Butterfly Man from Copan (a living stone).
Then we will go into the city of Palenque and possible visit a secret, lost temple with Enrique and Aluna Joy.
7PM - Dinner. Overnight at our Palenque hotel, The Chan-Kah Resort (B, D)

Day 6 - Sunday, March 22nd, 2020.
Early morning departure for a great Jungle Breakfast.
After yet another great Jungle Breakfast, we again bus through the jungles to visit the Ascension Mystery School of Bonampak on the Lacandon Maya reservation. This site has many ancient, Mayan Murals still intact that tell an amazing story . . . the Star Elders' story that was revealed about this site! (Plan to be out all day and bring snacks).
7PM - Dinner. Overnight at our Palenque hotel, The Chan-Kah Resort (B, D)

Day 7 - Monday, March 23rd, 2020
7AM - Typical and delicious Yucatan Breakfast.
With Enrique and Aluna Joy, we go back to Palenque, the heavenly city of light, to bond and connect even deeper into the peace, harmony and oneness that this site offers us.
7PM - Dinner. Overnight at our Palenque hotel, The Chan-Kah Resort (B, D)

Day 8 - Tuesday, March 24th, 2020.
7AM - Yucatan Breakfast.
After Breakfast, we will all gather to have our Group Closing Circle.
Afterwards, we bus back into the outer world of illusions and Villahermosa where we will check into our Maya hotel.
6PM - Farewell dinner at our Hotel.
Overnight at the Fiesta Inn Villahermosa Cencali Hotel (B, D)

Day 9 - Wednesday, March 25th, 2020:
Taxi to the airport for flights home (no meals included this day).


Prices
DOUBLE ROOM (price per person): $2,399.00 USD
SINGLE SUPPLEMENT: Add $ 500.00 USD
Group size is limited to 30 ~ PLEASE REGISTER EARLY.
Last minute spontaneous registration may not be possible. Please call/email us first to see if we have space for you in the group. See "Registration Instructions" on the Registration Form.
If the trip is already booked full, please ask to be placed on the alert list in the case of a rare cancellation.
Register for this Pilgrimage Here!

During this pilgrimage, Aluna Joy will be focusing on helping you learn to read, channel, feel, understand, etc... the messages embedded in these sacred sites and the energies they are providing us daily. You will understand and FEEL the powerful Ley Line that pulses through Palenque and why. This will translate to you being able to read other vortexes, sacred sites and ley lines all over the world. Once you FEEL it, you don't forget it! Enrique is a master of taking you right to the core of the heart in sacred ceremony. His soft and gentle heart wisdom can be applied to any walk of life. We are offering a space to really absorb new energy on the powerful and pivotal Equinox days in 2020. We will go very slowly, and deeply integrate the new energies that are birthing now. We will take a lot of time to FEEL and UNDERSTAND what these sites have to offer. You will receive new, upgraded tools that can be used as your life unfolds.
Meet Your Heart Guides . . .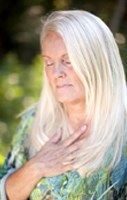 ALUNA JOY YAXK'IN - Aluna is a Spiritual Archaeologist and sacred site reader and shares messages from the Ancient Maya, the Star Elders. Aluna is an internationally known speaker and lectures on the subjects of Spiritual Archaeology and the Awakening of Spiritual Consciousness through the ancient cultures of the Americas. Aluna's work has been influenced by a lifelong interaction with the Star Elders, combined with a series of shamanic experiences that accelerated over 2 decades of travel in Central and South America. Aluna acts as a cross Spiritual Guide on unique pilgrimages to Mexico, Guatemala, Honduras, Peru, England, Scotland and Egypt. She also offers Star Elder Sessions and formulates Sacred Site Essences. Those who know Aluna call her a modern mystic and/or a psycho-geographical healer. Aluna simply considers herself a Spiritual Archaeologist using her Clairvoyant/Clairsentient gifts to read ancient history of sacred sites, to help others to tune their inner ears to hear, and to bring forward to modern times the wisdom and teachings of the past. She is a carrier of one of the rare Stones of Ica from Peru. She is the author of "Mayan Astrology", "The Mayan Daykeeper" and "The Mayan Time Decoder", and her articles have been published worldwide since 1994. I feel it is a great blessing for me to provide these pilgrimages to sacred spaces, so others can reach their spiritual aspirations . . . These trips are gratitude payment to Spirit for all that I have received as a result of sacred site travel. Read more about Aluna Joy here Read Aluna Joy's writings here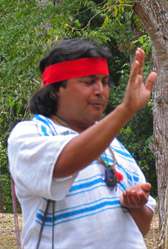 ENRIQUE ENCALADA - Enrique is a wonderful, opened-hearted blend of new age and Maya traditions. When Enrique had his first contact with the Sacred Knowledge at the age of 15, the revelation of these truths changed his life, and he began to follow a sacred path which has lead him in amazing directions. In 1984, he was the assistant to the Mayan Gnostic Congress Of Atlantis in Merida, Mexico. In 1995, he participated in the Great Meeting of the Mayan Solar Initiation. This meeting deepened his Sacred Studies. That same year, he also fulfilled one of his life's purposes by going to Japan, where he found a lost part of his inner self. In Japan, he had his first contact with Buddhist and Shinto doctrines. After his return, he journeyed to Teotihuacan, Tlatelolco and the Maya lands to bridge the connections between the ancients of the Far East and those in MesoAmerica. In 1996, he received his first inspiration/vision to lead a meditation in Tulum. In January of 1998, he took part in the teachings of the 8 Verses of Mental Training given by Lama Geshe Tsultilm Gyeltsen. In September of 1998, under the sponsoring of Hunbatz Men and the Naga Ku Mysteries School in Japan, he was sent to Japan as an emissary to offer lectures about the Mayan Sacred Knowledge to Japan's New Age Community. There he discovered his Sacred Mayan name, Uc Ake Chan. In December of 1999/2000 during Y2K, Enrique participated in his first trip with Aluna Joy. Since then, he has had the honor to travel with her and her wonderful groups every Spring Equinox. "With honor to all my spiritual brothers and sisters, I hope to help you to open the doors / gates for all of you, in the magic places of the Maya. In Lak ech A la Kin."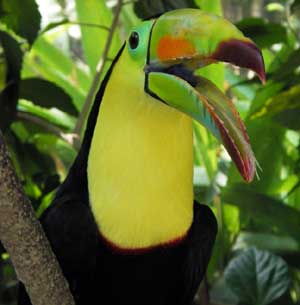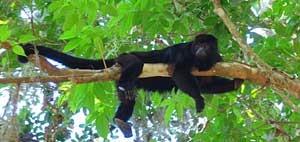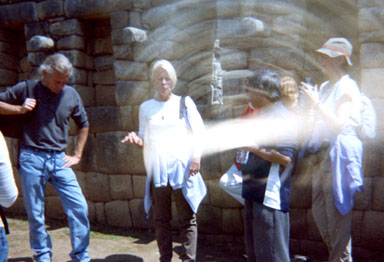 Messages received by Aluna Joy
in the Maya sites.
THE DIAMOND PEACE DOWNLOAD
Temple of Inscriptions - Palenque, Mexico
Aluna Joy Yaxkin, The Star Elders and Lord Pakal
UNHINGING FROM THE OLD EARTH
Aluna Joy, and the Star Elders - Yaxchilian, Mexico
A NEW PARADIGM ACTIVATION
Aluna Joy, and the Star Elders, Pakal Votan in Palenque, Mexico
GETTING THERE
My Amazing first visit to Palenque.
It took me 12 years before I could write about this experience.
ACTIVATION OF THE BUTTERFLY HEART
Messages from the Star Elders.
SPIRITUAL ARCHEOLOGY
A holistic approach to archeology.
WHAT IS A SACRED SITE?
How we learn in sacred sites and
why we are drawn to visit sacred sites.
BONAMPAK ~ A BOOT CAMP FOR LIVING MASTERS
A Star Elder message received in Bonampak Mexico ~ through Aluna Joy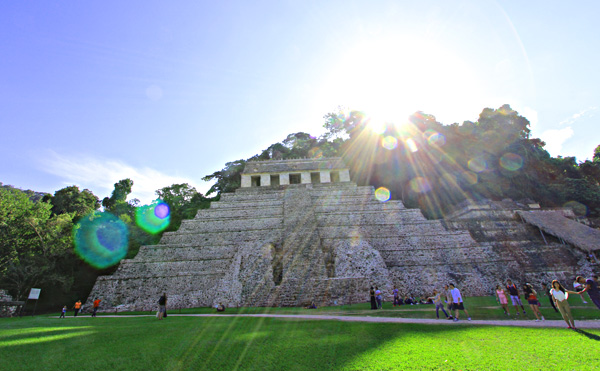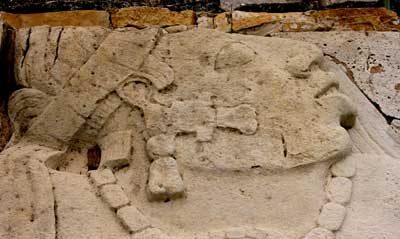 The Focus for this Pilgrimage.
Creation is in a constant state of change. All old worlds of the past die away, and new worlds are born. Earth is ascending right under our feet, and with it, will come an ascended form of the divine power of the Great Ocean of Creation (the Divine the Feminine). These are the creative powers of the universe. It is not a gender, but is a power and light that is available to all living things. This ascended state, that is already with us, is calling us to awaken and empower and reach a higher plateau of spiritual existence. It has come time that we assimilate these powers of creation.

The creative force, the divine feminine, is in a deep process of re-establishing itself in Earth's material field. Much of this creative force is anchored in the crossing of ley line nodes (creative chakras) many of which also anchor the world's sacred sites, temples and pyramids. It is in these sacred sites that we can directly download this frequency into our bodies, memory, etc... in the echo of those who have awakened to this wisdom before us.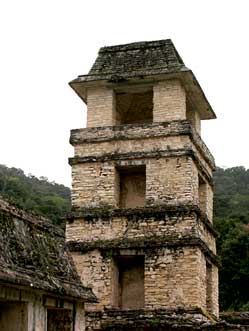 Many of us have come to Earth at this time to be a part of this divine global awaking. We made a commitment to ascension before we took on this human form. We are hard wired for change deep in our souls, and we gravitate to higher frequencies like moths to a flame. We are the ones who came here just for this time. It is why we don't fit in the usual circles. We tend to have unusual perspectives on what has happened, what is happening now, and what we foresee that we will experience in the future. Many souls have found one another, their tribe, to join forces for this huge task. We trigger each other's ancient memories, codes and transformations. But now we can say that most of the hard work is behind us now. We have gathered in armies of light. DNA is being upgraded, and frequencies are rising, because the divine feminine is rising up as well. All this is happening now because we were brave enough to take a human form at this time.

We are planning to celebrate over this Equinox in the deeply healing, regenerating, tranquil and peaceful green jungles that are drenched in this creative force of the universe . . . the sacred creative power of the divine feminine.

We invite you to join us. Come recode and realign your center that has had been in major wobbles for some time now. Our focus is to anchor to these new creative energies in a relaxed and harmonious way that will restore our mind, body and soul.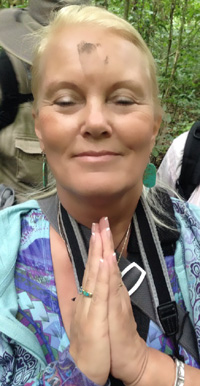 Aluna's long history with Palenque.
Palenque is my favorite sacred site of the Mayan world. My passion for Palenque began in 1990, in my more radical, younger years when I snuck into the site after hours and spent the night (A long story). read the story here It was during this overnight stay, while sitting in the Temple of the Sun, that I was a witness to something that changed my life forever. I received a rare energy download. I heard the music of the spheres, learned about the creative force of the universe, and saw a glimpse of the future regarding when this energy would return to Earth, and we would again experience Paradise on Earth. This time is anchoring now. I was aware of an ethereal city that floated high above Palenque. I knew that this city of light would return one day along with the ancestors and the starry ones who had lived here a long time ago. I was able to understand this energy, but it was not yet time to anchor this energy into our hearts, so we could be able use it consciously. Palenque has been my most reliable barometer for watching the evolution of Earth. I know that by watching the energy shifts in sacred sites, I can see a progression of events and the evolution of the Earth and humanity. I am called to return to Palenque over and over for this very reason.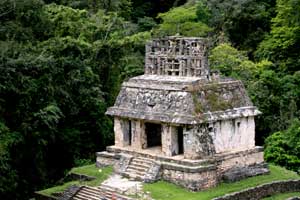 Palenque - Knowledge - Wisdom and the element of SACRED WATER


Palenque is a powerfully serene site that is situated in the highlands of Chiapas, Mexico, surrounded by dense jungle and filled with parrots and howler monkeys. The Mayans believed that their ancestors came from the Pleiades, and Palenque itself is built as a mirror image of the Pleiades. Palenque was masterfully created to align with solstices, equinoxes, eclipses and zenith passages of the sun, and has also been built with advanced, sacred geometry. Here in the jungles are temples filled with hidden wisdom that hold the keys to living in a new era of enlightenment. It is time to finally begin the task of manifesting the vision of a new world that we hold so dear to our hearts. We now are living in an unstoppable energy, a chain reaction to manifest paradise.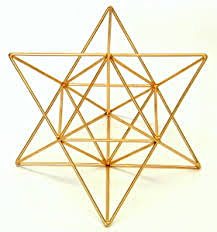 Palenque and surrounding sites, like Bonampak and Yaxchillan, have held mystery and intrigue for hundreds of years. It is considered by many to be an ancient school for spiritual initiates. Palenque shelters a living library that reveals universal truths to those who listen with the open heart. This living library of Wisdom, and the powerful Earth Merkaba that covers the entire city, connects with a universal grid. Palenque is built with advanced sacred geometry using the Golden Mean Spiral and is also aligned with solstices, equinoxes, eclipses and zenith passages of the sun. It is considered to be an ancient mystery school for spiritual initiates. In the Keys of Enoch, Palenque is considered to be the head of a huge, geographical, dove grid anchoring a new definition of peace and wisdom. The locals call Palenque "The Navel of the Earth". Palenque is an activator for intuitive understanding and can accelerate our psychic abilities. We feel this will be one of the first areas on Earth to fully anchor the new world energies.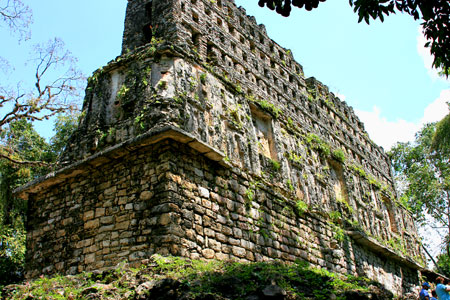 Yaxchillan - Grounding - Balance and the element of SACRED EARTH


Yaxchillan is hidden deep in the jungle between Guatemala and Mexico on the Usumacinta River. The ancient name for this city was probably Pa' Chan. Yaxchillan means "green stones" in Maya. The site is particularly known for its well-preserved, sculptured stone lintels set above the doorways of the main structures. These lintels contain hieroglyphic texts and imagery that describes deep Shamanic practices.

Yaxchillan teaches us to balance between the earthly world and the ethereal world. Its mysteries are buried so deep, that it makes any one who visits here dive deep within themselves. Here, described in its famous lintels, is the process of capturing, mastering, and becoming free of one's individual ego. Once this state of consciousness is achieved, we become ONE with all life.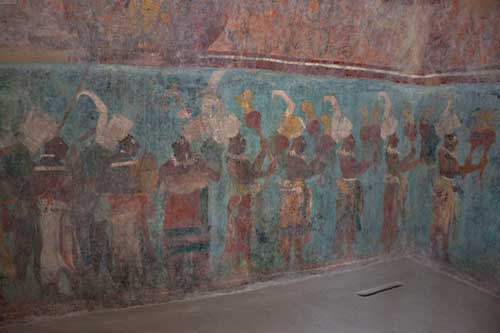 Photo thanks to and copyrighted by Daniel Maddux. See more at http://www.mayantempleenergies.com/

Bonampak - Initiation - Ascension and a New Element

We don't have a name for this new element yet, but it is coming, and I feel it is a grounding element that is opposite of Ether. This can only happen in this new cycle. The Spiritual manifests into form!
Bonampak has three Ascension Chambers that exhibit some pretty impressive, painted murals. Archeologists understandably have misinterpreted these murals. They theorize that the murals speak about conquest, power, claiming prisoners, sacrifices, etc.... This is based upon the western mindset of the current times. But when we tune into the living energy in this place, we know that the murals are not meant to be interpreted literally, but are spiritual in content, and in doing so, they teach us self-mastery of the lower self and egos. Bonampak teaches us how to master the negative side of our egos and how to trust our inner truth. Jeshua learned from the energies in Bonampak when he walked the Americas (see the book "He walked the Americas"). We can feel his energy strongly here in Bonampak, but also in Palenque as well. Jeshua had to master his egos when he was tested and tempted by his negative egos for 40 days. These spiritual tests are very similar in many ancient cultures. We all have to master the ego to become enlightened and regain access over our God given natural abilities.

Palenque, Yaxchillan & Bonampak is where the ancient starry ones lived Heaven on Earth. A Cosmic Messenger's energy, Pacal Votan's, still radiates from the Temple of Inscriptions. Many other Masters influence the energy of this area including the elder race we call the Star Elders or Invisible Council. Even Christ healed the sick and performed baptisms in the Queens Falls when he visited Palenque during the "lost years". He learned from the Star Elders about cosmic time, and the Star Elders learned from him about the Heart and Peace. Their energy is still there, and so is their wisdom. Palenque is nothing less than pure magic and is still one of Aluna's favorite areas after traveling two decades in Central and South America.



Our groups are like Sacred Sites . . .
We never have enough time with them,
and we always want to see them again

: )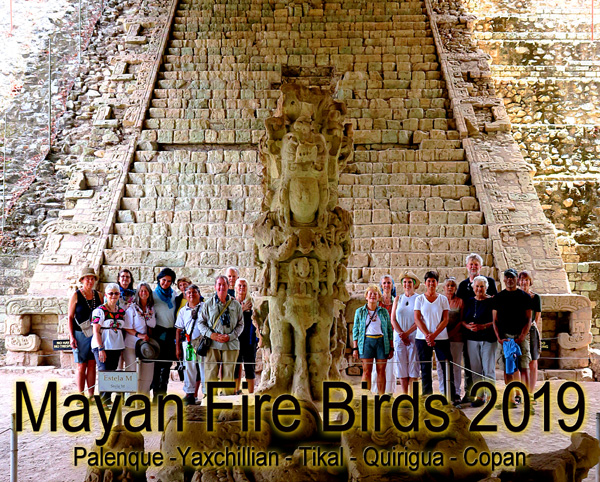 This was an amazing trip. We had the most powerful Equinox Fire Ceremony that I have ever felt, and that is saying a lot. Our group was impeccable with their energy and had amazing open hearts! It just proved to us that the world is awakening, and the energy HAS ARRIVED! I came home very grateful and with a full heart.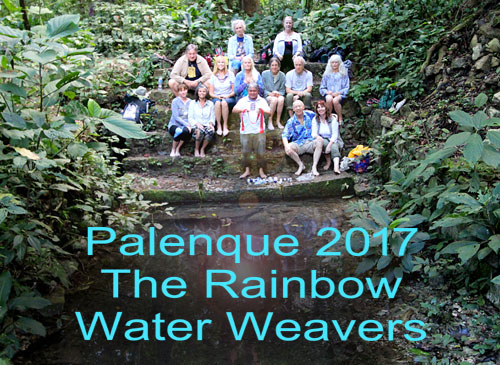 We worked with the creative spirit of Goddess Ix Chel and Mother Guadalupe in anchoring pure potential for a new creation. This was the last group that braved working within the great rift of transformation . . . the time between cycles that began in 2012 through September 2018!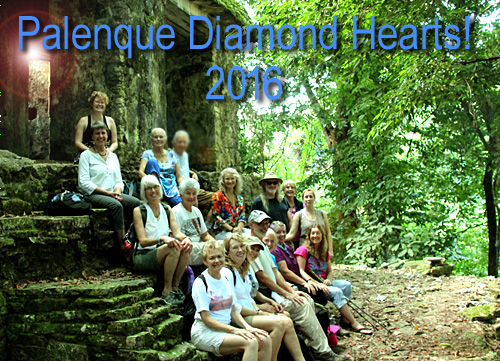 Soul Healing, Loving and Super Blessed in unspeakable ways.
We received an amazing diamond heart activation!